Hi there! How's everyone doing? The final exam is finally over last week which officially marks the end of semester 1 for me! And so, we have an extra reading week this week which should be the week as it's name sounds where we should do some advance reading and prepare ourselves for the next semester which will be starting on next Monday. But well, as students, no classes means holiday! 😛 So most of my friends went off for holidays and vacation to Iceland, France, Italy, Austria and etc and looking at their pictures really make me miss my vacation in Germany and Austria in last December so much. 🙁 Since I've already went on vacation a month ago, I chose to take a break this time and really had a very good rest the last few days by just procrastinating and lying on the bed watching some movies and K-dramas 😛
Speaking about the arriving of semester 2, I can't believe time flies so fast as making a decision to come to Surrey has just been like yesterday. As days pass by I continue to fall in love with Surrey more and more each day, and it's like the best decision I've done all my life! And thus, I would love to share my experience on applying to Surrey and hope this will help in convincing you all to come to Surrey too! 😛 As the university application process and visa application process all needs time, I highly recommend that everyone of you to apply as early as possible so that you won't be rushing and worried as the days come nearer.
So, when I've decided to apply to Surrey, I've been thinking on how should I apply. As I'm applying for a postgraduate Masters degree, I do not need to apply through UCAS which I understand for those undergraduate applicants, you will need to go through that. For more information on undergraduate applications please feel free to email us personally at malaysia@surrey.ac.uk and Abhi or Darshyni (our undergraduate ambassadors) would really love to help you.
So for postgraduate Masters degree application, there are basically 2 options to choose, whereby you can either apply yourself through Surrey's Applicant Portal or through education agents in Malaysia which are partnering with Surrey. There are 4 official education agents that partners with Surrey which are IDP Education, JM Education Group, MABECS and NAS Education. I didn't know about the education agents until I've already half way applying myself through the portal and so for my case I applied everything myself. However, I would recommend using one of the agents to assist you in your application as it really helps you to save alot of time and provide convenience as they are really professional and are clearer on the application process. The education agents not only assist in application process, they could also help in advising on obtaining the study visa needed to come over for studies in the UK and even organise pre departure events to help you prepare to arrive in UK. And one of the most important thing is, their service is FREE OF CHARGE! 😛
On the other hand, if you opt to apply through the Applicant Portal yourself like me, the Applicant Portal is very user friendly and instructions are really clear on what should you do to process your application. Any feedback or progress on the application process will also be updated there. Some of the most important documents that you will need during your application progress will be Personal Statement, scanned copies of Bachelor Degree's final transcript and certificate, Passport, English level evidence and also contact details of 2 referees. You will also need to fulfill the entry requirement and english level requirement. Most of the entry requirements of the Postgraduate Taught Masters degree will be a 2:1(CGPA 3.0) or 2:2(CGPA 2.8) and for the english level requirement, if you're previously from universities such as Sunway Uni, Taylor's Uni, INTI and etc even UTAR like me, our bachelor degree is taught in English language, and thus we DO NOT need to go through external English language test such as IELTS as the University can assess your English level under the University's Tier 4 Sponsor status. And thus, you will only need to obtain an official letter from the previous University you studied in stating that your undergraduate degree is taught in English and upload into the English level evidence section in the Applicant Portal. Next, its a very important thing to work hard on your personal statement! The Personal Statement plays a major role in determining if you will be offered a place of study in the University where in times it might be even important than your result! A strong personal statement demonstrate your enthusiasm, potential and suitability to study your chosen course and thus more time and effort should be allocated to write a good personal statement that could convince the admission tutors to offer you a place in the University! Besides, contact details of 2 referees (preferably from university lecturers or workplace supervisors) will also be required in the application process and thus you should choose your referees wisely and let them know in advance that you require them to be your referees for University application process.
So once you've submitted all the required documents, patience is needed while waiting for the admission department to reply on your application status. When you've got your offer, there will also be 2 types of offer which is the unconditional or conditional offer. Conditional offers usually means that the university will offer you a place in the course if you fulfill their conditions stated. Once you've fulfilled the conditions and been offered an unconditional offer, you could then proceed to the next part of your application, which is accepting the offer and then applying for accommodation. You will need to pay a stated portion of your tuition fees for the course as deposit to accept the offer. After accepting the offer, the University will issue a Confirmation of Acceptance for Studies (CAS) letter to you which you will need in your application for the student Visa. Accommodation could be applied through the Accommodation Portal according to the room bands. As Masters student, we only have a year here and thus I highly recommend every new students to stay in University accommodation as it is much convenient and is even cheaper than staying outside!
After everything is confirmed, you can then proceed to purchase your flight tickets and apply your UK Tier 4 Student Visa. Before applying for the visa, you will need to undergo a Tuberculosis(TB) test which is required by the UK Visa and Immigration Departments. The TB test must be undergo in the approved centers by the UK Visa and Immigration Departments whereby in Malaysia. There are only 5 approved centers in Malaysia which are Life Care Diagnostic Medical Centre and Health Screening Centre Gleneagles in Kuala Lumpur, Penang Adventist Hospital in Penang,  KPJ Sabah Specialist Hospital in Sabah and Normah Medical Specialist Centre in Sarawak. As there are limited centers, you will need to book appointment in advance before going to the medical centers for the TB test. Once you've get the results for your TB test, you can then proceed to apply your student Visa!
To apply for your student Visa, you will firstly need to book an appointment at VFS Global Malaysia, which is the official partner of UK Visa and Immigration department in Malaysia and the only visa processing center in Malaysia. When attending your appointment, you will need to bring your passport, one passport-sized colour photograph, CAS letter issued by the University, your TB test result and proof that you can support yourself and pay for your course (eg: bank statement of you or your parents' bank account). You will need to submit all of the documents where they will send the whole application pack to the UK Visa and Immigration department in Manila, Philippines to be processed and then send back to VFS Global Malaysia after processing.
So once you've done this and get back your passport with your student visa, tadaaaa~ you're all set to come Surrey for a brand new life journey! 🙂 When the time comes nearer to the start of University around July or August, you can also apply for a buddy through the Buddy Scheme whereby you will be paired up with a current student in the University and you can ask your buddy any questions regarding life and study in Surrey, apply for Meet and Greet to be welcomed and picked up from Heathrow Airport London to be transported back to the University and apply for International Orientation Week whereby you get to meet other international students and become familiar with the University campus and Guildford town before other UK/EU students arrive. 🙂
Phewww~~ This is a really detail and long post of my journey of application to Surrey and I hope this would help all of you who are planning to come to Surrey to further your studies. It may seems like there is alot of procedures and work to take care of and worry about to apply for studies here, but trust me everything is worth it once you touched your feet on Surrey's ground and enjoy the view of campus and meeting people from all over the world which you will never get to experience in Malaysia's Universities.
Hope to see more of my Malaysia friends coming over to study in Surrey and can't wait to meet you all in this coming September!
That's all for now, so take care and jumpa lagi! 🙂
Love,
Adeline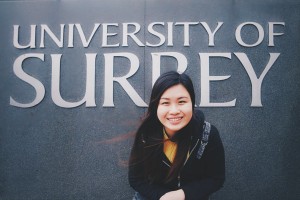 p/s: Happy Chinese New Year to all of my chinese friends and family! 🙂 Missing the CNY celebration atmosphere back home……