Hello everyone! Happy Chor 10! Time really flies as it's already the 10th day of CNY now. 🙁 For us it doesn't really matters as we've already started our classes on the first day of CNY. But of course for all my fellow Malaysians, it's quite a sad thing right when the time is up and you need to bid farewell with your loved ones and holiday, no more angpaos (red packets) and nice food and going back to the routine study/work life. 🙁 Oh well, what to do? That's the reality of life right. 😛 Anyways, hope that all of you have already reset your mindset and mood to go back to your workplace and welcome challenges in the brand new year ahead!
So, back to my topic today, as some of you all may wonder how is it like to celebrate CNY in a western country, or may even think that there is no CNY celebration in the UK, I would like to share about the CNY celebration in London that I attended last Sunday. The CNY festivities in Central London is the biggest out of Asia and is held on 14th February 2016 this year mainly in Trafalgar Square and Chinatown which is located in the West End. The event is scheduled to start at 10am at Trafalgar Square with a grand parade featuring 10 lion teams in one of Europe's biggest lion dances and continued with performances that starts at 12pm which includes acrobats, martial arts, opera, dance and etc. The event is free to attend and thus there are hundreds and thousands of people flocking into London on the day just to join in the celebration, which of course including me. 😛
So on the day itself, me and my friends decided to depart early at 8am from the University to ensure that we will reach in time to get a good spot to see the parade. After about 35mins train, we reached London Waterloo and took a tube to Leicester Square and walked to the venue. At about 9.15am, Trafalgar Square is already full of people! Not only the Chinese, the place was also filled by all types of people such as the locals, Europeans, Indians, Africans and etc. It's a really good feeling when you see people of different colors and nationalities come and celebrate together in peace and joy. 🙂
After waiting for about one hour in the cold, the parade finally started! I'll let the pictures do the talking.
So after the parade, we took a small break and went for lunch in a nearby Korean restaurant as I'm really craving for Korean food!
After feeling warm enough to be ready to get back in the cold, we went out again and squeeze our way to the front of the stage to see performances at the square. 🙂
There are lots more of amazing performances such as the opera and martial arts but I didnt get to snap pictures of it as I'm just too immersed in the performances. 😛 Overall, the event was really amazing and I get to see alot of Chinese traditional performances that I didn't even watch before in Malaysia! So, everyone who is celebrating CNY in London next year, make sure you will never miss the performance as it will gonna be so good! 🙂
After finishing watching performances, its already evening and the days are already getting dark. We went and walk around in Chinatown and get some Asian food (Asian food is the best! :P) from the Asian markets before deciding to head home and call it a day as all of us have classes the next day morning and we will need to get some rest after a long and tiring day. Before heading home, I get to met up and reunite with my younger brother which is also currently studying in the UK and was in London for the day too. I was really happy although it was a short reunion with him and it just make my day perfect! 🙂
I guess that's all for this post. Celebrating CNY alone overseas without the family wasn't as bad as I expected thanks to my friends and also of course the relevant Chinese and UK organizers that put up the event and decorations to make us students that are studying abroad get to feel warm during this season and also celebrate the festive together.
Once again, wishing all of you a really happy and prosperous CNY in this Monkey year and see you all again soon in the next post! 🙂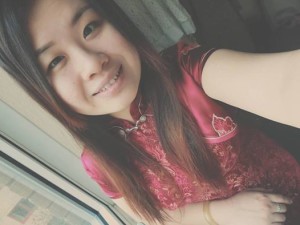 Love,
Adeline