Hello guys! How's everyone doing this week? Hope everything is good for all of you. 🙂 As for me, I had a really good week last week especially during the weekend where I get to spent it with the Candys, my host family living in Somerset.
So before I continue with my experience of the host visit, I guess some of you will be interested in knowing what is a host family, how do I get the chance to go for visit, what is the expenses for the application or how the host visits works. Thus, I shall start my post by introducing my application process to stay with a host family.
I've always admired English traditions and lifestyle of the British people since I'm young (which is one of the reason why I chose UK to further pursue my Masters degree). And thus even before coming, I've already started researching on the possibilities of staying with local families to experience the lifestyle of the British people and also to further interact with them to understand more about their culture and traditions. And to my delight, I've found a website named "HOSTUK", which is a registered charity founded in 1987 by the British Council, the Foreign and Commonwealth Office and The Victoria League with the aim of offering an opportunity for international students to stay with local British people and experience the real life of Britain. HOSTUK is kept running by the income coming from university subscriptions and application fees for HOST visits, whereby most of the universities pay all or part of this fees for their students. HOSTUK is managed by a Board of Trustees and run by a very small office staff in London but rely heavily on voluntary Regional Organisers across the country who link students with the hosts in their region. All hosts that invites and host international students on this scheme are voluntarily based whereby most of the costs incurred during the stay of international students are covered by the host.
As for University of Surrey students, we are really lucky as the university pays all of our application fees for HOST visits, which means we go for HOST visits for free! The only cost that we will need to pay is our travelling cost to the host's place, and maybe some extra money for entrance tickets of attractions if the host brings us there for a visit. To find out more on the HOST visits and how to apply, please visit the official HOSTUK website.
And finally, let me share my experience on going for a HOST visit last weekend. I was really delighted when I received an invitation to stay with the Candys together with another Surrey student, Tamarah which is originally from Jerusalem. Prior to the visit, I've already had a very good conversion through email with the other student and my host, Mrs Debbie Candy, which makes me even looking forward to meet them. 🙂
When the day comes, I packed my bag and made my way to the train station to board the train to Castle Cary, which is the nearest train station located to the Candys' house. It was supposed to be a 2 hour journey from Guildford to Castle Cary, but unfortunately due to a major disruption on train schedules that day, I took about 5 hours to reach the place. I was feeling really tired and cold after the long journey but everything just feels worth it and I was really glad when I met Debbie. She's really kind and cheerful and welcomed me warmly which immediately melts my heart. 🙂
After a short drive, we reached back to the Candys' house, an old converted barn which is maintained really well located in Lovington, Somerset. Debbie then introduced me to her husband, Paul who just came back from work in London, and her two children, Matthew and James. As it was already dinner time when I reached, Debbie prepared a wonderful dinner of Lamb and Chicken curry with rice for us. We were also joined by the Candys' family friends which made the dinner even merrier. 🙂 Tamarah also arrived later after finishing her lecture in the evening and joined in the dinner together. After finishing dinner, we were entertained by Debbie's talented children where Matthew played some songs on the trumpet and classical guitar while James played the electric guitar and drums. I was really impressed by the children's performances and they're really amazing! After that, we had a little chat before heading back to our room to rest and prepare for the next day.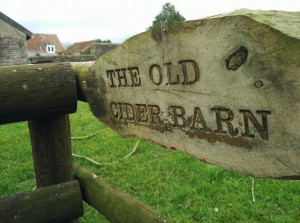 On the second day, we woke up early at 8.30am to have breakfast with the Candys. After breakfast, we went for a visit to the famous Wells Cathedral, a medieval Anglican cathedral located in Wells, which is the smallest city in England. The Cathedral was built in a harmonious whole of the Gothic style and was really beautiful inside out.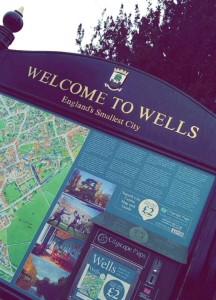 After visiting the Cathedral, we went on to have some light lunch and walk around the city. I had my first pasty in life and it was incredibly yummy!
After that, we went home for a short rest as it was drizzling. Debbie made us an early dinner before we head off for a theater performance at 7pm. The show was titled "Annie", which was originally a Broadway Musical based upon the popular Harold Gray comic strip "Little Orpan Annie" which tells the story of 11 year old orphan, Annie and her journey of finding her parents. The performance was put up together by the Cary Amateur Theatrical Society. Although they are not professional actors and singers, the performance was really good and all of us enjoyed the night. Even till now the song in the performance named "Tomorrow" still rings in my ear! 🙂
On the last day of the visit, we walked around the countryside nearby the house and visited a local church in the morning. The view of the countryside is really breathtaking and peaceful. 🙂 After lunch, Debbie helped the boys to pack their bags before sending them back to the boarding school. The boys took us on a small tour on the school grounds and I'm really impressed by how beautiful the school is and the facilities of the school. 🙂
Finally, the visit comes to an end and we need to bid our farewells and head back to Guildford. As Paul is also heading back to London for work, he's really kind and took the same train as us to accompany us back.  I would really like to say a million thanks to Debbie, Paul, Matthew and James for being such a nice host and make me feel like my family away from home during the stay. I really appreciate the love and kindness shown towards us especially when we are away from our family as it really touches our heart and warms us up. 🙂 And of course, thanks to HOSTUK for organizing the stay and also the University for sponsoring our application fee. I would really recommend host visits to every international student who really wants to spend time understanding British culture and also interact with local people as it is a wonderful opportunity and platform for us to really understand UK from the perspective of the locals.
So I guess that's all for now. See you all again soon!
Love,
Adeline 🙂