Helloooooo everyone! I'm back from my vacation again 😀 Don't be jelly of me but start to apply to come over to UK for studies! 😛 Even a semester of exchange student will be good also if you are already studying in Malaysia universities cause everything is so different here and it will definitely be the best moment in your life!
So I guess most of you will say: of course la, definitely rich people only can go travel so frequently. Let me prove you wrong. Denmark is the 5th most expensive country in the world, whereby the living cost is much higher than in New York city and the rest of the world. But we managed to keep our expenses down and only spent 230 pounds for the whole 4 days 3 nights trip to Copenhagen (the capital of Denmark) and Odense (hometown of the famous fairy tales author Hans Christian Andersen). And I didn't even ask for extra pocket money from my parents for the trip but managed to cover it using the extra allowances I earned through blogging and working part time as Student Ambassador (the International office's people are the best people I've known in the whole university and they pay you well too 😛 )
Breakdown of the expenses:
Return flights to Copenhagen: £30.00
Return airport transfer from Guildford to Luton Airport: £23.00
Return airport transfer from Copenhagen airport to city centre: £7.50
Return train from Copenhagen to Odense: £47.50
Copenhagen transport day pass: £9.00
Airbnb 1 night accommodation in Copenhagen: £25.00
Airbnb 2 nights accommodation in Odense: £25.00
Odense pass (includes free admissions to more than 10 museums): £18.00
Food and souvenirs: £45.00
Total: £230.00
In fact, the return ticket to Odense should only cost us £20. However, as the trip was a last minute one as mentioned in the previous post, we didn't notice that the Hans Christian Andersen Museum and birthplace (the main attraction that we wanted to visit in Odense) is closed on every Mondays, which is the only full day we are planning to stay in Odense. And thus we rebooked our train ticket again to go back to Copenhagen later and paid an extra £27.50 for the single journey ticket (if not we should be able to keep our expenses to below £200 🙁 )  Lesson learned: do your homework before booking trips to save money and avoid disappointments!
So lets start with the story. Me and flatmate, Iadi took the 9am train to depart to Luton airport from Guildford for our flight at 12.30pm and arrived in Copenhagen airport at 3.30pm. We decided to just stroll around the neighbourhood after checking in to our apartment as the travelling part is really tiring. Our kind Airbnb host actually provided us with free bikes to use, which is the best transport to use to explore Copenhagen, but too bad we didn't get to use it cause the bike is just too large and tall for us. 🙁 That's why we ended up paying to get a day transport pass the next day to travel by bus and metro instead 🙁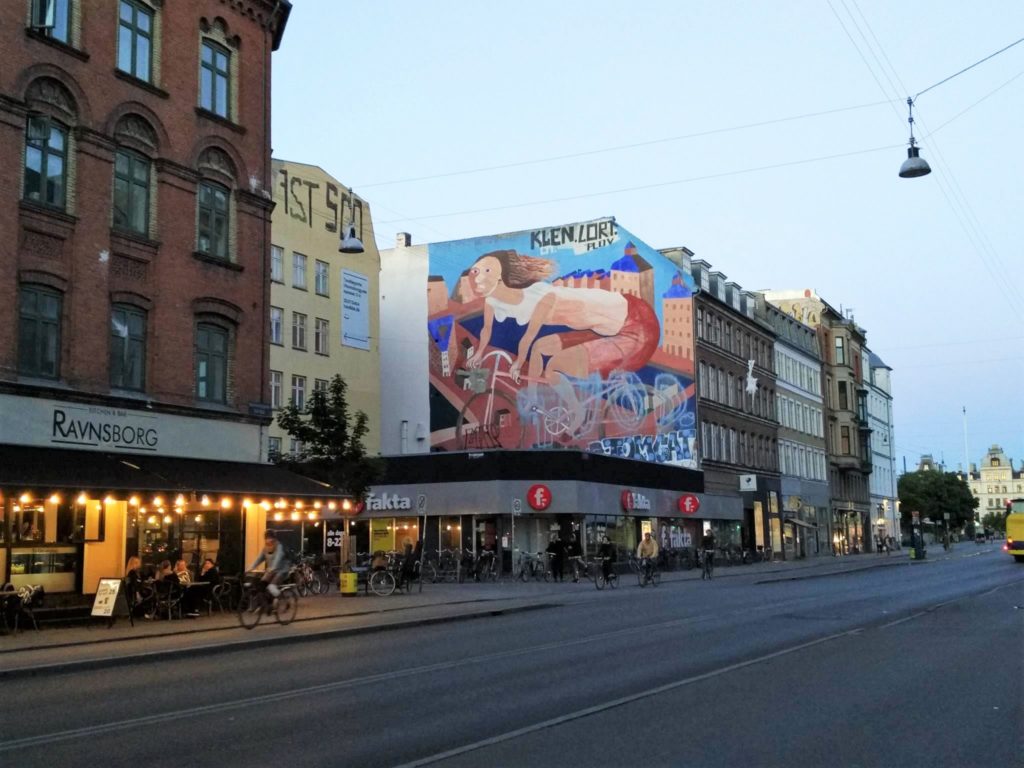 Day 2 starts off by walking around and visiting all the famous attractions in Copenhagen city such as the Little Mermaid statue, Nyhavn colorful buildings and many more. Besides, we also visited a really cool place which is really out of our expectation as it was just a random visit. My friend was just randomly googling for nice places to visit and we accidentally went to this place called "Freetown Christiania". It was a really cool place full of graffiti and people selling or taking soft drugs, especially smoking weeds. It's called the Greenlight District and they don't allow photography inside so I only took a picture at the entrance. After returning to our apartment, we googled about the place and then only realised that it is a self-proclaimed autonomous neighborhood in the borough of Christianshavn in Copenhagen which have about 850 residents. They have their own flag, own anthem and even own currency and they proclaimed that they are not part of the EU. How cool is that. 🙂
On the evening of the second day, we took a train to Odense and stayed overnight there as accomodations are cheaper 😛 On the third day morning, we planned to visit H.C Andersen's museum but it wasn't open, so we had plan changes and bought the 24hours Odense pass that starts mid day and visited Tidens Samling (museum of housing, design and fashion that permanently exhibits the living room of Danish houses in from the 1900s up to 1980s), took pictures with fairy tale characters of H.C Andersen's books, ate the famous Danish open sandwich for lunch at Kong Volmer, and also visited a cute vintage toy shop that is celebrating it's 50th anniversary of opening next year!
On the last day, we woke up really early and aimed to fully utilized our Odense City Pass to the max by visiting the remaining attractions. We took the bus and visited the recreated 19th-century Funen village with half-timbered houses, as like the time in Hans Christian Andersen's days. We then took the Odense Aafart cruise which is included in the pass and went back to city centre by boat. We then visited H.C Andersen's birthplace and also the museum before taking the train back to Copenhagen airport and head home. Visiting H.C. Andersen's house and museum really brings back alot of childhood memories especially the bed time stories my parents used to read to me when I was young, such as the ugly duckling, emperor's new clothes, little mermaid, Thumbelina, princess and the pea, the little match girl and etc. 🙂
That's all for the trip to Denmark. Although it was a short one, I did enjoyed every moment there and it's definitely a beautiful country worth visiting! Hope you all enjoyed reading my long long travel blog and see you all again next week!
Jumpa lagi 🙂
Love xx
Adeline