It's Friday, Friday, Gotta get down on Friday! If that sounds familiar, it's because it's the infamous song by Rebecca Black :p I'm sure everyone can tell I'm pretty exciting that it's finally the weekend. It's been an exciting week, what with Surrey Decides (I shall be blogging about this next week) and Pancake Day which was on the 28th of Feb.
Pancake day or Shrove Tuesday, is the traditional feast day before the start of Lent on Ash Wednesday. To find out more about this occasion, click here. It's become a very popular occasion with many restaurants having pancakes all day specifically on the day itself. There was even a Guildford Pancake Races in town. It was a fun event, whereby Steve the Stag (Surrey University's mascot) took part in the mascots pancake race and WON!! This was my first time getting into the spirit of having pancakes on the day and joined in the celebrations in my own flat. My flat mates made deliciously fluffy pancakes (I contributed ingredients) and went all out with toppings. We had everything from Nutella and peanut butter spread, bananas, sprinkles, maple syrup, honey, kaya (which was surprisingly nice with pancakes) and even home-made blueberry compote 😀
I had a pretty busy Tuesday as after stuffing myself with pancakes, I was off to Guildford Spectrum Leisure Complex for an evening of bowling with friends. This brings me to today's post about fun activities to do around Guildford. The Guildford Spectrum Leisure Complex is a one stop leisure facility where one can enjoy a variety of activities. It has ten pin bowling, ice skating and the Leisure Pool, an exciting area with fun features including flumes, a tyre ride, bubble beds, sprays and a wave machine. Check out a video the spectrum pools here! Prices for these activities are super affordable, with deals such as Bowl and Skate Combo for £13.00 (inclusive of shoe and skate hire) + student entry during off-peak hours. The Leisure Complex is an easy 35-minute walk from the University or alternatively, there's a bus directly from town center.
PS: I won on Tuesday night!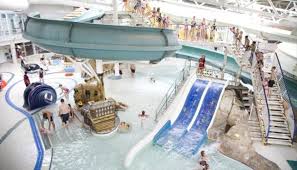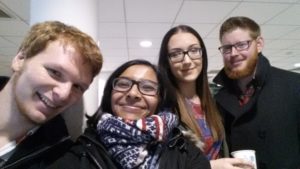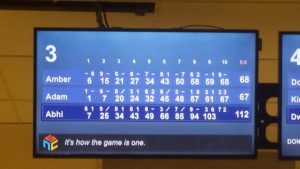 Another fun activity is AirHop Guildford, a massive indoor arena filled wall to wall with trampolines and includes fun things to do with trampolines such as a Foam Pit, Dodgeball and Basketball Slam Dunk. I went with my brothers' way back in 2015 and had so much fun 🙂 You don't even need to be super good at jumping on the trampoline! It was fun to just bounce about and we even had a spirited game of dodgeball. Prices are £12pp inclusive of AirHop socks. We do need to use special socks but once we've been once, we can keep the socks and hence entry next time would only be £10 without needing to purchase socks again. Airhop can be reached in 25-minutes by foot or alternately, getting a bus directly from University. I would recommend walking however as unfortunately the bus does not stop by the entrance of AirHop and hence, additional walking is still required.
TopGolf Surrey is something I heard about recently and am dying to go! It is a premier golf entertainment venue with different types of golf games available, depending on the length and difficult of the game itself. To play, you'll need a playing card so you can see your name on the screen while playing and to track your score history as you improve. There are different options for playing cards and once you decide on one that suits you, you just need to load it with credit and off you go! The only thing about TopGolf is that it's not located in Guildford and hence public transportation is not easy. Best option would be to go with a friend who drives as it's only a 20-minute drive.
For those who would prefer a more chilled out + closer golf session, I would recommend Stoke Park, Guildford's largest park which has plenty of beautiful open green space, a fully-equipped children's playground (not ashamed to admit I've been on the swings and slides! :p), skate park, paddling pool, boating pond and a crazy mini golf course! Entrance to Stoke Park is free and Mini Golf costs £4.50 per game and is located just 30-minutes away by foot from University.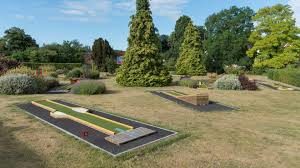 Located within Stoke Park is Wild Wood Adventure, UK's exciting treetop adventure, set in beautiful woodland in Guildford, Surrey. I have never been to this specific site but have been to another similar one in Suffolk, England. It was super fun and worth the sore muscles after! The Guildford location is centered around a 15-meter-high tower and offers 3 levels of excitement. Prices are on the pricier end at £30 per adult but a once-a-time activity that shouldn't be missed!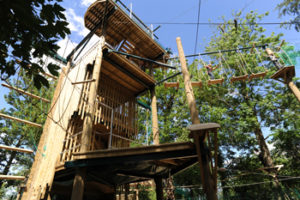 Anyways, that's all from me for today. Have a lovely weekend 🙂
Till next time: Selamat tinggal x