Hello Hello!
I've had quite a busy week, holidaying in Edinburgh and house/flat hunting in Swindon. I start my graduate job at the end of Sept! 🙂
Anyways, today I thought I'd do a throwback post about working at Surrey University's Open Day on the 30th and 1st July. Firstly, everyone is welcome to Open Days, not just applicant holders. It's a great way to learn about what Surrey University is all about. There are a range of programmes available to attend throughout the day, from campus tours running every 15 minutes to attending course-specific subject talks. There is also an Information Fair by PATS Field which has everything from student life, support, accommodation and even speaking to our many academic staff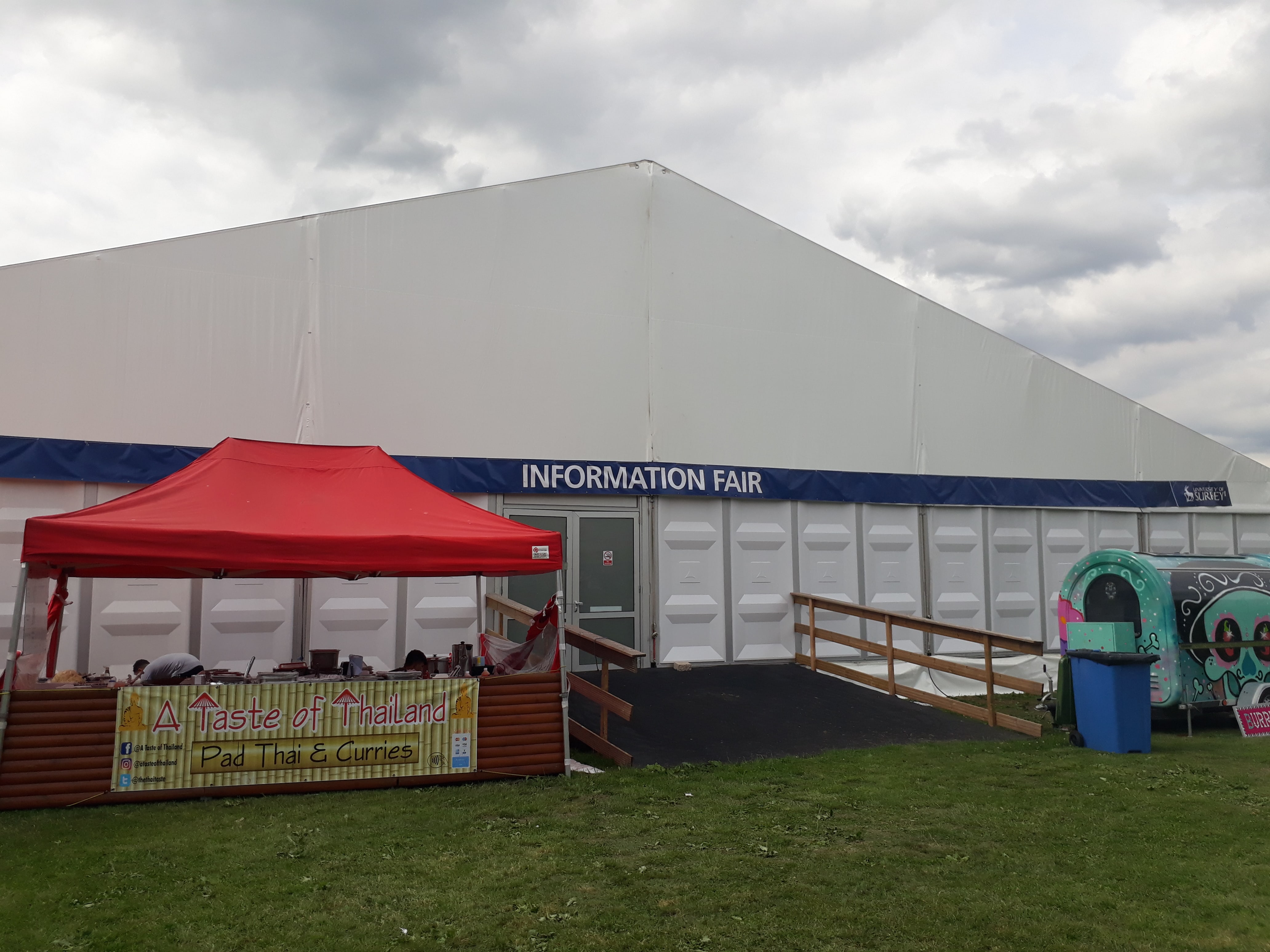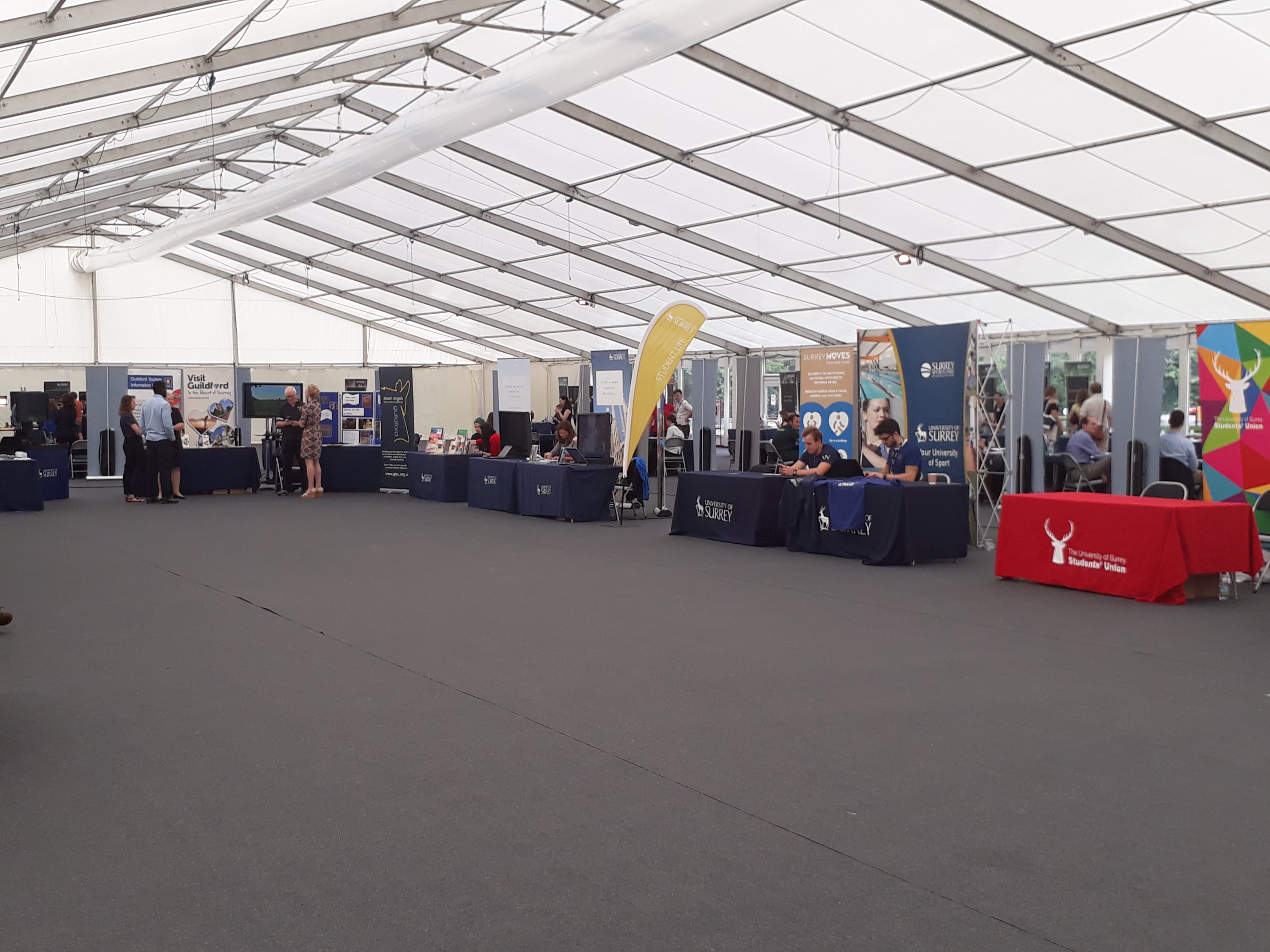 As a student ambassador, I had the chance to work at these Open Days (and get paid!). It's lots of fun as I enjoy speaking to the many people who attend these events and sharing my unique perspective on life at Surrey University 🙂 We had over 3000 registrations each for both Open Days and the atmosphere was amazing throughout
There are many jobs that student ambassadors are tasked with on the day and I was allocated to Subject Queue Marquee. After 2 days of this, I have to say, this is definitely the best role to have on Open Days 😀 Working in the subject queue marquee involves being in charge of a specific subject talk and ensuring all those wishing to attend the talk are brought to the specific lecture rooms allocated. It sounds easy-peasy but when you have over 100 people rushing towards you for a specific subject talk and there's a room capacity, it quickly becomes quite hectic!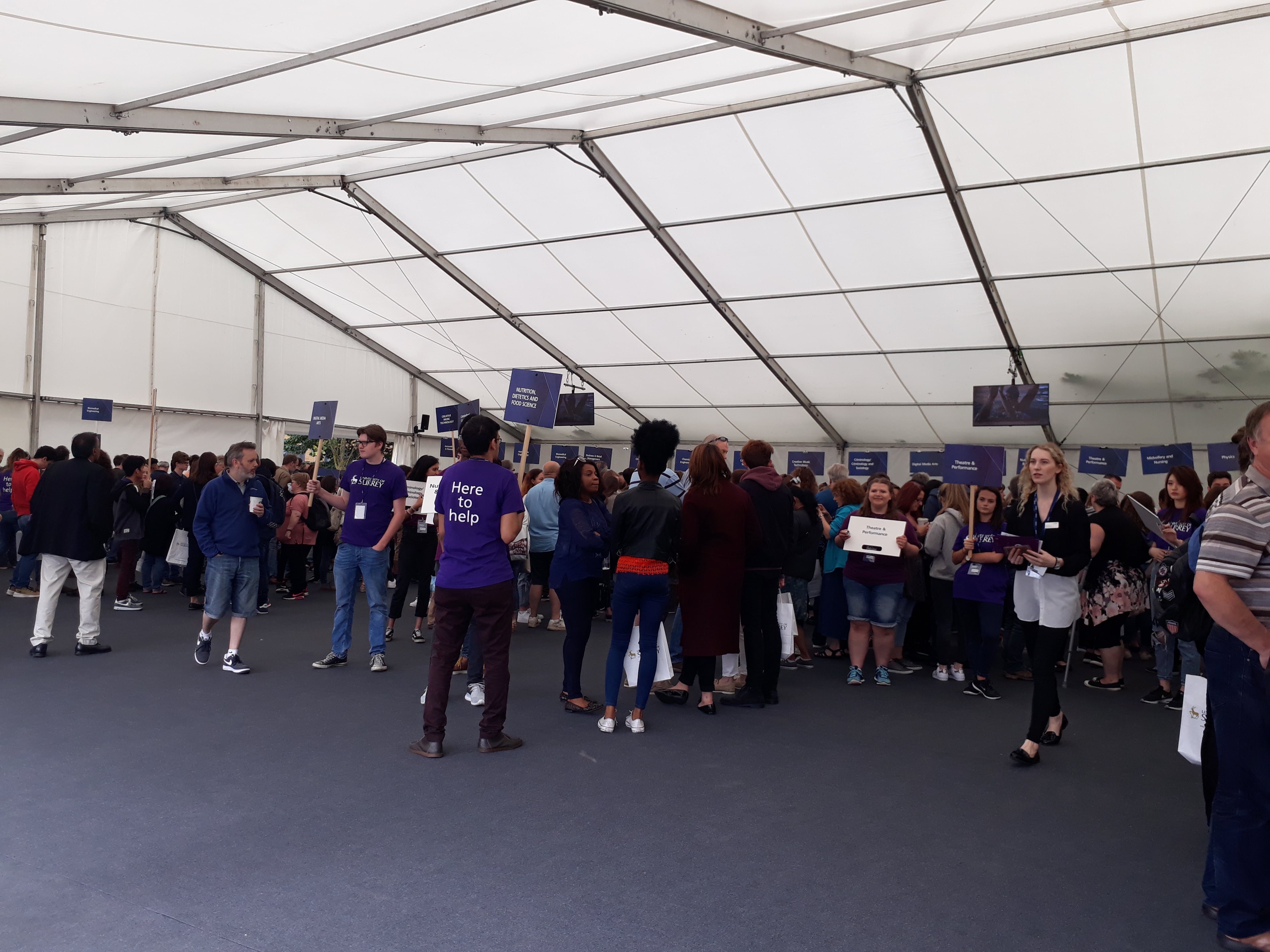 Subject talks were spaced out throughout the day, with 5 different sessions running starting at 9.30am. During each session, there's approximately 17 different subject talks running concurrently. Each subject talk had 2 student ambassadors in charge, one as a Lollypop Manager and one as a Queue Manager/Clicker. I got to do both roles during the talks and had lots of fun (as you can see in the picture below :p)
The Lollypop Manager oversees holding up the sign with the specific subject so those wishing to attend queue at the specific subject line. The Queue Manager meanwhile is in charge of ensuring the number of people attending each subject talk stays within the room capacity.  The Queue Manager has a clicker, hence is called The Clicker Person which keeps count of the numbers. Very lame I know but it was quite fun to click the clicker for every new person joining the queue. The clicker registers the numbers so there's no need to remember the numbers on your own
Once the queue is growing in numbers, the Lollypop Manager brings those wishing to attend the subject talk to the respective lecture room. It then winds down for about 45 minutes where we got to have mini breaks before preparation for the next round of subject talks begins.
During our mini breaks, I enjoyed engaging and answering questions prospective students had. I would say that the most important thing to remember was that throughout the day, we were the face of the University. This meant that our customer service skills had to be 150%, meaning always having a smile on our faces. This wasn't too difficult for me though as I tend to always be quite smiley (or so I have been told :P)
Because the last subject talks end at 2.45pm, it meant we finished work then as well which was quite nice. By the last subject talks, my energy levels were dropping dangerously low. Who knew that being so sociable could be so exhausting! I headed over to the Information Fair to check out the food stalls available. We were provided with £3 food vouchers to be used at the on-campus university restaurant, Hillside but I was after something sweet
I settled on mini-dutch pancakes with bananas and Nutella, topping with icing powder 😀 It was yum! Because it was such a nice day as well weather-wise, many of those visiting the Open Days had the same idea as me: to sit by PATS Field or even the campus lake and just enjoy the beautiful weather and green surroundings 🙂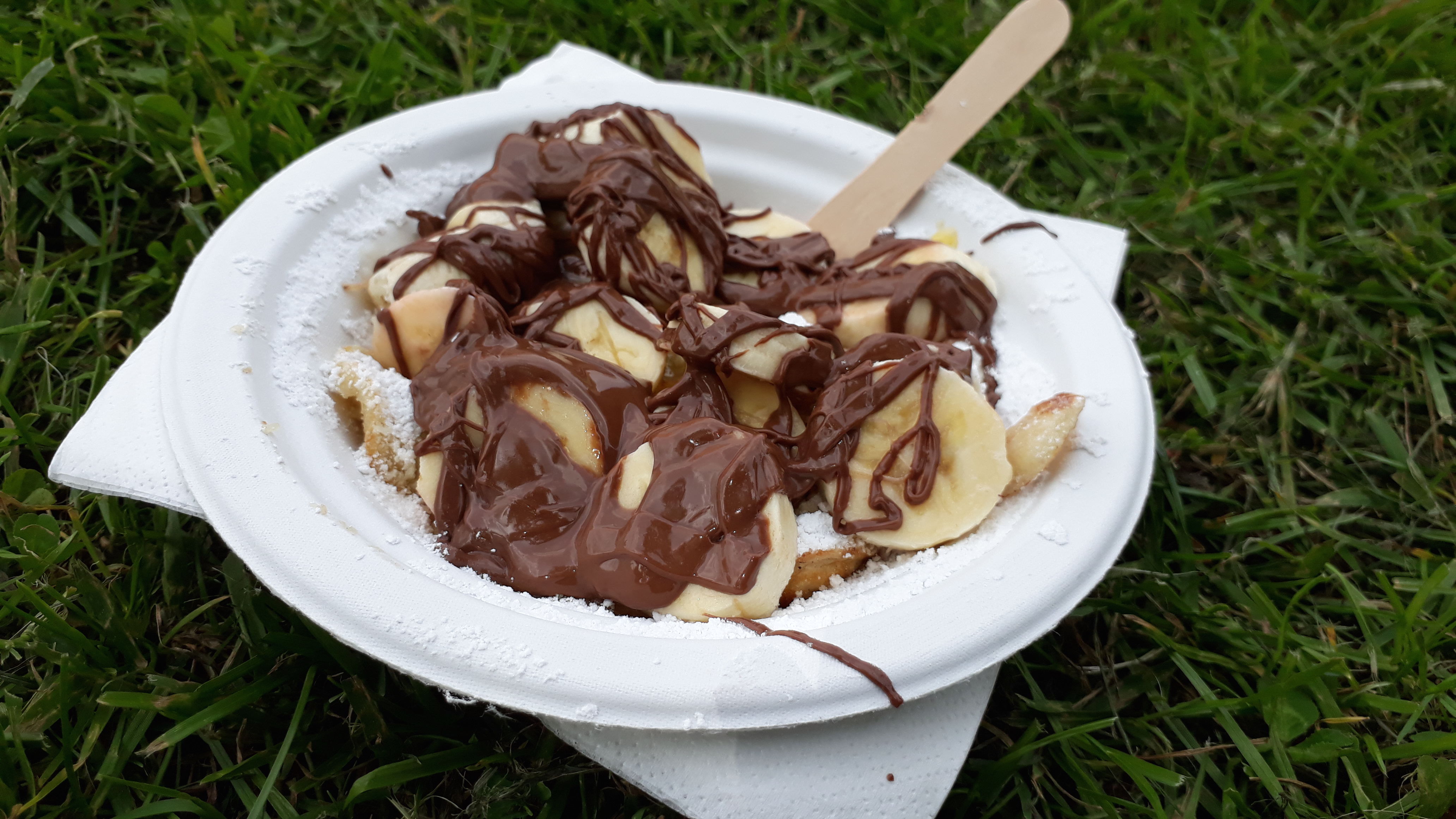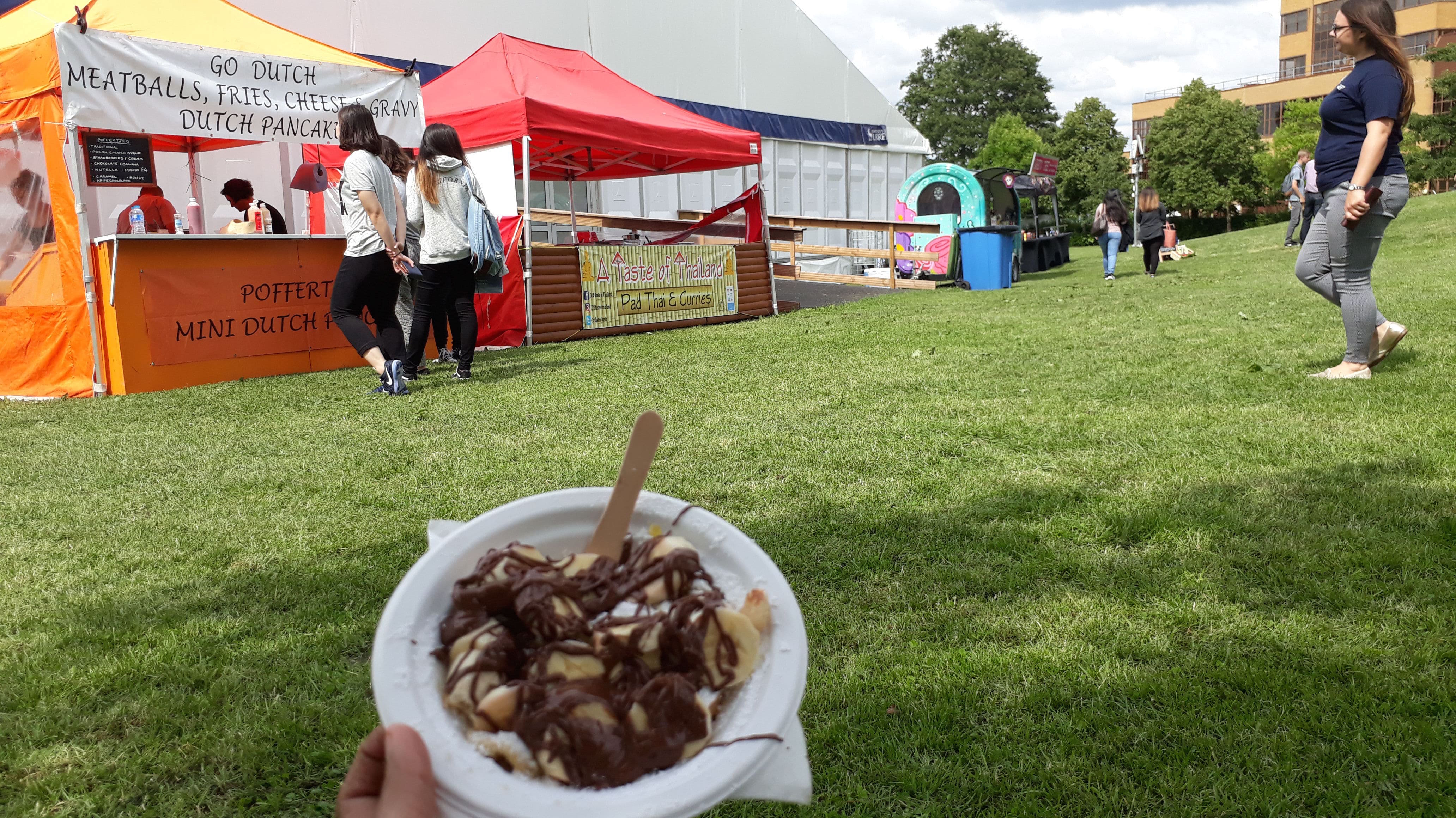 All in all, it was such a fun experience working for the Open Days and I am sad that it was my last one. The next Open Days scheduled are for the 16th September and 14th October, both Saturdays. I would 100% recommend those who want to experience Surrey University first-hand to register to attend for one of the Open Days coming up. You won't regret it! As we like to say, Wonderful Things Happen Here 😀
Anyways, that's all for now!
Till next time: selamat tinggal x