Hello and Happy New Year, everyone! It's the new year and we're already knee-deep in exam season. Everyone is stressed to some degree, myself included. So, I'm writing this during my break from studying. You have to breaks once in a while, am I right?
So, over the Christmas break, I had gone to Seoul to visit my friend and fellow Malaysian Student Ambassador, Isabelle! She's currently studying at Seoul National University for her placement year, so I thought it would be a great opportunity to visit her as well as visit Korea for the first time. Boy, did I have an amazing time! Honestly, I spent most of my time just enjoying the food available there. I love myself some Korean food. This blog post may just be full of food pictures. Oops.
DAY 1
Right when I landed in Seoul, I picked up my pocket Wi-fi device (an essential item, of course) and bought a T-Money card. If you aren't aware, T-Money cards are basically rechargeable smart cards similar to Oyster cards here. The additional feature of T-Money cards, however, is that it can be used in lieu of cash or credit cards at convenience stores. The T-Money card is mainly used in Seoul (and in some other areas), but there are other similar rechargeable smart cards in other areas like the Cashbee card.
You best believe that when I got off the bus at the university dorm and I saw that Isabelle was waiting for me, we both just squealed out of delight. It was just about lunchtime at the time, so after I dropped my bags off and chilled a bit, we went to one of the restaurants in the campus area. We both had excellent mandu-guk (dumpling soup), as pictured below.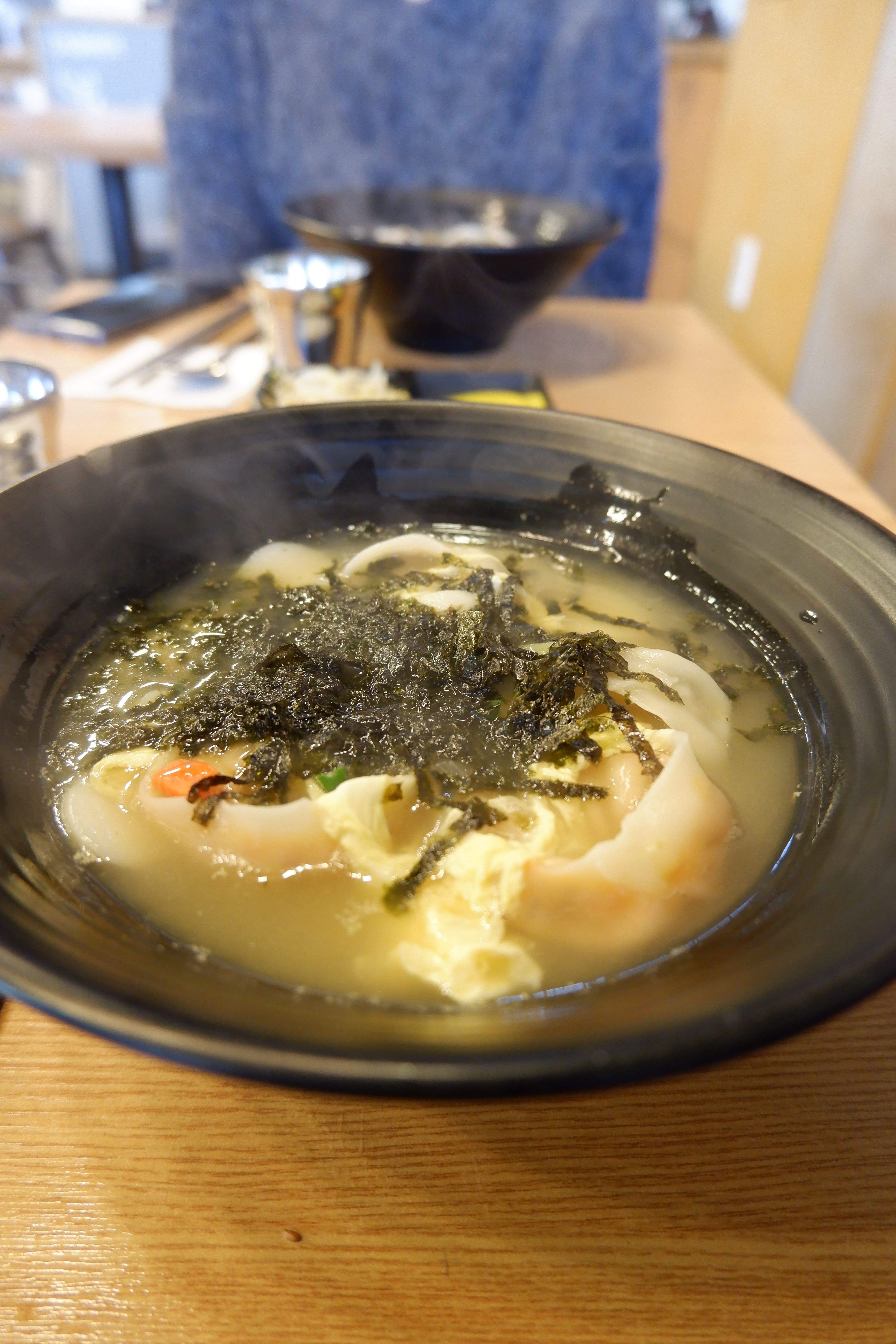 After the soul-warming lunch, Isabelle gave me a partial tour around the university campus. It was huge! The campus is definitely bigger than the University of Surrey's campus. The library was astounding, both size-wise and facility-wise. We also met with the campus cats! Though one of them wasn't really appreciative of my mini-photoshoot.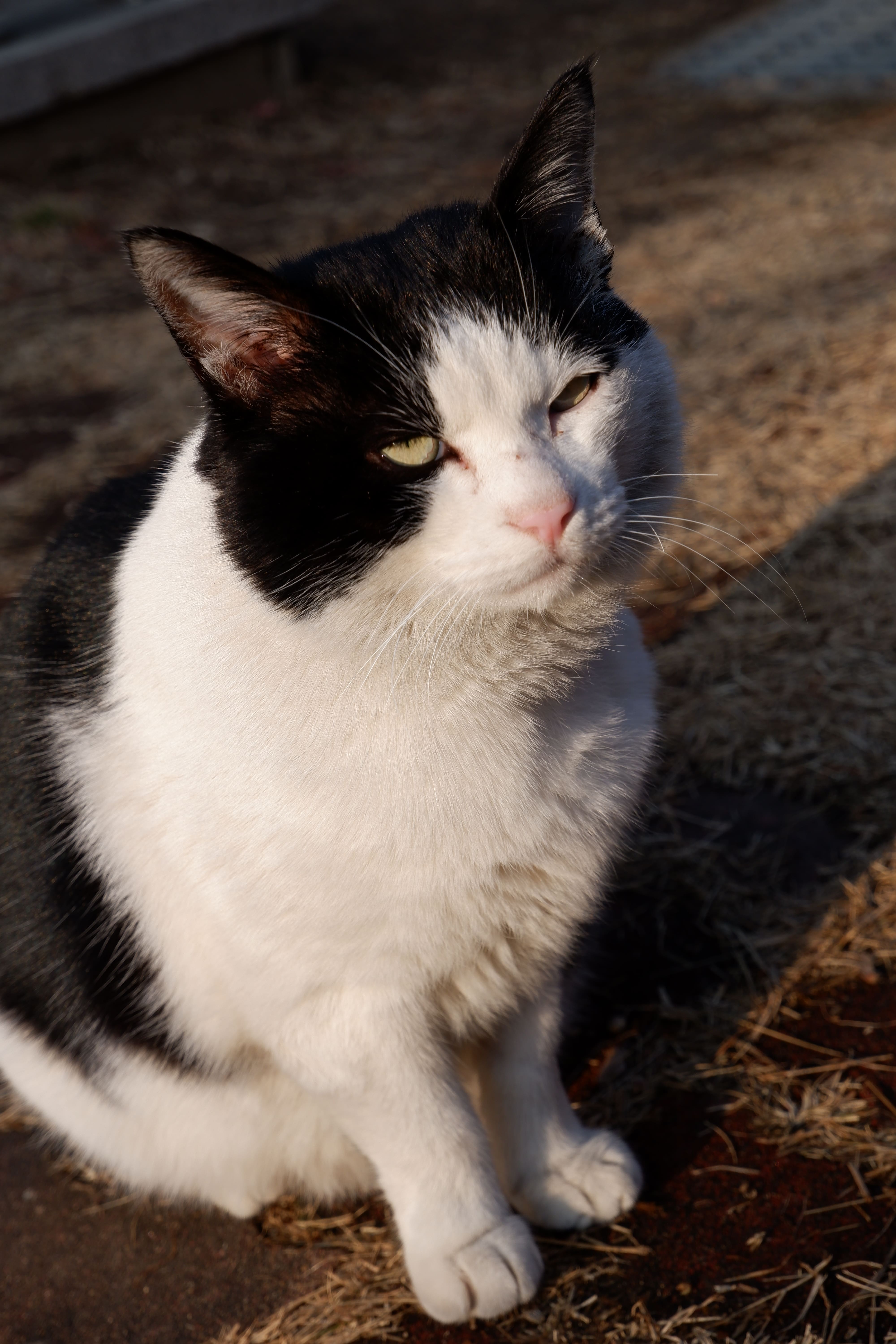 Because I was tired from the flight and jetlag, we just chilled in the dorm till evening came around. From there, we roamed around Garosu-gil in Gangnam, which is known for their boutiques, restaurants and cafes. We got ourselves some peanut and walnut treats (I don't have a picture, I'm sorry) and walked around trying to decide where to eat for dinner. We eventually decided on a specialty curry place called Moda Moda. I got myself the curry with shrimp (pictured below). The portion was so good and so filling!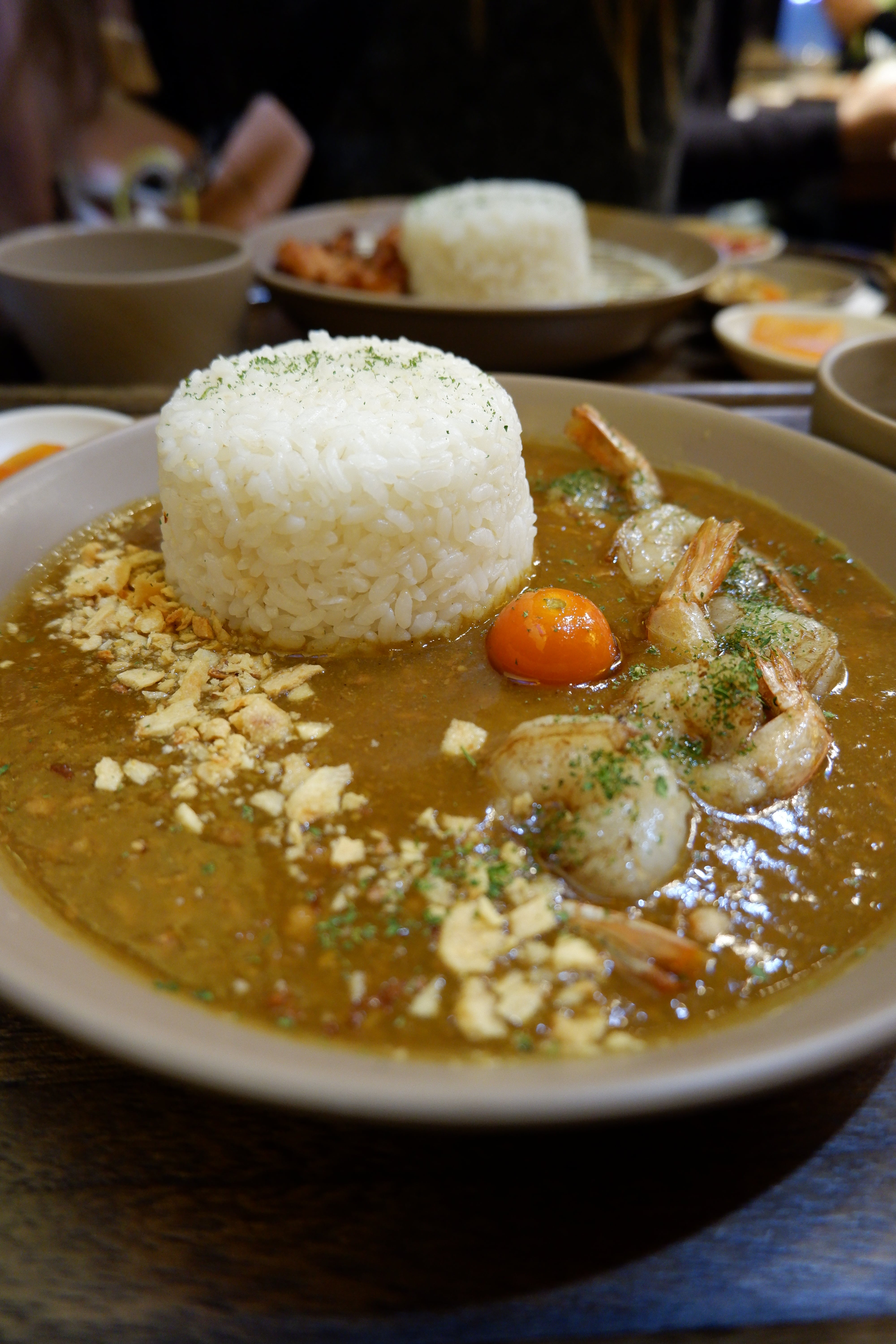 After dinner, we chilled a little in the Starbucks store nearby and went back to the dorm. I thought it was a little early for me to sleep even though I was tired to the core, so we went to the karaoke place on campus. I don't think you would want to hear our 'singing' (more like screeches) though, so just be glad this is a written post. I crashed almost immediately after getting back to the dorm. On a side note though, do you know that they use floor heating? It blew my mind and it was so nice to sit on the floor since it was winter.
DAY 2
It was Christmas day on this day and the streets were packed with people. We ventured off to Myeong-dong, which is one of the primary shopping areas but it was also packed full of different kinds of restaurants. We initially wanted to eat at Myeong-dong Kyoja, a family-owned kalguksu (knife-cut noodles) restaurant with the Michelin Bib Gourmand award, but the queue for it was crazy so we looked around a little more for a place to eat for lunch. I had been wanting to try jjajangmyeon (black bean noodles), so we decided to eat at a Korean Chinese restaurant called Kkongsi Myeongwan. I had my long-awaited jjajangmyeon while Isabelle had fried rice. We also had xiao long bao as a shared dish. This is an excellent example of Korean Chinese cuisine which is a hybrid cuisine between Korean and Chinese cuisine. It's basically a new cuisine of its own consisting of unique dishes with Korean flavours and ingredients. For example, jjajangmyeon was derived from Chinese zhájiàngmiàn but they are very distinctly different from each other.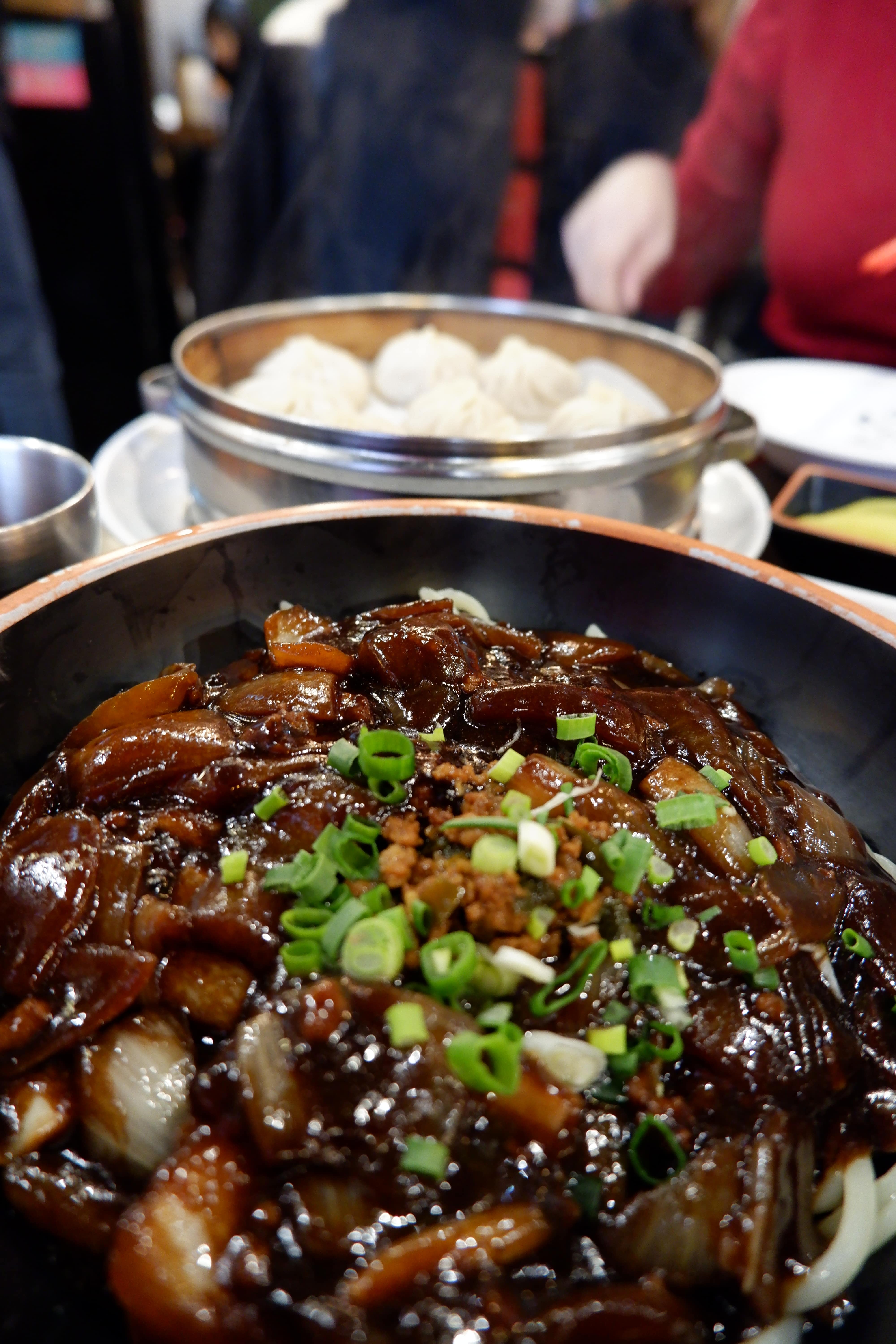 While walking around the area after lunch, we happened upon the Honey Butter Almond & Friends flagship store in Myeong-dong. If you didn't know, honey butter chips, almonds, and other nuts are a very popular Korean snack. There is even a dedicated store for different flavoured almond snacks, ranging from honey butter to tteokbokki-flavoured almonds. There were quite a few photo spots, so we had a great time taking pictures. We did leave with a few snacks though.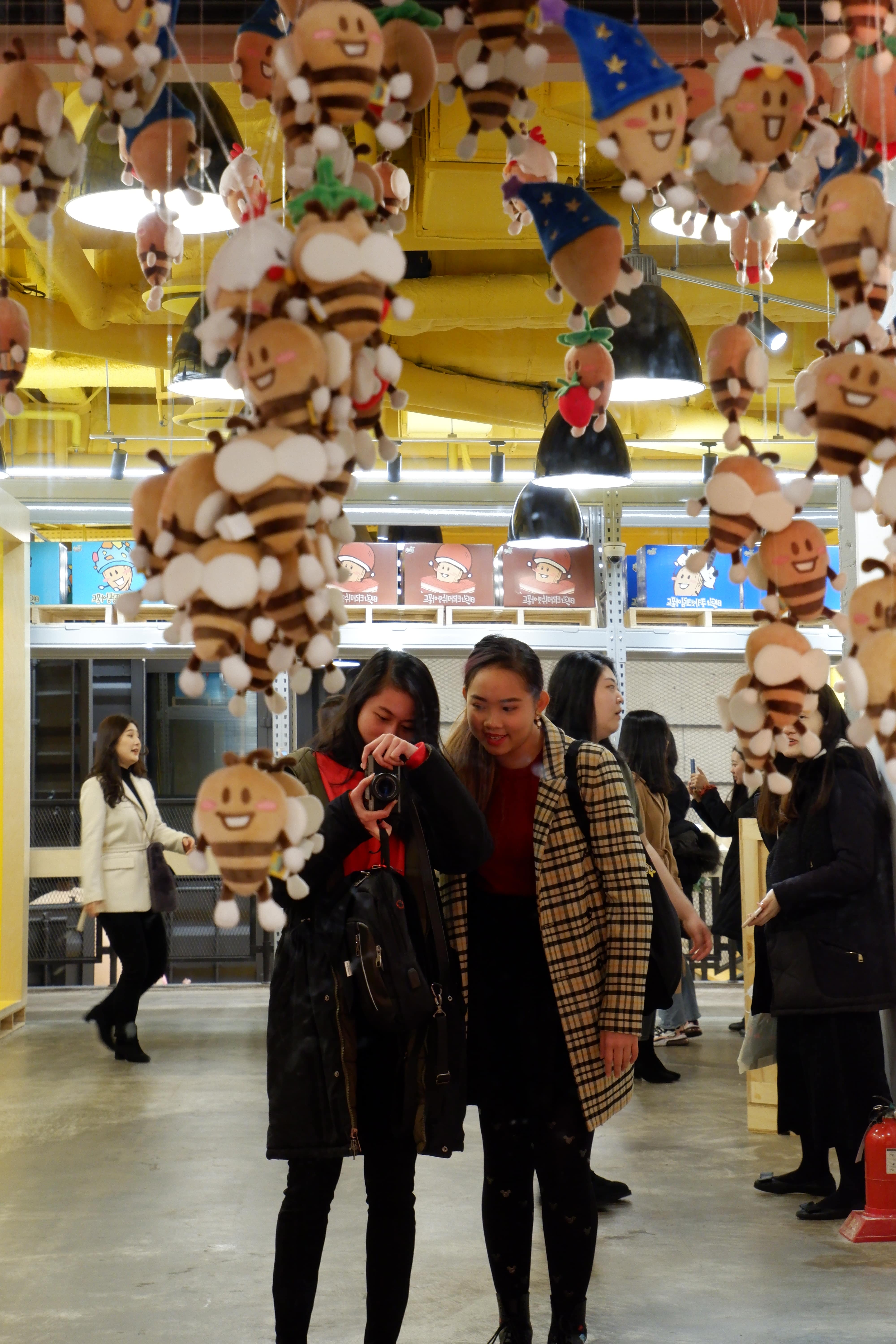 We met up with a friend of Isabelle's who was also studying at SNU and we walked towards Myeong-dong Cathedral because I wanted to visit it for Christmas day. It was a sight to behold, both outside and inside. It was definitely packed with people who intended to attend mass. One of the main religions in Korea is Catholicism, after all. There was even a children's choir singing outside the cathedral. I was surprised by how angelic their voices were, and they performed without microphones! It was so heart-warming and festive, I loved it.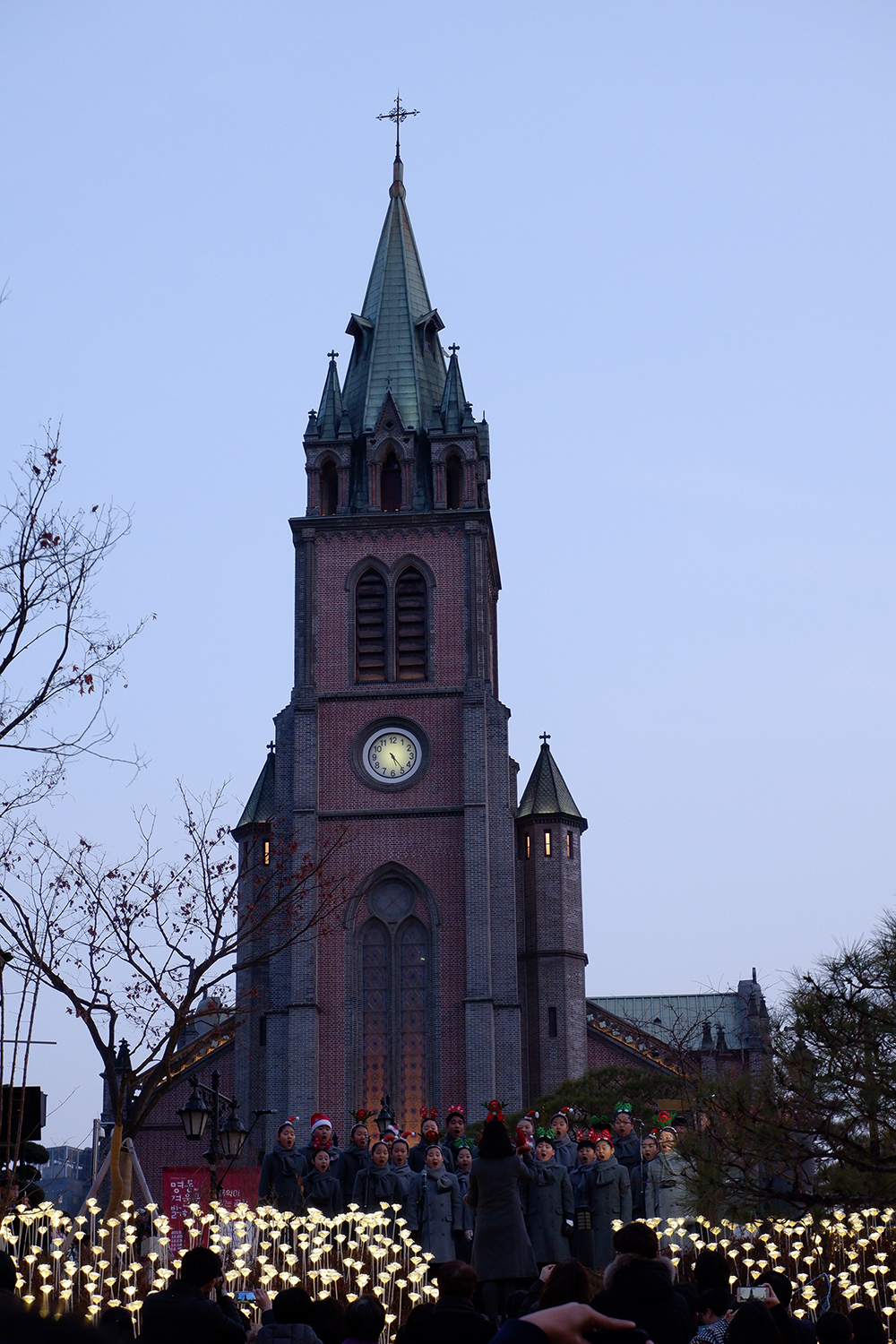 Because it was Christmas Day, it seemed that the decorations were up along the Cheongyecheon stream, which is an 11 kilometer-long stream that runs through downtown Seoul and it was a short walk from where we were. So, Isabelle brought us there to see the decorations as well as the mini-concert that they had set up in the middle. It was filled to the brim with people wanting to stand by the stream. You best believe we were shoving and being shoved to get around. On the bright side, we received free tangerines when we watched the mini-concert happening with performances by all sorts of people. After we had enough of that, we returned to the food stall street of Myeong-dong and had our fill of street food. From cheese-tteok to grilled eel, we were content with all the food. After having our fill, we retired to a dessert place called Sulbing which served bingsu, which is a popular Korean shaved ice dessert.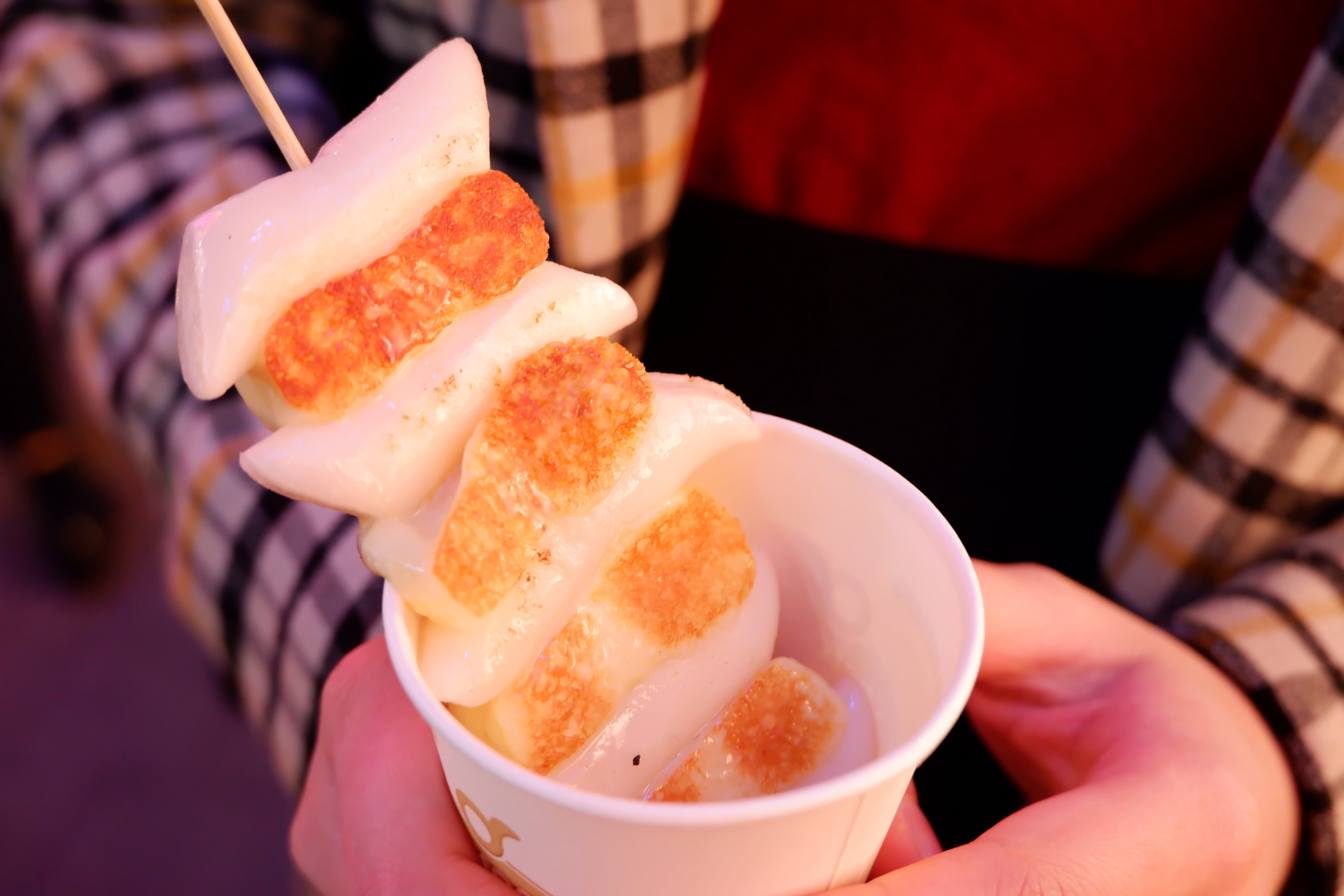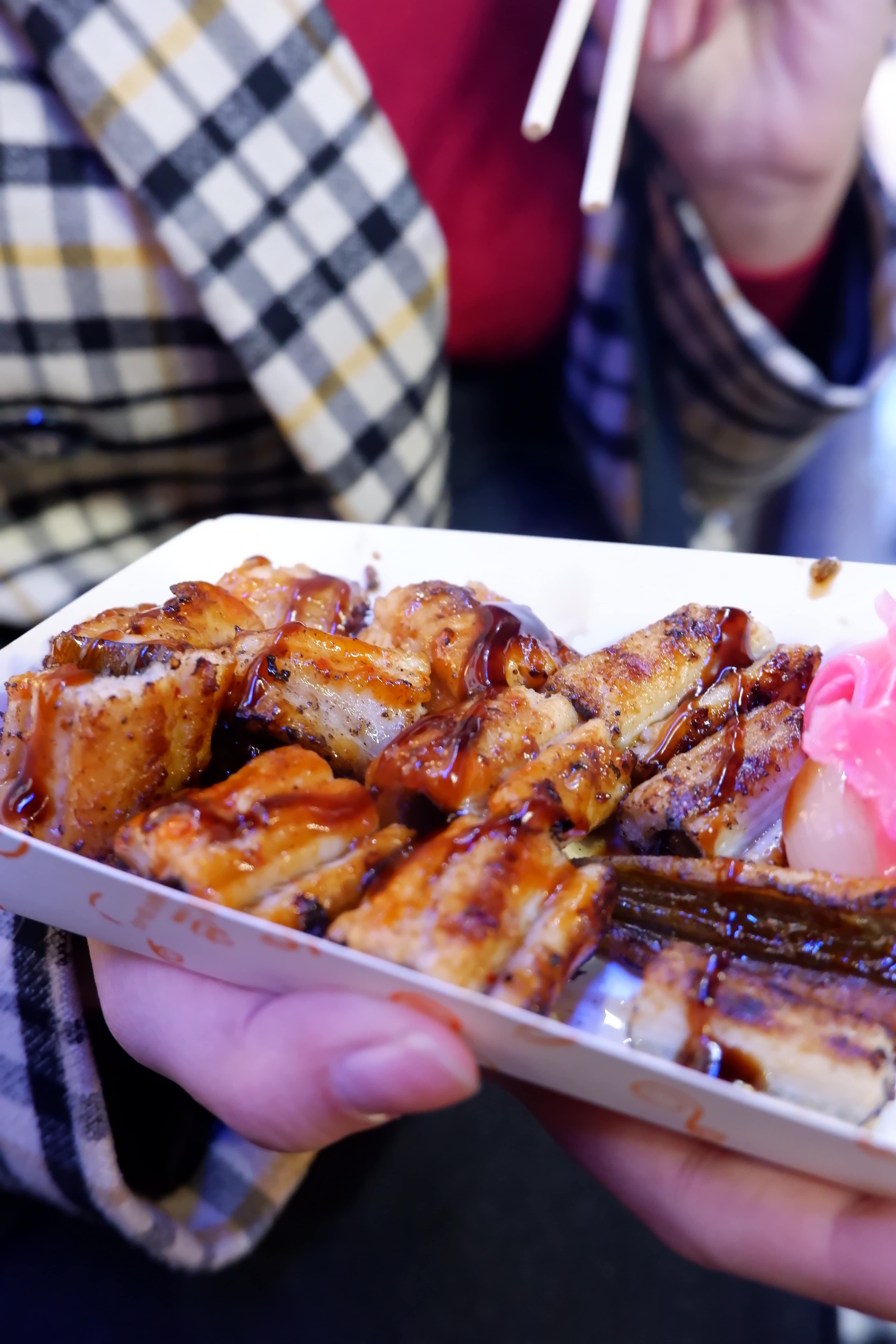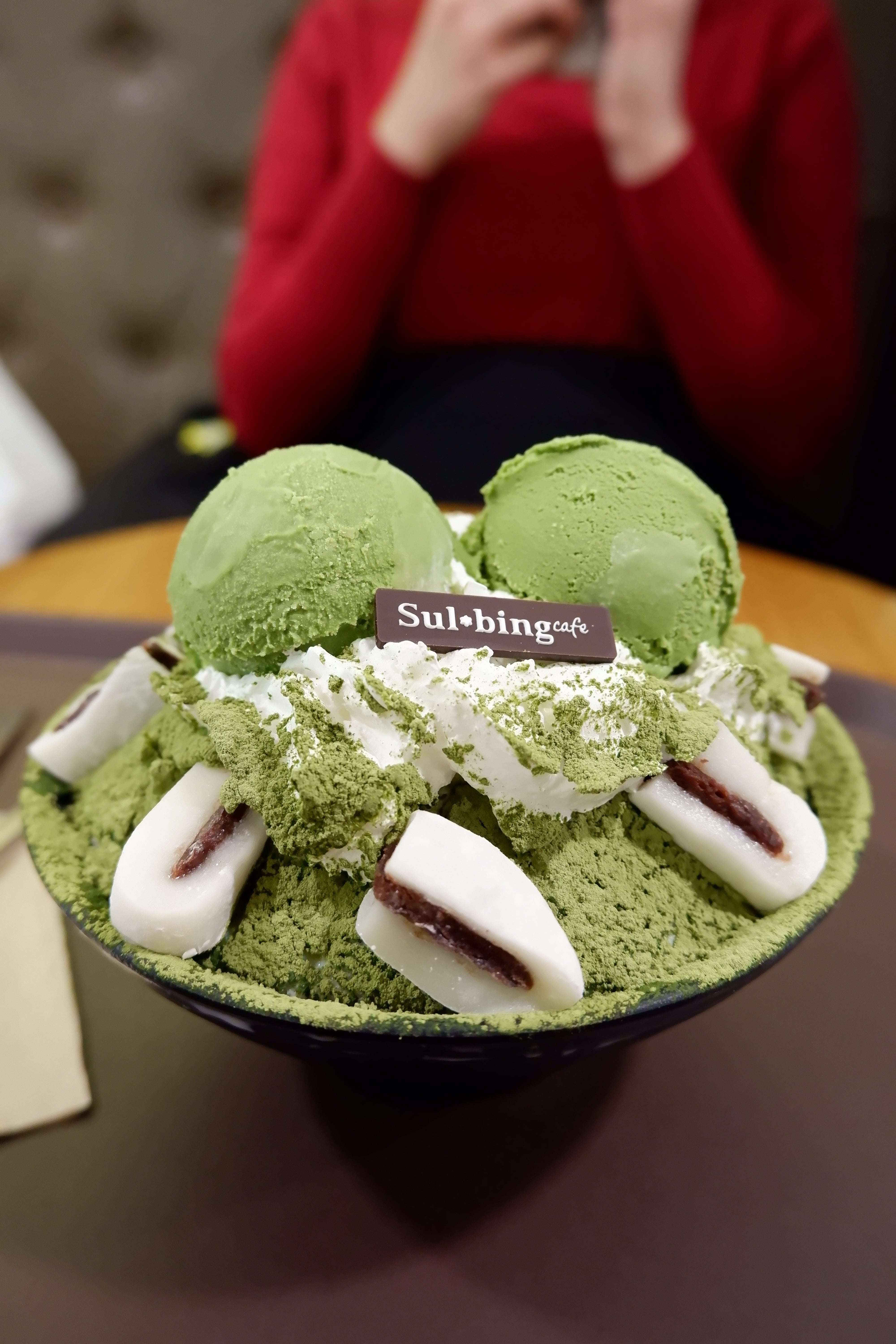 Because it was so late by the time we got back to the station nearest to the dorm, the bus had already stopped running between the station to the dorm. So, we hiked all the way back and stopped by the recreation grounds that was on the way. They had all kinds of contraptions for people to use for exercise; it was really fun trying them all out. People might have found us somewhat suspicious for doing this all alone in the middle of the night though. We're not crazy, I swear. All the exercising made us hungry again, so we bought food from the convenience store nearby and I got to eat an excellent luncheon meat kimbap. I don't have a picture of that though.
DAY 3
Because Isabelle had some business to do in Gangnam that day, that's where we headed for the day. We finally got to walk around Gangnam in the day, because we had only walked around at night on the first day I arrived. I was practically salivating all the time because of how many food places there were. We had lunch at a restaurant which had a name I had forgotten to look up. Its main dish was samgyetang (ginseng chicken soup) though, so we shared that between the two of us plus a chicken porridge dish. Yet another soul-warming dish which was an excellent start to the day.
After handling whatever business Isabelle had, we chilled at a cafe nearby for a while. Then, we went to SM Entertainment. For all you K-Pop fans out there, I'm sure you know what I'm talking about. Ah, what an experience it would've been if an idol were to walk out from the famous practice room. We didn't spend too much time here though and we walked to SM Town Coex Artium. Boy, it was fun walking through the complex and seeing the different merchandise as well as activities. Because Coex Artium was conjoined with Starfield COEX Mall, we just walked around the mall as well. Their food court food is next level. I had been craving donkkaseu (korean tonkatsu curry), so I got that for myself for dinner.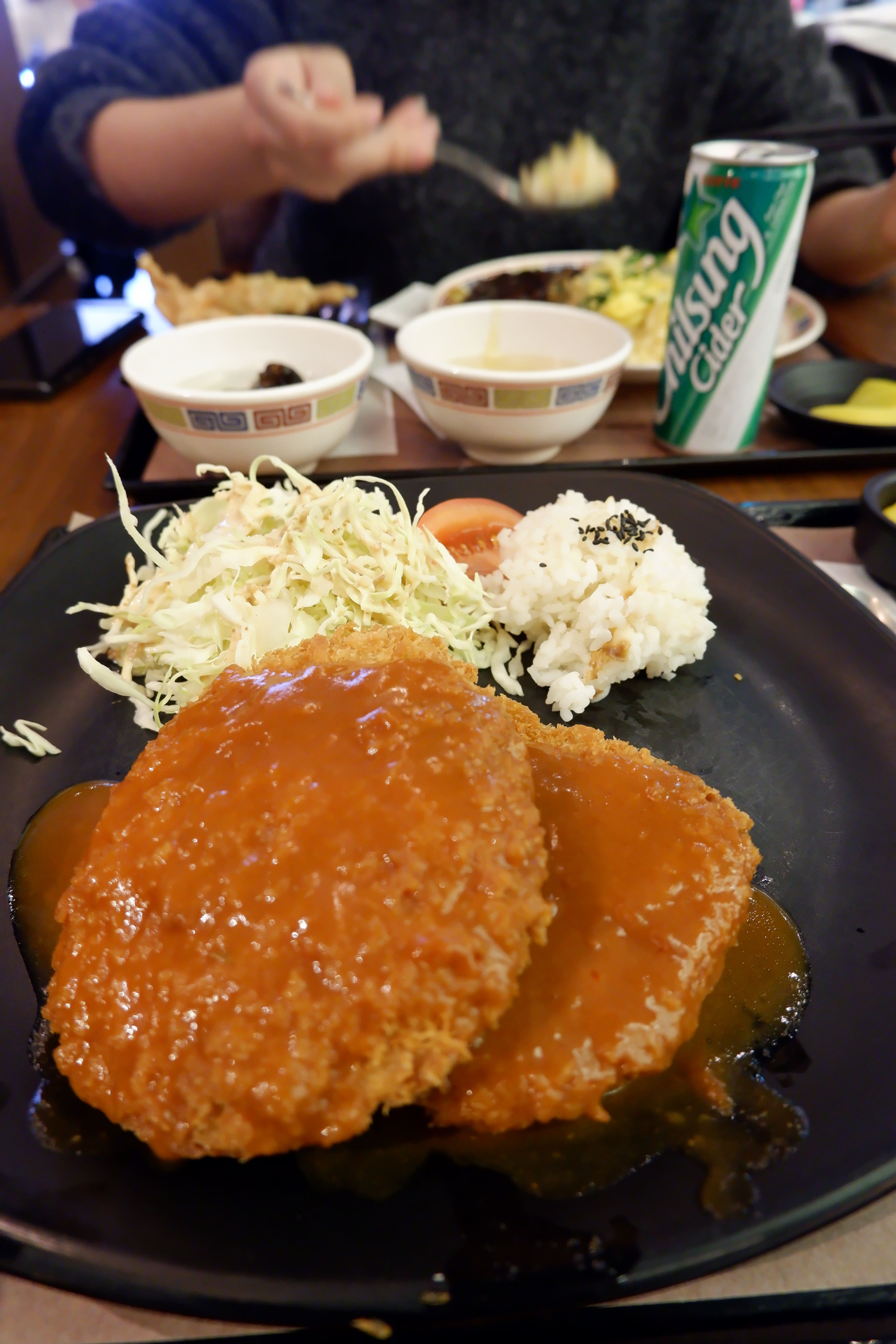 Did I mention that the mall has a library in the center of it? Well, it wasn't like I could understand any of the books there, so we had a photoshoot there because it was pretty nice.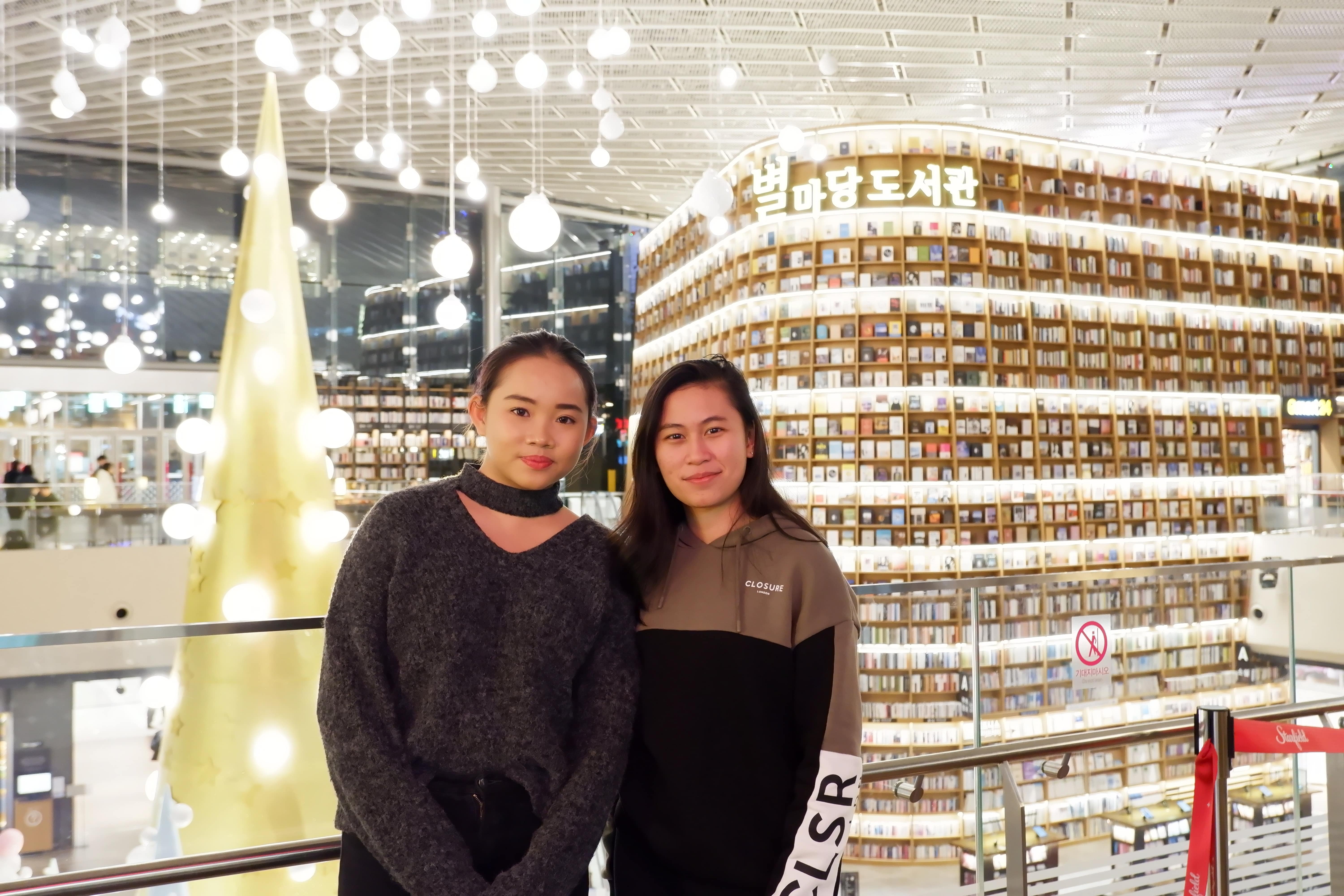 End of Part 1?
This blog post is getting a bit too long for my liking, so I decided I'll split it into two! The next update would probably be after exams though, but stay tuned! I will also try to edit my personal travel vlog after I finish my exams. See you!