Hi there! It is currently week 3 and I think that it would be nice to share some tips of looking for accommodation for the new academic year. I guess most of the first-years this year are busy looking for private accommodation now. In addition, USL (University of Surrey Lettings) has organized some housing fairs, and some landlords have started advertising their properties on websites. Normally, students will secure their accommodation around March or April.
However, the rent of private accommodation is fairly expensive. Depends on the location and the standard of rooms, the rent could range from 140 pounds to at most 300 pounds. For example, one of my course mates is living in a studio of the Prospect House, which is basically a private property on campus (near train station and Stag Hill Court). Her rent is 295 pounds per week. Nonetheless, I would say that her rent is a bit too high due to the perfect location. The average rent for a studio is about 200 pounds per week. In my case, I live in a small room with a shared bathroom, kitchen and living room, together with three other housemates. It is near Southway, which is about 15 minutes of walking distance from my house to the uni. My room is particularly small, apparently a 3m x3m area, but it costs me 550 pounds per month (around 138 pounds per week). Therefore, some students might go for a cheaper but more risky option: to apply for a university accommodation. It is risky because successful applications for university accommodation are only guaranteed to first-years and returning students from placement year or exchange programmes. Hence, there is possibility that you would get a rejection from the uni accommodation team at last minute, about August. And I don't think that those properties with great prices and location are still available at that time. Yeah, for second year students, looking for a private accommodation seems to be a safer, yet more expensive option.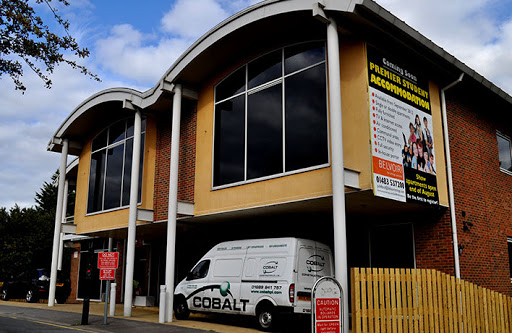 Firstly, if you are applying for university accommodation, the application process is essentially the process you went through when you applied for a first-year accommodation. My advice would be to try to find a plan B, in case your applications get rejected. You can appeal the results right after you receive the decision. I know some friends who successfully appealed and secured a room on campus, but they received the confirmation letter only a few days before the term starts. It may be due to that the university accommodation team has to allocate rooms to the first-year students first, and only accept the applications of second year students if there are rooms leftover.
On the other hand, if you are looking for a private accommodation, there are a few factors to consider. Firstly, the budget. As I mentioned, the rent in Guildford could be very expensive, I personally think that it is because Guildford is near London. According to 'the student's guide to the private sector' published by USL, the rent greatly depends on the distance from the uni and town centre: the nearest to the uni and town centre, the higher the rent. As the map shown below, the monthly rent of the properties in town centre, especially near the train station, ranges from 550 pounds to 700 pounds. I live near Southway, which is between Park Barn and Guilford Park. Moreover, the standard of the property could affect the rent. If you are finding a studio/flat, with your own kitchen, it costs above 200 pounds (the studio in the Scape, a luxury student accommodation of 5 mins away from the uni, costs at least 270 pounds per week; while the en-suite costs at least 230 pounds). If you have a lower budget, just like me haha, normally you can find the smallest room in a house of shared bathroom and kitchen, I think the rent could be lower than 200 pounds per week. If you don't mind living far away from the uni, you may find some rooms with even lower rent.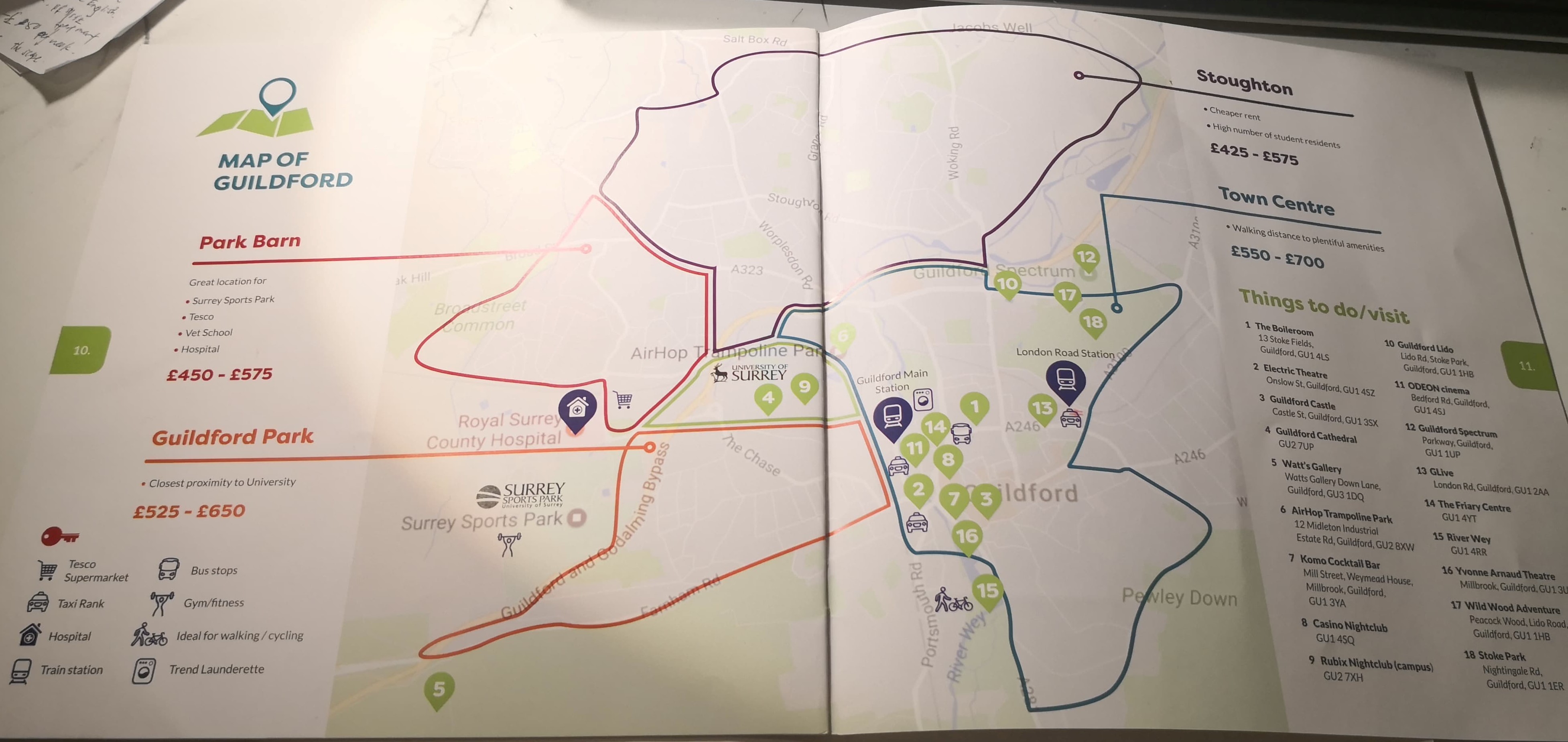 Another important factor is finding your housemates. Of course, you can live in a private accommodation on your own, but I think that it would be better to live with someone that you are familiar with, or someone that can give a helping hand when you are in a trouble/ feeling unwell. I am the person that don't really enjoy drinking and clubbing. In addition, I am a quiet person that enjoy reading and watching Netflix at night/during weekend XD. Fortunately, my housemates are quiet as well. We come to a consensus that we won't disturb each other at night, eg. we won't invite friends to drink at our house, won't turn the volume up. Moreover, we take turns to clean the bathroom and toilet, as well as clearing the rubbish and food waste. Therefore, our house is always clean and tidy. So, finding housemates that suit you is important, because you are gonna live with them every day. It wouldn't be nice if it ends up that you are the only one that care about the cleanliness, while your housemates keep making mess and disturbing you, right? Therefore, communication is essential. We have a Whatssap group chat to discuss or remind our rota or any other issues.
Next, I intentionally chose my housemates who speak English with me. I would like to improve my English, thus practising English in daily life is essential. Therefore, I chose not to live with Chinese friends, whom I can speak my first language with them, so that I can step out of my comfort zone. I am living with two Thai and a Malaysian. We are all doing our second year undergraduate:) Hence we chat in English everyday. This helps me to practice my English. And I found that I can now communicate with them smoothly and fluently since I can ly communicate with them using English.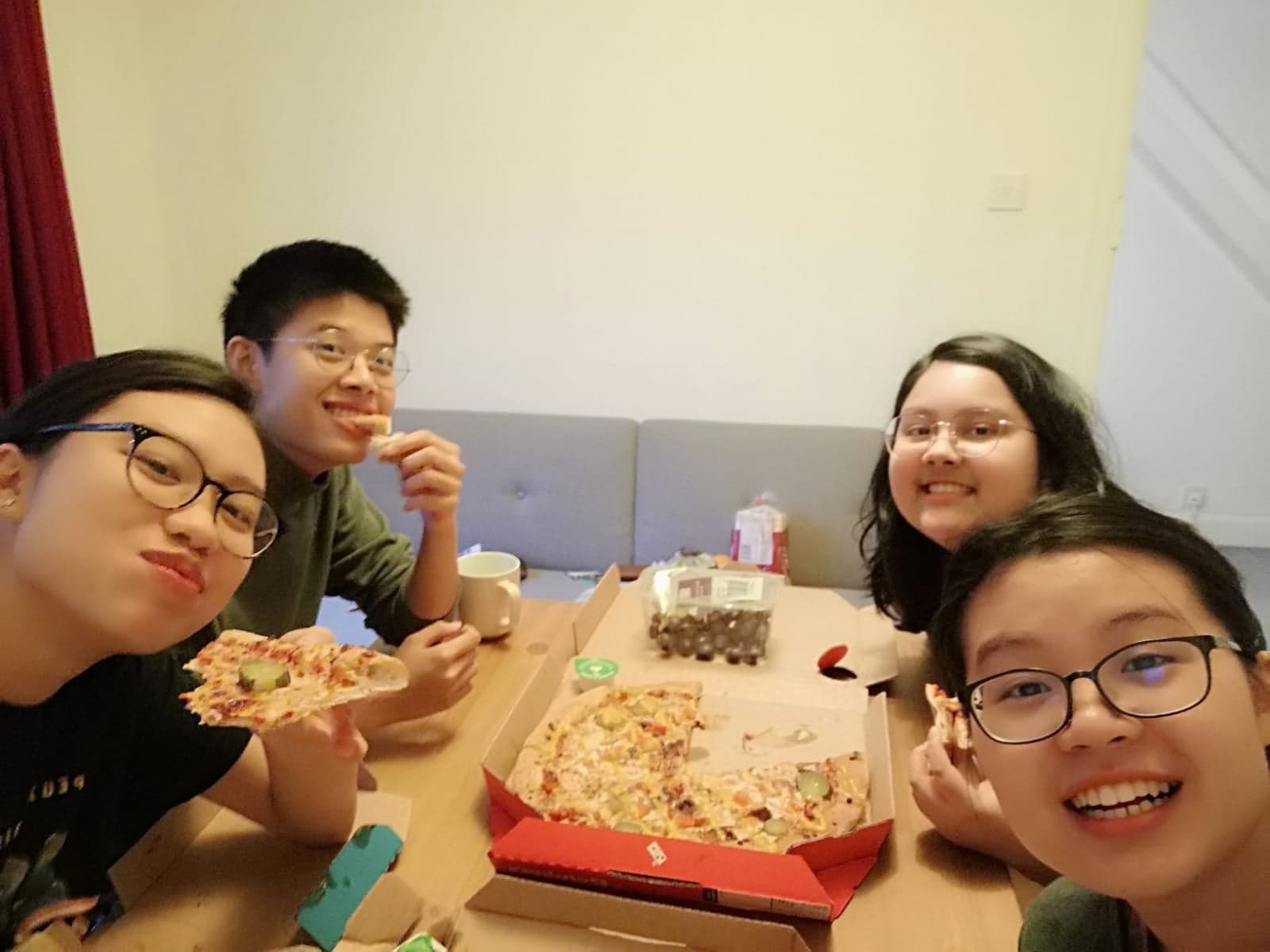 Oh, this blog gets a bit too long now. Yeah, basically the budget and housemates are the main factors should be considered when you start to look for accommodation. After that, you may start surfing websites or contact letting agencies. I will give my suggestion in my next blog. That's it for now, it is time for bed. It is 2am but luckily it's Saturday, so no lectures! Haha!
Have a nice one! Catch you guys next time!