Hi there! How are you today? Sorry for a slight delay of this blog, I have been into the world of K-drama recently and I haven't actually done anything productive this week XD However, it was a fairly relaxing week for me, because I finally have the freedom of time and don't have to worry about assignment deadlines and exams, although I still have some other things to do (eg. household chores and teaching my sister Maths😊). Apart from watching Korean dramas and movies, I had a week well spent with my family and relatives. I went back to my mother's hometown, Yong Peng, after a year of studying abroad. The relatives were so surprised to see my brother and me, since we haven't met them for at least two years in the Chinese New Year reunion dinner. My aunt made a feast for us, everyone was happy and excited. This made me feel like I was celebrating another Chinese New Year with them! Moreover, I visited my cousins yesterday and had a wonderful badminton session together. How did you spend your week? Did you have a great week too?
Alright, back to the topic. This time, I would like to share my voluntary work experience. There are lots of voluntary work opportunities available in our university and also in Surrey. You could just enter some keywords like 'voluntary work in Guildford' in Google and there will be tons of opportunities available for you to apply. Alternatively, you could register as a member of Surrey volunteering team, and you will get emails from the committee regarding the voluntary work opportunities. I am a part of Surrey Volunteering team, and also a member of the volunteering team in Chinese Society. I mainly take part in the voluntary activities organized by Chinese Society, while I also volunteered as part of Surrey Volunteering team in the Varsity Games last year.
Varsity Games is a sporting fixture between two university teams, University of Surrey and Royal Holloway. My main responsibilities were welcoming and catering players from Royal Holloway, collecting score sheets, arranging audience seating, and cheering up for players of our university. It was an interesting and unforgettable event, which significantly demonstrate how united our team was to a common goal. The work was not difficult, and volunteers had free entries to watch the final basketball match, which is a bonus! I really like the atmosphere in Surrey Sports Park, it was like a festival, the field and all the arenas were crowded. I also had the opportunity to watch different sports that are rarely seen in Malaysia, such as pole dance, trampoline, lacrosse and water polo.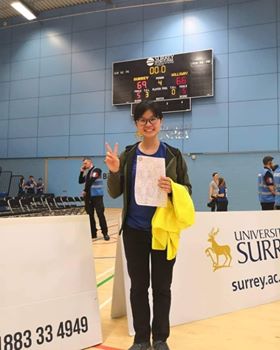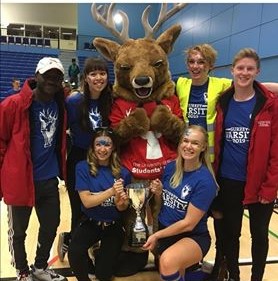 Moreover, I represented Chinese Society and volunteered in the Tenth Anniversary Guildford Beer Festival, which aimed to fundraise for the youth development section of Guildford Cricket Club and local involved charities. I was in charge of sold tickets at the entrance, served drinks at the bar and helped post-event cleaning. I really enjoy interacting with customers and making friends with other volunteers. The reason why I love engaging with people from diverse background is probably because it is always interesting and inspiring to listen to their stories and life experiences. Again, the work was not difficult and tiring, the important thing of volunteering is not about the work itself, it's about the experience and people you met! You will definitely widen your horizon every time you do voluntary work. You will learn more about the culture, and how life is living in Guildford.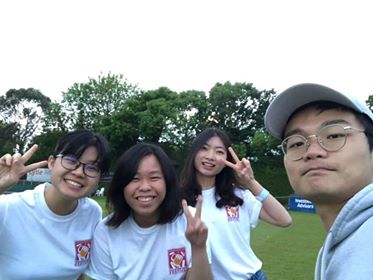 Another interesting voluntary work I have done is helping out in the STEAM festival held in our university. It is a showcase and celebration of different subject and their application within Higher Education and Industry, with a focus on Science, Technology, Engineering, Arts and Mathematics. As a representative of Chinese Society, my task was to introduce the background of the Chinese Dragon Boat Festival to secondary school students (years 8 and 9), as well as to guide them to make traditional fragrant sachets. It was a challenging task as it was hard to explain the legend of the Dragon Boat Festival, since it involved Chinese dialects. Moreover, the steps to make sachets were quite complicated. Therefore, I started searching for information a week before the festival to find the best word to describe the meaning of the Chinese dialect that cannot be directly translated. I summarized the main story in point form, added some pictures and showed them to the students. I spoke simple words in simple language so that the students understand the story. I acted out the story too. To demonstrate the making of sachets, I broke down the steps and slowed down my hand movement so that the students could easily follow. On that day, the students were intrigued by my presentation. They asked a lot of questions and some of them even shared their experiences with me. I felt very satisfied as my hard work paid off, and I was surprised that the secondary school students were interested in Chinese culture.
Ah, I have lots of experience to share but it seems that this blog would be too long if I write them out all at once. So, stay tuned on Surrey Meets Malaysia, and see you in my next blog! More stories coming!:)