Hi there! How are you doing? It's my last week staying here in Malaysia, I am now busy packing my luggage and arranging transportation to my new room in London. This is the longest ever holiday I have spent since studying at university. It's good to catch up with my friends and relatives during this holiday, because the next time I meet them would probably be in 2022 ……
Alright, today I would like to share my experience when I took a flight back to Malaysia during COVID-19 outbreak. It was in late March where the outbreak started to get viral. I didn't think it was a big deal at first, thus I continued attending lectures and studying for in-class tests even though my parents kept asking me to come back to Malaysia. However, suddenly the number of cases stroke up and many countries, including Malaysia, had closed their borders. My parents became more concerned about my safety when they heard the news that the British government intended to allow a significant part of the population to get coronavirus in order to build herd immunity against it, instead of containing the virus by closing schools and banning mass gatherings. Therefore, I booked a flight ticket which departed in 4 days. Not surprisingly, since many international students wanted to go home, the prices of the flight tickets were sky-high: for a Malaysian Airline direct flight ticket, the price could rise to 2000 pounds. I booked a Fly Emirates ticket for roughly 500 pounds, which was double as high as the normal one-way ticket before the outbreak. My Malaysian friends booked tickets from KLM Royal Dutch Airlines and Turkey Airlines, their flights were cancelled at the last minute. Luckily, my flight departed on time without any delay and safely reached Malaysia.
On the plane, you could see the cabin crew members and passengers wearing face masks, goggles, gloves and also face shield. You could also see some passengers wearing a whole set of personal protective equipment (PPE) on board. To minimize the risk of getting coronavirus, I wiped the seat handles and the tray table before sitting down. During the flight you could observe that people were going to toilets less frequently; some of them didn't take/eat the food provided on the plane (to avoid exposing their face, nose and mouth in the air); some of them put pillow and blanket aside and avoided touching them. These formed a peculiar scene on the plane, where people were extremely cautious about cleanliness/hygiene during the flight.
When I landed Kuala Lumpur International Airport, I had to go through a temperature check and fill a form regarding your current health situation (eg. If you have any symptoms of COVID-19; if you have met with someone who may get COVID-19 in the last 14 days etc.). Then, I lined up and waited for an officer of Ministry of Health (MOH)/ health care workers explained guidelines and restriction about self-isolation for 14 days, and seriously warned us not to break the restriction as this could lead to a disaster, where the cases of coronavirus increased uncontrollably. However, starting from April, any Malaysian returned to Malaysia were directly isolated in government-sponsored hotels, and received COVID-19 swab tests regularly.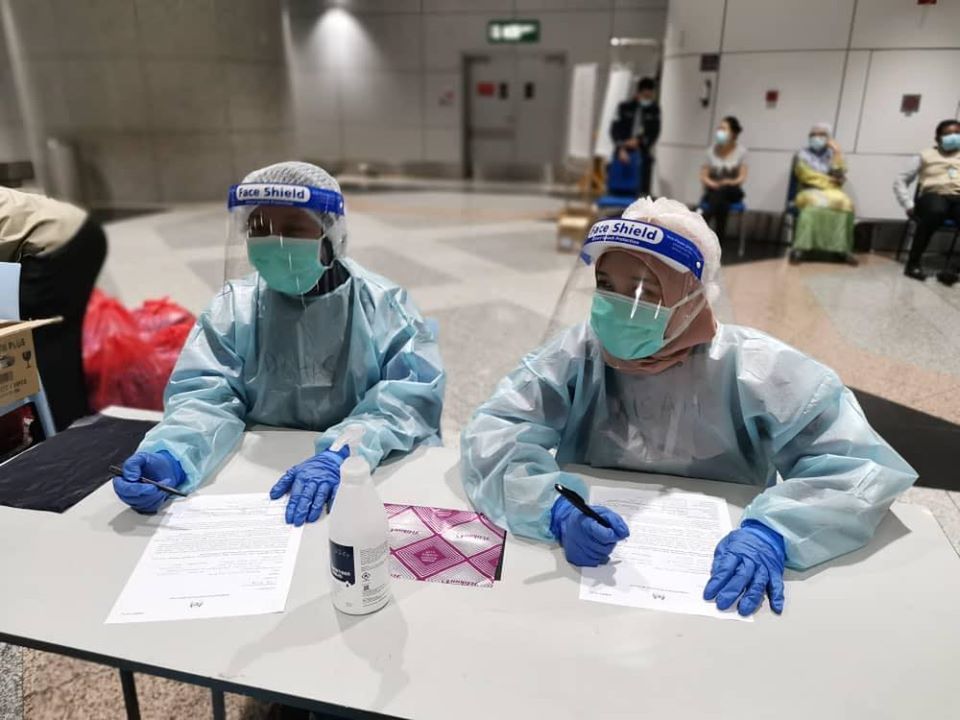 It was very quiet at the airport. All the stores were closed and only medical staff and airport officers there. I still can remember that at that time (late March), our government started implementing movement control order (MCO) that only one person was allowed to travel in a car. Therefore, only my dad came and fetched me at the airport. To be as cautious as possible, my dad asked me to change my clothes and spray my luggage using antibacterial/disinfectant spray. Then, I stayed in my room for 14 days for self-isolation. Fortunately, I didn't have any symptoms after 14 days and I finally got to enjoy the freedom after isolation!
All in all, I believe that people would be more prepared to avoid getting coronavirus now. There would be more guidelines and precautions to follow during your flight/journey back to the UK. For example, all the passengers of Etihad Airways are required to provide negative COVID-19 PCR test result before boarding. This could greatly minimize the risk of the virus spreading on the plane. Well, I will tell you how I prepare/ get ready for coronavirus when I fly back to the UK next week. See you in my next blog!