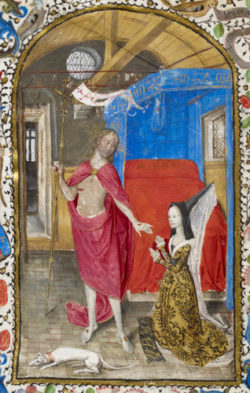 Image of Le Dyalogue's frontispiece
"My God, my creator, my redeemer, illuminate my interior eyes." So begins the main text of Le Dyalogue de la duchesse de Bourgogne a Jesus Christ (London, The British Library, Add. MS 7970), commissioned by Margaret of York, the Duchess of Burgundy, around 1468. Margaret was a prominent manuscript patron, accumulating a personal library of over twenty volumes, far more than any previous Duchess. Though her contemporaries Charlotte of Savoy, Queen of France, and Gabrielle de la Tour, Countess of Montpensier, owned far larger manuscript collections, Margaret's library is remarkable for its high proportion of devotional literature. Margaret acquired her manuscripts as gifts, appropriations, and direct commissions, though of her eight commissioned manuscripts, only Le Dyalogue was an entirely new work.
Composed by Nicolas Finet, Margaret's almoner, Le Dyalogue is the companion volume to Benois seront les misericordieux (Brussels, Royal Library, MS 9296), an anthology of extracts from the Bible and early Christian saints, translated and compiled by Finet, on the vita activa, or "active life," of public charity pursued by the devout. In the first of two miniatures (fol. 1r), Margaret is shown performing the Seven Acts of Mercy—giving food to the hungry, giving drink to the thirsty, clothing the naked, giving shelter to travellers, visiting the imprisoned and the sick, and praying for the dead—to emphasise the vita activa's outward focus. The complement of the vita activa is the vita contemplativa, or "contemplative life," of private meditation on one's sins and on Christ's suffering, on which Le Dyalogue expounds through an imaginary dialogue between Margaret and Christ, with Margaret asking questions and Christ responding. This encounter is visualised in the manuscript's sole illumination, the frontispiece to the text (fol. 1v). Unlike the densely populated public space of the illumination in Benois, in this image Margaret and Christ are the only figures occupying an intimate bedroom, conveying the personal and mental aspects of the vita contemplativa.
In the Christian literary tradition, the use of a dialogic format may be traced back to the biblical Song of Songs, and this structure's didactic purpose has roots even further back in the history of Western civilisation, namely the works of Plato. Finet's choice to compose his treatise on the vita contemplativa as a dialogue may have been influenced by closer antecedents, primarily Jean Gerson's La Mendicite Spirituelle and Thomas à Kempis's Imitation de Jesus Christ, both written earlier in the fifteenth century. Sections of both texts are structured as dialogues, either between a man and his soul or between Christ and a disciple. In both works, a subservient voice—the soul or the disciple—seeks instruction from the authoritative voice. Currently there is no concrete evidence that Finet read either Gerson or Kempis, but Margaret almost certainly did. She commissioned a volume of Gerson's works, including La Mendicite Spirituelle, and appropriated or received two more manuscripts, both of which contain Imitation de Jesus Christ and one of which repeats La Mendicite Spirituelle.
My current research aims to identify any textual links between La Mendicite Spirituelle, Imitation de Jesus Christ, and Le Dyalogue to determine if Finet was influenced by Gerson's and Kempis's texts and if so, to what extent. Both Gerson and Kempis wrote for a wide audience, though in Kempis's case, for a primarily male, monastic readership, whereas Finet's work was intended for a single aristocratic laywoman. The most obvious difference is that the voices of La Mendicite Spirituelle and Imitation de Jesus Christ are male, or at least non-gender specific, but Finet makes one voice in his dialogue female by necessity. An analysis of these three texts should bring to light how Finet adapted this long-standing dialogic tradition to suit his very specific reader and whether the structure and language of Le Dyalogue mirrors those of the male-voiced texts or shifts in response to the inclusion of a female voice.
My research also explores how Margaret may have read these three works in conjunction. How might she have interpreted her voice in Le Dyalogue, written by a male cleric, in comparison to the equivalent voices in La Mendicite Spirituelle and Imitation de Jesus Christ? Would Margaret have read these texts—particularly Imitation de Jesus Christ, considering that Kempis's intended readers represented a demographic almost opposite from Margaret herself—differently from Le Dyalogue? Margaret left no first-hand accounts of her reaction to these works, so the best evidence of how she interpreted and acted upon her reading in her later years as Duchess is her documented public charity, which included paying for the care and education of orphans, and her private devotions, possibly depicted in a portrait illumination in another anthology of religious texts (Oxford, Bodleian Library, MS Douce 365, fol. 115r).
An intriguing piece of evidence for what Margaret thought about these texts is the fact that she bequeathed Benois and Le Dyalogue to two different women. Though the relevant parts of Margaret's will do not survive, later inventories indicate that Margaret gave Benois and several other manuscripts, including both containing La Mendicite Spirituelle, to her step-granddaughter, Margaret of Austria, while Margaret's autograph inscription in Le Dyalogue reveals that she gave the volume to her longstanding friend, Jeanne de Hallewijn, shortly before her death in 1503. Why Margaret chose to separate these texts, which were intended as complementary works of religious instruction, and why she decided to group Benois with both manuscripts containing La Mendicite Spirituelle—one of which also included Imitation de Jesus Christ—when Gerson's and Kempis's works seem so valuable for reading Le Dyalogue are perplexing questions, the answers to which certainly lie within the texts themselves.
The British Library has recently digitized Le Dyalogue. Please click here for the link.
Erica O'Brien