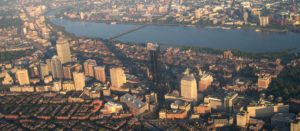 Aerial view of Back Bay, Boston including the Prudential Center and John Hancock Tower (Sfoskett at English Wikipedia).
The second Women's Literature Culture and the Medieval Canon International Network event with take place at the Elie Wiesel Center for Jewish Studies at Boston University from 26 – 29 July 2016.
This ground breaking project aims to explore how research into women's engagement with literary culture in the Middle Ages impacts on our understanding of the established canon.
The theme of the event is Gender and Genre.
In addition to presentations by all of the network partners, we are delighted to welcome our distinguished visitors and associate members, including Professor Nicholas Watson (Harvard), Mary Dockray-Miller (Lesley University), Christiania Whitehead (Warwick), Barbara Zimbalist (University of Texas at El Paso), Marleen Cré (Lausanne) and David Fuller (Durham).
The draft programme is now available.