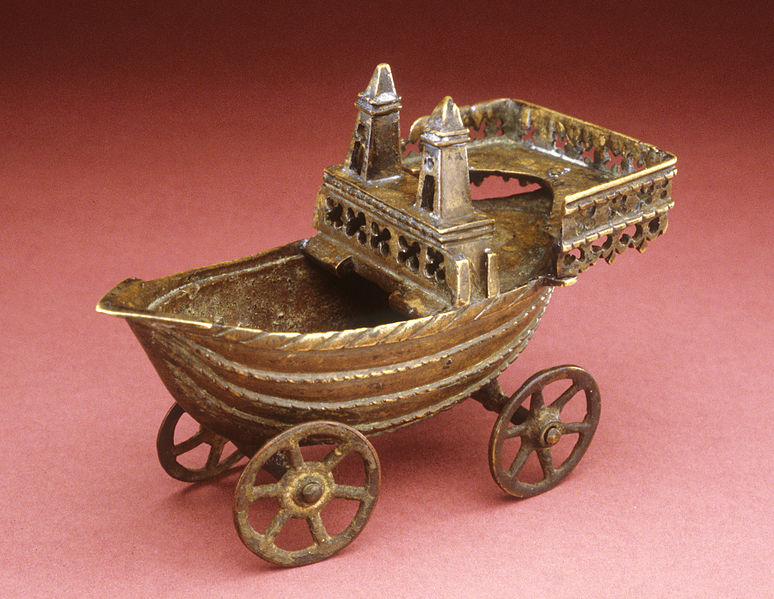 Spice Cellar in the Shape of a Ship (c.1400) Walters Art Museum [Public domain: Wikimedia Commons ]
by Vicki Kay, Bangor University
In a letter dated November 5th, 1471, Margaret Paston forcefully wrote to her son John Paston (III), 'I shall send yw money to by such stufe as I wull haue.' It seems he has little choice but to do as she instructs and purchase the items from her shopping list…
The Paston letters and papers of the fifteenth century include over 400 letters, wills, legal documents and memoranda. Included in these letters are numerous shopping lists sent by the Paston women, located in Norfolk, to their male relatives living and working in London. These shopping lists demonstrate the Paston women's understanding of the capital as the ideal place to bag a bargain, show them to be savvy shoppers and expose the Norfolk-based family's consumption of internationally traded items. The women skilfully research the costs of exotic imported goods such as sultanas, dates, ginger, and luxurious cloth to update their wardrobes.
The Paston family sit somewhere between the gentry and merchant classes: William Paston (I) obtained much of the family's property and land through purchases enabled by the profits from his legal career and through his marriage to heiress, Agnes Berry, and the family also received revenue from rent and wool trade. John Paston (II), grandson of William and Agnes, was knighted in 1463, achieving gentry status for the aspiring family. The Paston letters, including those written by women, are driven by the concern with maintaining the family's land, wealth, and legal business. William was the first Paston to begin a career which would lead him to social advancement: his father Clement had been a peasant farmer. Shrewd shopping forms part of the family strategy to maintain wealth while keeping up appearances with their contemporaries. Here the letters and lists of Margaret Mautby Paston (c.1420-1484), wife of John Paston (I), and daughter-in-law of William and Ages, will be focussed on as they are particularly rich in demonstrating her savvy shopping.
In their roles as wives, mothers, and estate managers, medieval women were involved in the financial world through investing, shopping, borrowing and lending for the family benefit. It is because of their married state and social ranking that the Paston women become actively involved in the commercial world as consumers. As Marjorie Keniston McIntosh explains, during the Middle Ages, however, upper-class women rarely attended markets to shop personally, making routine purchases through household servants and placing orders for luxury goods through agents (p.240). It is the orders for these luxury goods that we see in the Paston shopping lists. The Paston women employ their husbands and sons as their agents to shop by proxy, in a reversal of their own appointments as deputy estate managers by their husbands. They capitalize upon the absence of husbands and sons, making the most of the wider access to commercial markets and opportunity to obtain the best value for money. Of course, this does mean that they must rely on the men's judgement, which does not always work out well. For example, one letter reveals that John Paston (I) purchased caps which are 'to lytyl' for his children, causing his wife, Margaret, to insist that he buys replacements which are both 'feynere' and 'largere.' It seems she is dissatisfied with both the fit and quality of his chosen caps.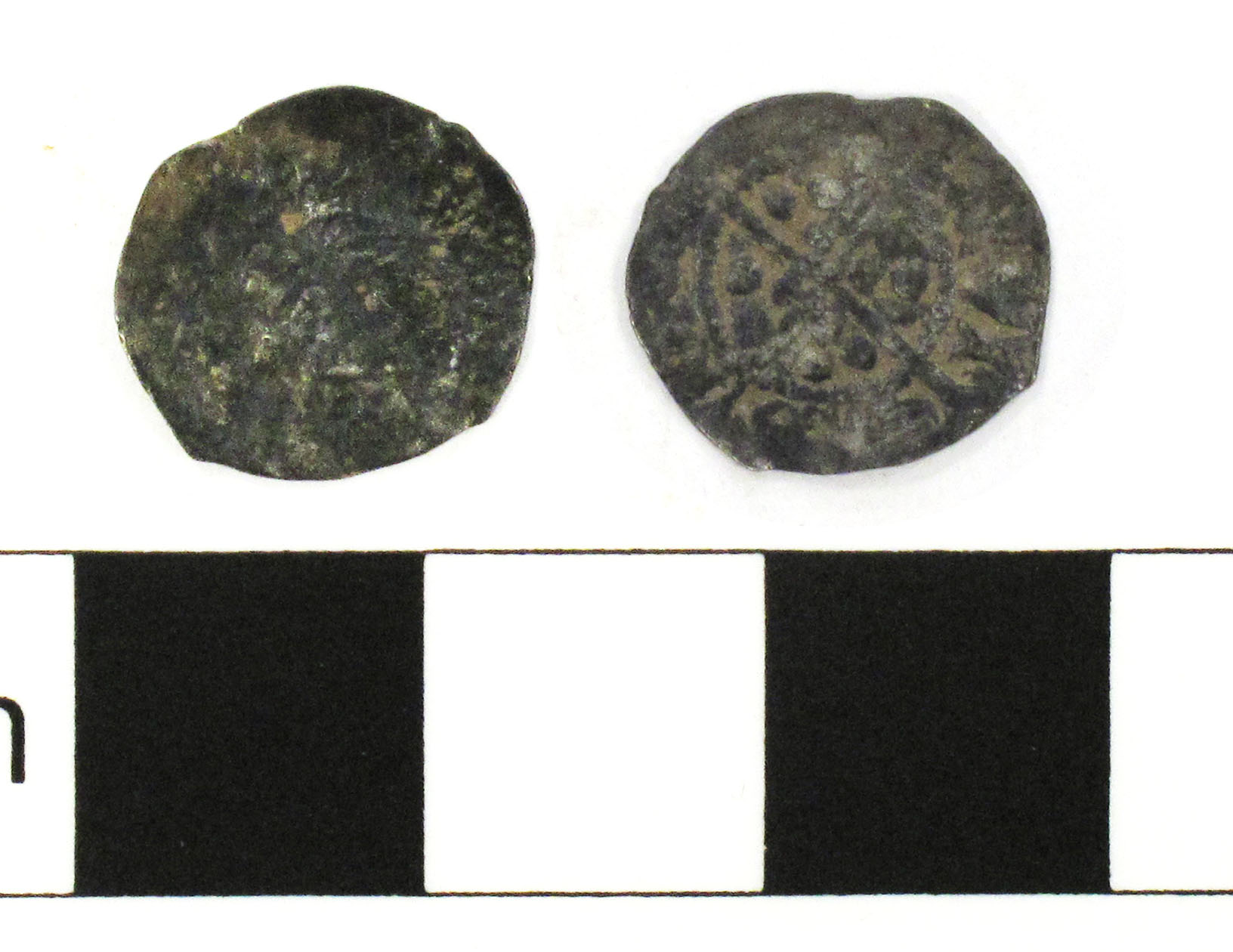 Edward IV coin. The coins with which Margaret and the Pastons would have shopped. The Portable Antiquities Scheme/ The Trustees of the British Museum [CC BY-SA 2.0 (https://creativecommons.org/licenses/by-sa/2.0)]
The medieval marketplace posed potential dangers to both the physical safety of women and to their reputation. The anonymous fourteenth-century didactic poem How the Goode Wife Taught Hyr Doughter cautions its (probably mercantile) audience against the dangers of the marketplace for a woman: 'go thou not to no market / To sell thi thyft, bewer of itte' (p.220, ll.63-4). As well as the potential danger for over-spending, the physical marketplace, with its hive of activity and social interaction between the sexes and social ranks, could pose a threat to the social order of the marketplace of marriage. The loss of virginity would also mean a woman would lose her 'value' in the marriage market: effectively she is a commodity for her family to bargain with to gain wealth and honour. Likewise, a clandestine marriage, particularly to a man of inferior social rank, such as Margery Paston's secret betrothal to Richard Calle, the family bailiff, would deny the woman's family the opportunity to further advance the family wealth and status through an advantageous marriage.
Margaret Paston appears to adhere to this warning against visiting the market herself, and instead writes shopping lists in her letters to her male relatives in London, for example this one:
I pray ȝw þat ȝe wyl vowche-save to don bye for me j li. [1 lb] of almandis and j li. of sugyre, and þat ȝe wille do byen summe frees [frieze] to maken of ȝwr childeris gwyns [your children's gowns]; ȝe xall [you shall] haue best chepe [price]  and best choyse of Hayis wyf as it is told me. And þat ȝe wyld bye a ȝerd [yard] of brode clothe of blac for an hode fore me of xliijj d. [44 d] or iiij s. [4 shillings] a ȝerd, for per is nothere gode cloth nere god fryse in this twn.
Here Margaret writes to her husband John Paston (I) in 1448 with a detailed and definite shopping list, going so far as to define the weight of almonds and sugar required, and the amount to spend on the material for her hood – she leaves him no room for error. Perhaps remembering the earlier incident of the ill-fitting caps of 1444, she tells him she will have the gowns made once she receives the material. Margaret even suggests the best trader to buy from, 'Hayis wyf', indicating she has done her research to ensure that money is not spent unwisely. Interestingly, this trader is a woman, a 'wyf' like Margaret, illustrating the presence of, and respect for, businesswomen. Margaret's letter demonstrates she is skilled in the business of provision and nurture and suggests that she ensures the finances are kept under control. Letters such as this one by Margaret show her correspondence to be vital to the basic business of family, such as feeding and clothing children. Of course, this shopping list does not mean that the Paston women never attended local markets, themselves or by proxy. This list may only exist due to the lack of local availability of the goods desired, as Margaret herself states, she cannot obtain 'gode cloth […] in this twn'. Christopher Dyer notes that London was known to offer high-quality goods and products and to have a greater selection of choice (p.305). It is possible that this wider choice of imported ingredients such as sugar and almonds meant that they were priced more competitively in London than in Norwich.
Similarly, Margaret writes the letter to her son John Paston (III), dwelling in London, on 5 November 1471, with which this blog began, requesting a long list of exotic ingredients:
I send yw v s. [5 shillings] to by wyth swger [sugar] and datys [dates] fore me. I wold haue iij or iiij li. [3 or 4 lb] of swger, and be-ware [spend] þe remnont in datys and send hem to me as hastley as ye may, and send me woord qwath [what] price a li. of peper, clowys, macys, gynger, sinamun, almannys [almonds], rys, reysons of coranis [currants], gannyngall, safrun, grenys [grains] and comfytys [confection/preserve] – of ych [each] of these send me word wath a li. ys worth, and yf yt be better shepe [cheaper] at London than yt ys here I shall send yw money to by such stufe as I wull haue.
As in her earlier letter to her husband, here Margaret is shown to be an astute accountant, researching where she can obtain her goods for the best price. She sets John a budget of five shillings, equivalent to over £170 today and equal to eight days' wages for a skilled tradesman in 1471, to spend on dates and sugar. Purchases of this kind would demonstrate both wealth and status: poor labourers or servants would not be able to afford such expensive, luxurious and imported foodstuffs. The long list of spices and ingredients suggests Margaret's familiarity with exotic goods, which would be at a premium cost thanks to their journey from the Mediterranean and beyond. The Forme of Cury (c.1390), a cookery manual compiled by the cook of Richard II, details several recipes for extravagant meals which include the exotic ingredients, such as pepper, cloves, ginger, galangal, saffron, and almonds, requested by Margaret. Her food-shopping is not only intended to sustain the household, but also to display the Paston family's elite social status. Margaret specifies the quantities she wishes John to obtain: he is to purchase three or four pounds of sugar and spend the change of his five shillings on the dates. Only if the remaining ingredients are cheaper per pound in London than they are locally will Margaret send him the money to buy them. Having placed her order on November 5th, it is possible that Margaret intends to stock up for the Christmas season and the celebratory feasting to accompany the new year celebrations. Ground spices, sugar and dried fruits do, of course, have a relatively long shelf-life, and only small quantities are required to have a big impact on flavour.
Margaret's shopping lists contained in her letters to her husband and son give us a glimpse into the shopping practices of one medieval woman. Far from the popular stereotype of the food of the wider medieval population consisting of dull cabbages and pottage, her purchasing of exotic spices, nuts and dried fruit give life and colour to the diet of the mercantile elite and aspiring gentry of East Anglia in the Middle Ages. Her shopping lists also pose the question of how other family members shopped. Were they as savvy as Margaret?
Further reading
Primary reading:
Beadle, Richard and Colin Richmond, ed., Paston Letters and Papers of the Fifteenth Century, part III (Oxford: published for The Early English Text Society by The Oxford University Press, 2005)
Davis, Norman ed., Paston Letters and Papers of the Fifteenth Century, part I (Oxford: published for The Early English Text Society by The Oxford University Press, 2004)
Davis, Norman ed., Paston Letters and Papers of the Fifteenth Century, part II (Oxford: published for The Early English Text Society by The Oxford University Press, 2004)
'How the Goode Wife Taught Hyr Doughter' in The Trials and Joys of Marriage ed. by Eve Salisbury (Kalamazoo, Michigan: Medieval Institute Publications, 2002)
Watt, Diane, trans., The Paston Women: Selected Letters (Cambridge: D.S. Brewer, 2004)
Secondary reading:
Bennet, H.S., The Pastons and Their England (Cambridge: Cambridge University Press, 1990)
Castor, Helen, Blood & Roses: The Paston Family in the Fifteenth Century (London: Faber and Faber, 2005)
Dyer, Christopher, Everyday Life in Medieval England (London: The Hambledon Press, 1994)
McIntosh, Marjorie Keniston, Working Women in English Society, 1300-1620 (Cambridge: Cambridge University Press, 2005)
Richmond, Colin, The Paston Family in the Fifteenth Century (Cambridge: Cambridge University Press, 1990)
Rosenthal, Joel T., Margaret Paston's Piety (Basingstoke: Palgrave Macmillan, 2010)