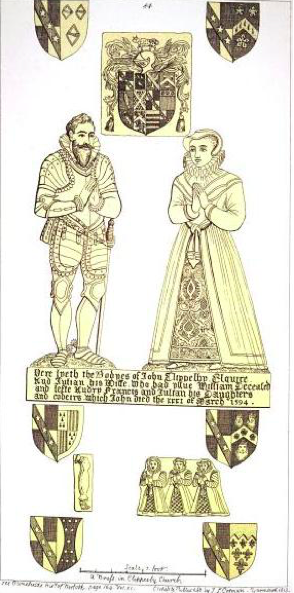 The Pastons were an important family in late medieval and early modern Norfolk, but they are most famous today for the extensive collection of their letters and papers that has survived to the present day: the so-called Paston Letters. These documents provide a remarkable insight into the personal as well as political lives of the women and men of the family in the fifteenth century.
University of Surrey PhD student, Jane Clayton, has been researching the letters and wills of the Paston women, and has recently uncovered new evidence concerning the life of Constance, the daughter of John Paston II. Her article, outlining her research, 'Discovering Constance Paston: Illegitimate Daughter of John Paston II' is soon to be published in the journal Medieval Feminist Forum.
In this post, I interview Jane about her findings.
Diane: Can you tell me about who Constance Paston was?
Jane: Constance Paston was the illegitimate daughter of Sir John Paston (1442-1479), also known as John Paston II, to distinguish him from his father, John Paston I, and his younger brother John Paston III. He was the eldest son of John Paston I and Margaret Mautby Paston, who is significant as a medieval woman, for having composed 104 of the Paston Letters. Constance Paston's mother was, almost certainly, the young woman who signs herself Constance Reynyforth in her single surviving letter, on which John II records the date and her name as Custaunce Raynsford. Despite considerable research I have been unable to trace her. She may have belonged to the Rainsford family of Bradfield, Essex; her letter suggests that her uncle was a gentleman who employed several men.
Diane: Why didn't we know about Constance Paston before?
Jane: What we did know was that her mother, Constance Reynyforth, on 21st March 1478, wrote to her lover, John Paston II, asking for his assistance in a plot to deceive her family into letting her go, unchaperoned, so that she could secretly meet him.  This letter survives in the Paston Letters collection.  The only time when their daughter, Constance, is named in the collection, is when, on 4th February 1482, her paternal grandmother, Margaret Mautby Paston, left Constance a bequest in her will, 'to Custaunce, bastard doughter of John Paston, knyght, whan she is xx yer of age x marc.'.  Beyond these two entries nothing more was known of the child, neither her name nor her whereabouts.  John II died in London in November 1479, probably of plague.  The disappearance of Constance Reynyforth from the record suggests that she may have died as a result of childbirth, or of the plague that killed her lover, or she may have been compelled to enter a nunnery, for having disgraced her family.
Diane: What did you find out about Constance Paston and how did you discover more about her?
Jane: This research arose from a chance meeting.  At a Paston Conference, in Great Yarmouth, I happened to be sitting next to a church warden of St Peter's Church, Clippesby, Norfolk, who showed me a print of the drawing by John Sell Cotman of a monumental brass which still survives in the church.  One of the heraldic shields on the brass had, on the right, which is the woman's side, the Paston arms.  Recalling Colin Richmond's note of Roger Virgoe's record that a John Clippesby married 'an unsurnamed Constance', I immediately suspected that I had found her, and once I had, theoretically, located her as a married woman at Clippesby, the research became more focused.  A history of the parish of Clippesby revealed that in 1515, after her husband's death, Constance, with the help of her cousin, William Paston IV, maintained the wardship of her eldest son and control of the family land, and, in 1526, granted the same son his marriage, because of his good behaviour towards her.  Furthermore, I discovered a letter in the Paston collection to her uncle, John Paston III, in which she is referred to indirectly as 'your nyce', which showed that she was a member of his household, and that, unlike her Paston aunts and female cousins, she had been allowed to marry the man she loved, John Clippesby.  Other sources suggest that she had four children who survived to adulthood, but that she died before reaching the age of sixty one. 
Diane: Today it might seem odd to think that in the Middle Ages illegitimate children were accepted by their families. Was that uncommon?
Jane: It seems that a tolerant attitude was taken in the Middle Ages to the 'sowing of wild oats' by young men, in fact three of Margaret Mautby Paston's five sons fathered an illegitimate child, as did her uncle. In all these cases the child was taken in and cared for by the women of the family (except, fascinatingly, when, in one case, the child's mother was married, and the king prevented the young man claiming the child, as the woman's husband was alive). It is impossible to know whether the mothers of these children had any say in what happened to their babies; probably the power to take or leave an illegitimate child was in the hands of its father. In fact the paternity of many illegitimate children may have been denied, a situation which probably went unrecorded, so our evidence about this subject may be very unreliable. An illegitimate child seems to have gained in importance if it was a man's only surviving child, though child mortality was so high that perhaps any surviving child was seen as precious.
The same tolerance of unmarried sex was not shown to women, in fact the polar opposite applied; chastity was crucial to a woman's reputation, and since, if a woman was unchaste, the damage tainted the whole family, frequently she and her child were disowned. Luckily no Paston woman was in this position. In one of the Paston Letters, Margaret Mautby Paston relates that when a married neighbour bore a child by another man, her husband threatened that if she returned home he would cut her nose off, 'to show the world what she was' and that he would kill the baby. The woman's family refused to support her and she was obliged to enter a nunnery.
Diane: Why is your discovery so significant?
Jane: This discovery is significant for a number of reasons. The Pastons are the most famous English medieval family, so any discovery about them is important. My research also contributes to what is known of the treatment of illegitimate children generally in the late Middle Ages. According to church law, being illegitimate, these children could not inherit; ironically, if John II had married Constance Reynyforth, little Constance would have been heir to all the Pastons' wealth. Though they were treated kindly and with affection, it appears that illegitimate children were not treated completely equally with legitimate family members, viz. Constance did not have an arranged marriage, as did her aunts and female cousins, and Margaret Mautby Paston's sons kept their uncle's illegitimate son employed, but did not, as they did for each other, seek an affluent wife for him. My research, furthermore, suggests that the treatment of an illegitimate girl was equal to that of a boy in the same position, though Constance's case may have been special, since she was the only child of the eldest son, who died soon after her birth, and the uncle who adopted her is known to have loved her father. Moreover, since the lives of most medieval women are entirely obscure, bringing to light the life of even one woman is of interest. A wonderful aspect of the Paston Letters is that sometimes the personality of a female family member is exposed, warts and all! This cannot be said to be true of Constance, we can glean little of what she was actually like as a person, but my research has revealed that she grew up as the 'big sister' in a large and affectionate family, and that she was a valued member of her own family, enjoying a loving relationship with her husband, her cousin and her eldest son.
Diane: In 2019 the BBC reported the discovery of another Paston child, Anna, by the archaeologist Matt Champion. Do you think there is still more Paston family history out there to uncover?
Jane: Undoubtedly. Since Matt Champion's discovery, the Paston Footprints 600 team have posted on a blog their findings about the lives of three more of John Paston III's children who survived to adulthood, besides the two, William and Elizabeth, recorded in their grandmother's will. These are Philip, Philippa and Dorothy, children who were actually cousins, but effectively younger siblings of Constance. Discoveries can particularly be made when the neglected female lines of a family are explored. Very recently I have learned that Constance's husband, John Clippesby, had a sister, Christian Clippesby, who married Constance's cousin, John Calle, eldest son of Constance's disgraced aunt, Margery Paston Calle. (The family disapproved of Margery Paston's marriage to one of their servants). This couple had a daughter whom they named Constance, which suggests that Constance Paston was also a godmother. There is so much still to be found!