Ahlain wa sahlain 👋
Today's blog we will talk about your accommodation at this university and what are the available options and support for you.
The university has 3 main campuses for accommodation: Stag Hill, Manor Park and Hazel Farm. Stag Hill campus is the central point where majority of the teaching and work takes place. Manor park is a 20 min walk from stag hill in which along the same route you will see Tesco supermarket and Surrey Sports Park (SSP). Hazel Farm is a 10 min drive from stag hill but there are bus services which students can use with there greatly discounted bus-pass.
There are different bands which you can choose from A-F with band A being budget rooms to band F being studio flats. All student halls are provided with fridges, freezers, cooker, kettle, microwave and toaster. The rooms are furnished with bed, desk, chair, lamp, cupboard and bookshelf. More specific details about each bands and on which campus are available at https://www.surrey.ac.uk/accommodation.
First years students are guaranteed an on-campus accommodation, so when young Daniel joined university he got a band D room at Manor park. I shared my flat with one student only ( I don't know why) but that made us good friends easily and we got many good memories as I had soo much fun pulling pranks on him which we still laugh about it today because I got them on my phone 😂. Next to the reception and the security team, there was a nice lounge for students to chill, play pool 🎱 and have delicious drinks/ food from Heart + Soul café which has an open-plan design with the lounge.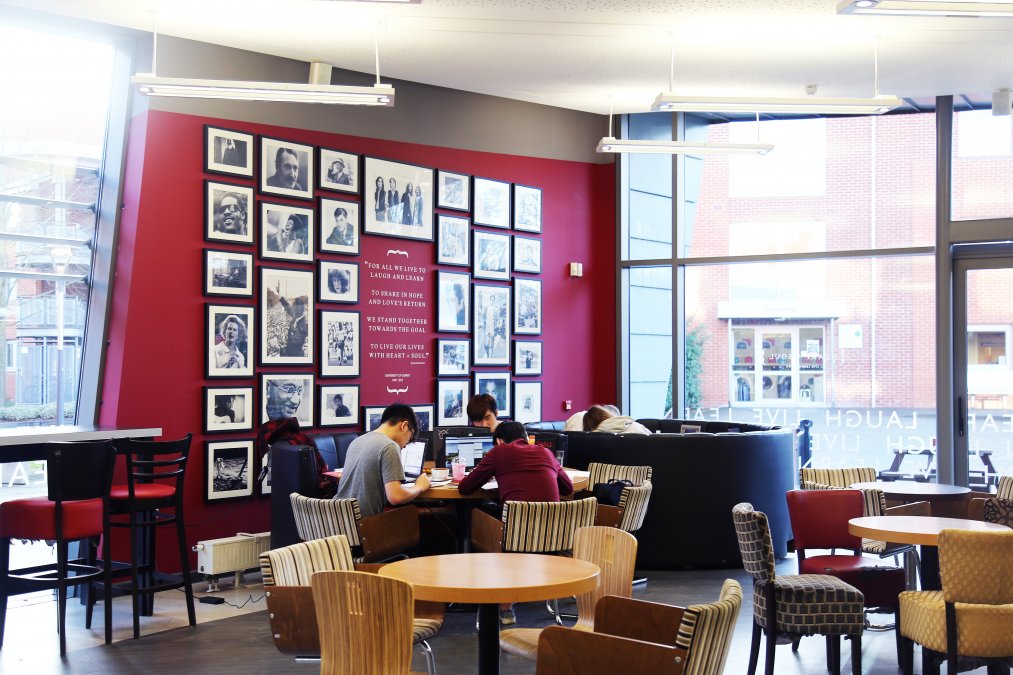 Second year students are not guaranteed on-campus accommodation, so I had to find a house near by where you can rent a room in it. I lived with my friend in a a house behind Guildford's train station so I was close to campus, town and train station! My room was fully furnished as well as the house and kitchen. Many students group together (4-6) and rent a house from letting agencies to split the cost. The rent will vary depending on what you want and how much are you willing to spend but the average is £550. 
OMG Daniel I gotta find a group and an agency that I can trust? Ugh..dunno where to start am confused!
Don't worry! The University of Surrey Letting team (USL), winners of Student Experience Award, 2018, are here to guide you through the steps from the beginning to the end. They provide advice on what agencies are good, hook you up with other students who are in the same boat as you and are looking from accommodations. There are also USL- managed properties which are located near by campus and its reliable because they are owned by the uni. More info about USL is at https://www.surrey.ac.uk/lettings.
My best accommodation experience was when I was on placement down in Weymouth. I rented an en-suite room in a nice, big family owned house just 5 min from my work, supermarket and the gym. The couples were in their late 50s, kind, funny and understanding. They invited me to join them for Christmas dinner last year which was nice. In fact another placement student and a colleague from my work were also with me in that house. In the summer we threw a lovely BBQ party in the back yard and invited some friends/ colleagues…hmm-hmmm I can still smell that grilled burger 🍔 😋
Now in my final year I live in Twyford court which is on stag hill campus in a band D room (en-suite). So far it has been nice, its 12 students in this flat with a big kitchen and you never feel it gets crowded at all, because not everyone is at home every day and every time. Stag hill accommodation is cool because I can maximise my sleep by just wake up 10 min before lectures and in 5 min am there😪 or at the library 📚.
I hope you found this helpful and gave you an idea about uni accommodation life.
Until next week, Adios! 👋