Hey there, hope you're all doing well!
In this two-part post I'm going to be talking to you about living in student accommodation provided by the University of Surrey. The second part of this post will include bands D-F (which I have lived in) so that will include some of my experiences as well! First, the different type of rooms (bands). The University provides rooms within the range Band A-F and the differences between A-C are listed below:
Band A shared: Split level shared room
Single room: No
Shared room: yes
En-suite: no
Room area: 8.8m2
Residents parking: No
Band A: Budget room
Single room: Yes
Shared room: No
En-suite: No
Room area: 8.1m2
Residents parking: Available
Band B: Standard single rooms
Single room: Yes
Shared room: No
En-suite: No
Room area: 8.4m2
Resident parking: Available
Band C: Standard single rooms
Single room: Yes
Shared room: No
En-suite: No
Room area: 9.3m2
Resident parking: No
(There are also a number of rooms that are accessible or have been adapted to meet specific requirements. For more information on this visit this link: https://www.surrey.ac.uk/accommodation/applying/specific-accommodation-requirements or contact disability@surrey.ac.uk).
Benefits of the location
Bands A-C are located on Stag Hill campus which is our main campus where majority of the classes take place. Living on campus definitely has its perks. You don't have to worry about transport to and from classes, and Guildford town centre is within walking distance (approximately 10/15 minutes). On campus there are a variety of places to get food and meet up with friends such as: Starbucks, SimplyFresh (which is like a mini supermarket), Pizzaman, Young's Kitchen (the only international restaurant on main campus) and Lakeside restaurant (run by our fellow students!). Every Thursday our Students Union is transformed into a food market, giving you a chance to pick up your groceries or enjoy some freshly-made street food. With everything from fresh fruit and vegetables to bread, cakes and hot food to takeaway, there is definitely something for everyone! It's also a great way to try new restaurants without having to go into the town centre. You can keep up with these places here:
There are many study spaces on campus as well that are great during exam season (which I will talk about in more detail in an upcoming post). The main study spaces are The Library, The Hive and The Spark (which is the newest addition). You can book study spaces / check availability online which is very beneficial if you have group work and need to work with your team or even if you just want to study with friends.

Benefits of student accommodation
Making friends: If it's your first year studying at UofS then living with other people is a quick and easy way to meet some people and make new friends. On average on Stag Hill, there are around 8-12 people per flat.
Cleaning: since the kitchens are a shared area it is cleaned by the Housekeeping team once a week (the corridors are cleaned as well). You are still expected to keep it clean and do your own dishes!
Security: Security is available 24/7 in case of any emergencies and their phone number is always given to the students upon moving in.
Bills: Since wifi is provided in the accommodation you don't have to worry about wifi bills, electricity bills or even water bills. All of this is taken care of. Since moving away from home can already be very overwhelming, not worrying about / trying to manage all these different bills helps a lot.
Laundry: On campus there are a few different locations to do your laundry and it is shared with many other students. It's quite simple actually – you just have to use the Circuit Plus app and it notifies you when your laundry is finished! Some of laundry rooms are split up into 2 sections- laundry and common room where you can hang out with friends.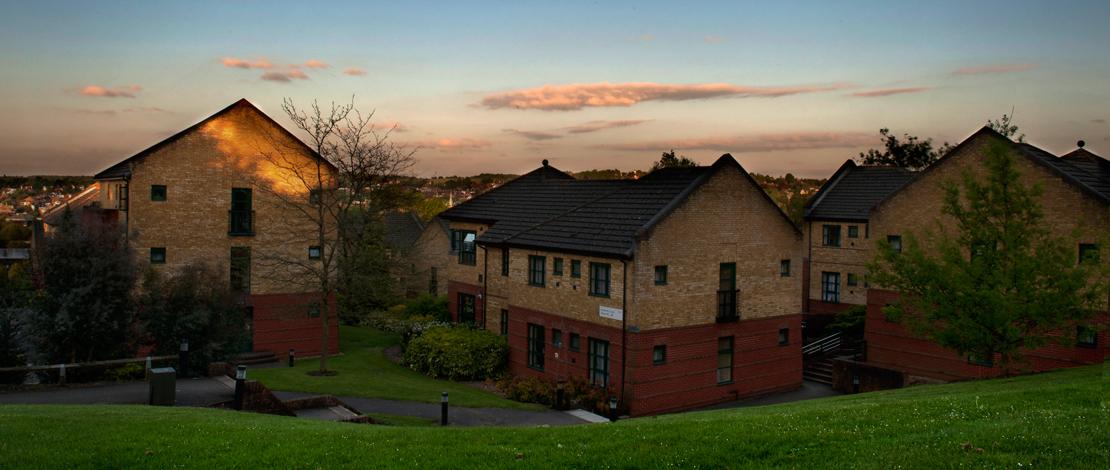 Look out for the next post about bands D-F, but until then if you would like more information I suggest visiting this link https://www.surrey.ac.uk/accommodation. See you in my next post!