It's been a while since the last blog post, and now I've been back home in Calgary since the end of June. It is now August and many things (that are blogworthy) have happened since I got back.
Leaving Calgary for 8 months made me miss this city. This was the longest I have ever been away and I have recently been indulging in all the things that go on in this place that I never bothered to look into before
(This is going to be a lengthy post)
Calgary is known for the Calgary Stampede (nicknamed the "Greatest Outdoor Show on Earth" – NO idea how accurate that is). This is basically a week-long event full of shows, concerts, rodeo (and LOTS of beer). The city transforms and suddenly everyone wears cowboy hats and jeans to work. The population doubles. My favorite year was wen Prince William and Princess Kate came to visit (yes I saw 'em). The week kicks off with a giant parade (which I got up at 4 am to go to). It's always incredibly hot and crowded and you end up waiting in lines more than actually going on the rides. However, you aren't really Calgarian if you don't go AT LEAST once during the week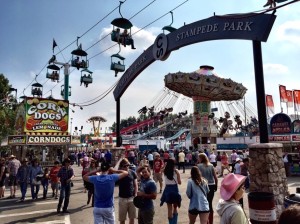 Entrance to the Stampede Park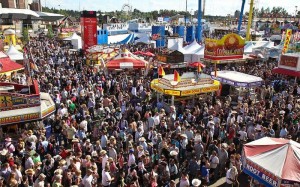 View from the Ferris Wheel – The crowd is INSANE
Unfortunately this year, I had to leave the second day of Stampede. This is because I had a volunteer trip to Fiji planned. This has been my highlight of the summer so far! I was in Fiji for two weeks (July4th -July19th) and in the first week we stayed in a village with a Fijian family. They welcomed us into their homes without hesitation and kept us well-fed. During this week, we painted the local school and spent some time with the kids teaching them English and playing games. It rained throughout this week but in a way that was a blessing because it kept us cool.
I met a ton of people on this trip – from fellow volunteers to my Fijian family, and the amazing children that I got to work with. It really opened our eyes and made us realize how much of our lives we take for granted. In the beginning it was difficult to bathe in a bucket or walk 2 miles to the bathrooms (and it was VERY difficult to get used to the rats that lived on our roof) but eventually when it was time to leave, I really didn't want to go. We would work all day and in the evening after dinner, head out to the village hall for a night of music, dancing and drinking kava – a traditional Fijian drink.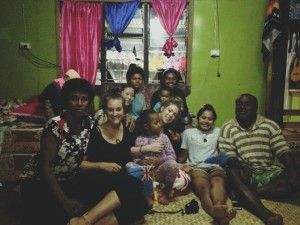 Our beautiful family! There were 4 of us living with our "Mum" and "Dad" — There's me in the grey!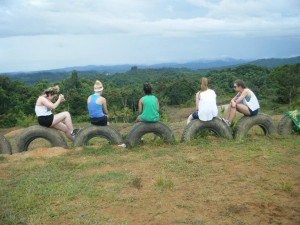 Lunch break with the pals on a typical work day – everyone was tired from sanding down the entire building!
After the village we headed off to some islands! We visited three in total and stayed in dorm-style accommodations. Here I tried some very cool things such as snorkeling, crab racing etc. Most of my time was really spent reading on a hammock or tanning in the sun (I was about 3 shades darker when I got back!)
I obviously miss all my new friends from Fiji, but what I miss most are the beautiful beaches and the amazing sunsets
I would definitely love to visit again! It was honestly such a beautiful place and those two weeks were one of the best I've ever had
Now that I'm back, though, things are a little more dull. I've fallen into the usual routine of going to work every day and my tan has definitely faded 🙁
I'm most excited to be coming back to Surrey. There were some British/Irish students on my trip and we have planned various reunions already and I simply cannot wait to see them all again! I'm also now looking forward to the campus and my second year modules. I will be booking my flights this weekend and I'm so excited!
This has been a tiny (?) update on my summer break so far. It is absolutely flying past !