Hello! Today I wanted to blog about going into London from the University of Surrey as I believe it is one of the many very interesting selling points of the University. I am really lucky to have a few flatmates that are from the region on London or are familiar with the city and therefore they were able to show me how to get there. It was nice because it required less preparation as I was able to rely on them a lot. Being that Guildford is just under an hour outside of London it is quite easy to get there and back. From the main campus, the train station is about a 15 minutes walk (or 10 if you are a speed-walker like myself). There are direct trains to Waterloo station which has access to the tube lines (aka metros). This takes about 40-60 mins. It is a bit expensive to get a train ticket into London so one way to make it cheaper is to buy a railcard which is 30 pounds at the moment.  The girls also recommended getting an Oyster card (which is a re-loadable tap card – or a Presto card for those of you from Ottawa). This card made it faster and cheaper to pay for tubes and buses throughout the day. Next I thought I would map up the main sites we saw that day as I was really surprised at how much I got to see in half a day.
We began by taking the tube from Waterloo into Piccadelly Circus which has a lot of stores and great big flat-screens which reminded me a lot of New York City. Right away I was mesmerized by the beautiful architecture of the buildings and was surprised by the amount of stores. I must have seen 5 H&Ms within a 5 minute walk from each other.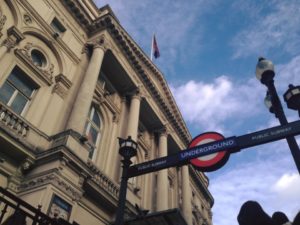 We proceeded to walking down to Carnaby Street. I really loved this section of London as the streets were narrower and felt less busy although the streets were bustling with shoppers. We visited Liberty London where one of my flatmates that was with me works at. I was blown away by this department store. They kept a lot of what feels like the original designs of the building and the way the shop was divided added to the originality of the style. The wood beams and the low ceilings created an amazing atmosphere. I didn't end up buying anything as the prices were quite high but it wasn't from lack of wanting to buy.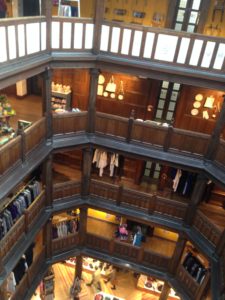 Then we headed down Oxford Street. We stopped in a variety of shops and had some pizza before going to Hyde Park. This walk was very pleasant as there were less people and there was a lot of green space. We got to see many monuments along the way like the Wellington Arch which is pictured below.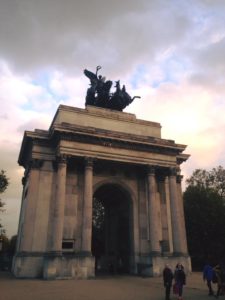 This walk lead us to Buckingham palace which was fun to see as it is almost a must see when in London. Like many have told me, it is a gate in front of the building but I thought it was still nice to see the architecture of the palace and there's a beautiful fountain in the square in front of it.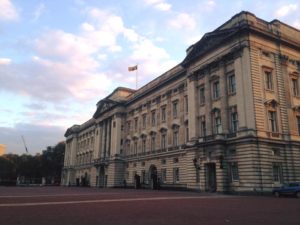 At this point we were starting to loose the sun so we decided to take a red double decker bus to Parliament. This was my first ride on a classic London bus. We got to see the clock tower which Big Ben resides in and got to see the London eye at sun set. We then walked down to South Bank before heading to the tube station to start our journey home.
In all I was so grateful that my flatmates were willing to show me some of the major landmarks of London. My day with train ticket, Oyster card and food cost around 40 pounds. It can add up quite quickly being in London but there are ways of saving like getting both the train and the Oyster cards and packing food. I am really excited for next trip into London as there is still so much to see and I am dying to get to visit all the different museums.
Cheers!