Hello!
In continuation with the Day Trips series, today I wanted to blog about my trip to Winchester. Like I've mentioned these day trips are organized by the University's Student's Union and are of excellent value. I was so happy to find that my friend Noora and her friend Lasse were on the tour bus with me as I had initially planned to do this trip on my own. They offered to spend the day with me exploring this beautiful city which was so kind of them. Having thought I would be on my own for the day, I had done quite a bit of research on what I wanted to see in Winchester. I shared with Noora and Lasse some of the ideas I had and we set off to explore.
We first headed up the high street where we grabbed some hot coffee. As we strolled we passed in front of the Buttercross (15th-century) which is a beautiful monument/structure. We finally arrived at the Great Hall (13th-century) which is home of an imitation of King Arthur's Round Table. Having heard the of the Arthurian legend, it was really special to see this table in person.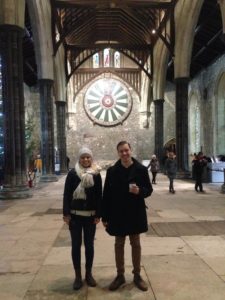 We then headed to the Hospital of St Cross (founded in 1132). Having an interested in health sciences, I was curious to visit an old hospital. To our surprise, the word hospital has taken on different meaning in time originally deriving from the word hospitality. What I thought we were going to visit would have been called an ambulatory. The Hospital was actually a place that offered charitable housing in exchange for wine and bread. To this day the Hospital still provides accommodation for elderly men known as "The Brothers". We were so pleasantly surprised by what we found. We were able to visit the small church on the grounds where the choir was rehearsing for a wedding that would be happening later in the day. It was like having a private performance all to ourselves. The grounds were empty and the day was quiet which made for a very special time.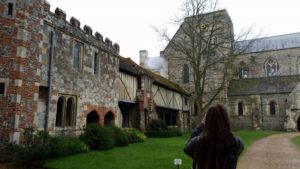 After visiting the Hospital, we headed towards the Winchester Cathedral (first cathedral build on this site founded in 642). As our visit fell before Christmas, we were able to visit the Christmas market that was happening on the cathedral grounds. It was super busy but we managed to buy a few souvenirs and some food. We then decided to visit the inside of the cathedral which is one of the largest cathedrals in Europe. I was completely blown away. We were welcomed by an elderly gentlemen that offered to give us a tour of the cathedral. His passion and love for this place of worship was contagious and beautiful. The cathedral is quite exceptional in it's visual representation of the passage of time. You can see the centuries pass by as you walk through the cathedral as the architectural details reveal a different era – from Norman to Gothic. We were also told of William Walker, the diver that reinforced the foundation of the cathedral which was threatening to collapse.
We decided to have a some desert at a near-by restaurant and relax for a bit before returning to the cathedral for the evening mass. The music was really beautiful and we got to sit and admire the architecture for a while.
In all, it was a really wonderful day in great company and I am so happy I decided to go despite thinking I would be alone for the day. I've said it before but I'll say it again, if you have the opportunity to participate in these day trips offered by the Student Union I totally encourage you to do it. For a really affordable price you get to explore more of your temporary home.
Cheers!