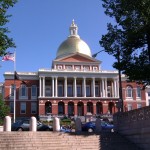 This is the blog post partly written in Boston Common (a large park in the middle of Boston, USA). To prove it, the picture is of the Massachusetts State House, which is just north of Boston Common. As I write this a swan is gliding by on the lake in the park to the accompaniment of a really good busker playing the saxophone on a bridge over the lake. Normally I don't pay buskers because they are bad but he is really good, so I gave him 5$. I figured I should pay as I am enjoying it.
I am in the USA to attend a conference up the coast in Maine, which starts on Sunday. My fellow blogger Jim is also travelling, he is in Japan filming a TV program.
Typically, most academics go to at least one scientific conference a year, and a good half of these conferences are over the summer.
I got the final programme and list of attendees for the conference a couple of days ago. It looks really good and there are at least 10 people I know. When you do research in a field for a while you get to know people who also work in it, from all over the world. You see them every year or two, and it is always good to catch up with that they have been doing since you last saw them. I am looking forward to that.
One of the nice things about science is that it is, with only few exceptions, very friendly and collaborative. We all want to understand the same natural world and we cannot do it on our own. We need maybe one theory from a American group, some experimental data from an British group, more data from Japan and an idea from a German guy. Put them all together at an international conference and progress is made.