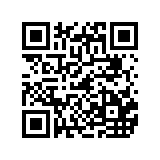 Today I ran the Physics bit of another University Open Day for prospective students. I think it went well. It ran smoothly as the earlier ones in July did (see my earlier post). They are quite rewarding to run as I think it is good to answer the questions of prospective students. I told one prospective student and parent about how first and insurance choices work, and if I can help even one student understand the system and make the right choice that is good.
But I am aware that above I said "I think it went well". It can be tricky to know whether you have really helped. British people can be too polite here, and not tell you to your face that you answered the wrong question, or if a talk spent too much time on one topic and too little on another.
The University has paper forms for anonymous feedback but I am not sure that they work well. People have to get out a pen, fill them in, and find one of the boxes to post them in. So this open day, for the first time we had QR codes. A QR code is at the top left.
I am an instant convert. I downloaded a QR reader app onto my mobile (there are QR readers for phones like Androids and iPhones) in seconds. Then I just ran the app and pointed the phone camera at the QR image on the wall. The code was then automatically read, and the link for a short online survey appeared in the phone's browser.
Of course I was tempted to fill in the survey, awarding top marks and then filling in the text box with "That nice Dr Sear was especially charming.". But doing that would be wrong, so I didn't. But it is so easy to tick boxes on the form using your phone, and then type a sentence or two with maybe a comment on what maybe we didn't do that would have been helpful. Text comments are particularly useful. If we don't know we are missing something we cannot fix it.
Maybe we will try QR codes and online surveys for our UCAS days (days where students who have applied to us, visit us). QR codes are easy to create, the code above is one I created using Quikqr. It is for the homepage of this blog. If you are viewing this on a desktop or laptop, and have a phone with a QR reader app you can in seconds be reading this blog on both computer and mobile. Go on, you know you want to.