The IEA finally announced the winner of its Brexit Prize this week. Last June it unveiled a competition for submissions to map out in detail how the UK could leave the EU and pursue a new path. The winner would receive €100,000 (presumably ironically) and a handy rejoinder would be provided to all those who complain that 'there's not realistic alternative to EU membership.'
The winning entry came from Iain Mainsfield, one of our men in Manila, with his 'Blueprint for Britain'. And it's worth a read.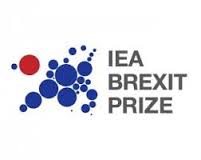 Essentially, Mainsfield pursues the line that the UK should leave via Art.50; negotiate membership of EFTA (but not the EEA); review all EU legislation in force in the UK with an eye to slimming down the burden; and negotiate a pile of FTAs with key trading partners. "The total long-term impact is estimated to be between -2.6% and +1.1% of GDP, with a best estimate of +0.1%."
Let's leave to one side the accusations of some about the process, and work on the basis that this reflects the considered (or at least, most supported) opinion of withdrawalists.
Firstly, it acknowledges that economic gains do not amount to a great deal in withdrawal. as Mainsfield himself says, the best estimate falls easily within the margin of error on GDP accounts. Even the best-case scenario only comes to 1.1% of GDP: not insignificant, but also not a land of milk and honey. More obvious was the downside risks, especially for a UK that would be asking for limits on such fundamentals as free movement of people.
Secondly, and as a consequence, it also acknowledges that withdrawal is a political decision, not an economic one. On this, I would have to agree very strongly. EU membership has always been as much about politics as economics, and is a reflection of the worldview that the UK wishes to articulate. Naturally, this also causes one to wonder whether third states will want to set up FTAs with a country that's moving away from its local trading block.
Thirdly, it reminds us that withdrawal is a process and one that relies on others: Mainsfield spends some time discussing who might be a partner in negotiations and how much the UK might have to take what it's given. Echoes of 'they need us more than we need them' resound here, not altogether convincingly.
Fourthly, it's a relatively mundane proposal. As befits a diplomat, it's as much about working the relationships and progressive demonstrations of commitment as it is about a fundamental shift in policy. It's got bits of the Swiss option, the Norwegian option, the anglosphere, and the rest. No new structures, but extensions of existing frameworks. Pragmatic, in a word.
What is particularly striking is that it is not a bold rallying cry, but instead an operationalisation of a political moment. It is hedged in caution and framed by uncertainty, particularly about the intentions of others. As such, it travels more in hope than expectation.
This is something of a surprise, for such an investment of effort by the IEA, who have traditionally marked themselves out as the sensible, rational arm of the withdrawalist movement in the UK. It's garnered some headlines today, but not obviously created a debate (except possibly on the future of Mainsfield's career). Most ominously of all, it's called the 'Brexit prize 2014', with that implicit promise of more to follow.
So how to explain this?
The first thought is that this is part of the long game. Set out the play-book for a post-referendum/vote decision to leave, to show that such plans exist and can be made to work. Seen like that, having a diplomat win suddenly looks like a good thing. No need to frighten the horses, it's in hand and doesn't require any too radical to happen.
But that's a very optimistic reading, for the report doesn't – in of itself – move the debate closer to that decision on leaving the EU. Hence a certain paradox: we're ready for something that isn't happening.
As such, this can only ever be part of a piece with the more emotional arguments being thrown about by the likes of UKIP, who would struggle to operationalise the proverbial party. Those arguments are what has moved debate in the UK and what will be critical to any effort to secure a vote to leave. There's a certain economy of effort, and a symbiosis, not that either party would care to admit it too much.
And yet in all this, what is most striking about the Mainsfield report is that it also highlights how British membership of the EU can be made to work better than it currently does: high levels of commitment and engagement by all levels of government, a positive approach to negotiations, a willingness to pursue trade liberalisation with an ever increasing number of third states. All of this can be done inside the EU, and gives the UK a stronger base on which to do it. Internally, it would preserve its institutional voice and its vote. Externally, its membership would signal its openness to trade, while simultaneously keeping the liberal block of the EU dominant (as Open Europe noted in its own report last week).
This is really the heart of the matter: it's not about in/out (Kosmopolit has a very good read on just this), but about unpacking issues and policies. Within 'in' there is vast scope to secure different objectives, some of which are currently portrayed as only possible if the UK is out. Only with a more sophisticated and informed debate – among elites as well as the general population – will we be able to draw this out.