Nick Robinson posited on this morning's Today programme that William Hague had lost his ambition. Robinson claimed that Hague would be looking forward to going back to writing history books and making lots of money, as he had done when he resigned as Conservative Party Leader in 2001. Yet, even a cursory examination of Hague's time as Foreign Secretary reveals that far from losing his ambition, he has found a new outlet for it and this time on a much larger global stage.
The circumstances of Hague's resignation could not be more different from his resignation as Conservative party leader. In 2001, Hague's resignation followed a harrowing defeat in the general election and a low point for the Conservative Party. Hague took the necessary time to regroup and returned to public life in David Cameron's Shadow Cabinet in 2005. His appointment as Foreign Secretary in 2010 provided Hague with an opportunity to reclaim his political legacy. Indeed, Hague no longer harboured ambitions to be party leader and the role of Foreign Secretary is by no measure a conciliation prize.
The first few years as Foreign Secretary were rocky ones and it was not clear Hague would make his name as a shrewd international operator. However, all that was to change in 2012 with the Foreign Office launch of the Preventing Violence in Conflict Initiative (PSVI). This was a personal agenda for Hague who has spoken of the influence of two of his advisors and also Angelina Jolie in introducing him to the importance of this issue. Hague may not have realised it at the time but the PSVI and subsequent Global Summit to End Sexual Violence in Conflict in June this year would prove an opportunity to leave a lasting legacy on international politics.
The Preventing Violence in Conflict Initiative provided William Hague with the opportunity to realise an ambition to make his name on the international stage. This may not have been as Conservative Party Leader as he had expected earlier in his career but nevertheless he has garnered recognition as a savvy political actor.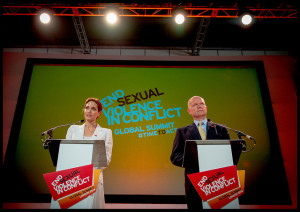 Hague will be remembered for the Global Summit to End Sexual Violence in Conflict which secured his legacy. The Summit brought together governments, experts and NGOs from across the world and was unflinching in its aim to bring an end to sexual violence in conflict. This arguably unattainable goal was just one of the criticism levied at the Summit. However, the Summit was also a foreign policy success story in that it garnered considerable worldwide media coverage of a previously overlooked issue and Hague's name was inextricably linked to the cause. The Summit redefined Hague's ambition and he has found his feet as a campaigner.
The impact of Hague's resignation on the Preventing Sexual Violence in Conflict Initative, just one month after the Global Summit, cannot be underestimated. This was Hague's personal agenda within the Foreign Office, he and Angelina Jolie were the faces of the Summit and the faces of the campaign. However, the future of the PSVI within the Foreign Office is far from secure. Hague's successor Philip Hammond will undoubtedly want to put his own mark on the Foreign Office agenda and the PSVI initiative will never have resonance as his own because it forms a defining part of Hague's legacy.
Further, the PSVI is a new initiative for the Foreign Office and after just two years in operation had only gained tangible momentum in the six months leading up to the Summit. The PSVI has not had time to be secured as a part of UK Foreign Policy in its own right and remains reliant upon champions to keep it on the agenda. The resignation of the primary champion of this policy is premature if it was hoped that PSVI would become a cornerstone of the UK's approach to foreign policy, rather than Hague's legacy.

Hague will remain a champion for ending sexual violence in conflict as the Prime Minister's Special Representative and this is likely to be where his ambition turns. He has proved what he can do within the confines of the Foreign Office, it is likely his thoughts are now turning to what he could do outside of the confines of government.
The time was right for Hague to leave the post of Foreign Secretary because he has left on a high generated from the Global Summit. The Global Summit is what he will be remembered for. It also provides him with an opportunity to play a crucial role in the run up to the 2015 general election as David Cameron's 'de facto political deputy'.
We wait to see where Hague's ambition will take him but Hague is ending his time as Foreign Secretary at a high point. He is astute enough to understand that he has realised his potential in domestic politics and his role supporting Cameron in the run up to the general election will provide a worthy end. What is clear is that Hague has not lost ambition. Rather, as a champion of ending sexual violence in conflict he has found a new outlet for it. It is premature to predict where Hague's ambition will take him after the 2015 General election but I would not be surprised if he resumed his role as a global campaigner. We wait to see..