Christmas means nothing to me back home, but here, it's many things. It's a celebration, it's culture!
I think a large part of this feeling comes from the festive and magical atmosphere that's whipped up around Christmas time. When I say Christmas time, I mean November and December. The big Tesco at Guildford already has the buntings up and is selling Christmas pudding so I'd say it's basically already Christmas now. I've done many little things around this time over the past two years, some of which you would consider doing too. So here comes all my Christmas anecdotes!!
"Some of the students who started with me, signed up to a charity called HOST, that organises weekend visits for international students at the homes of lovely, warm and welcoming residents of Britain."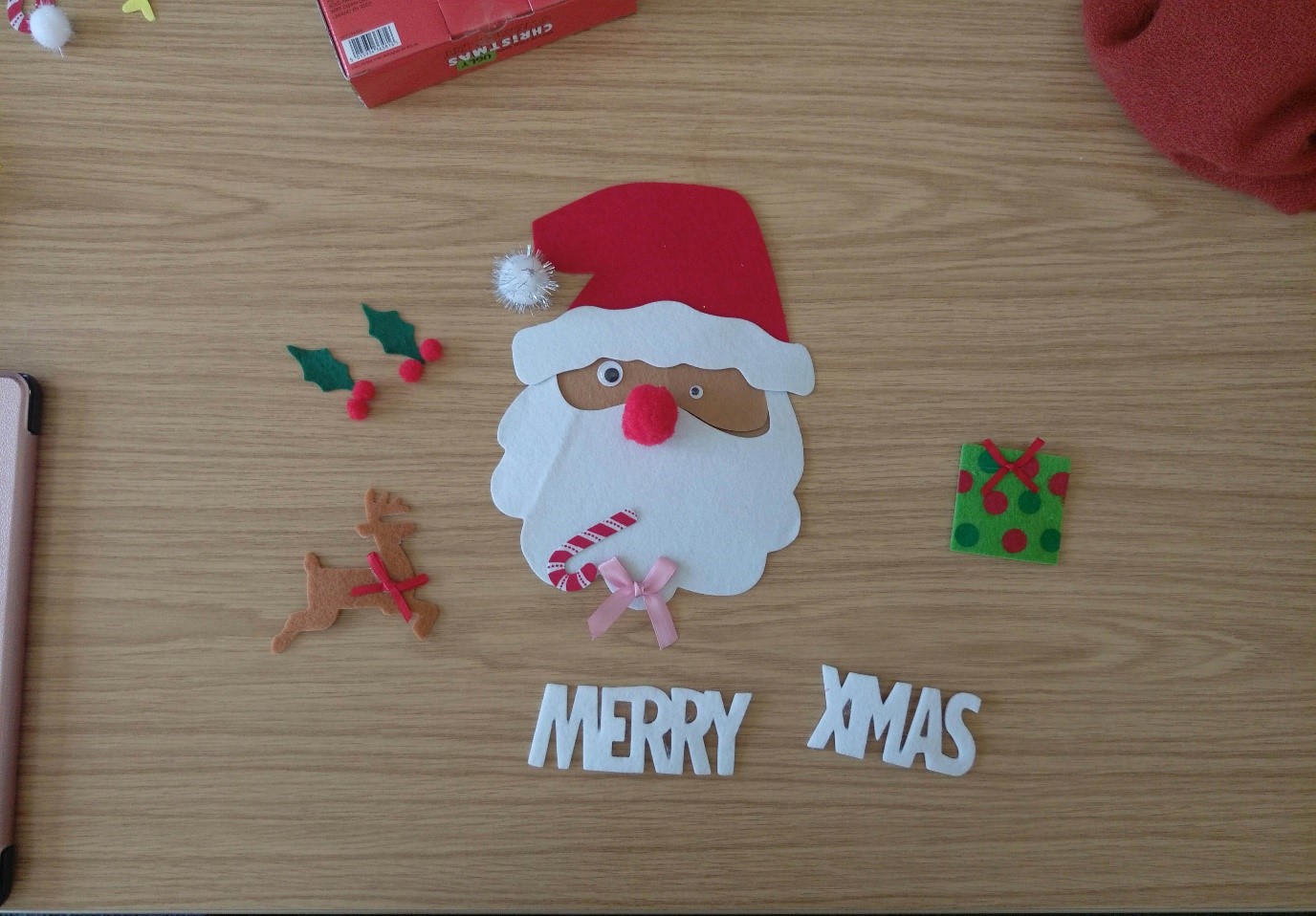 Christmas at Surrey
Some of the best memories of my student life at Surrey have been around winter, despite me complaining about the cold a lot. Half my battles around this time of the year is with the cold, but the festive environment really helps.
I often compare Guildford to my hometown that is also small, green, calm and yet bustling with life and fun activities. We have a festival back at home called Dasara – commonly known across India as Dussehra, where the celebrations are so grand and city-wide that it cannot possibly go unnoticed. Although a Hindu festival, its cultural celebrations are for everybody who either get involved in activities or merely enjoy the lights the city is decorated in. For around a month before the finale, cultural activities like theatre, plays and music concerts, food and flower fairs, and handicrafts market are very common. Ring a bell? Well, Christmas at Surrey is my 'Dasara' in the UK. The scale and the nature of the celebrations are so similar that I find myself doing a lot of fun and joyful things around this time of the year. I've found myself a good substitute I'd say and It's plays a huge role in keeping me healthy mentally.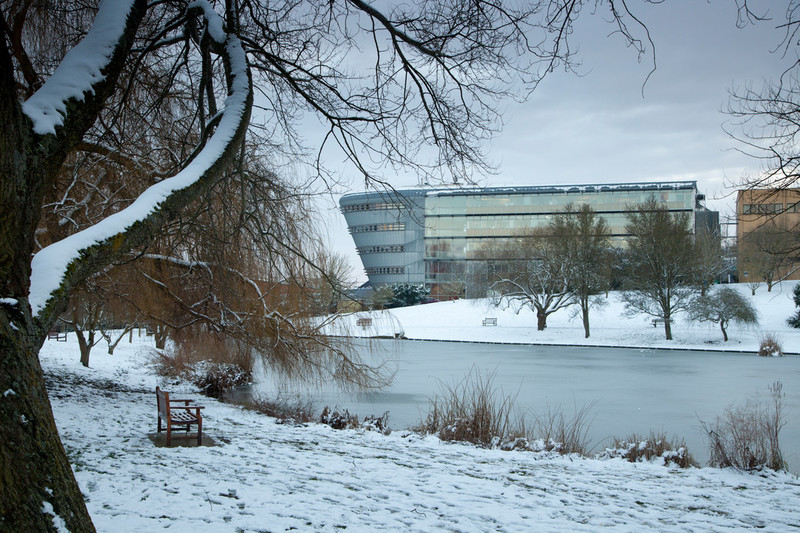 At the very least, I love how everybody around me is happy and generous. And if it snows, and it did my masters year, its extra magical. I've had some (many)assignments to finish over the break then, but I was also very adamant on taking some days off to enjoy the festive spirit around. I'm talking Christmas lights, Christmas jumpers, Christmas bakes and yes, the sales! The last week of lectures before we broke for holidays was truly amusing to see many students dressed and excited for the holidays. I'm quite tempted to buy an interesting jumper for myself this year.
But here's my Christmas checklist! I try to do some of it when I'm busy but I usually go all out.
Christmas Checklist
Try new festive drinks and watch cheesy Christmas movies on Netflix. 😊 This happens involuntarily. The best part of the days leading to Christmas is having caramelised orange in all my hot drinks without feeling guilty. I also find myself baking a lot and most of my inspiration comes from the festive food section at the supermarkets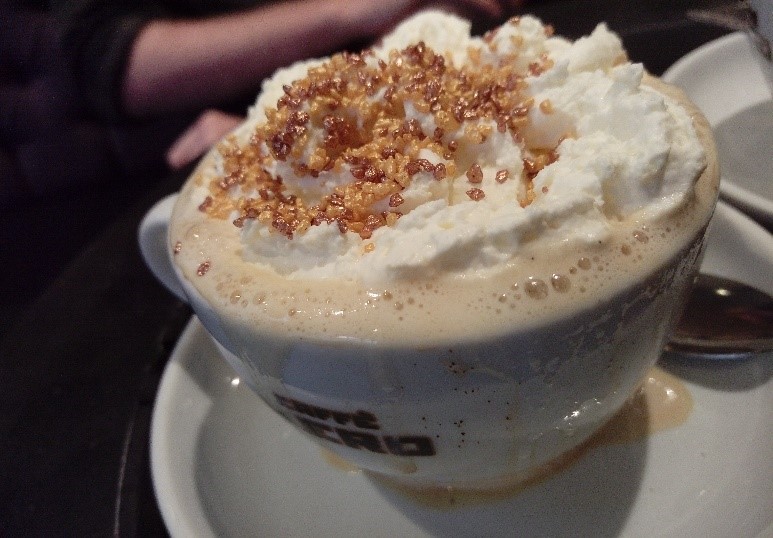 RSVP yes to ANY Christmas lunch at Uni right before we break for holidays. There's always a Christmas potluck lunch of sorts organised in your school or department. If not, then why not get together and celebrate a bit before breaking for holidays. The Environmental Psychology Research group (EPRG) has a potluck lunch every year where all MSc and PhD students and academic staff get together for say a Belgian chocolate mousse that a talented somebody prepared. I've shied away from preparing something before but maybe this will be the year for it. Also looking forward to Christmas party with the Psychology PhDs and Staff this time!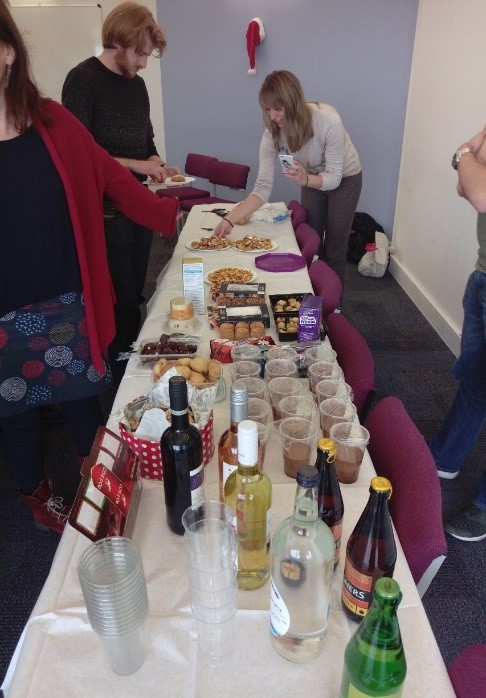 Visit at least one Christmas Market. The joy of having mulled wine and hot street food peaks when the sun is down and you're out in a pretty little market. Last year I was in York purchasing fine hand paintings and also in London briefly meeting a couple of my friends at the Southbank Centre Christmas market and as I write this now, I can actually recall what it smelt and felt like. I have my eyes on the market at Manchester for this year – something to save towards.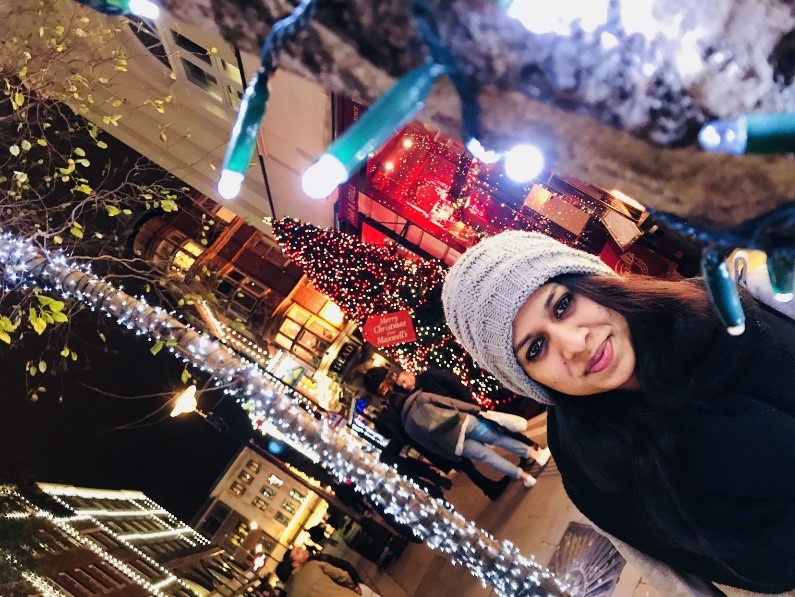 Activities with friends. Just being out in the streets for a walk is the easiest of all Christmas activities I enjoy. Guildford town-centre is adorned with lights, artists and bands and I think I also remember seeing reindeers once. Or just help friends decorate their flat and Drink! If I'm at a loss for things to do, I look up the Guildford Borough council's endless list of activities for Guildford and Surrey! And when I get bored of Guildford, I run to London for some novelty. Here's me against a pretty backdrop at Covent Garden and an example store with flamboyant decorations at oxford street.
Now here's a tricky part, all this fun can lead up to feeling quite lonely on the day when everybody you know is either with family or away – especially if you have many assignments to finish…
So, if you're on campus this Christmas Eve, find somebody to do something with.
Christmas Eve
Some flats have a Christmas dinner. I remember heading down to the Guildford Cathedral for the midnight service – It was an experience worth having. The next day, I walked to Odeon (no public transportation) to watch the new Star Wars movie.
Or spend Christmas with friends and their families? This is possible.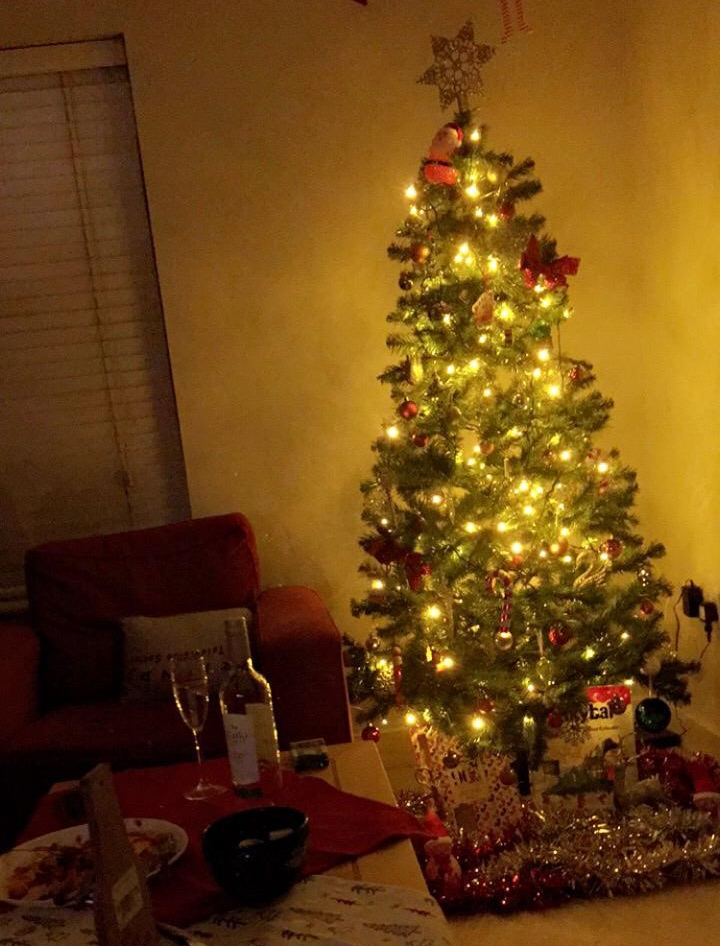 Last year, I spent Christmas at a friend's in Greenwich. She's the closest I have to a family here and It'll probably take years before my memories of it fade away. It was my first proper Christmas with the tree and the gifts and the oh so lovely ham! We cooked together, did Christmas crackers, gifts, watched muppets Christmas carol, greeted strangers on our morning walk at the park, skipped church and lots more.
Host
But I believe this is hard for someone who has just moved to the UK, but not impossible. Some of the students who started with me, signed up to a charity called HOST, that organises weekend visits for international students at the homes of lovely, warm and welcoming residents of Britain. Two girls I know spent a Christmas with a family in Kent I think? and I believe they had an amazing time. Surrey students need not pay an application fee, so why not give it a try? I have tried it once during Easter and I would highly recommend it. They are accepting applications for festive visits until the 26th of November! 😊
For everything else too, it's definitely worth planning activities in advance as there is no public transportation on the 25th. Supermarkets and the restaurant you really want to eat at might just be shut! And whatever you do, don't book a 6am flight out of Gatwick on the Boxing day (26th) if you are depending on public transportation however cheap the tickets are – lesson learnt the hard way.
Christmas is an adventure and a great way to be thankful and end the year on a cheerful note. I cannot wait for this year's! I'm going skating at Kew gardens very soon so pray I don't break my hips.
And also, let us all please hope it snows? (fingers and toes crossed)
Wishing you all a merry and joyful holiday 😊