Personally, for the most part, the transition to online learning has been relatively straightforward. As assignments and resources are found on the virtual learning platform, Surrey Learn; I would say the lack of drastic change has normalised what can be considered an unusual time in Higher Education. As with any change, there have been challenges but I am still a firm believer of making the best of a situation.
Modules and Assignments
As previously mentioned in my last blog, working from home can be productive if we are intentional and realistic as to how we allocate time to set tasks. Before the lockdown, I was very impressed that the university made it a policy to capture live recordings of lectures through the system, Panopto. Again, as it is integrated with Surrey Learn, it allowed me to learn and revisit information at a time of my choosing. As most of my assignments were predominately in a coursework format, the adjustments made in various modules were just and appropriate given the circumstances. I would say the meetings and tutorials via video conferences such as Zoom, has clarified questions to the learning material. To a degree, the video chats have reclaimed the essence of formulating discussions which may be lost in text too. And with all assignments required in a digital form, submissions queries made through Surrey Learn were not particularly of concern to me.

Communication: Keeping in touch
Receiving higher volumes of email during the day has become the norm for me. With emails being the default to which I maintain contact with my supervisor and general information, I try to make sure I check my inbox several times during the day. Equally, as previously mentioned, video calls have become useful in connecting with others in the comfort of their own homes. It has been good to listen, explore and elaborate on areas that were previously unclear.
As the Human Nutrition MSc cohort is relatively small, we were able to set up a WhatsApp group early in the academic term. I would say it has been very convenient for communicating quickly with the group as well as sharing workloads for group projects. With the further addition of weekly catchups via Zoom, staying in touch with my course mates has remained uncomplicated. I think the only hurdle is getting over the shock of seeing your face on the screen.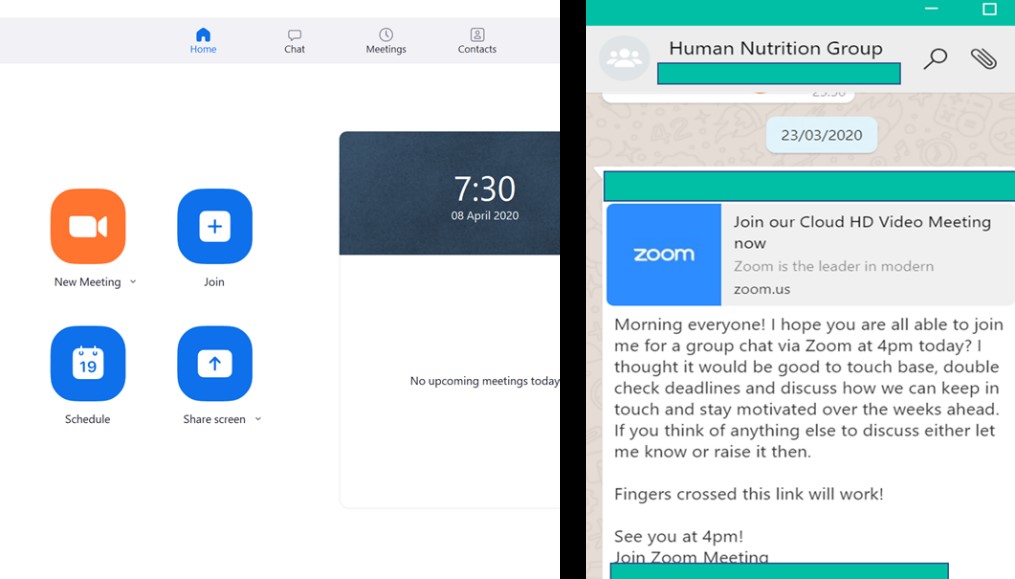 Navigating Research Projects
Initially, the revision of my research project left me confused as what my options were. Questions such as whether I would have to choose another research topic was at the forefront of my mind. The support and advice from my supervisor facilitated in making sense of the changes. Further discussions with the module lead, programme director and even with the head of the department, clarified questions relating to how we would be assessed.
As I am now embarking on a data-based project, my focus would involve processing and analysing pre-existing data. By maintaining contact with my supervisor, as well as using the online facilities such as Maths and Statistic Advice, and assistance from the IT support, I would hope it would not be too challenging.
Final Thoughts
Online learning may not be different from what was originally assumed, as I find that most of my learning already occurs behind a screen. Arguably, it has highlighted the ability to adapt traditional teaching such as tutorials to an online platform. With various channels of maintaining contact, the change has not been too drastic.