So, you've decided that you love research and want to do a PhD. But where should you start when it comes to finding a project? There are lots of different ways to find a project and the Surrey application guidance page is a good place to start if you're completely at a loss. In this post, I'm going to share how I found a PhD project in physics.
The initial search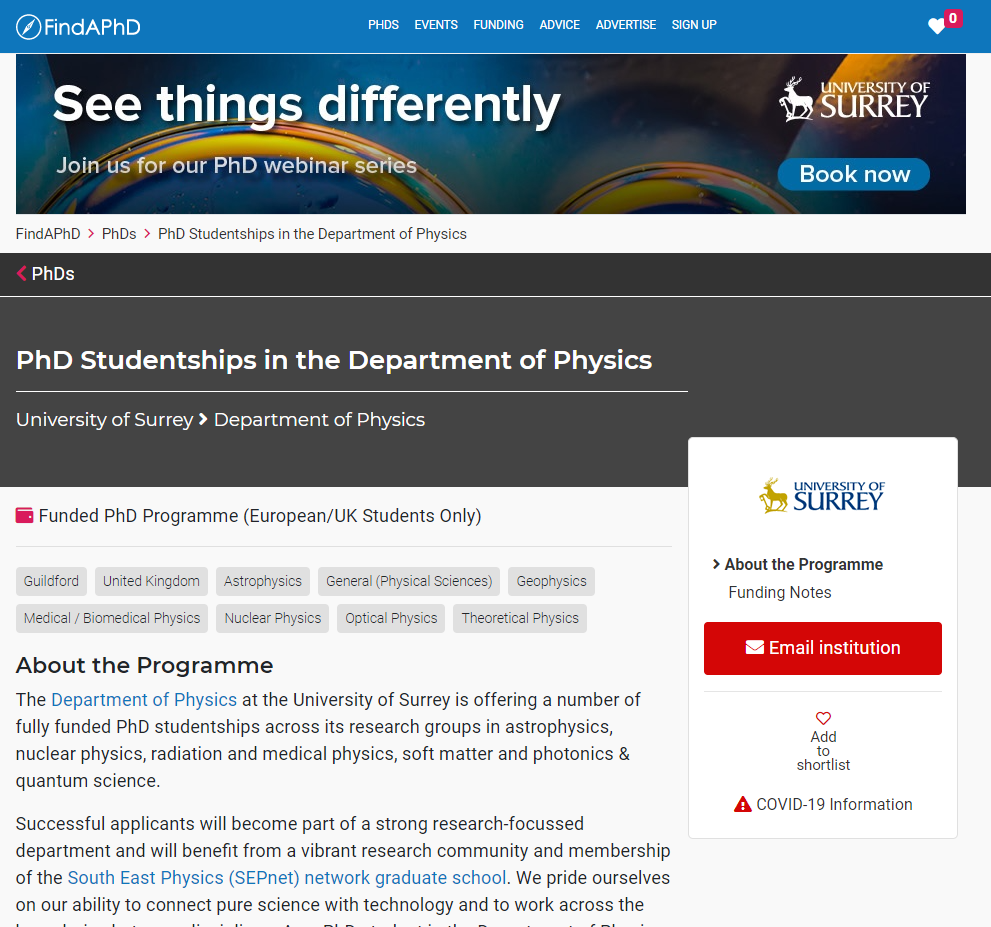 When I decided that I wanted to look into applying for PhDs, I did an initial search on findaphd.com. This is a great site for finding fully funded projects, especially if you're in a STEM field. There are also other sites like DiscoverPhDs which have a similar function. You can also use places like the university's studentships page which will show you available funded PhD projects.
I started by using a few search terms related to my interests- 'quantum physics', 'quantum technology' and 'semiconductor physics' – which gave me quite a few results. Then, I went through each post to see whether I thought that the project sounded like something I'd like to spend the next 3-4 years working on. This narrowed it down to a handful of projects that I applied for using the instructions given on each page.
I was also interested in a PhD that was advertised via an email from the physics department, so I approached my now supervisor about that project via email to express my interest in the project.
There are lots of other ways that you can find a project to apply for. In STEM fields, you usually apply for a pre-determined project with funding attached already but there is the option to write your own research proposal if there isn't a project advertised that you want to pursue.
Sending in your CV
To apply for a PhD project, you'll need to send in your CV. There are lots of great resources online (like this one and this one) to help you polish your CV for PhD applications. The most important thing is to emphasise your skills and any research experience you may have. They want to see that you're interested in the subject and have the ability to conduct independent research. If you haven't done any research yet, don't worry. I'm sure you've built up plenty of skills throughout your degree that shows your potential as a researcher. 
My CV emphasised my laboratory skills and my research & development internship at a photonics company. This really helped show that I am a good experimentalist and have been able to conduct my own research in the past. 
Crafting a cover letter
As well as your CV, you'll usually have to send in a cover letter. I tried to include my reasoning for applying for each PhD project, linking this to my CV, skillset, and interests. I think that showing how passionate you are about the topic goes a long way. It also doesn't hurt to do some background reading on the work of the academics who will be supervising you as well as looking into papers in the field more broadly.  
If you have any prior research experience related to the project, it can be useful to emphasise this as well as any links to coursework you did during your degree. My cover letters included details about my R&D internship as well as linking some laboratory projects I did during my degree to the research I'd be doing for each project.
The interview
I was really nervous when it came to interviews. I think everyone gets nervous and the people interviewing you will know this, so try not to let it get to you too much. If you did some research for your cover letter, this will put you in a good position for your interview. I was asked about the physics behind the project and why I was interested in the topic. They also covered the expectations of a PhD project to ensure that I was prepared for spending such a long period of time on one project. A PhD is a big undertaking so ensuring that you're passionate about the topic helps the interviewers decide whether you'll be likely to complete it and graduate.
Securing Funding
You'll find that most STEM PhD projects that are advertised already have funding, but in some cases, you may need to apply for funding. Once I had accepted my place, my supervisor and I applied for a few different funding options. I ended up being offered the Doctoral College Studentship Award which covers my fees and a stipend for living costs for three years. For more guidance on funding, you can visit this page.
Preparing to start
If you get offered a PhD position and decide to take up the offer, it's useful to do a bit of preparation before you start. There are plenty of great books about the PhD process which you might want to check out. Here are some of the books I've read both before and during my PhD which have helped guide me through the 'hidden curriculum' and other aspects of a PhD that aren't initially obvious: