We've invited two guest bloggers from the Doctoral College Conference organising committee to tell us a bit about getting involved and what you can get out of it.
The Conference happens on campus every summer and is a chance for current postgraduate researchers (PGRs) to present their research and hear what others are working on.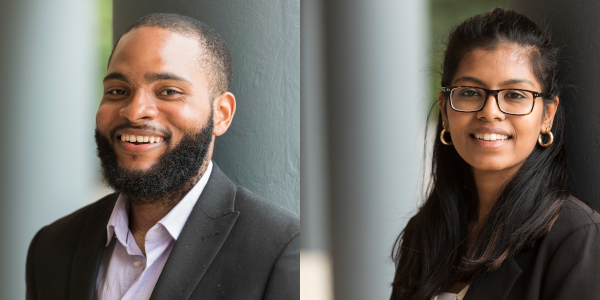 Toyosi Phillips (L) is a PhD researcher in international business and strategy in Surrey Business School. Rucchi Ryan (R) is a PhD researcher in bioelectronics in the Advanced Technology Institute.
---
How would you describe the Doctoral College Conference in a few words?
Toyosi: An opportunity for researchers from across all disciplines in the University to network and collaborate.
What made you decide to join the organising committee?
Toyosi: I joined the committee because of the amount of research I found fascinating from across the University. I wanted to learn from and be inspired by other researchers.
Rucchi: As a new international student, I thought this would give me a good opportunity to interact with new people and make new friends. I also wanted to do something extra besides my research. I enjoy planning events, meeting new people and being part of such a big event. This was the perfect opportunity to showcase my skills and put them to use.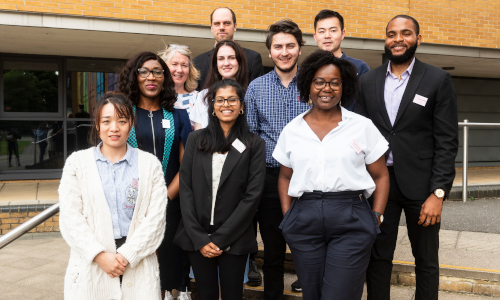 What were the challenges in organising the event?
Toyosi: The major challenge was to make the event as post-Covid accessible as possible. We needed to make sure we had people from across the University willing to come to the Conference in person.
Rucchi: Since this was the first in-person conference, it was quite challenging to get the whole committee together in order to get things done. Apart from this, it was indeed challenging to balance managing the finances, organising workshops and making sure we were giving the best Conference while staying within the budget. While doing all these I also had to focus on my research, experiments, demonstrations and marking. Having said that, all that hard work and stress felt worth it with the way the Conference went.
What did you get out of it?
Toyosi: For me, I was able to understand that everyone has different perspectives on how they view things, and it is important to consider other opinions.
Rucchi: I gained a good network of people. I had the opportunity to get to know other researchers from various other faculties and it was interesting to see their research. As an international student in the first year of my PhD, the Doctoral College Conference gave me the opportunity to meet fellow researchers and academics within the community. It also gave me the opportunity to network and meet new people. The whole Conference felt so surreal, especially when seeing all the hard work that we put in for almost six months come to life. In addition to this, as a PGR, seeing all the posters and watching the oral presentations motivated me to work hard and be able to present at the next conference.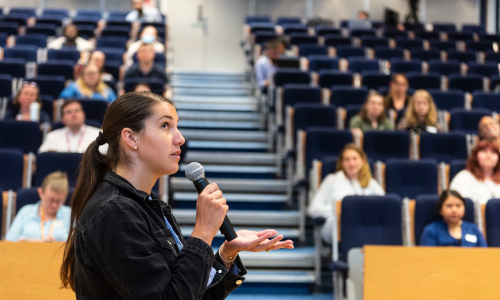 Why do you think the Conference is important for PGRs?
Toyosi: It is important for both PGRs and ECRs as a research community, because it provides a chance for us to network and collaborate and sometimes be inspired by each other. One of the important things about being at the DC Conference is that it provides you an opportunity to get likeminded peoples' perspectives on how to improve your research.
Rucchi: I think it is important for PGRs as it's a good opportunity to get away from your research and your faculty and engage in other activities. The Conference is a good opportunity as it gives you the chance to look at other people's research. You can also present your research, which will make your PhD more engaging and fun. In addition, you will meet a great range of lovely people. The workshops that are organised will always be beneficial, so if you are at a conference at least try to go for one workshop. The keynote speakers are very inspiring and are usually very friendly and available for a chat after. If you have time on your hands and can balance your research with other activities, I would encourage you to join the committee. You will learn a lot of extra skills that your PhD might not teach you!