Hi! I'm Georgina and I am a Digital Media Arts student. I am currently on a placement year working as a Digital Production Intern at Cartoon Network located in Central London, Soho. I have been working at Cartoon Network for 7 months already, but it does not feel like that long ago when I was anxiously awaiting my first day! I have already had amazing experiences and opportunities and will be sad when the placement comes to an end.
My roles and responsibilities have included various design roles such as designing web pages for the channel's shows and designing digital banners to advertise our new games. Other roles include uploading games, giving feedback on new projects and localising game thumbnails.
The settling in period
My first weeks were quite relaxed as I settled into the company and became familiar with my role and team mates. I took this time to learn about the brand by attending orientation days and by scanning through the existing Cartoon Network games and web pages. I also spent time watching several of the channel's shows as my manager wanted me to become familiar with them all… this was something I definitely didn't mind doing!
Additionally, I made sure I always had a pen and paper accessible to note down important things. This is because I did not want to find myself having to hassle my team mates with a bunch of questions! However, the thing that really helped me to settle into my placement were the other interns who were hired in different teams. We shared the same worries and doubts, and it helped to voice these concerns with them over lunch.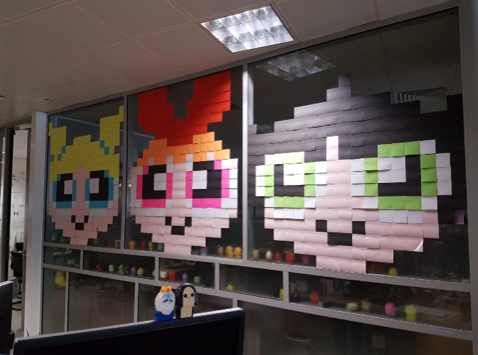 Making the most of my placement
When I first started, I had limited design tasks. However, after watching a team mate design a few promotional banners for brand new web games, I knew design was something I was interested in. Fortunately, I have a manager who is extremely supportive, thus I made him aware of my interest and he organised a meeting between myself and the team designer. I slowly began to receive small design tasks, but over time, after I proved myself capable, the design tasks became bigger and more frequent. Thus, I advise those of you to make the most of your year in industry by becoming familiar with each of your team mate's positions and voice what part of their role you would like to learn more about or get involved in.
My piece of advice
Attend as many events as possible, whether that is a social event with your team after work hours, or a talk on how to improve your CV. All these events are beneficial and can both broaden your network and improve your work profile.