Привет всем! Сегодня мы поговорим о жизни  и учебе студента на кампусе. В Surrey у нас два кампуса: там, где происходит вся ваша академическая жизнь, и там, где расположено большинство зданий для проживания студентов. Так давайте начнем!
Hello everyone,
Today I will tell you all about living and studying on the University's campus. To begin with, there are two campuses: Stag Hill is where your lectures and seminars will be held, here you can find library, cafes and lecture theatres; and Manor Park is where more student accommodation's located. So let's take a quick tour!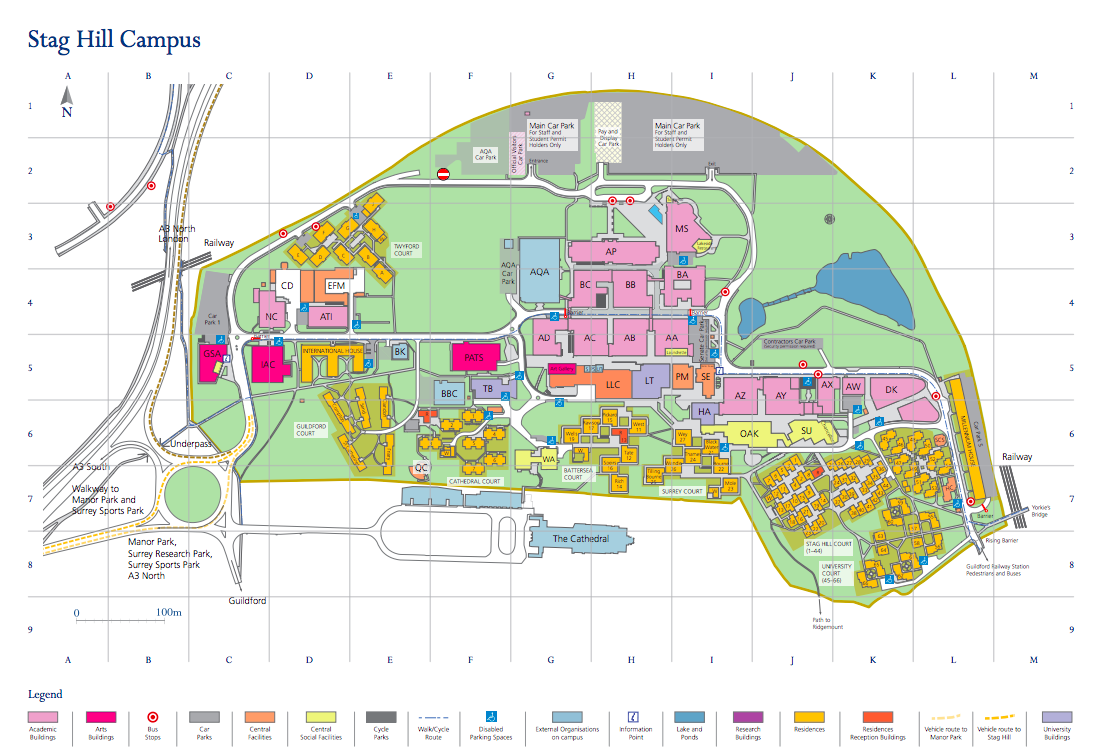 The Library
This is perhaps the most important place on campus, the library is open 24/7 so feel free to spend your all-nighters here. Here you can borrow your essential reading books, book a study space for your group project, print and of course study. The library has 5 floors, at the ground floor you will find the Appleseed bookshop and the simply fresh(local grocery store), on the first floor you can find all the help that you need from the Support desk and the IT desk and the other 4 floors are dedicated to the silent/ individual, group and social study spaces, so you will definitely find your perfect spot.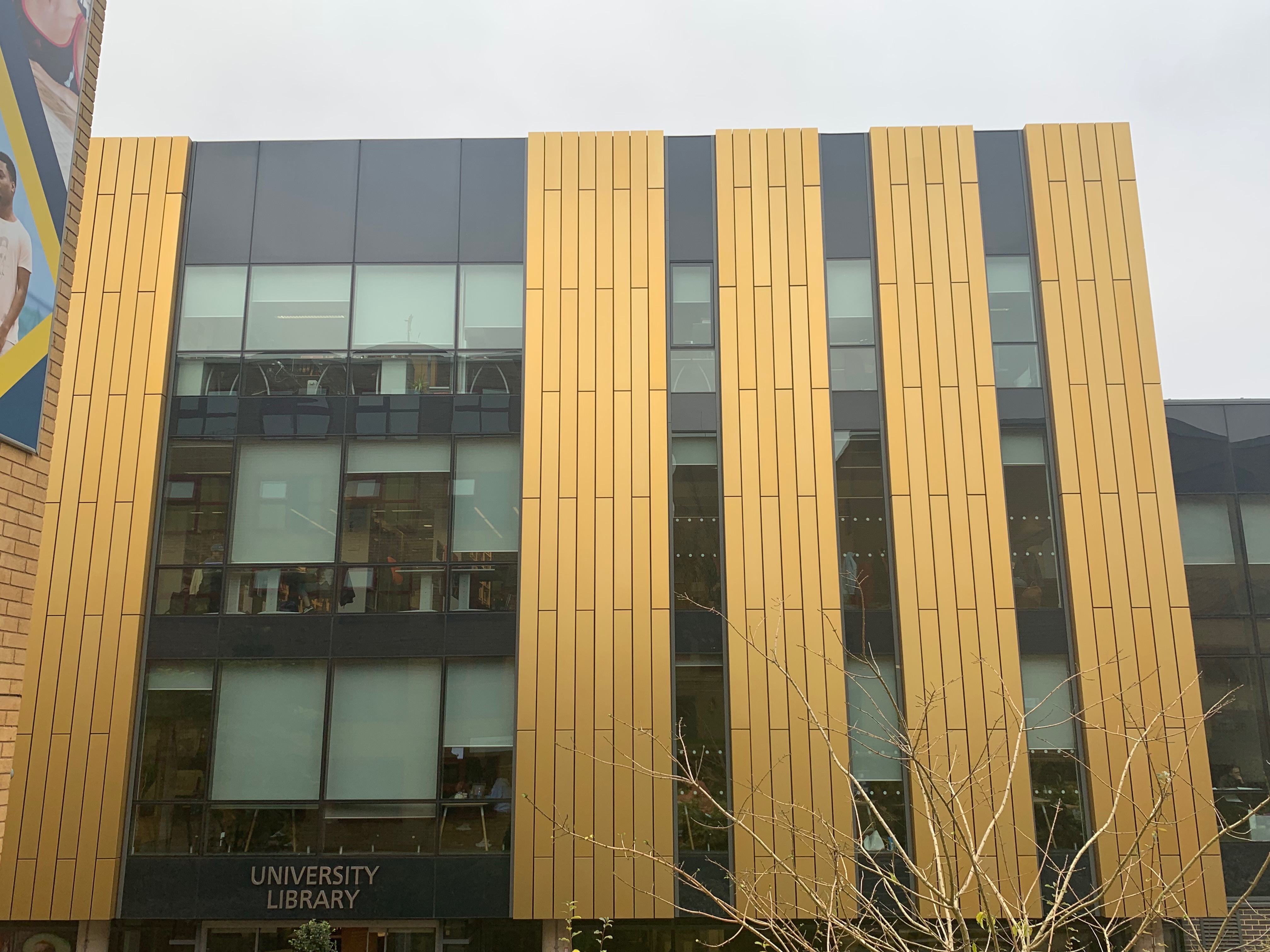 Rik Medlik Building
This is where Surrey Business School is located so if you are a business management student here your seminars and lectures will be held. Also, on the ground floor you will find our famous Lakeside Coffee Shop this is a perfect location for students and staff to enjoy their cup of tea or coffee, have a little break from their lectures, socialise with friends and of course study. In my opinion, Lakeside Coffee Shop has the best coffee and croissants so this place is a must if you will be visiting our campus.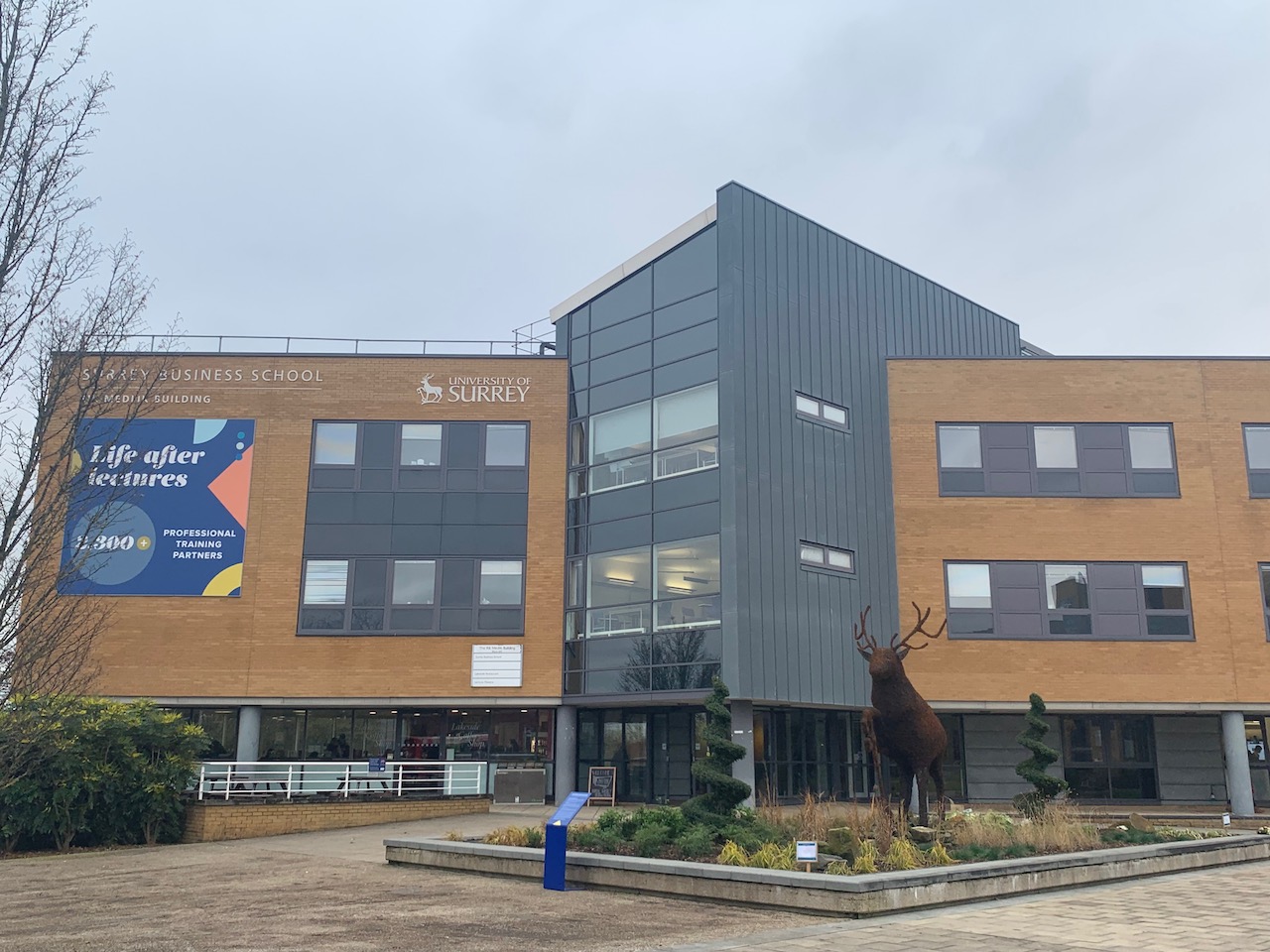 The HIVE
This is a new central spot where students can socialise, study and seek any help. The staff at Hive are keen on answering your questions about:
Finance
Accommodation,
Careers and employability
Transport
Visa
The Hive is equipped with modern study spaces and a kitchenette where you can take a break and relax with your friends. Personally, this is one of my favourite places to study because I enjoy a relaxed atmosphere and brand new study spaces.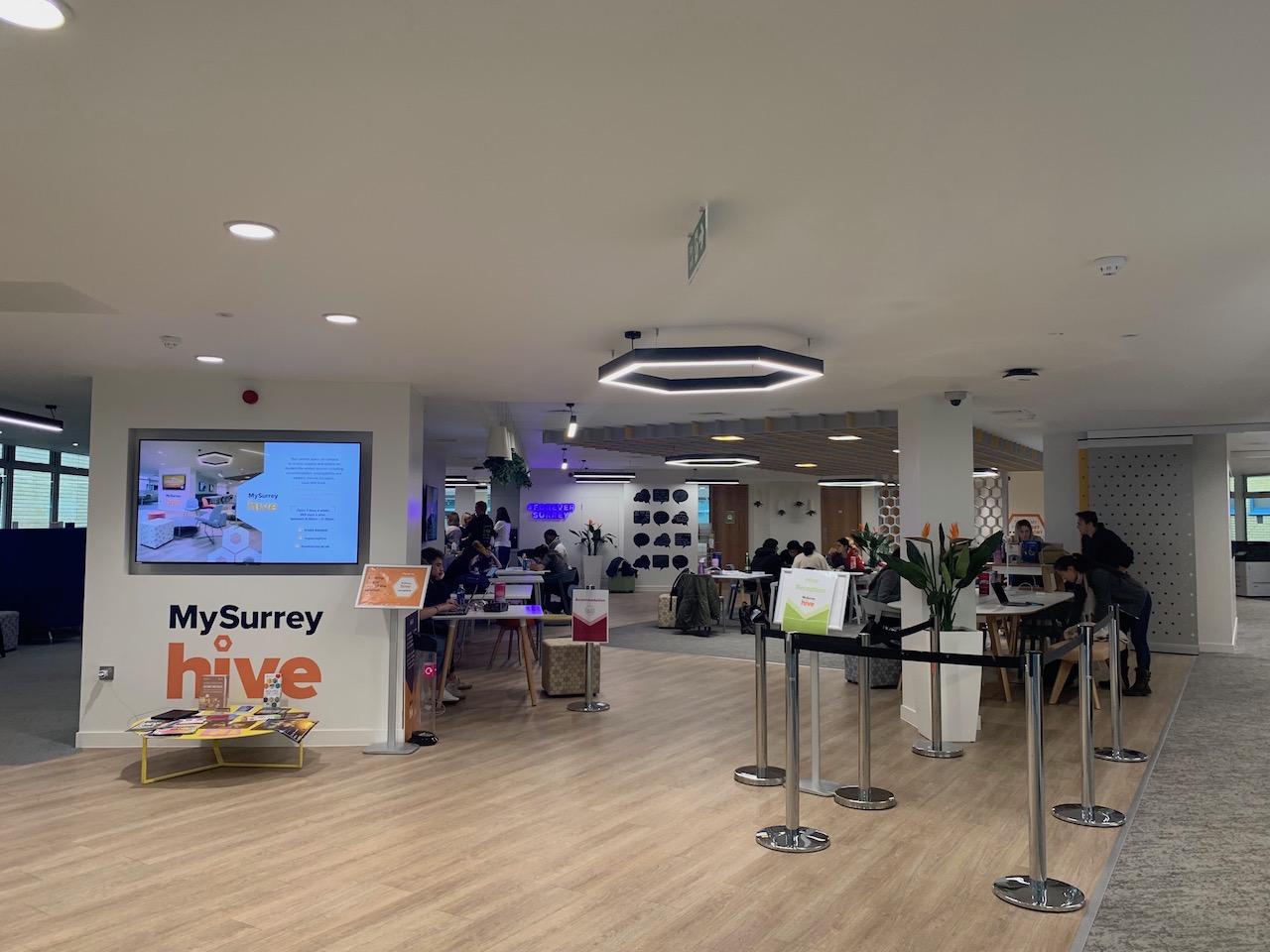 Surrey Sports Park
Is located next to Manor Park, but if you are travelling from the main campus it should take you approximately 15-20 minutes by walk to get there. You can get a student membership and enjoy a huge range of world-class facilities and classes:
Olympic -standard swimming pool
Climbing centre
Tennis courts
Newly refurbished gym
Indoor cycling studio
Sauna and steam room
Just grab your working out buddy and enjoy all the facilities provided to you and after your workout, you may grab a drink at Starbucks or The Bench Sports Grill.
Manor Park
This is where your accommodation will be located and it's also home to the School of Veterinary Medicine and School of Health Sciences. Manor Park has more than 1,500 en-suite rooms ranging from Band D to Band F, it has a reception where you will collect your email and a café which serves breakfast, lunch and dinner. Manor Park is the best place to come after a long day and reconnect with your friends at a café, go to your room and relax or if you feel particularly sporty go for a jog outside or join the gym.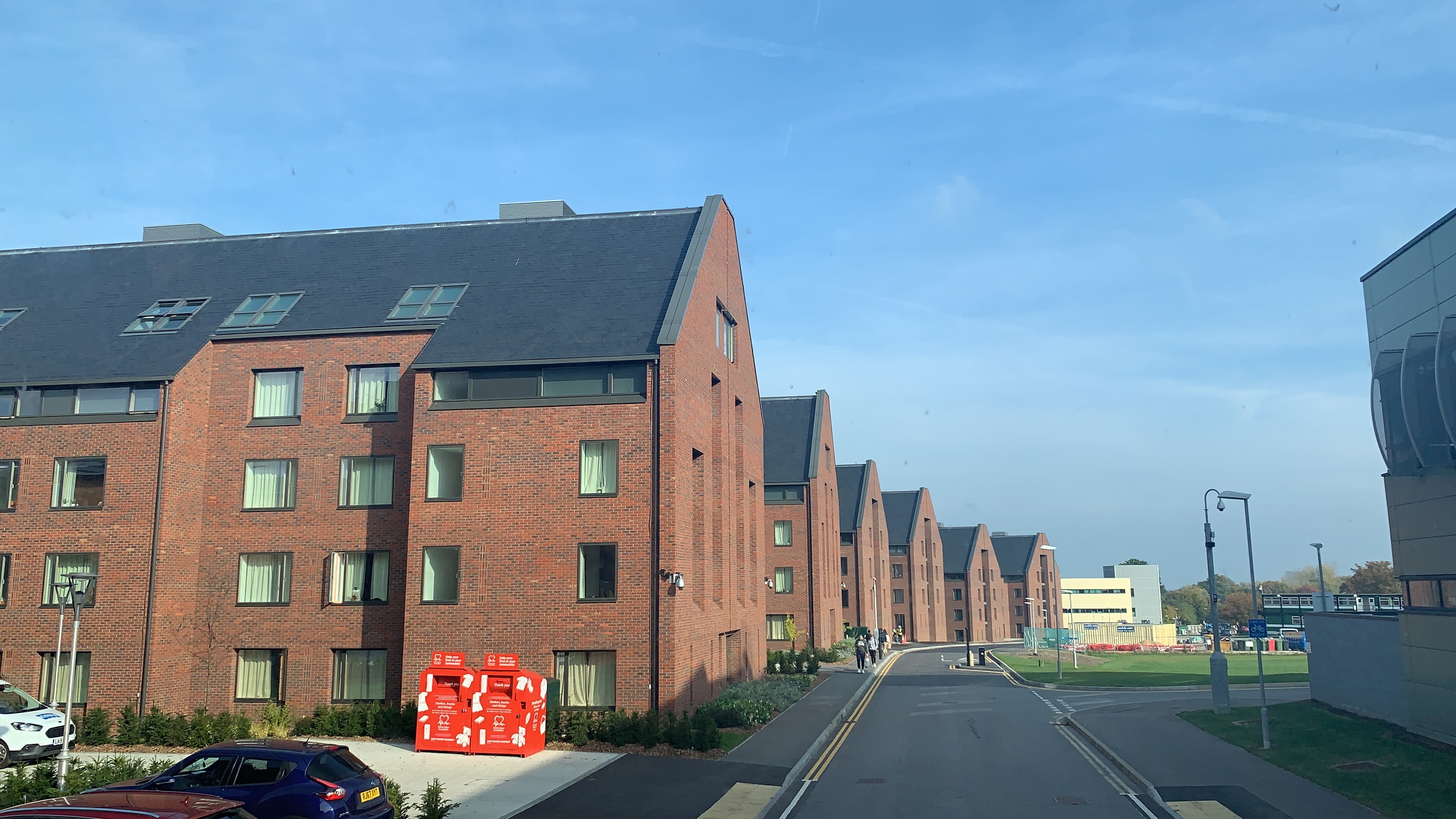 Goodbye for now! Have a productive week and I will see you next week with my new updates.
– Margarita