Since my exams have ended on the 31st May, the month of June must have been pretty exciting with so many things to do, as you can imagine with the freedom I was just granted but… not exactly…. haha –  cause we all know that the only thing worst that exams in finishing ahead all of your friends and not having anyone to hang out with cause they're all still studying! Am I right ? :L #sendhelpplease!
But okay, I did get to enjoy the start of my summer by catching up with some friends from church and I even had my first meal in a Pub. This might sound bizarre to you, but in England it's a thing here! When you hear someone say … "Let's go to Spoons!" They're not actually talking about the utensil literally but more so like the famous chain pub Weatherspoons! It's a day to night pub and somewhat club when night falls on the weekends!
For kinda.. affordable prices in England, they serve up some yummy pub classics! Im sure you guys are all familiar with the famous Fish & Chips served with mushy peas (not my favourite!) but definitely, very British.
I actually went out for this meal with the ABACUS (A British and Chinese University Students) Committee which I will be a part of next year as the social secretary! So, anyone of you interested in joining… feel free to email me at ecclesiachang@hotmail.com and I will be sure to get you connected with us – the friendliest and craziest group of people who will make uni life so much more fun ! 😉
We were having a committee photoshoot for our committee webpages so we can be easily identified as ABACUS, since we are only one year old as a society at the University of Surrey !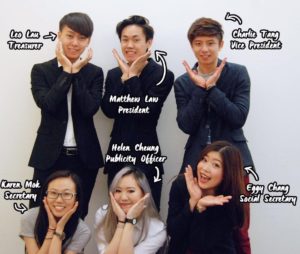 So that's us being really cute and asian hahaha Find us on Facebook here : https://www.facebook.com/surreyabacus/?fref=ts&ref=br_tf
We can't wait to meet you already !
My friends and I also found another place to satisfy our Matcha cravings in England! It's in New Malden … aka. the Korea Town closest to Guildford at this new café called Bingsoo which as you can guess, serve Bingsu! The Delicious Shaved Ice Delight costs £5.90 for a Medium Size as shown in the pics which is what we got ! And it was so good, mmmmm. Im definitely craving for some more now! New Malden has tons of Korean restaurants to choose from and it definitely has earned its stars for authenticity, as it is the local Ahjummas (Korean Grandmas) and Families that own the restaurants which gives it such a personal and authentic taste of Korea from 5621 miles away….
Another thing I'm not looking forward to is leaving these guys for the summer 🙁 But I definitely can't wait to be reunited with my family and then flying back to Singapore this Summer!!
Till next time,
Eggy x x