Hey Guys, so as you can guess from the title…. I am blogging from the other side of the world – in Sunny Singapore ! It feels so good to be back but I'm not too happy about the sun and the burning heat !

So I flew back on the 5th of July with my mom and sister and we had the chance to fly back to Singapore on our home airlines, the Singapore Airlines A380! It was such an amazing flight back home, mainly because of the dessert they served which was a magnum icecream ! at 6,00000 feet in the air ? thats first class if you ask me! haha
We've been catching up with our family members and just catching up on everything we've missed the past year we've been away! I met my ah gong aka… grandpa and he was so cute and so happy to see all of us as you can imagine! He was just waiting at his gate awaiting our arrival which I thought was just such a heart-warming welcome home.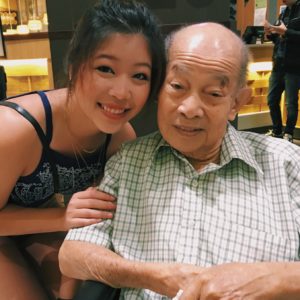 So that's him, all dressed up when we brought him out for some Tim Ho Wan! (A dimsum place, which is ah-mazing btw!)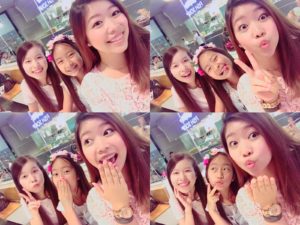 That's my beautiful cousin! We actually grew up together – We've both twenty and it's just crazy how much we change over the years and there's always so much to catchup on! Our crazy poses from childhood sure have not though….
Ah… This would not be a Singapore blog post if there was no mention of food ! Of course, within the first week, I had to have a taste of Singapore's famous Laksa dish!
Laksa, is one of Singapore's local favourites consisting of rice vermicelli topped with a piping hot and spicy yet sweet coconut broth. It is usually served with beansprouts, tau pok (fried beacurd) and fish cake! Absolutely amazing…. but the best places to get the best and most authentic dishes are found at your void deck coffeeshops !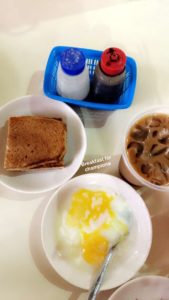 Guys…. this was the best breakfast ever that I had at my neighbourhood hawker center! It's called "Kaya Toast" and in Singapore, the set consists of two soft boiled eggs as well as a drink! It was so delicious and absolutely hit the spot…. This is my idea of comfort food that really made me feel like I was at home.
——— This next section is a little extra beauty "shoutout" if you will – But it is still Singapore related!
So, if you're Asian and have a huge love hate relationship with mascara, I'm about to give you a little slice of heaven. So in the beauty drugstore in Singapore, We call it Watsons here – I went to the Maybelline stand and found this mascara called the Barbie Eyes Mascara.
I was mostly attracted to it cause of the super girly colour, if I'm honest… hahah but GUYS. this mascara has changed the mascara game completely. It costs about $23.90 so that's about £13 which is a bit on the pricey side but trust me, it's so worth it.
It comes packaged with dual ended wands, one side – the mascara and the other – the little fluffy fibres.
So you basically apply a single coat of the mascara, followed by the fibres, then back with the mascara to seal in the fibres and it completely lengthens your lashes and makes them so Barbie like!
This Mascara is definitely my go-to product right now…. it's smudge proof and does not melt away in Singapore's heat! Definitely a must-try! 😉
Anyways, I can't for what else is coming ahead during my time in Singapore!
Thanks for reading 🙂
Love,
Ecclesia !