Hey Guys,
Today I'm going to be writing about how I've spent my halloween this year at Surrey… because Sharing is (s)Caring right…
Anyways Puns aside…
For this Halloween, As the social secretary of ABACUS Society here at the University of Surrey, We planned a collaboration event with the other ABACUS Societies from other London Universities such as Brunel, Queen Mary and UCL…  to meetup in London and have a fun night out together…
It was so amazing, getting to see everyone get so into their characters and costumes… By the end of the night, Fake Blood was EVERYWHERE. Also, a new costume shop just opened up in Guildford town center which made it so useful to pick up any last minute costume add ons…
I decided to go as a Unicorn this year… But not just any Unicorn… a Final Year (at) Uni- Corn. HA. Yes I do love cracking myself up… 😛
So Some of us from ABACUS Surrey decided to get an AirBNB together in LONDON as we were going to spend the night there after the party which made it even more fun because we all got to get ready together and watch ourselves turn from Gorgeous Girls to still Gorgeous (Ghouls) …
We literally set aside 3 hours to get ready in case we got any makeup techniques wrong and needed a Re-Do. Do you guys see the struggle for girls getting ready now ? hahaha.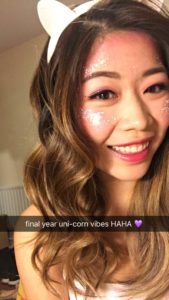 So here's a picture of my sparkly pink, totally candy,  unicorn princess inspired makeup look … (aka the makeup look I wish I could secretly wear everyday…)
I also went to a halloween event organizaed by our University of Surrey's Union for Halloween which was great! I got to go to this event with the ABAGirls (Helen and Karen!) Can you guess who or what they are ! x
Also can we just take a moment to appreciate that guy's costume ? that is so cooool.
Back to the ABACUS Night out in London but Here's everyone who came from Surrey for the event! It was such a lovely night with everyone and we definitely had fun meeting the other students form the other ABACUS Societies and was definitely an excuse to have a mini get away to London which is always one of my favourite things about this Uni is its proximity to London! Just a 40 min train ride and you can be standing in Waterloo or Walking down the London Bridge…. Ah Surrey!
Thanks for reading guys! Hope you had an amazing Halloween if you did celebrate it!
Love,
Eggy  x