Hi Everyone!
The countdown to Christmas is on which also means that the Winter Break is going to be upon us at the end of next week! That's how fast 11 weeks fly by you.
I found that to be the case in my 3rd, 4th and 5th years during my Bachelors but it seems to be the same here for Masters too. My best guess for this phenomenon is that you've got so many things that keep you occupied you lose track of time a little bit. But, with Christmas round the corner, that's got to be a good thing!
Today, I'm very excited to share with you a little bit about what I do in Business Analytics because I've finally got a breakthrough in my Data Analytics work. There might be some technical stuff but I promise I'll make it as "layman" as possible.
The whole idea of Business Analytics can be summarised as how analysis of data/information can help businesses in 4 main ways:
Descriptive Analytics (What happened?)
Diagnostic Analytics (Why it happened?)
Predictive Analytics (What will happen?)
Prescriptive Analytics (How can we make it happen?)
As we are using company information for our project, I cannot disclose what exactly I am doing except that I am working out "what is the strongest predictor of whether a customer will buy something?". Information like this is useful for almost all fields of work, be it financial, operational, marketing, human resource, public relations/communications, sociopolitical and even education.
Here's a screenshot of the model that I have worked out with SPSS Modeller: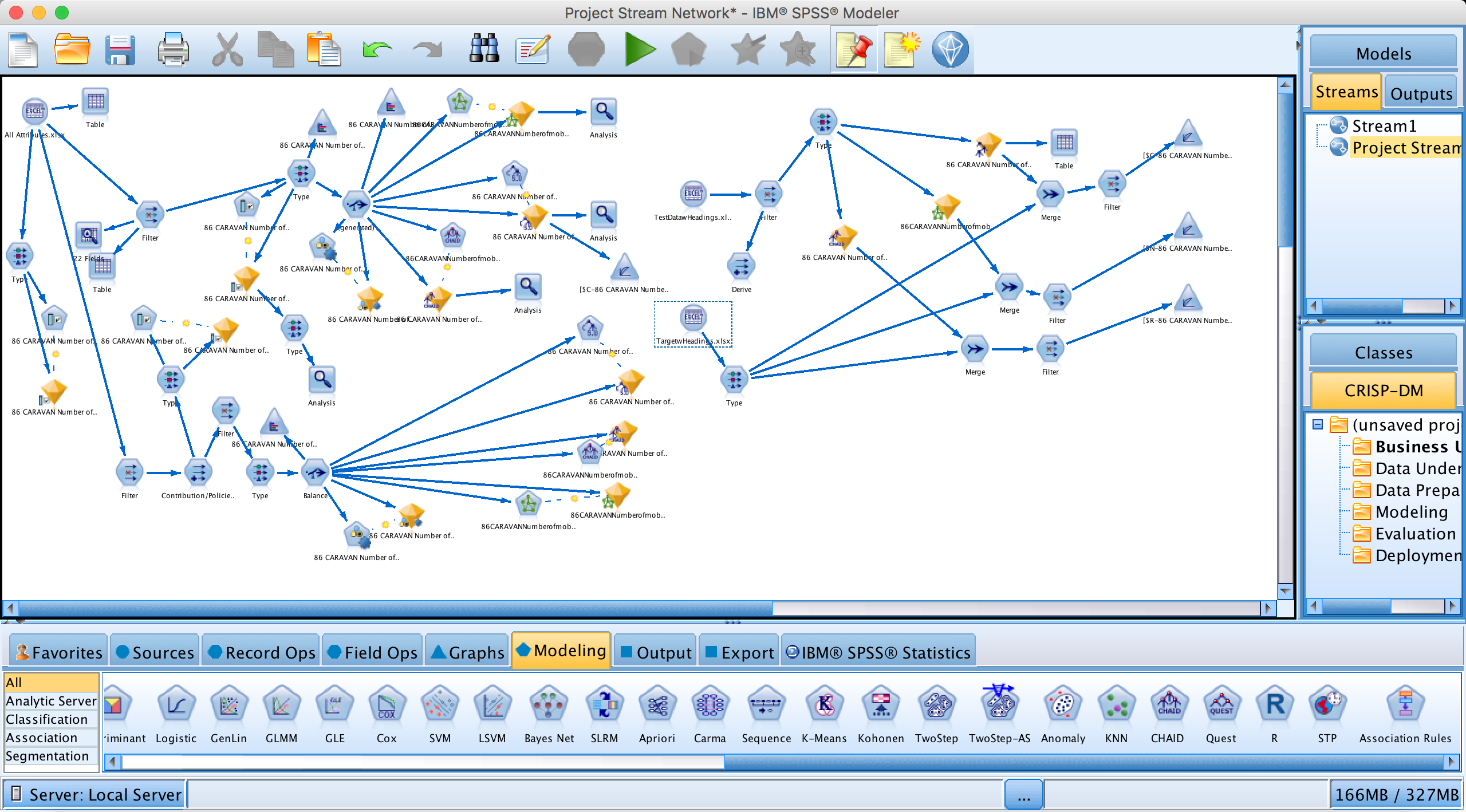 It looks incredibly complicated with a massive web of things linking together and I'm not going to tell you it's not, because it is so crazy complicated. Getting this far was only possible after much frustration, trial and error and making mistakes all over the place. One of the biggest issues I had with this is that there is no model answer to it all!
What really bugs many people these days, especially many of us who are products of the Singapore education system. We've been brought up in an environment where there is a model answer which we should work towards. The reality, however, is that many things are subjective. The beauty of it is that being in school means you're still in an environment where mistakes are tolerated. So, embrace mistakes and failures!
The wise old Chinese saying of 失败是成功之母 (Failure is the mother of Success) is one we've heard more than we'd like to remember. But it's true! Making mistakes in school is always better than making mistakes when your job is on the line. Then again, to err is human. It's never the end of the world even when you mess up at work. With the right type of support around you, you learn from every experience. I, for one, am thankful for colleagues and friends who have helped me along the way at work.
That's also the reason why I was really looking forward to heading to London last Wednesday and Friday, when my colleague and friend came to UK for his holiday.
So here's where I transit from sharing about my work to sharing about the "relax" part that you need to have to ensure that you don't completely drown in your academics.
As I mentioned in my inaugural post last week, I could not pass up the chance to meet a good friend when he's in London despite having an upcoming exam. In the spirit of having a very chill and relaxed holiday, we were in no mood to rush around and started out only in the late morning.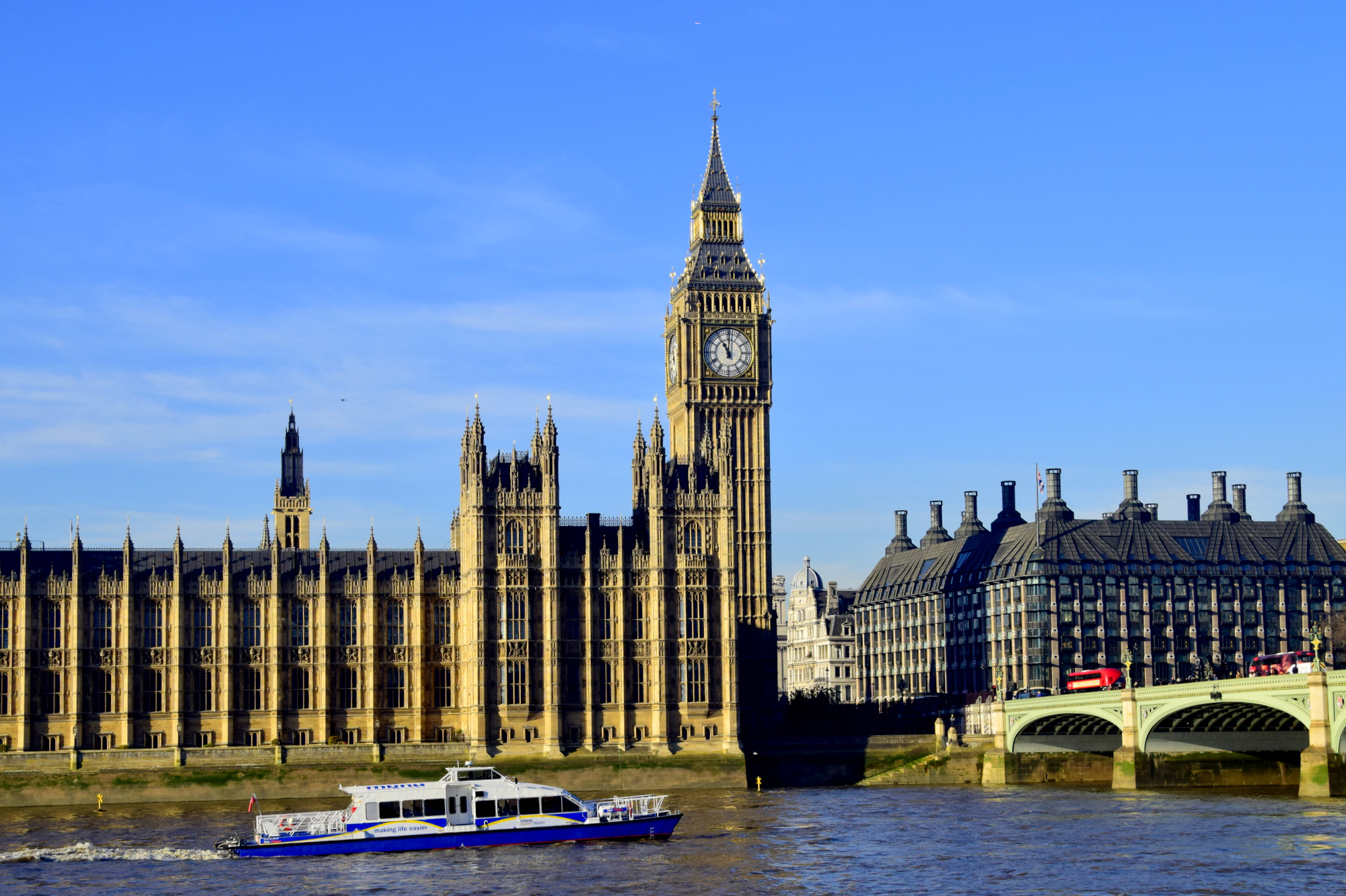 The view from across the Westminster Bridge of the bridge over River Thames and the Big Ben.
According to him, the correct tagline for this photo is: In London with Ben and Big Ben.
We headed next to Hyde Park, which has been transformed into Winter Wonderland! Celebrating its 10th year, Hyde Park Winter Wonderland is free to enter and is easily accessible by the London Underground from multiple stops (Hyde Park Corner, Knightsbridge, Marble Arch and a few others). If you're thinking of heading there over the weekend, be prepared for an insane crowd! So if you're like me and you like an empty theme park with no queues, go on a weekday morning.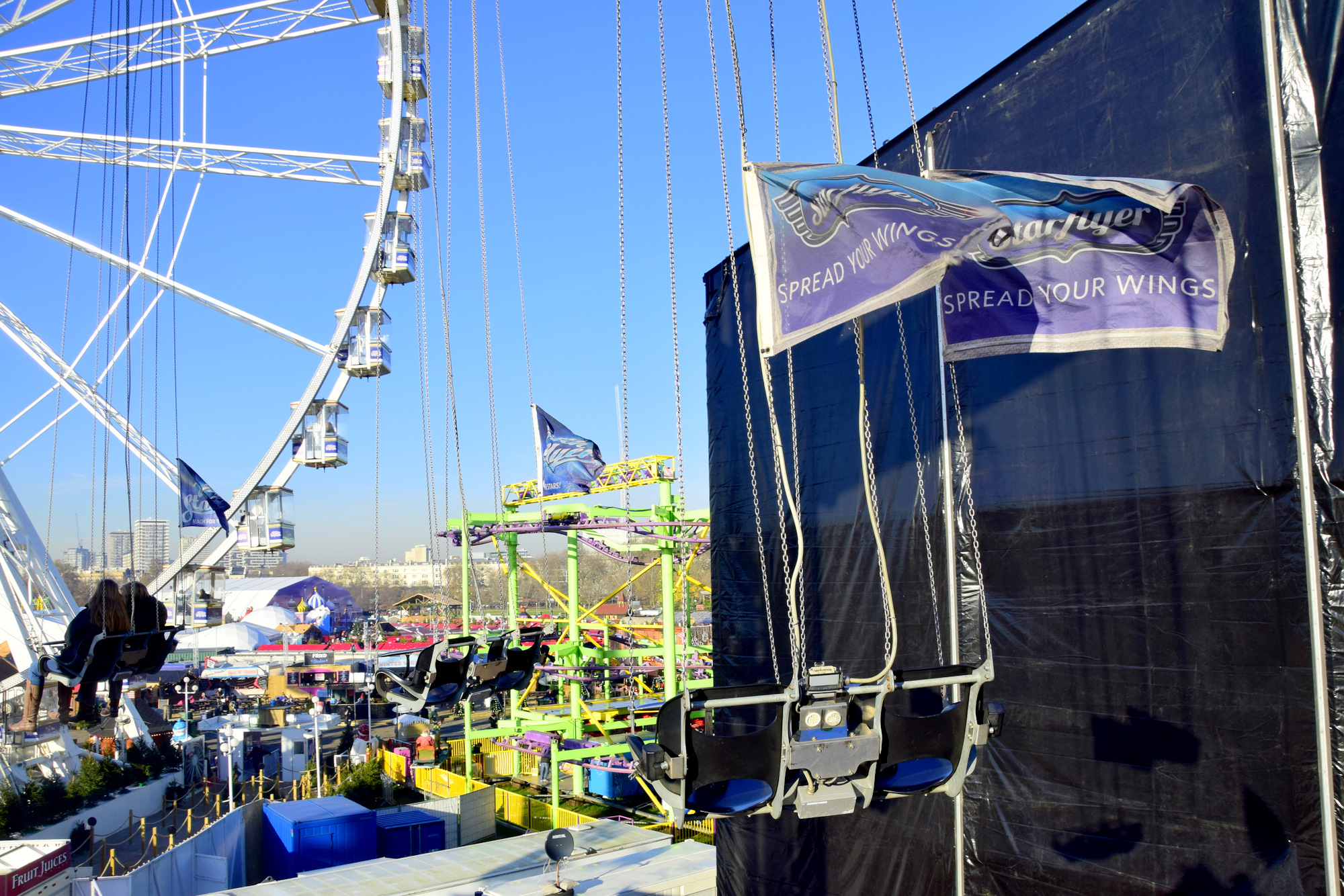 There's plenty that can keep you occupied for the day, from gravity-defying rides to Christmas markets to performances. If you'd like a view of the city from above, you could hop on the Observation Wheel or the Starflyer instead. I personally recommend the Starflyer because you get the rush of wind in your face and it's way more fun when you're spinning in mid-air since you get to go "Woohoo!" at the top of your voice without anyone thinking you're crazy.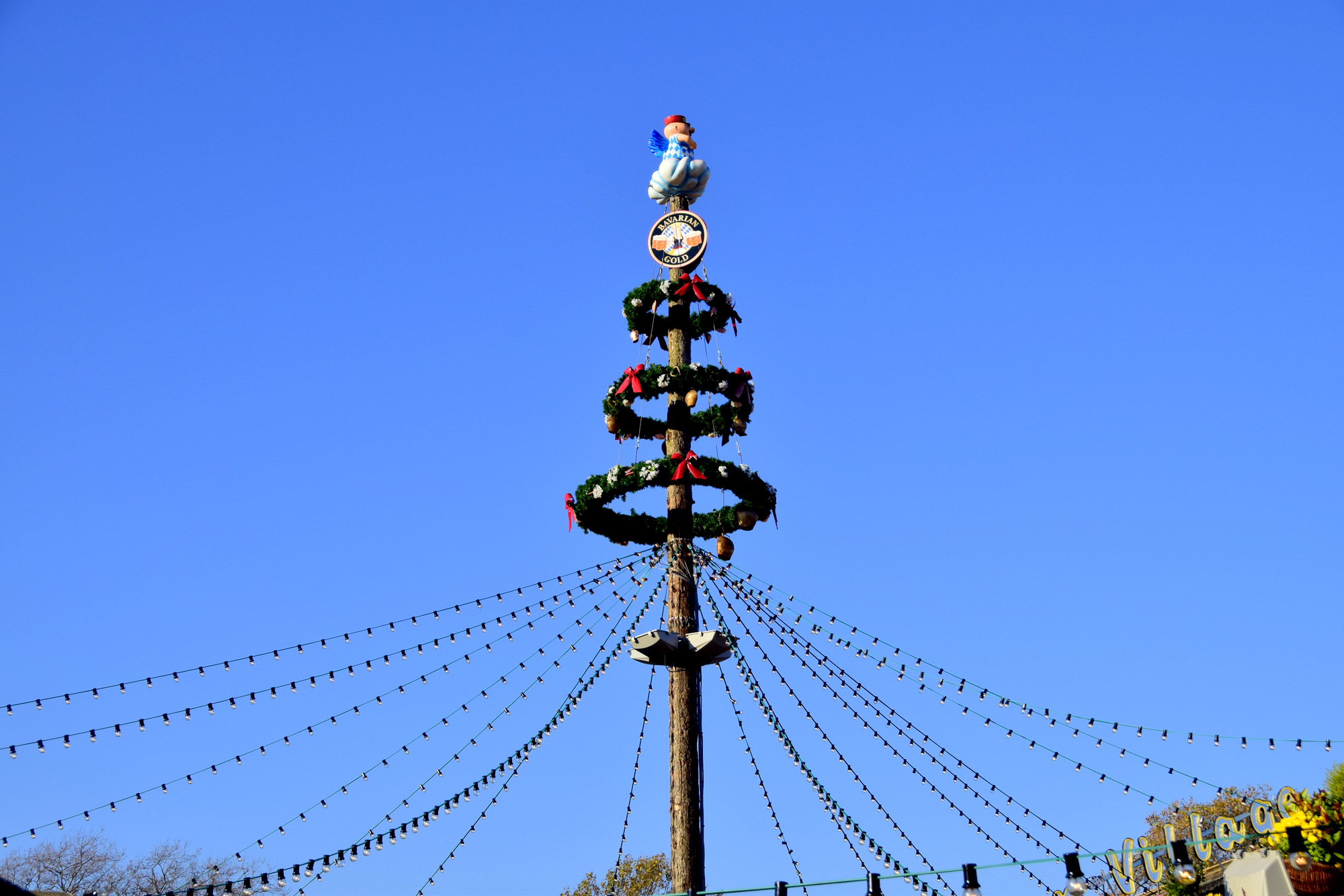 Christmas Markets (Weihnachtsmarkt in Deutsch) originated from Germany so it's very common to see lots of German words all around the place, including the rides. There's also a Maypole (Maibaum in Deutsch) erected in the Bavarian Village. The reason why it has "May" in its name is that it's usually put up in the month of May. That said, it's still a common sight if you go to Southern Germany (Bavaria and Baden-Württemburg) and Austria.
Obviously, there's food all around to keep you from starving, most of which are typical German food, from Bratwurst, Schweinshaxe, Spätzle, Rotkohl to Sauerkraut, which roughly translates to Roast Sausage, Pork Knuckle, Egg Noodles with cheese, Red Cabbage and Sour Cabbage (similar to Korean's Kimchi). I'm glad I still remember a little bit of German from my time in Austria.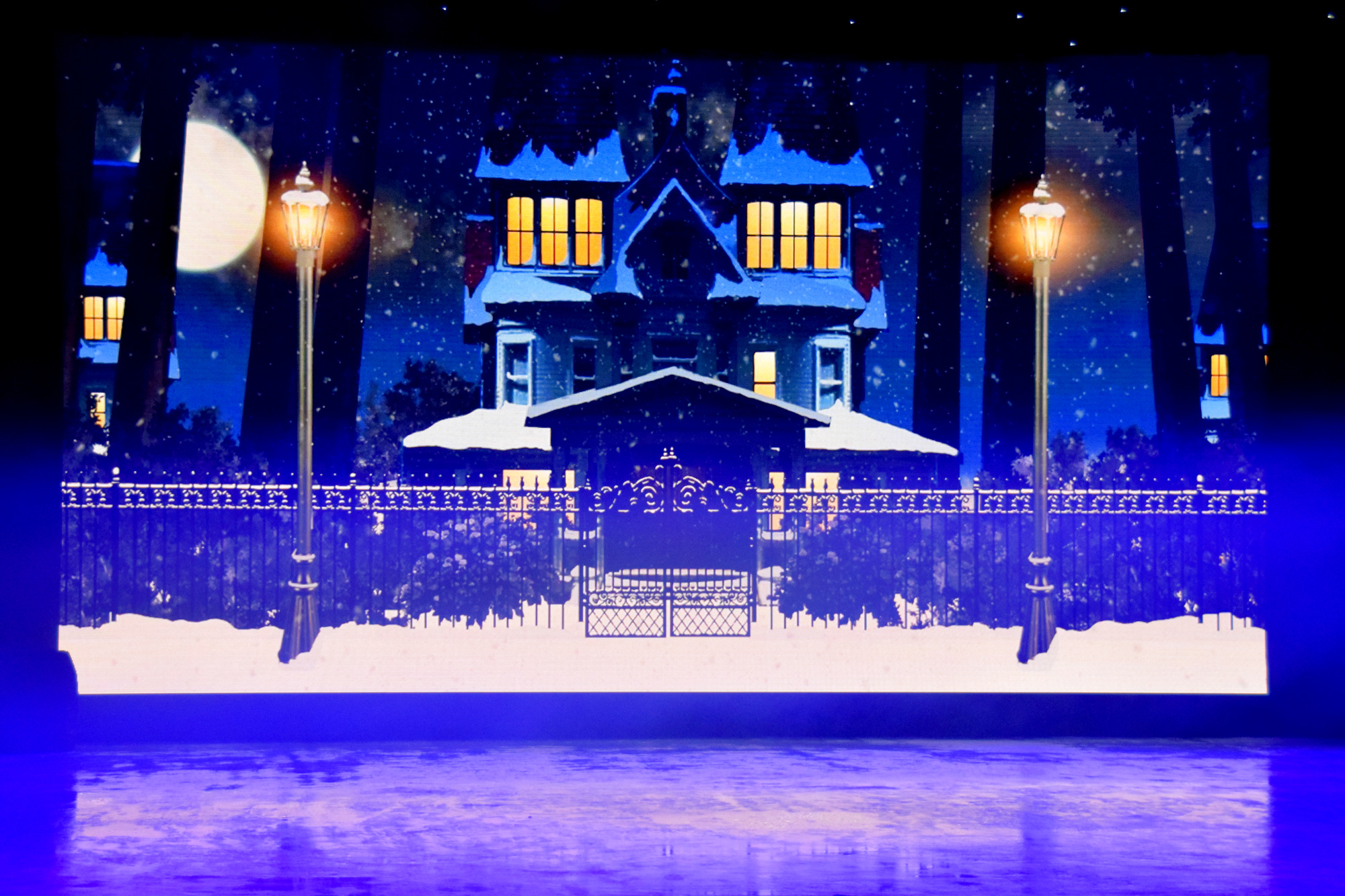 After stuffing yourself full of food (which you should share with friends), don't be so eager to hop on the rides again just in case your tummy decides to go crazy on you. Why not, catch The Nutcracker on Ice show, which was really spectacular! Unfortunately, photos aren't allowed so I could only take a photo of the stage before the show. But trust me, in that it's really good. At the end of the show, most of the crowd was going "How good was that!?" and giving the performers a standing ovation.
There's obviously a whole host of other things you can do while there, but take some time to enjoy the view as the sun sets over the park.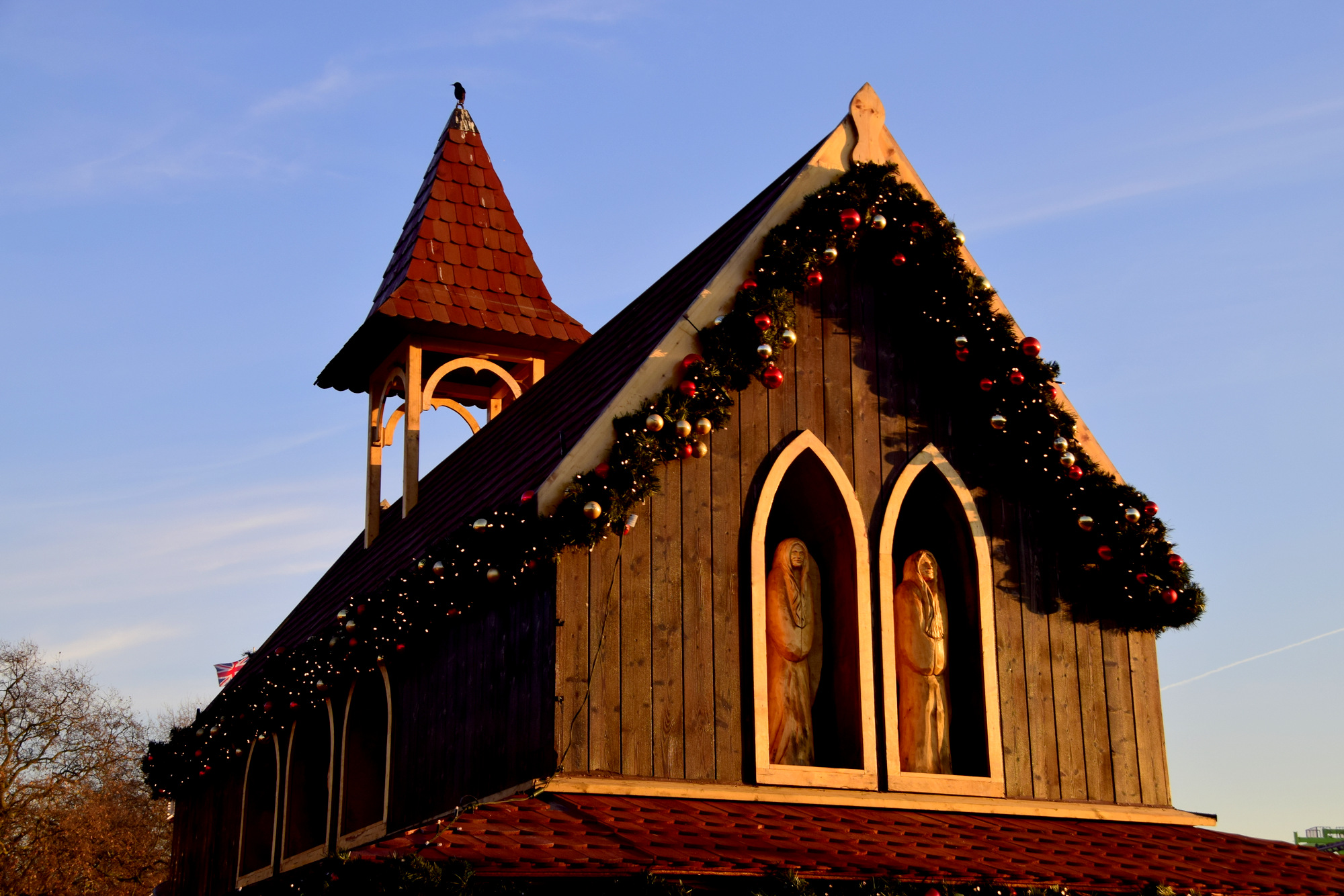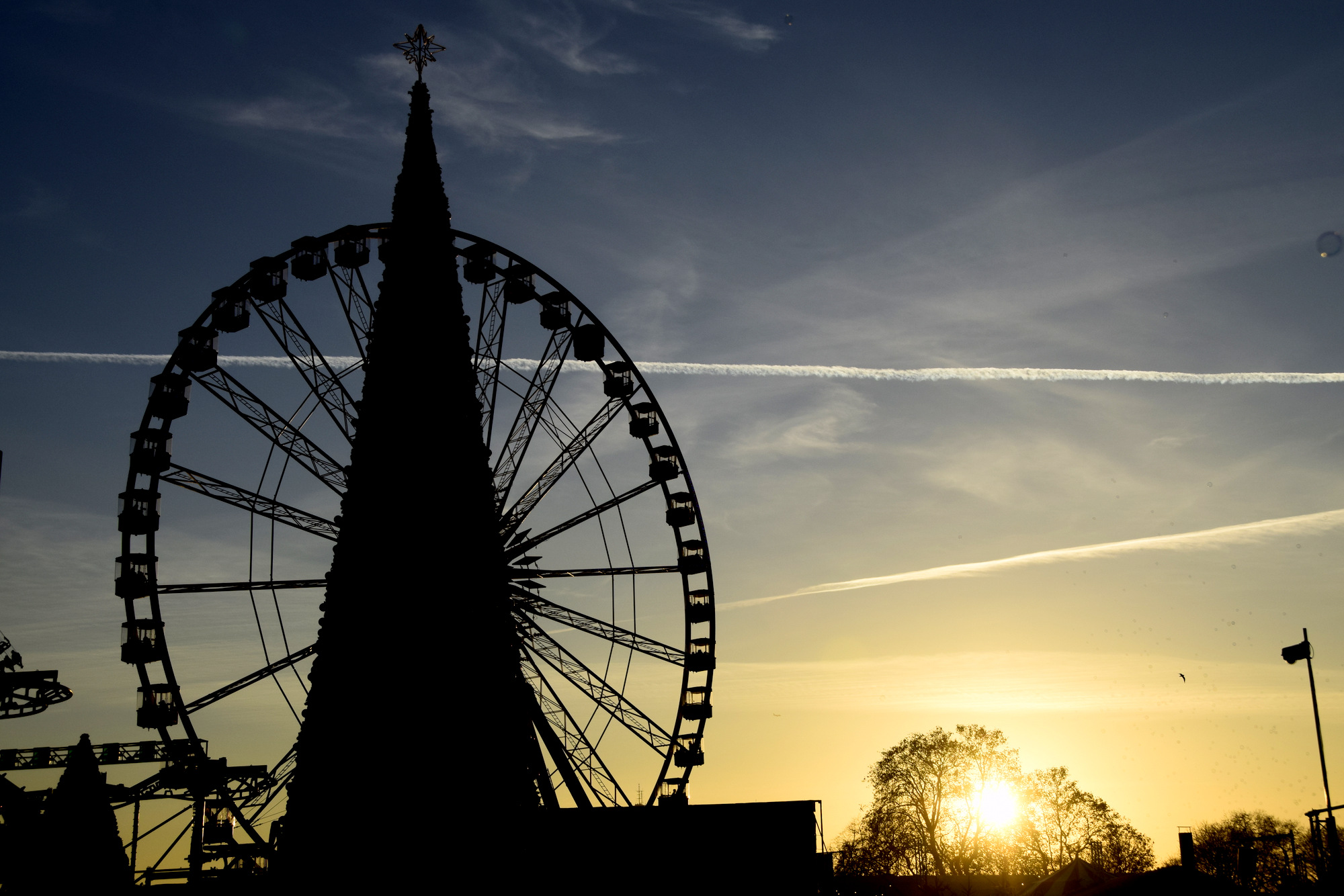 The crowd usually starts to come in once the sun sets as people get off from work so that was our cue to head off to the other London icon i.e. the Tower Bridge.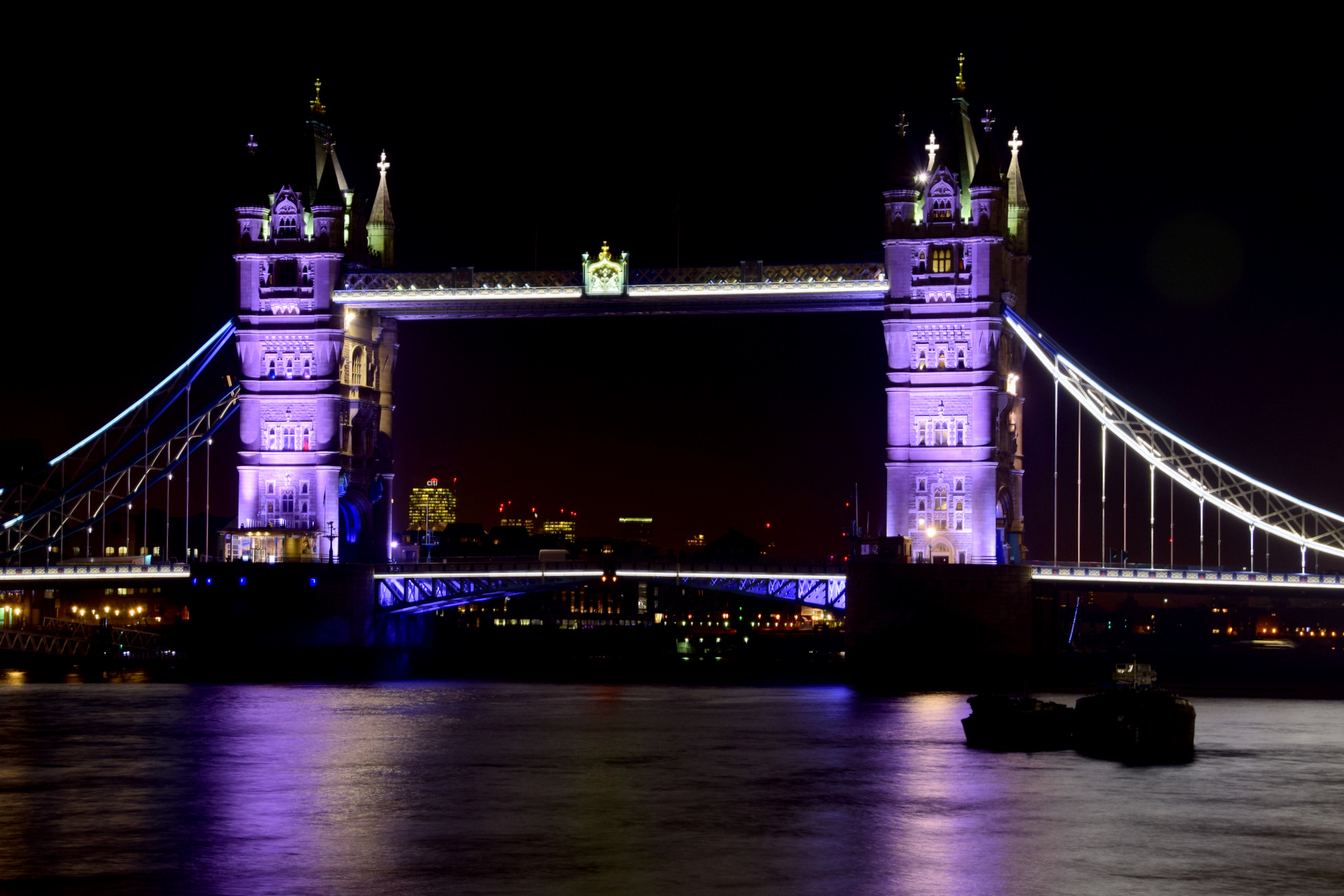 While there, we were just looking up at the office buildings and dreaming about how good it was to work there. The stress level would probably be around the same as Singapore but you get a nice view of the River Thames. The closest we get to a river is the Singapore River, which isn't a river anymore but merely a closed-off longkang.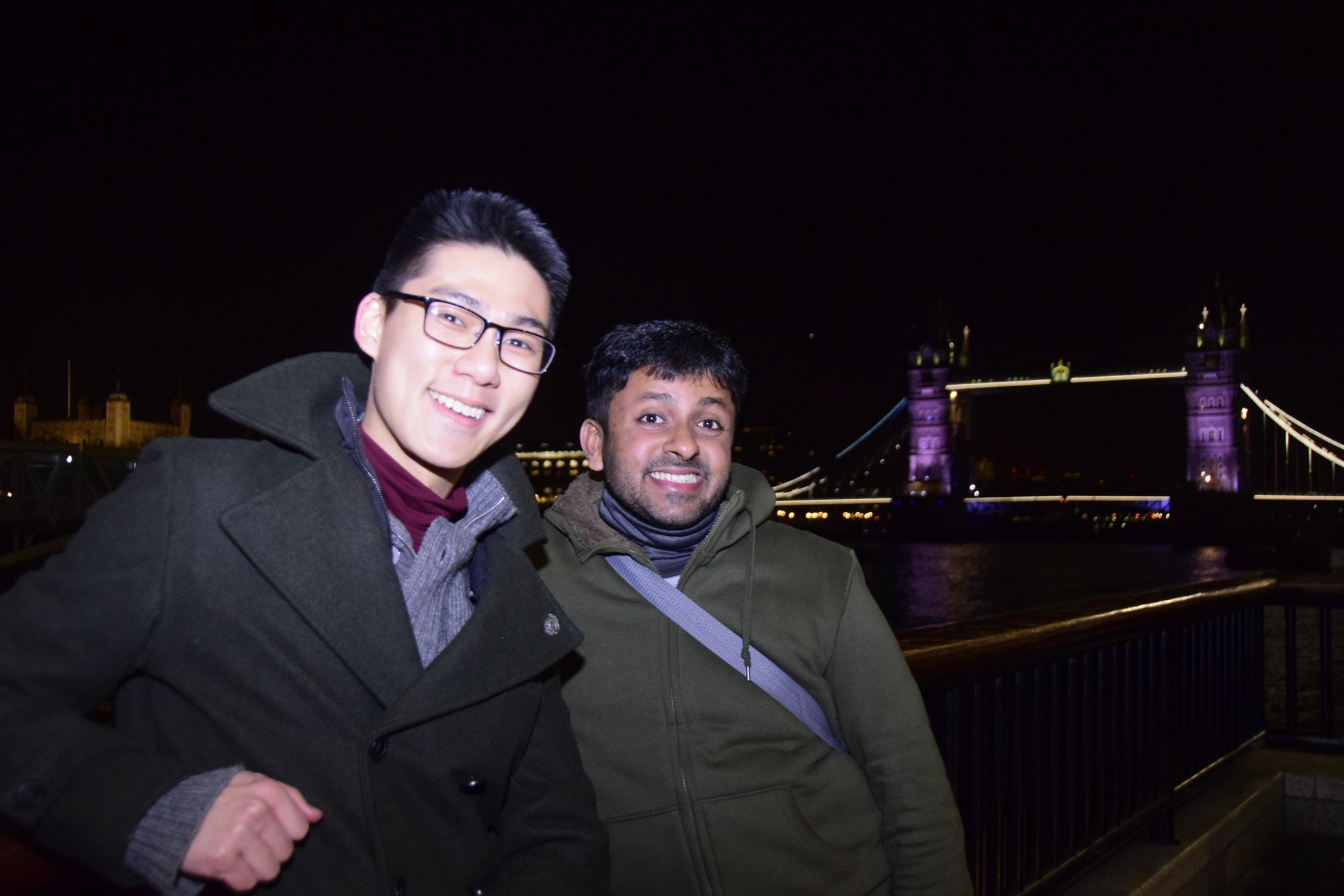 That was it for that day though as I headed back to Guildford to continue my preparations for my Econometrics exam but I knew I was coming back again on Friday.
It was quite a bit of a mad rush on Friday because I only finished the exam at 2pm and wanted to make sure I could get to London as soon as possible to make the most of the evening.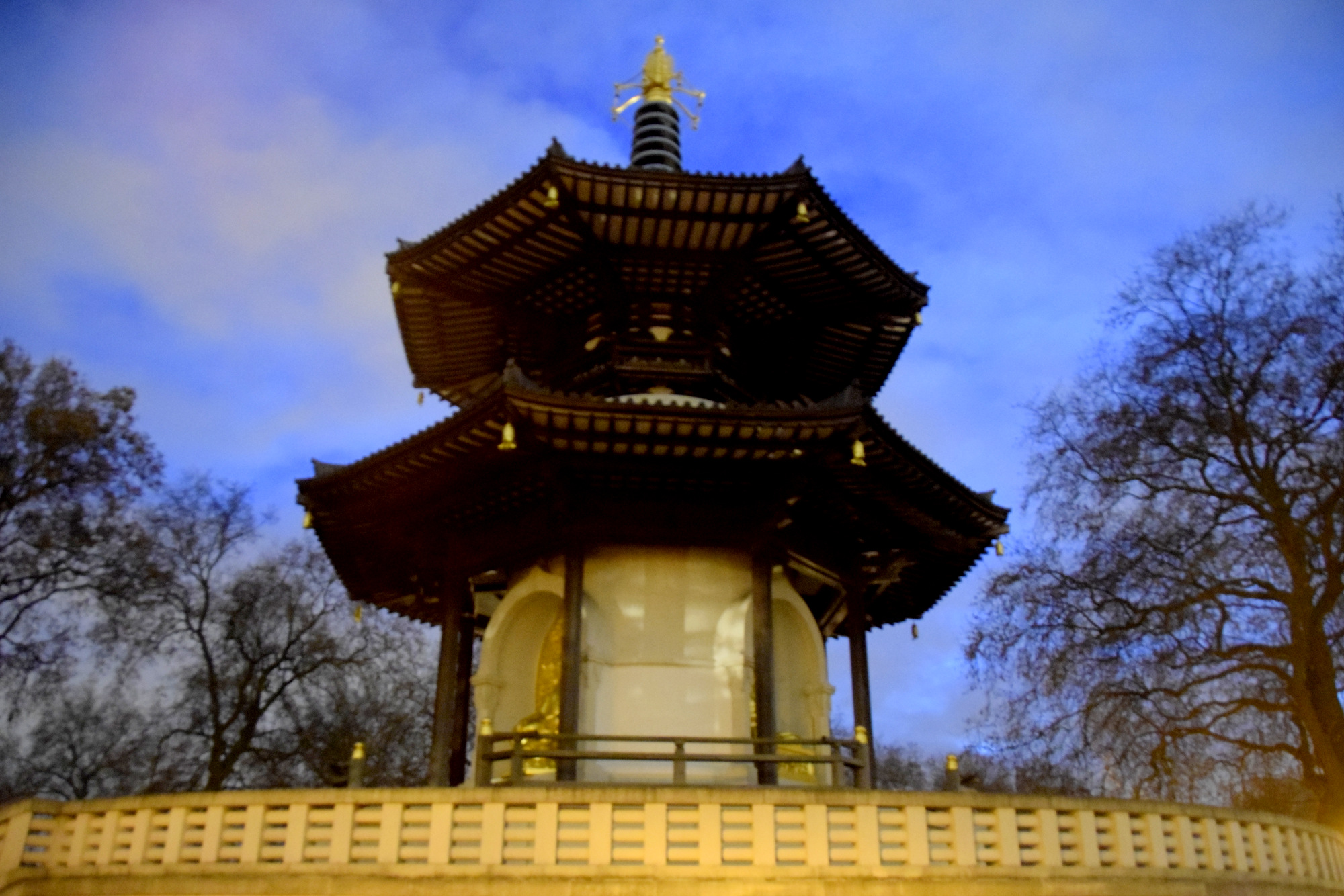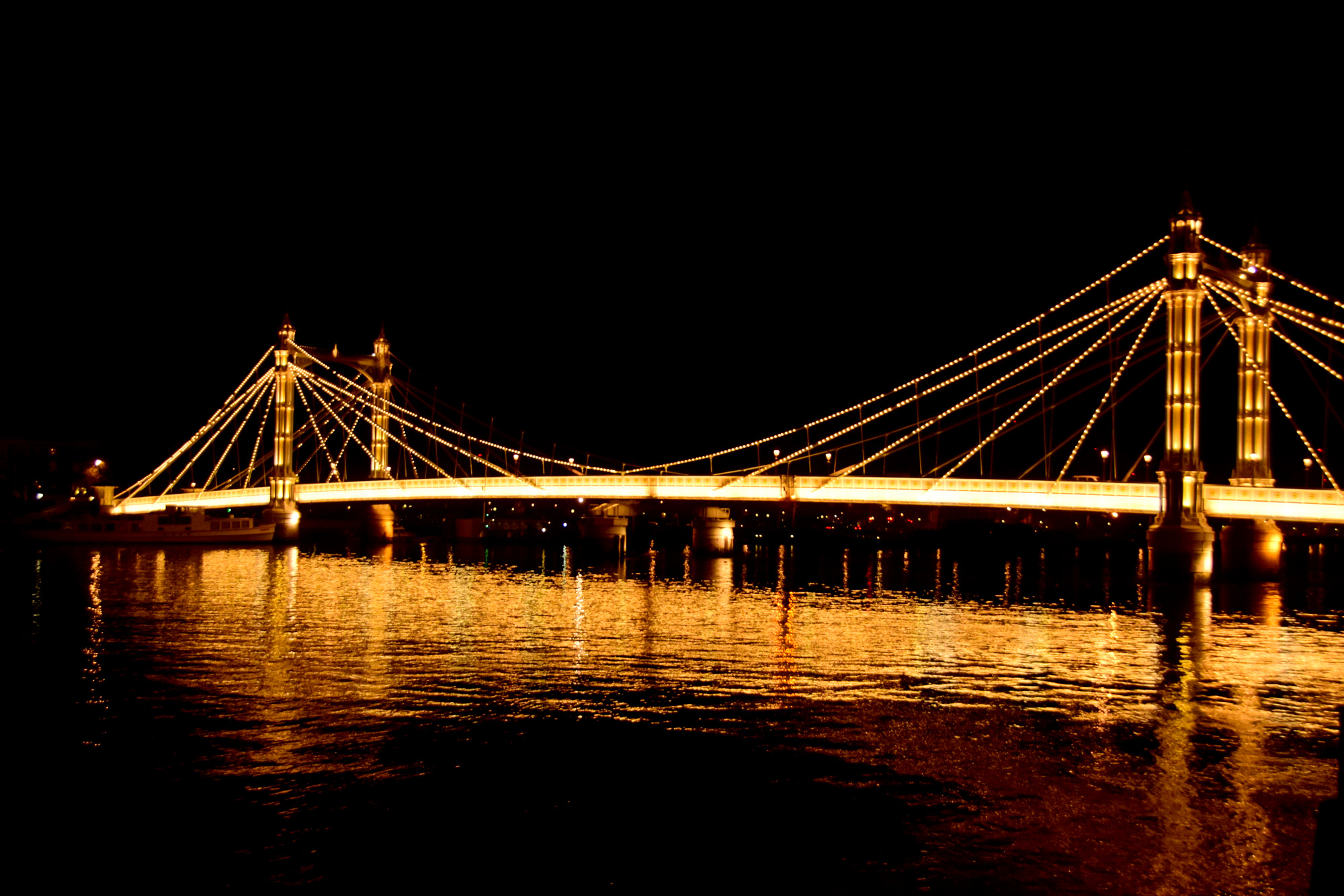 We started off from the Battersea part of London, which isn't a place, many people head to. Keeping in mind our "chill and relax" agenda, we strolled through Battersea Park and past the Peace Pagoda while also getting a glimpse of the warmly lit Albert Bridge. Everything was impromptu so we just decided to head to Leicester Square via the Underground and pop into the LEGO store which only opened in mid-November.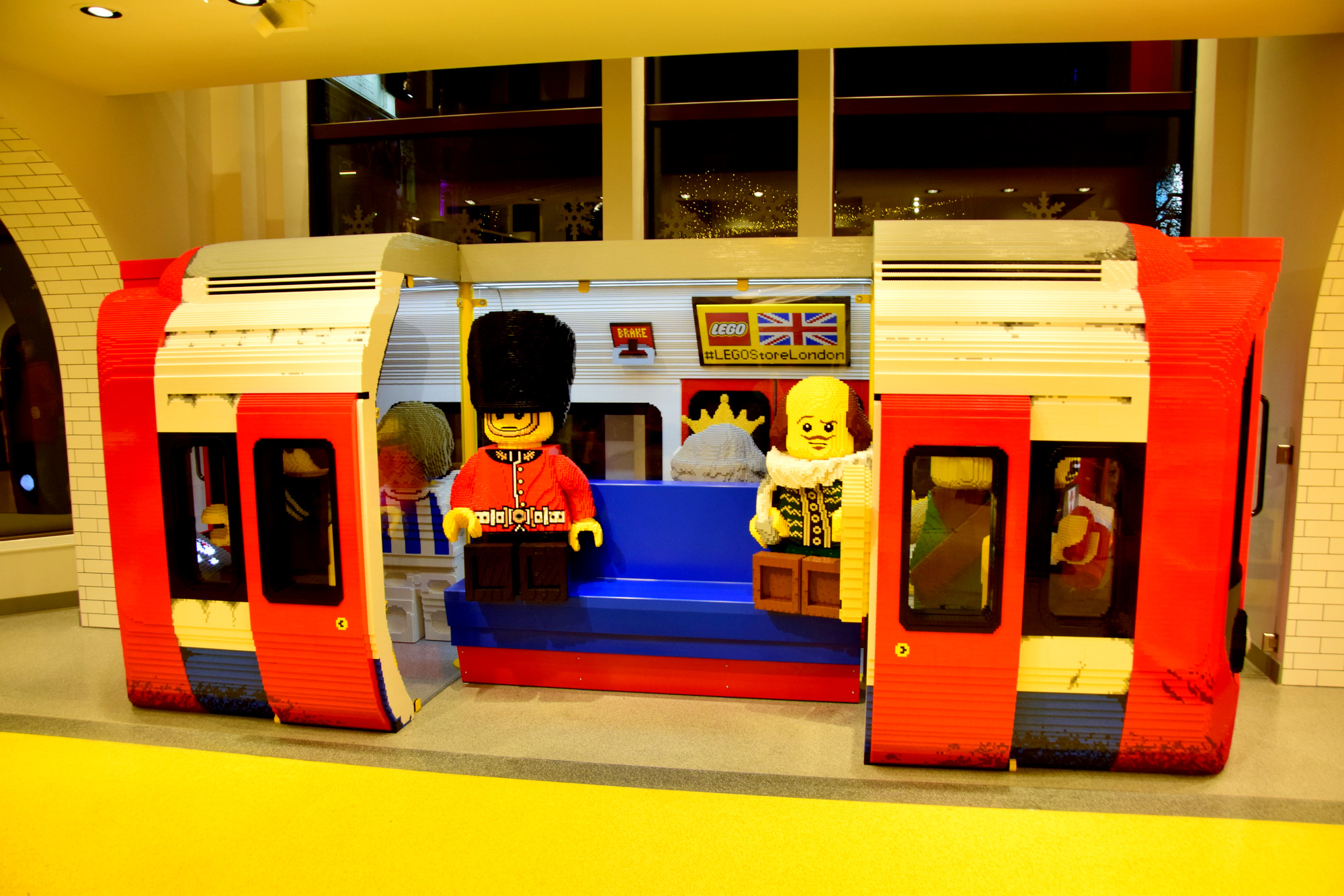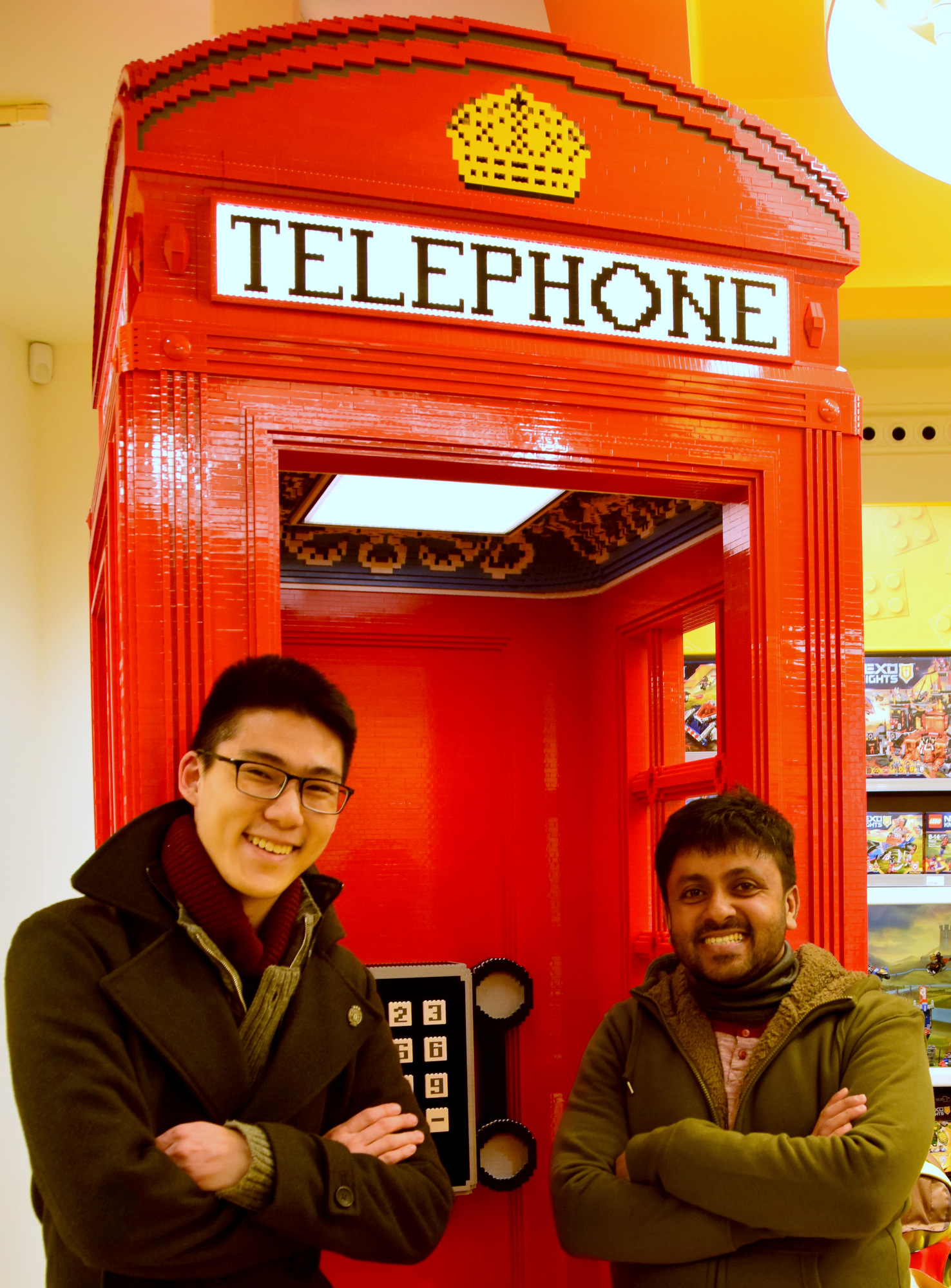 Feels good to be like a kid again marveling over LEGO bricks!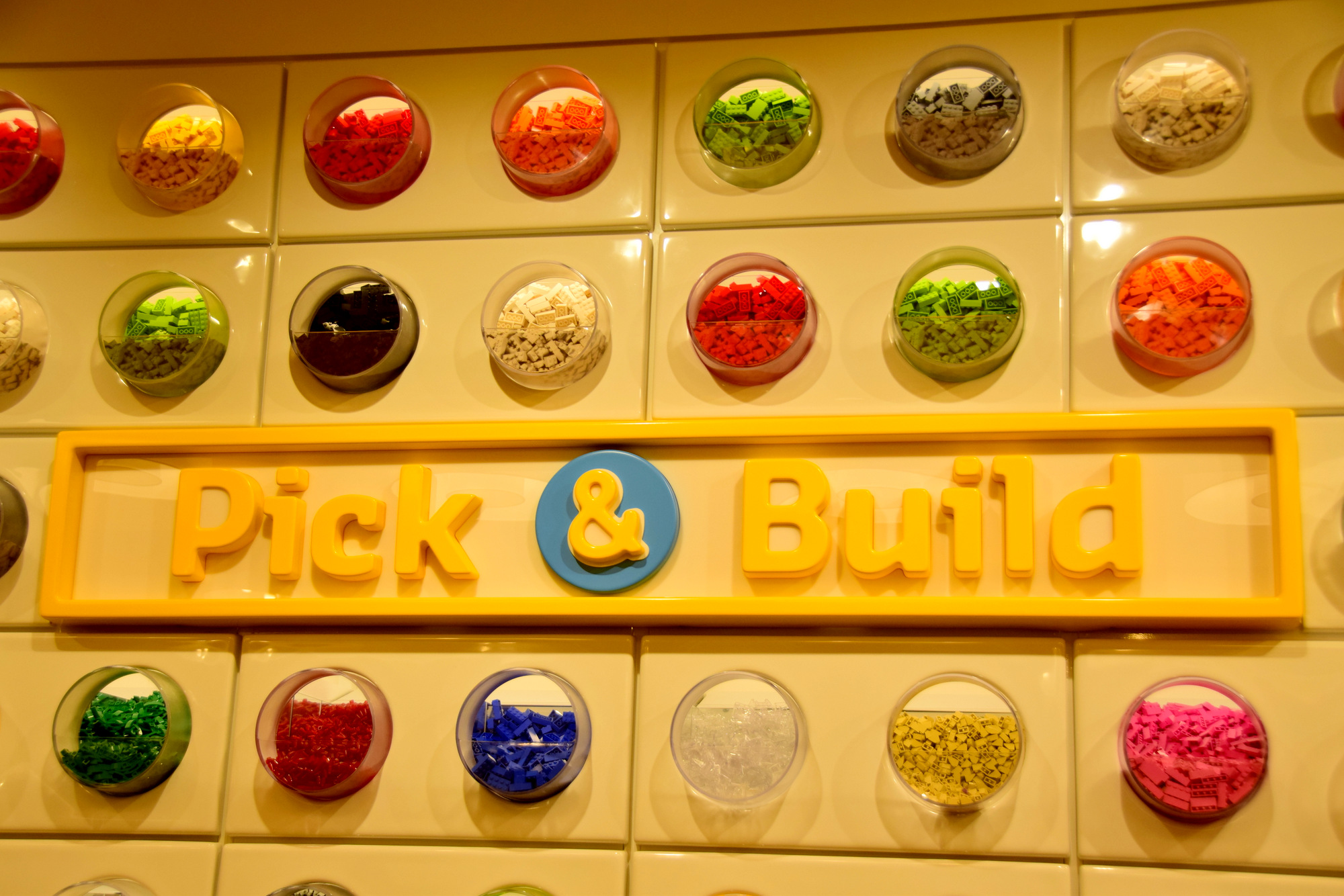 My friend was then on his way to have dinner with an old friend from his JC days so I was back on travel photography mode for the rest of the evening.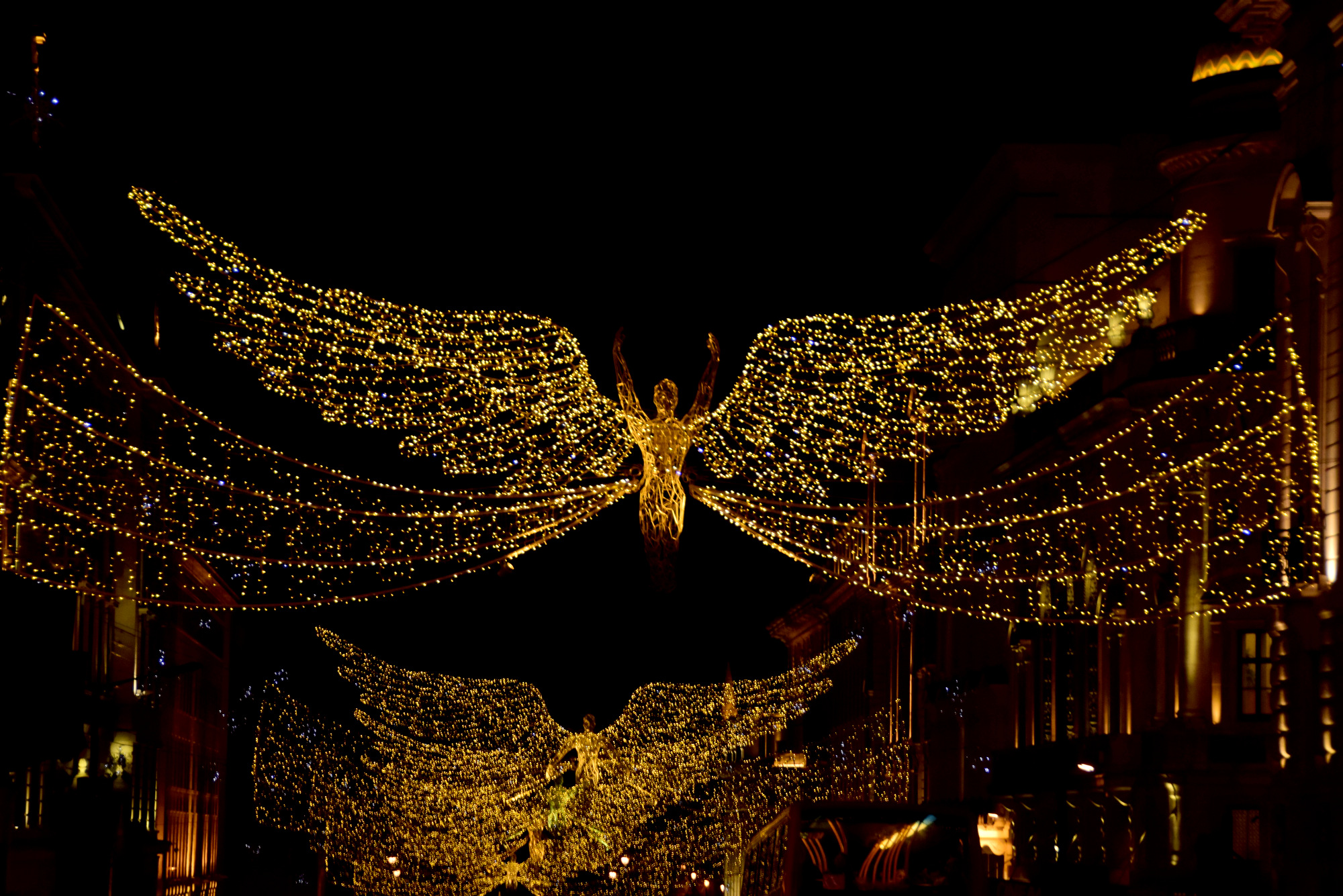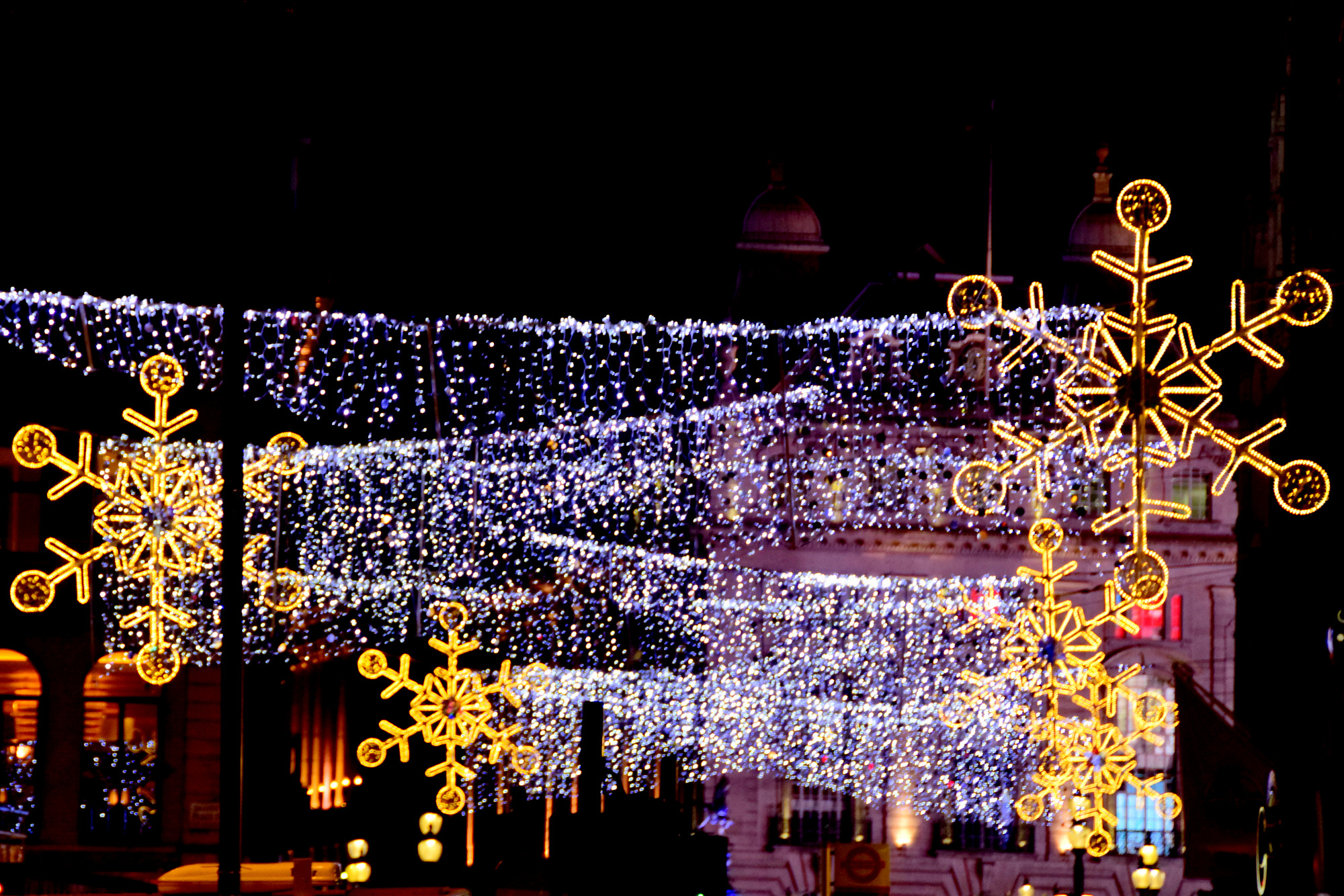 I've always loved Christmas lights and enjoy admiring the intricate details that go into every one of them. Photographing them is always a challenge because you want to be sure you bring out the best in them in your photos. The golden Angels at Piccadilly Circus were beautiful as were the giant snowflakes along Coventry Street.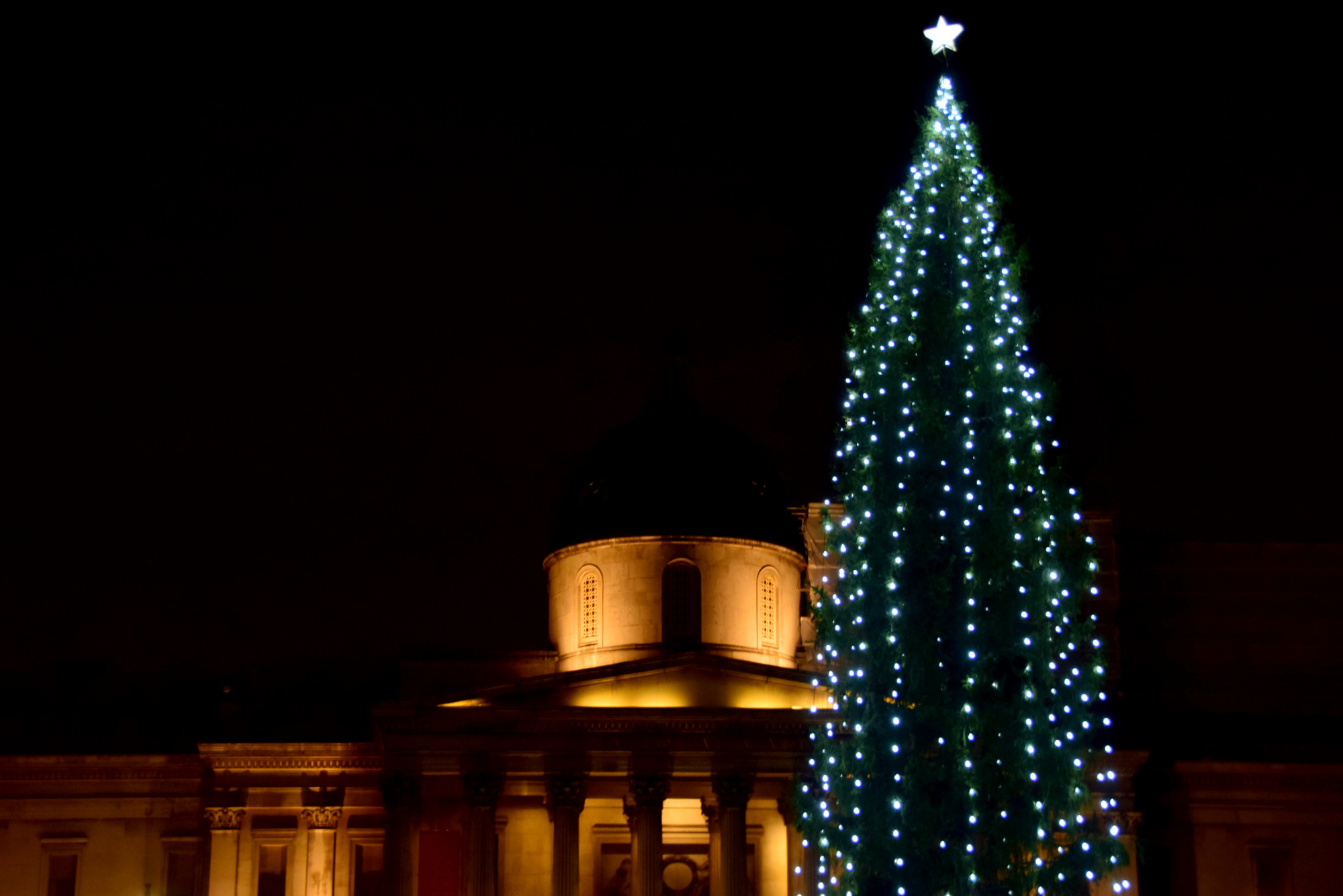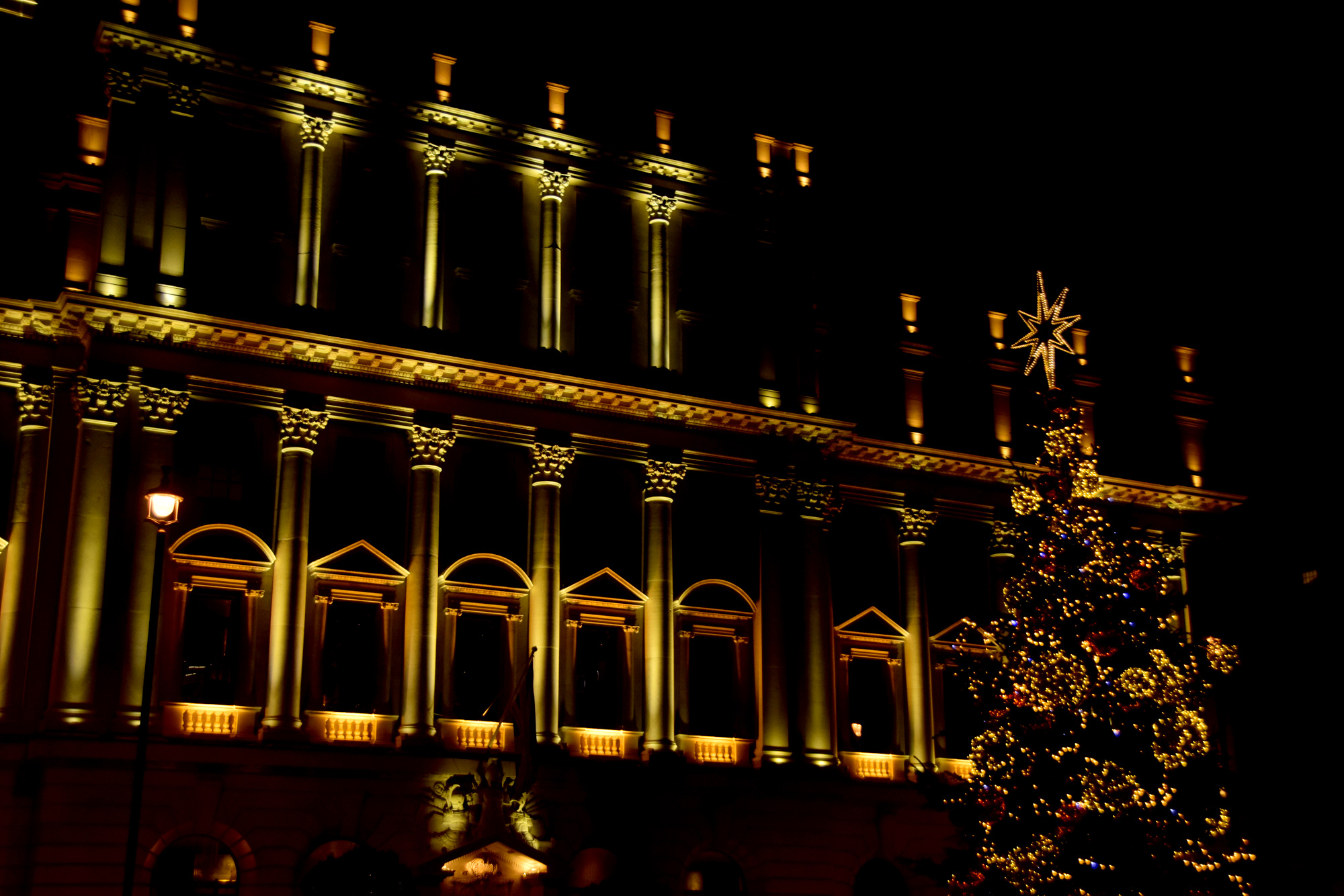 The different styles of Christmas trees at St James' and the National Gallery is also worth having a look at.
Having had the view of the Big Ben by day, I needed to get a shot of it by night, which got me back to Westminster at 10pm. I wasn't ready to leave London since I was only there since the afternoon.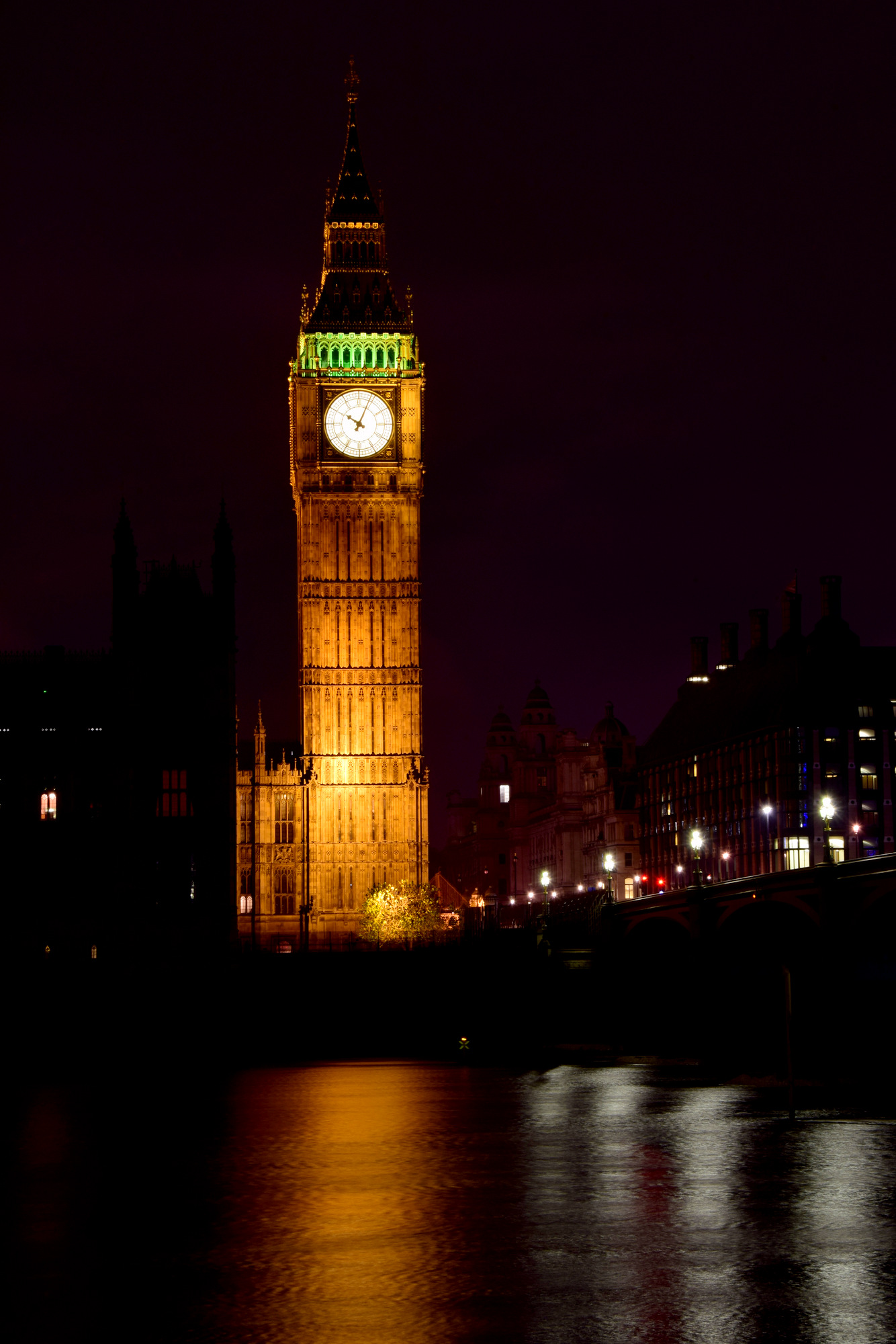 Looking at the London skyline and enjoying the colours of the London Eye and County Hall beside it suddenly reminded me of home. That made me miss Singapore a whole lot more than I expected.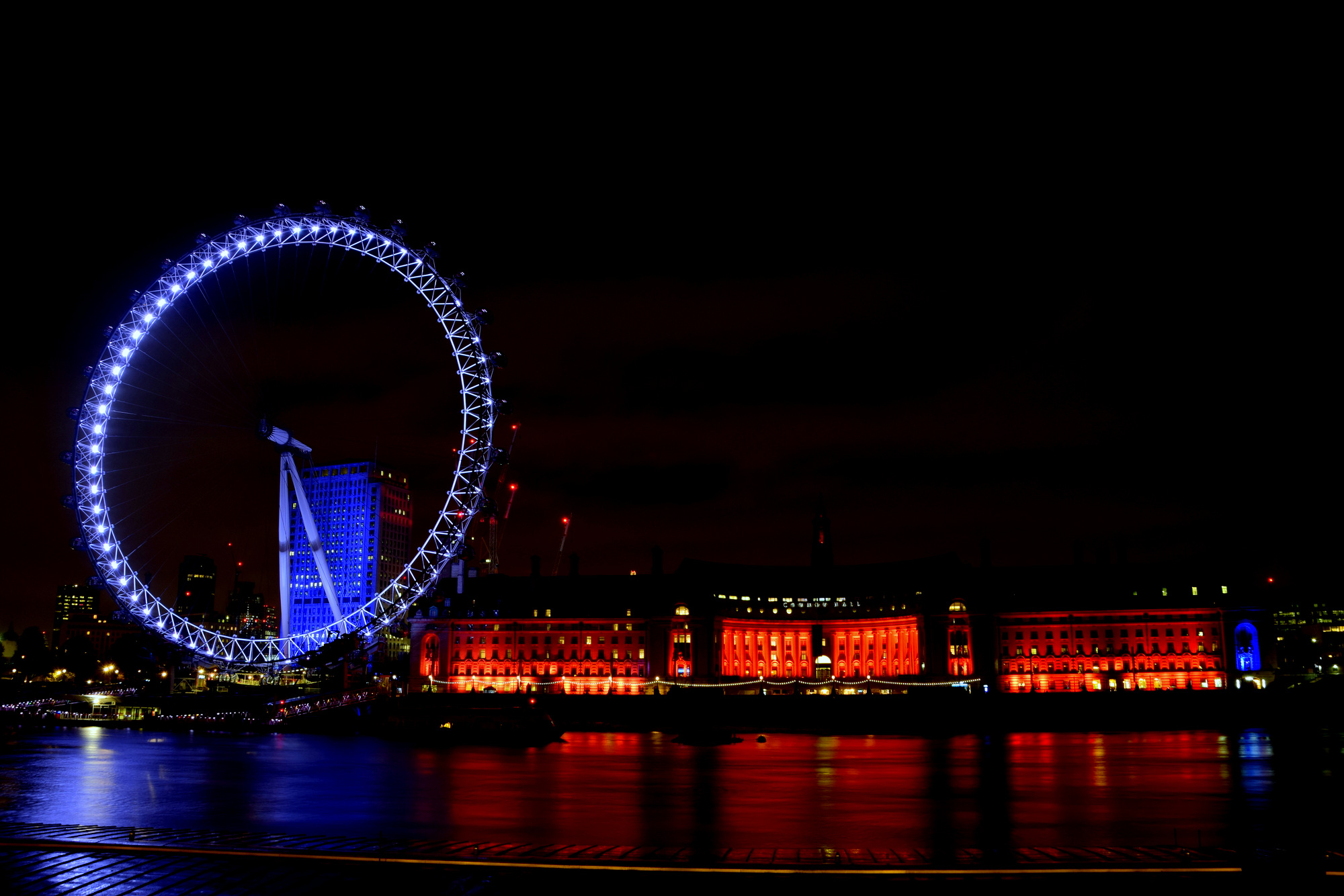 Perhaps as a Masters student, you aren't as well connected to the student community because you tend to be quite objective-oriented with the work that you do. You devote a lot of your free time to your ongoing projects and don't get many opportunities to be involved in student activities. The good thing for me though, is that my MSc Business Analytics course has a very tight-knit group. We're only 16 in total but a very diverse group allows for us to learn from each other daily. You'll be surprised how much new insight you get from just talking to each other!
With Christmas coming soon, it means that I'll be able to sing "I'll Be Home for Christmas" and mean it literally, since I'll heading back to Singapore in just under 2 weeks 🇸🇬
I'm sure most of us look forward to Christmas so the Christmas tunes should be playing in the background all the time now! I'm a huge music fad so I have a very extensive music library. My Christmas library alone can be left to play on its own for more than 2 days, which almost 1000 songs. So in case you need some recommendations, I could give you some.
As a kid, Christmas used to mean Bing Crosby's "White Christmas" or Jim Reeves' "Twelve Songs of Christmas" was played on repeat. Canadian crooner Michael Bublé released his own "Christmas" album in 2011, which was his recreation of Bing Crosby's album. It has been a staple ever since, not just for me, but for plenty of radio stations and Christmas Markets worldwide. Rod Stewart's "Merry Christmas Baby" is also a wonderful pick. As is Idina Menzel's "Holiday Wishes", she's the one who sang "Let It Go" from Disney's Frozen.
I did say before that I'm a bit older, so my taste in music might differ from yours. But I've always been an oldies person when it comes to music anyway so maybe that's why. That doesn't mean that I don't enjoy listening to more modern Christmas tunes though. The very first American Idol, Kelly Clarkson's "Wrapped in Red" is a lovely Pop album from 2013 while Scott McCreery (the 10th American Idol winner) also has a Country album "Christmas with Scott McCreery" that was certified Gold! If you love acapella-styled music, "A Pentatonix Christmas" by Pentatonix is a fresh release this year. A favourite among the 2016 Christmas music charts is also Kacey Musgraves' "A Very Kacey Christmas".
If you're more of an instrumental person, then Oscar Peterson's "An Oscar Peterson Christmas" is an awesome Jazz pick. The Piano Guys also have "A Family Christmas" which is perfect as a Christmas gift.
Seems like I kinda got carried away with too much to talk about this week but hey, maybe because Christmas is coming! 🎄
Hope you're anticipating the Christmas season as much as I am. I should be back for one last post before Christmas is upon us.
God Bless You 🌈
Benjamin