Hey Guys!
Eggy here 🙂 My final deadline for this first semester has been submitted and I am finally FREE… well, sort of besides having the thought about the dissertation at the back of my mind… (haunting me,*shudder*)
Anyways, Today i wanted to share with you guys about the recent WinterBall event that ABACUS (Association of British and Chinese University Students) along with other Asian Societies (Filipino, Nepalese, Indonesian…) organized together! This was a huge step and it was amazing to see how much we could accomplish with everyone's effort and dedication that made it a night to remember.
It started off with us promoting the Winterball, We all took turns as societies to sell tickets, collect payment, distribute flyers and continously promote the event! It was so much fun, getting to invite all our friends, friends of friends and of course, Our friends on PLACEMENT YEAR !
Here's one of the pics taken by yours truly 😉 Every Society had their own style of advertising it and we were doing it on all our social media platforms, trying to reach as wide of an audience as possible ! and of course, what would a christmas post be without some festive Starbucks Red Cups!
All our hard work eventually paid off cause it was a SELL OUT. We SOLD OUT a week before the event and now, it was our turn to turn Uni Hall into an amazing venue.
(Side note, Uni Hall is not a place that us students usually associate with *glam* because it's where all our horrifying exams take place. hahaha) However, I actually made a vlog and you guys can kinda see the transformation from when we were getting the place setup on the early morning before the ball that night.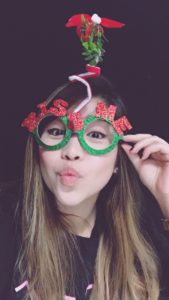 We also setup a photobooth area, right outside the UniHall Entrance which was so nice! There was a gold balloon arch and ofc, these photobooth props and the one that I have is obvs. a mistletoe and I thought it was so cute haha even though the closest thing I'll get to kisses this year, are my Hershey's Chocolate Kisses. hahaha #theyneverfailme
Here's somemore pics from the night itself, one of our friends was actually the phtoographer for the event but with deadlines and stuff, these iphone quality ones will have to suffice for now. hahaha
Anyways, it was definitely a night I will remember from my unidays and I kinda got the feels that night as I was just thinking…. when is the next time after I graduate that I'll be able to dress up and go to these "Prom" like events ?! Never ? …  Ahhhhh it's starting to hit me that I am in my final year and I have such mixed feelings about it! I'm going to miss so many of my friends who are currently in second year and first year… the second year ones are looking for placements atm and I was just thinking. OMD eggy, this was you last year… well kinda. considering that fact that I decided really early on that I did not want to do a placement !
So I've decided. I'm going to enjoy my final year while it lasts…
Here's to more Winter Balls ! 🙂 haha
Speaking of Winter… My next post might or might not be about WinterWonderland ! so Stay Tuned !
Till Next time,
Get Festive, Drink Hot Chocolate and Be Merry.
Love,
Eggy x