If you're Singaporean, you know what Christmas in Singapore is like… Wet, Wet, Wet! It's the monsoon season in December so you'll expect plenty of thunderstorms. But Christmas Eve morning gave us wonderfully clear skies so I decided that it was a good day to head to Christmas Wonderland at Gardens by the Bay (which sounds a lot like Winter Wonderland at Hyde Park).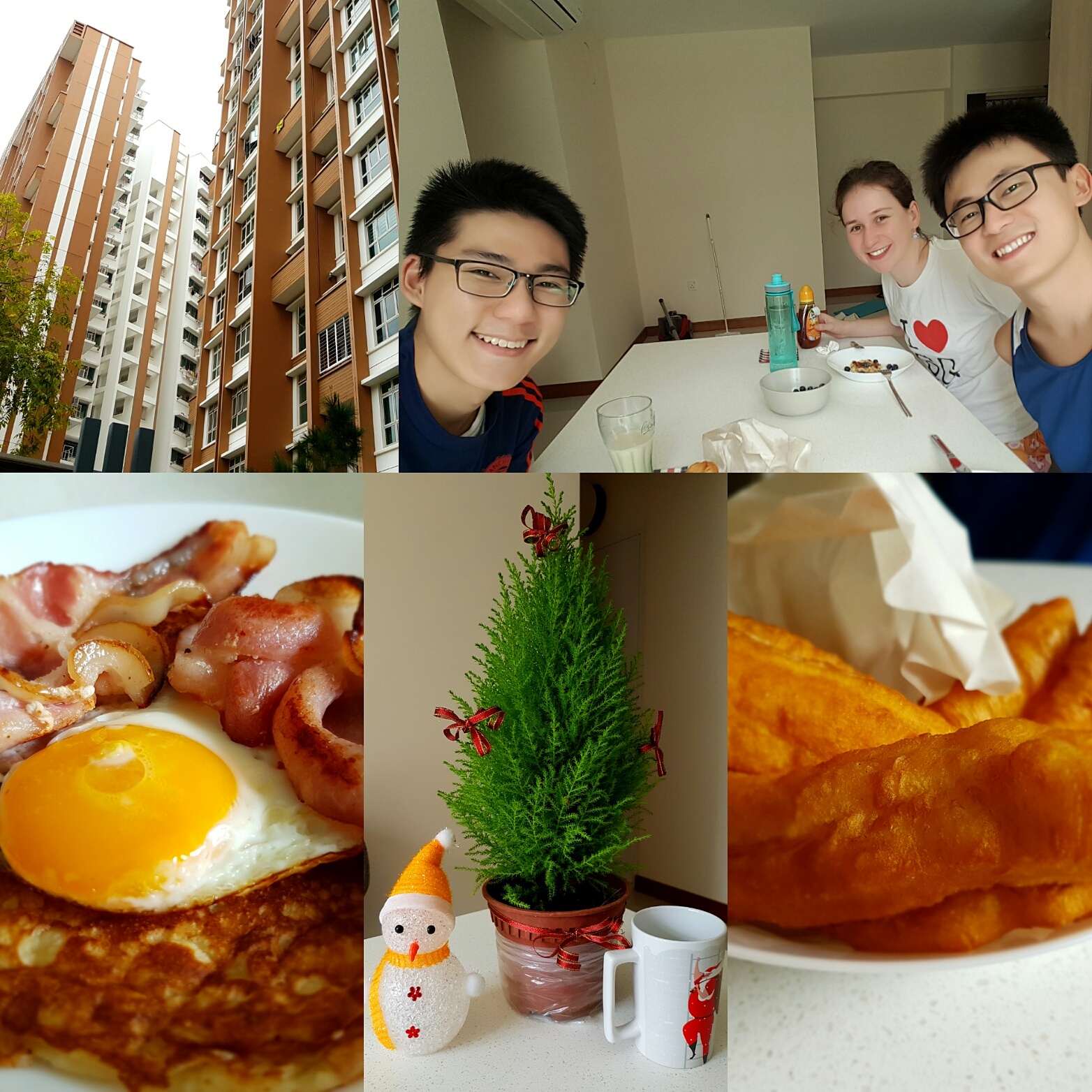 How wrong was I… After having a British-Singaporean brunch courtesy of my friends who live in Punggol, the rest of the afternoon got absolutely drowned in an incredibly heavy thunderstorm. I already got tickets for my family to go down so we had to go anyway (especially because we had to pay $8 each. Of course, it's not free like Hyde Park was. This is Singapore! You pay for everything!) All we could do was pray for the rain to lighten up.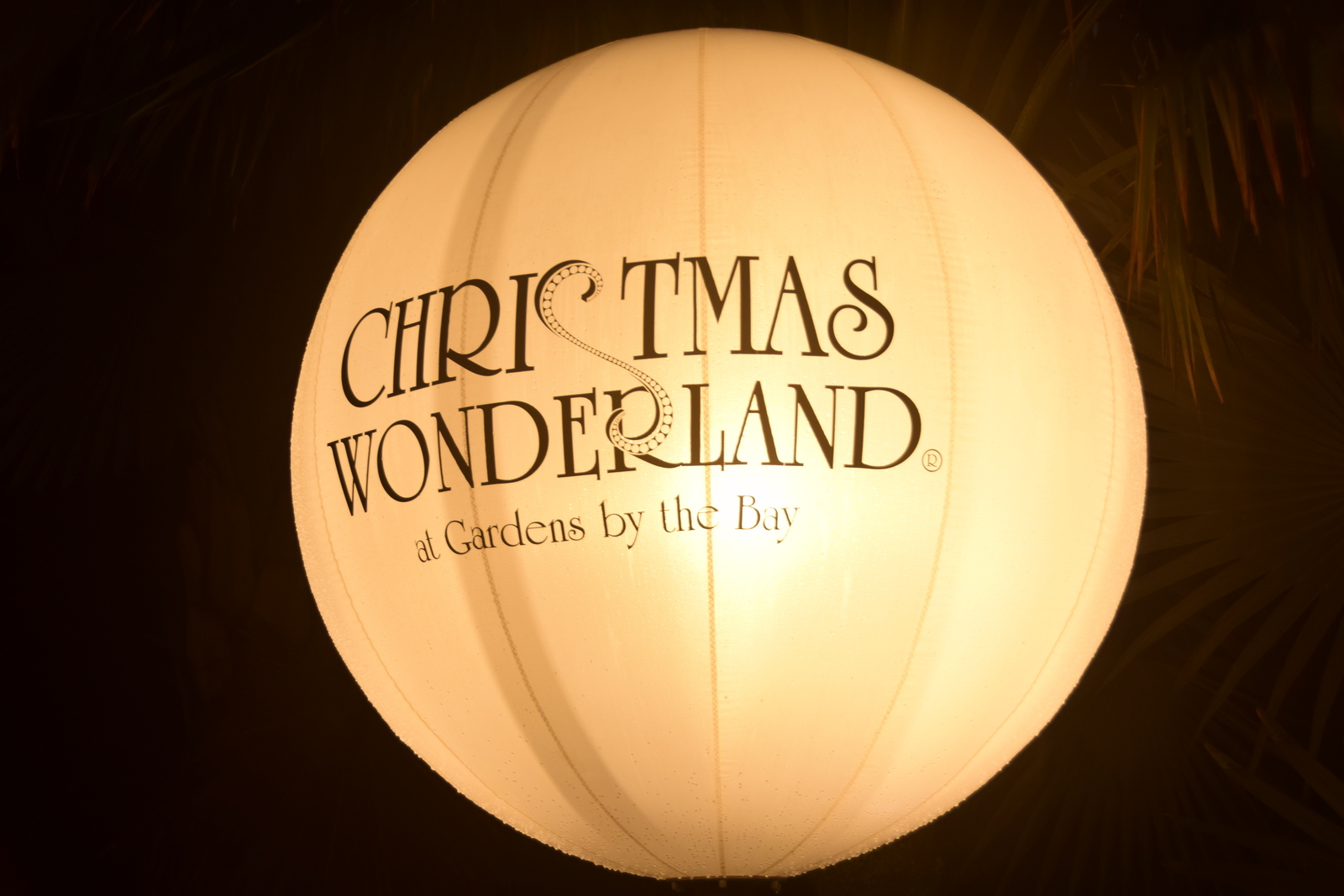 It eventually did, although it was still pouring, up until we arrived at Gardens by the Bay itself.  Gloomy skies aren't good for photos, so when you take them with a DSLR, you spend so many precious hours working on editing them after, which is partly why it took me so long to write this post. My camera did its best to capture the shots (I just pushed the shutter). It is an absolute must to shoot in Manual Mode on such days or your photos will not properly reflect the colours you see with your own eyes.
Here we are then, with the gloomy skies…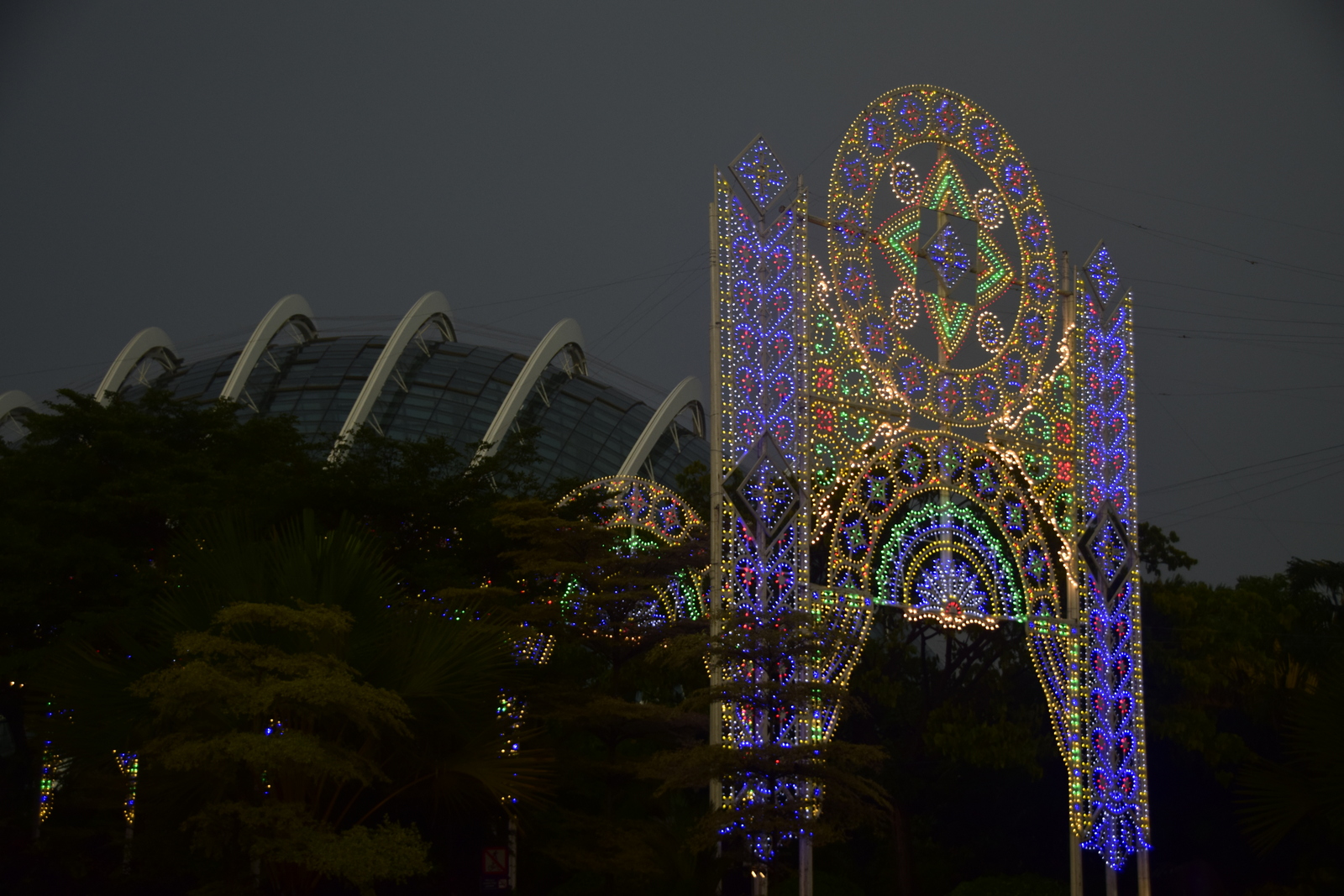 Notice the similarities between these lights and the ones at Hyde Park. I wonder who's copying who?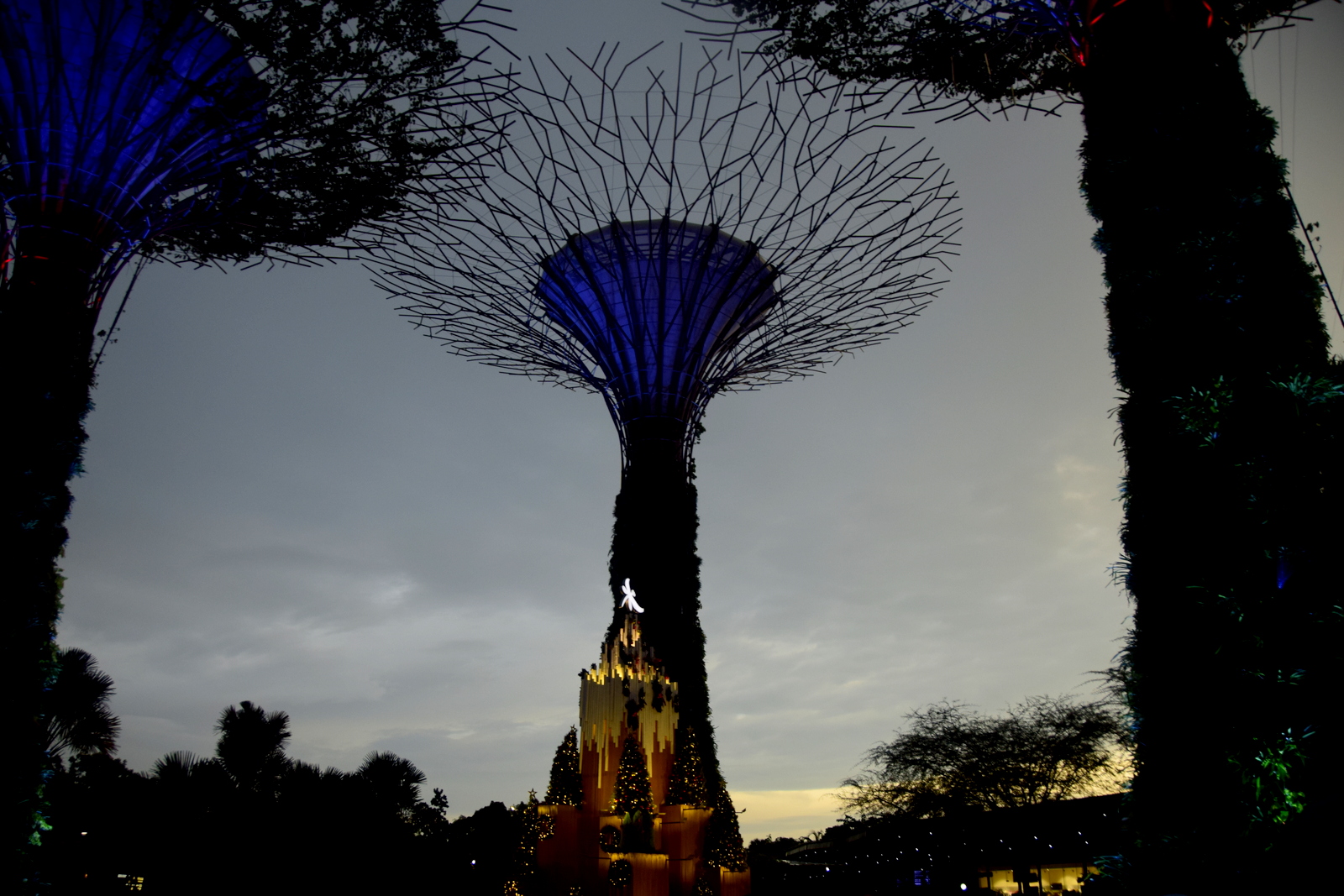 There's no copying here though. Our Super Trees standing tall among a collection of puny Christmas trees that's propped up to be like one bigger tree itself with the Dragonfly as the star on top of it.
The Super Trees are usually the highlights of the Gardens but they have to share a bit of the spotlight with the Christmas lights at this time of the year. Their silhouette still stand out better as the sun sets behind them. They're impressive up close and tourists are quite often intrigued by them because they look like something that's come out of a science fiction movie. (Remember Avatar? The James Cameron one. Not the Shyamalan disaster!)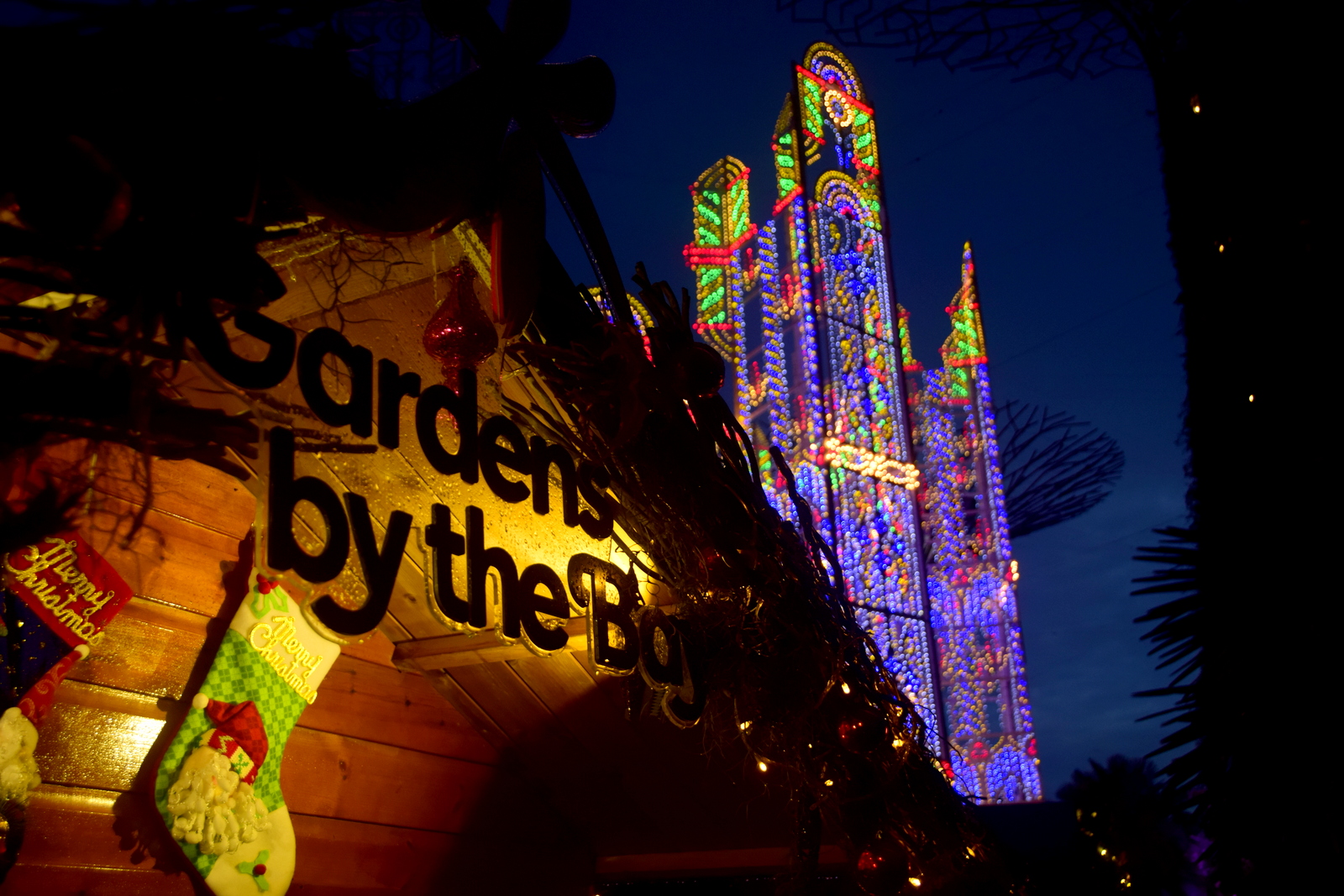 Even without wintery conditions, you have to give the people who put all this up credit for making the Gardens as "Christmasy" as possible, from the wooden huts to the Christmas stockings. They even have people who try to make you believe it's cold by telling you over the mic that it's a cold Christmas eve, which I find absolutely ridiculous! It's wet and cooler than usual but it's NOT cold!
More Christmas lights with the Super Trees!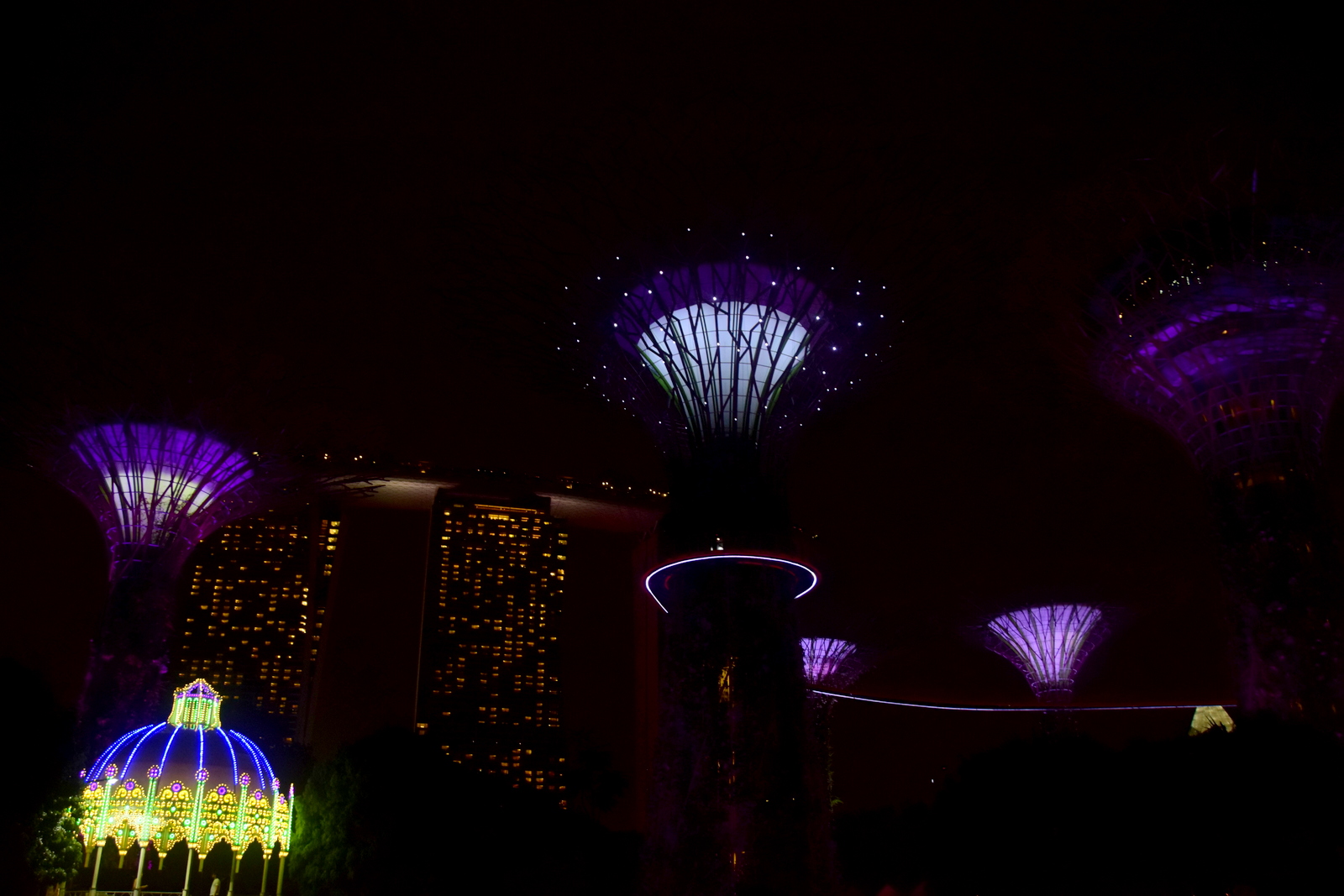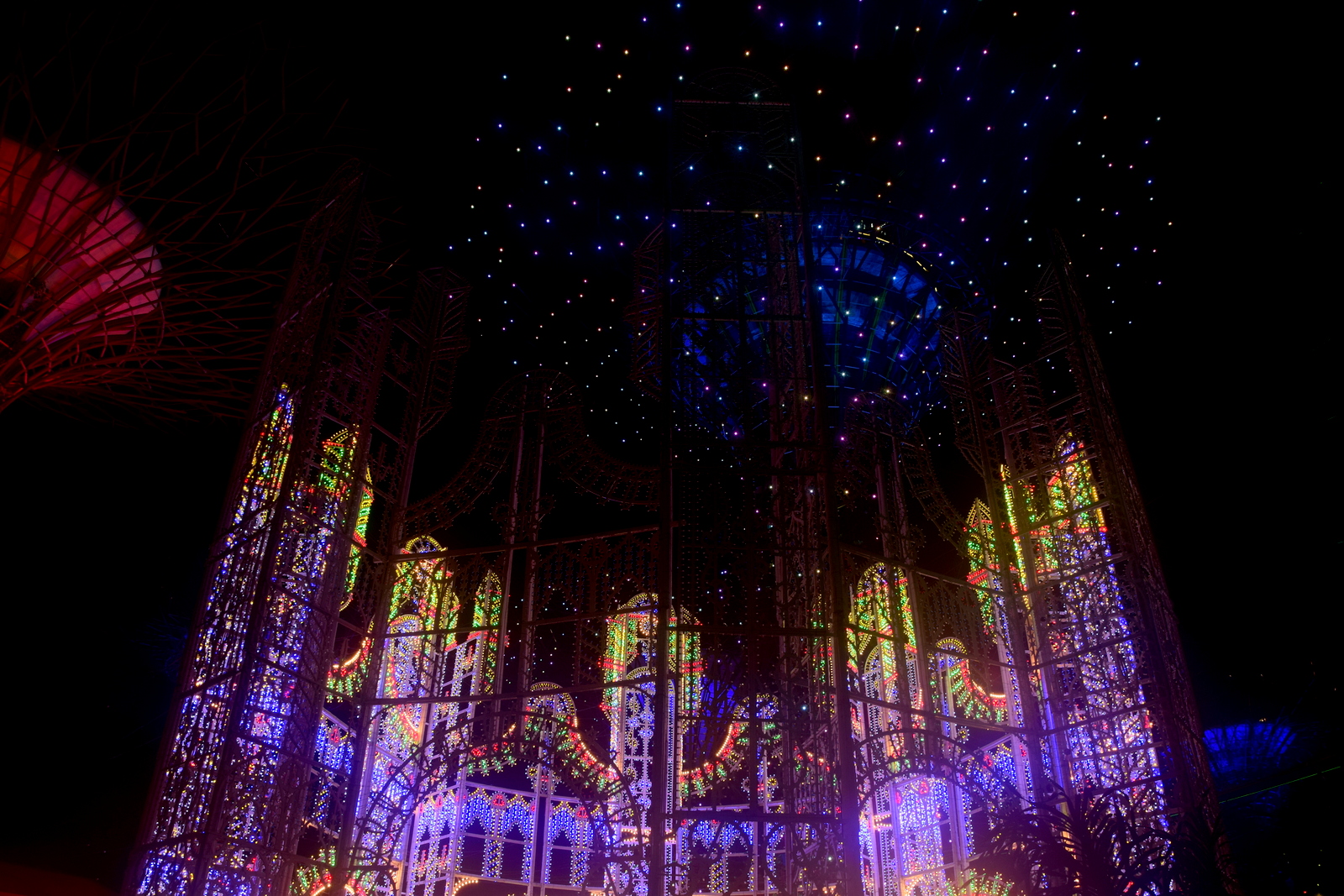 Lights, Camera, Umbrellas! "I'm Singin' in the Rain, just Singin' in the Rain. What a glorious feel and I'm happy again."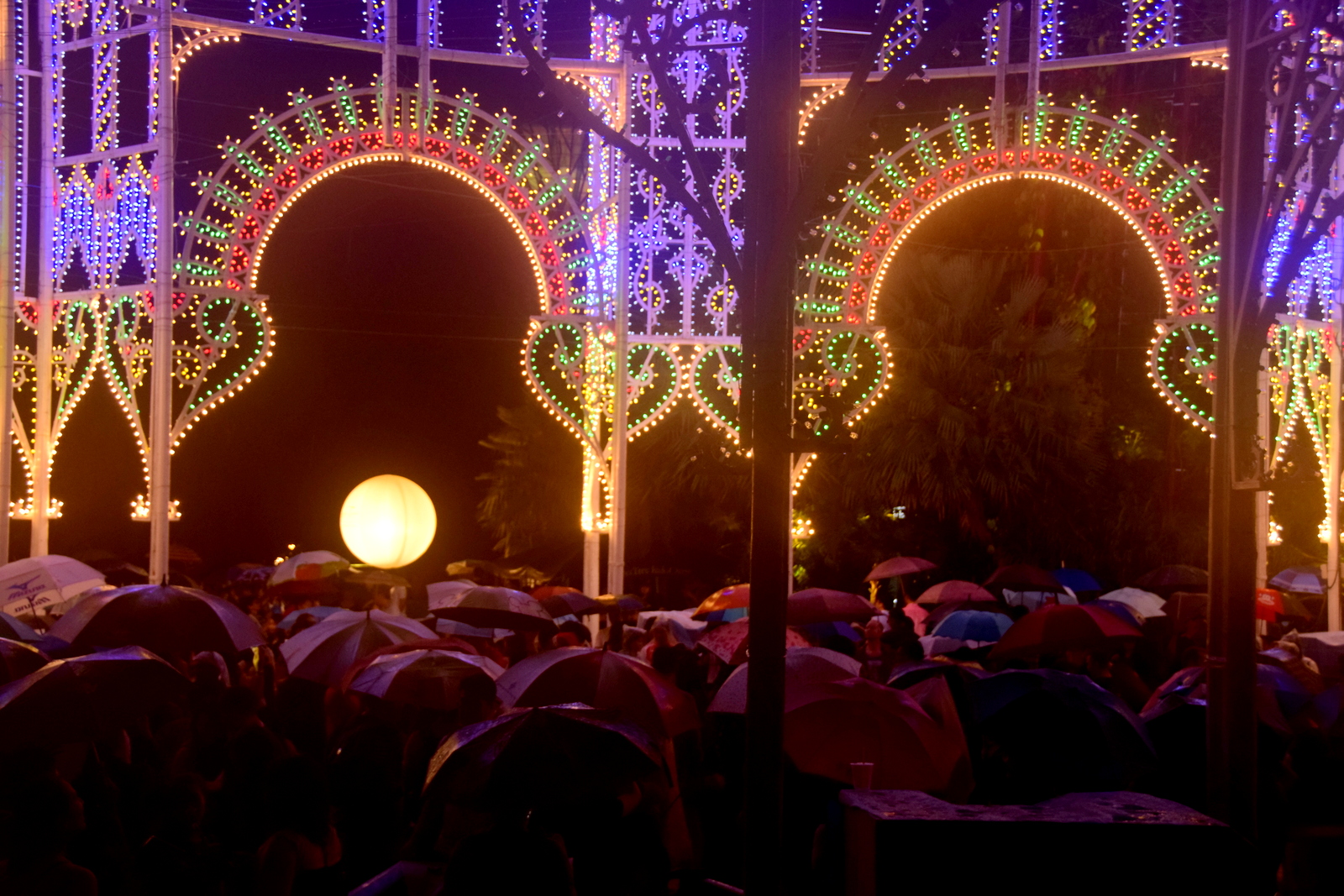 Too old school? Come on, I'm sure you know of the award-winning wet musical. It's awesome!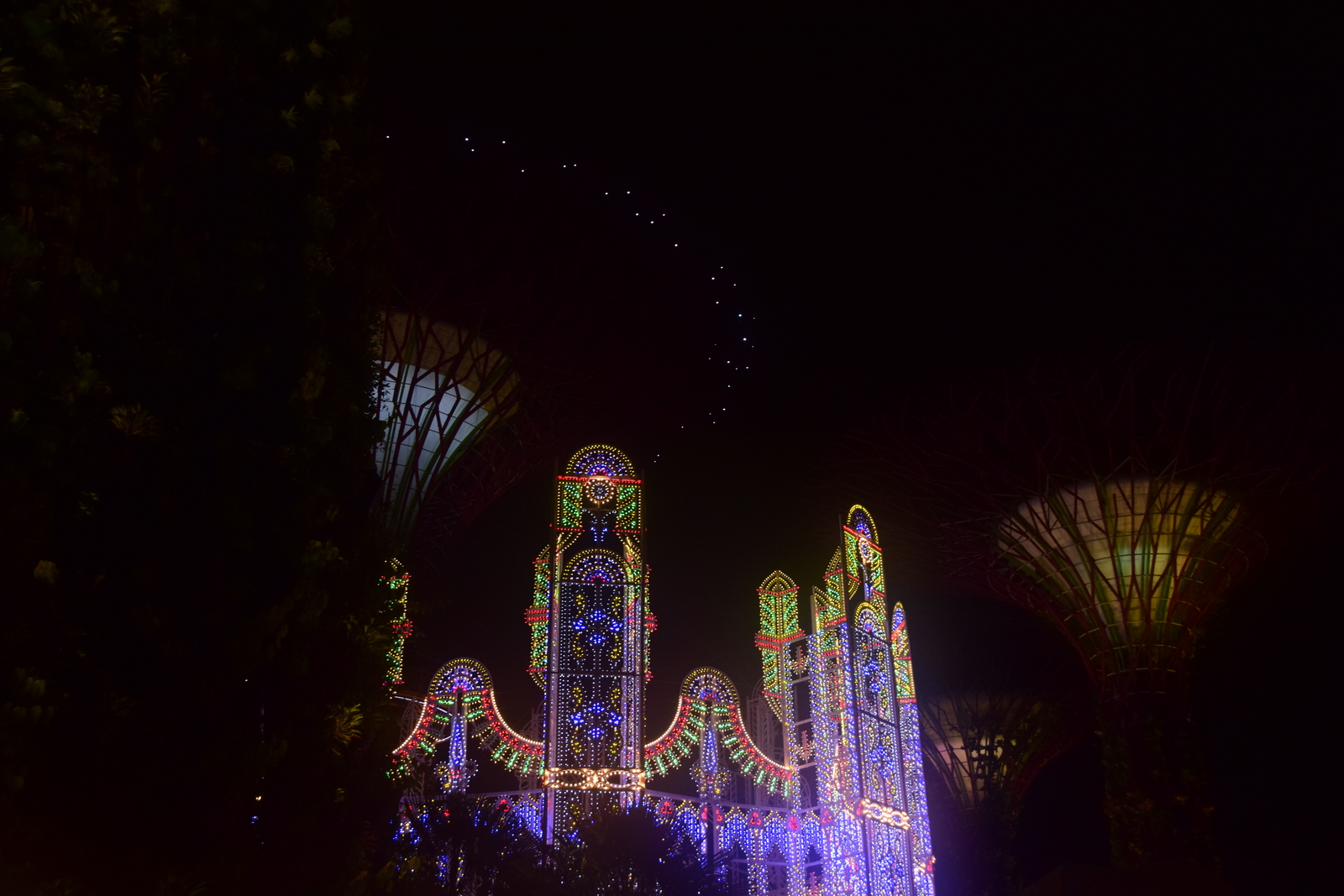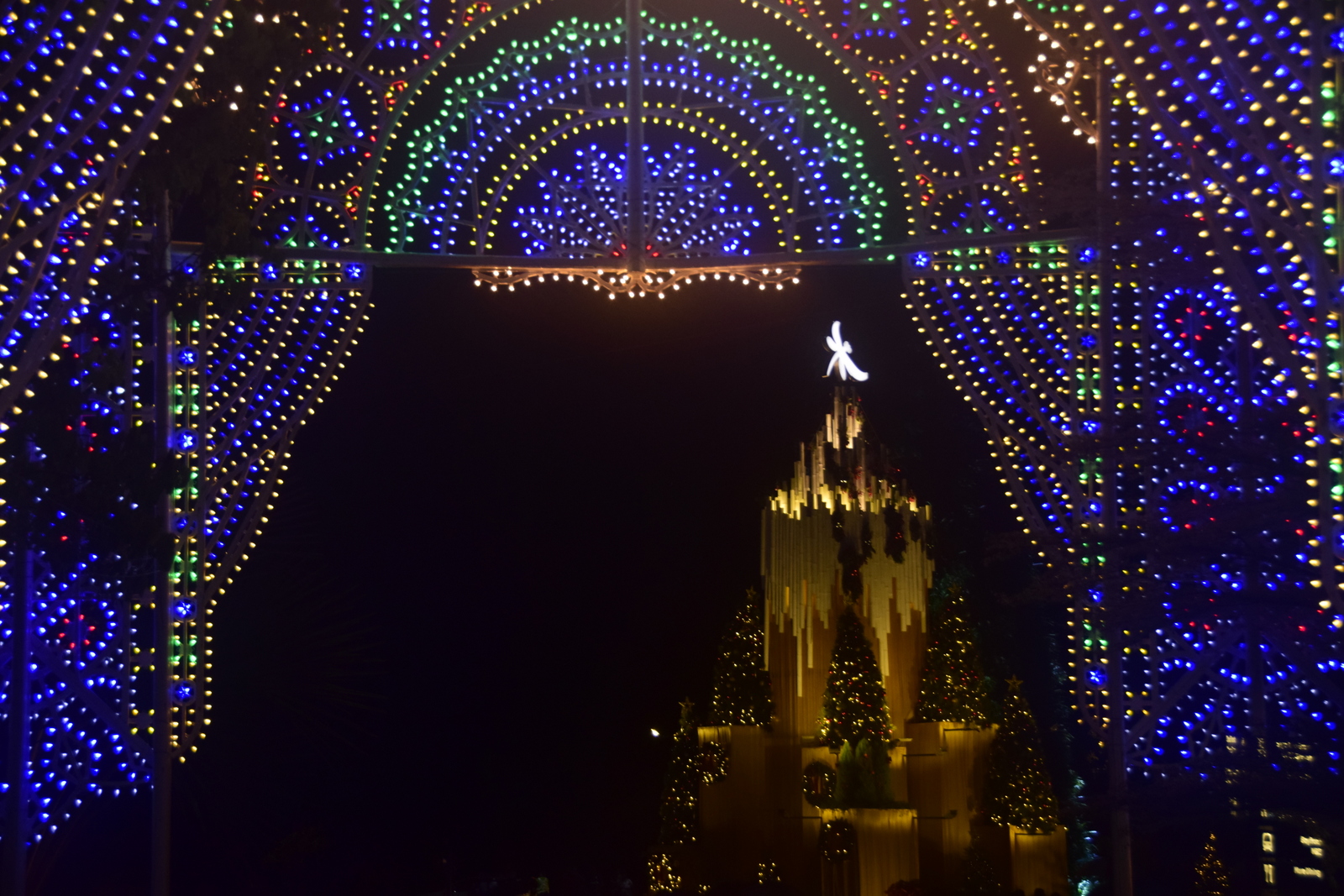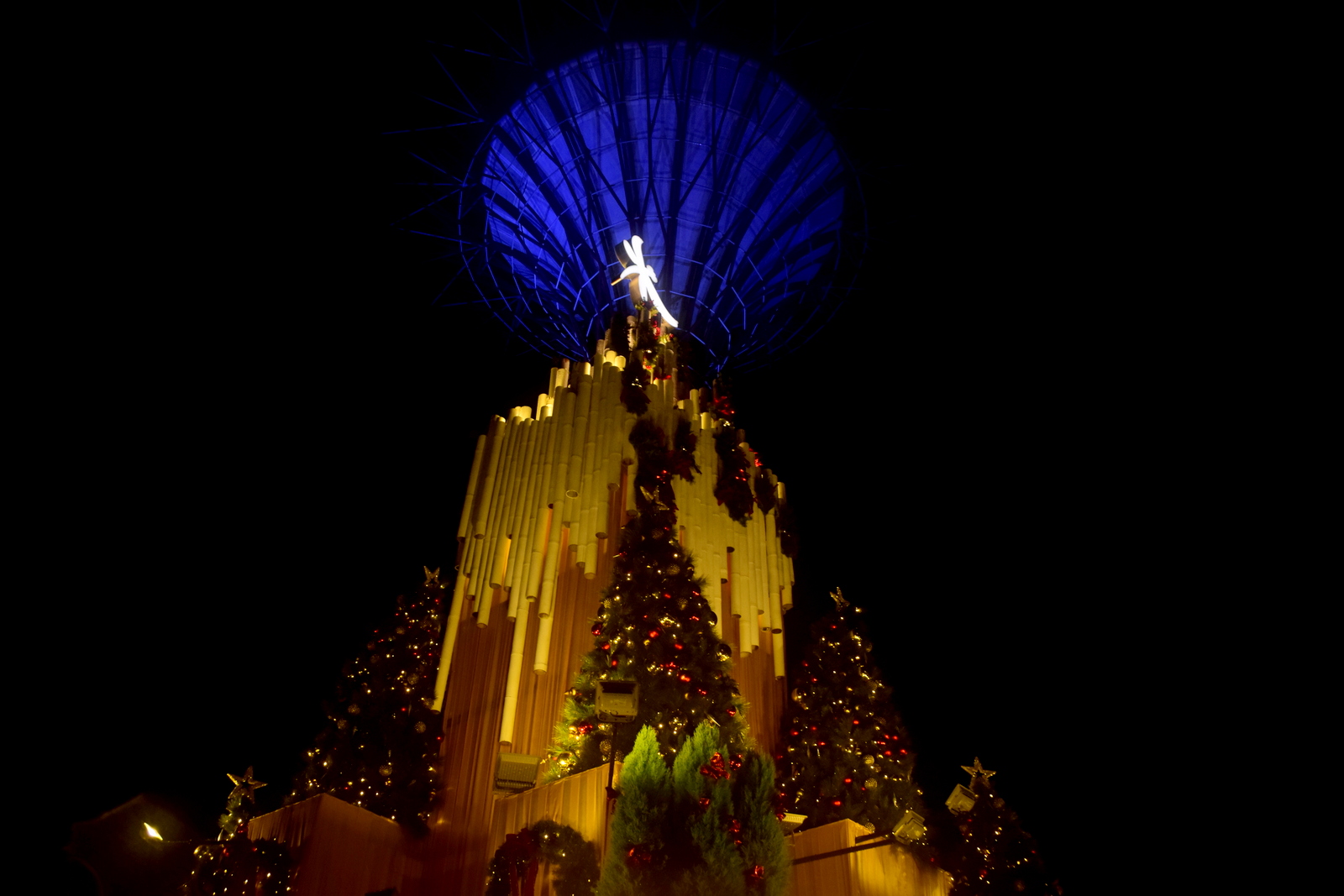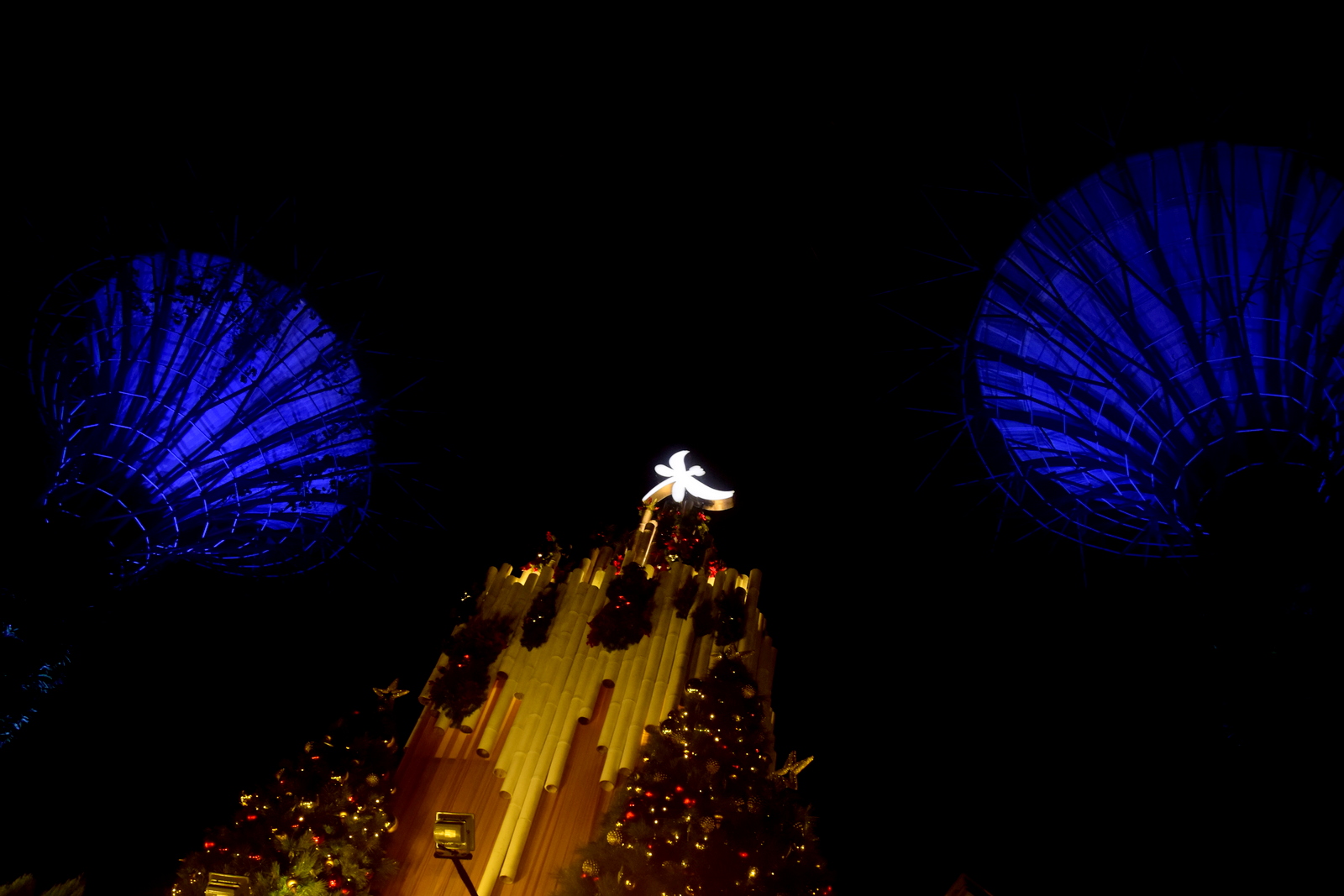 Anyway, it got to a point where there wasn't much to see around anymore so we decided to head off for dinner. Well, if this were Hyde Park, I'd hang around to have the typical Christmas market delights like Bratwurst and Schweinshaxe but all these are at crazy restaurant prices here (Almost $15) so, NO. Obviously, being the one who's been away from Singapore for so long, I got to pick which hawker centre to head to for a proper Singaporean Hawker Delights Christmas Eve Dinner and Old Airport it was!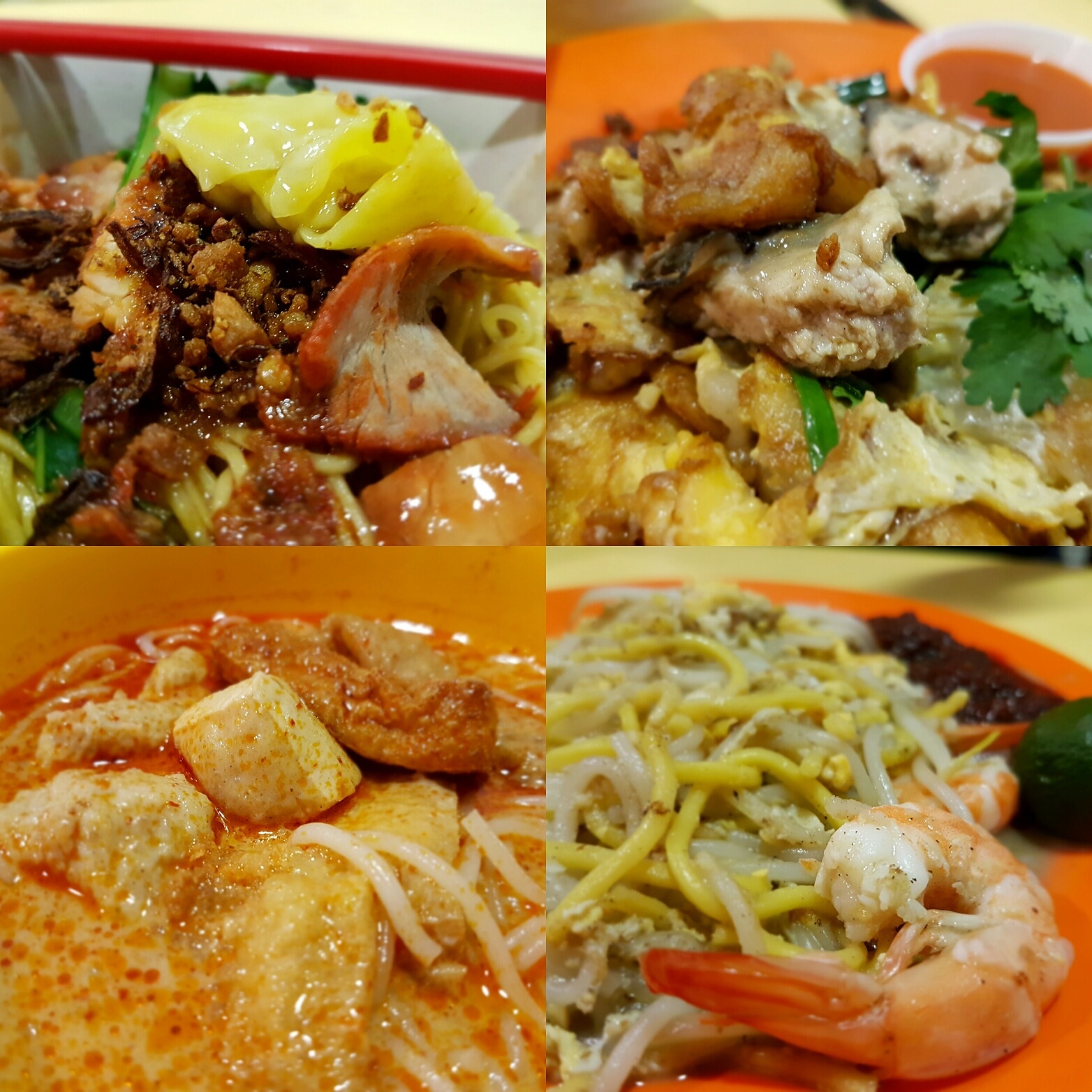 So if you ask me how Christmas was like back in Singapore, I'd tell you that it was all about being Santa 🎅🏻 running around (mostly in the North East) giving out presents to my closest friends, church family and colleagues. They're the ones who make you find joy in every little thing you do.
Hopefully you had a memorable and Merry Christmas in 2016 too!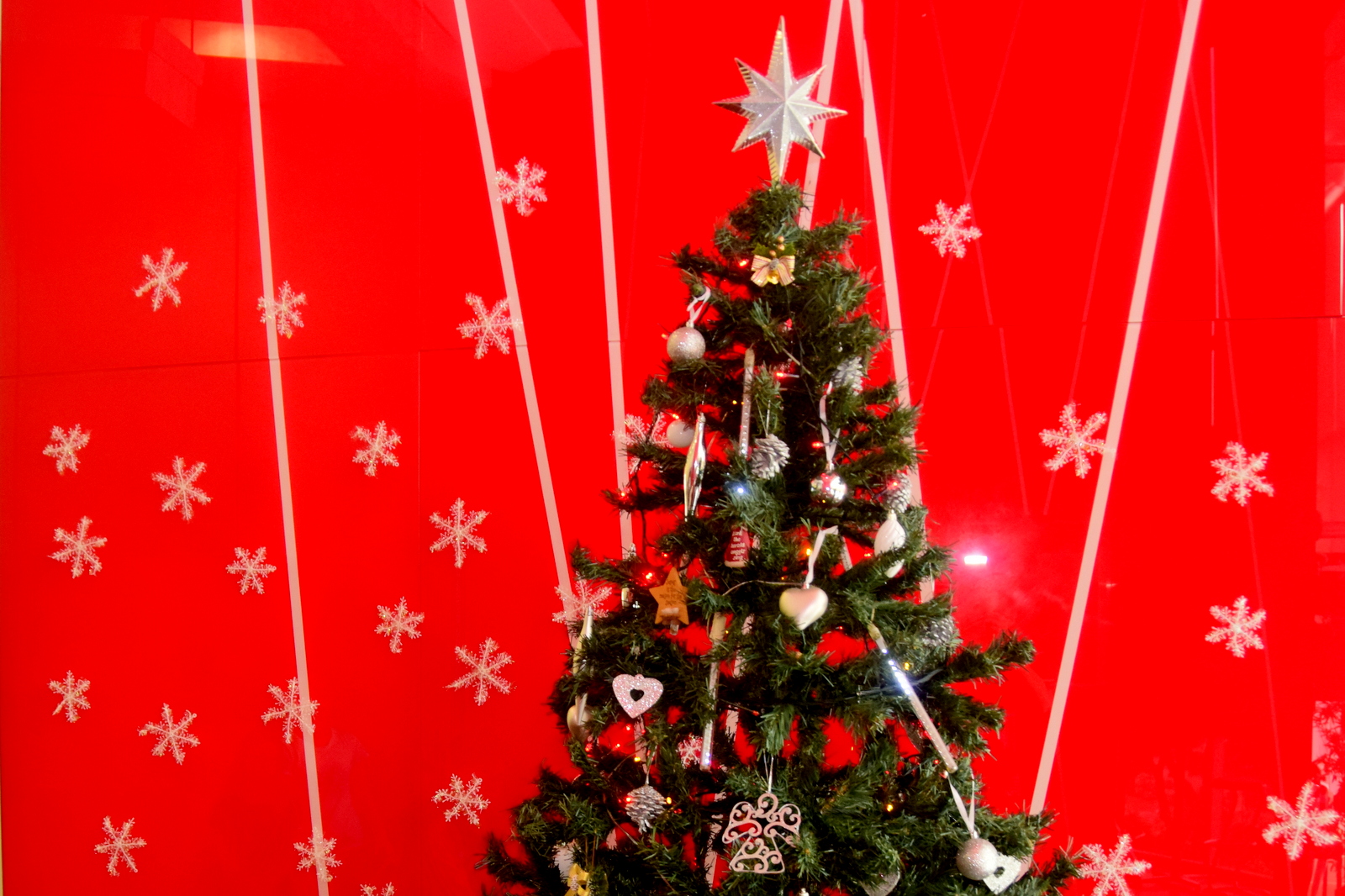 Ben 🌈🎄