Okay… maybe that was a bad pun. hahah
Anyways, Hello Guys, Eggy here!
Yesterday I headed off to London to meetup with one of my friends from High school, Nora! We have been friends since 2012, we survived the International Baccalaureate Diploma together and here we were meeting in London again! And I can tell you, we have not changed one bit… We still continue to embarass each other in public and it never gets old!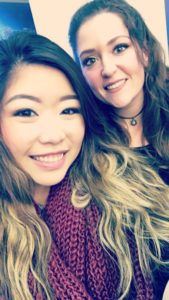 We met up in Chinatown (Leicester Square Station) of course, and we had to go to the famous, newly-opened, Lego Store in London that everyone has been raving about! I've walked by there several times and have always seen such a long queue outside the store. It was definitely too cold to queue up… but yesterday… We were in luck because it was a Wednesday therefore, We didn't have to queue to enter the store which was amazing!
When we entered, we were greeted by friendly Lego-Staff and We were so excited when we saw iconic attractions in London, re-created out of Lego!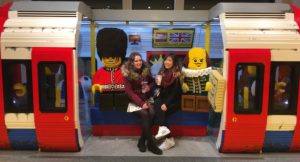 Here's one of them, they re-created the London underground train and two lego figuraines, resembling William Shakespeare, a famous English poet as well as a Buckingham Palace Royal Guard!
London has a very well-connected Underground system and can you believe that this map was entirely made out of Lego ?!
Lego, did not skip on any details… even the lights resembled Lego pieces! How Cute! This store is two story's high so plenty of lego products and picture-taking opportunities! So My advice is go on a weekday to avoid the crowd!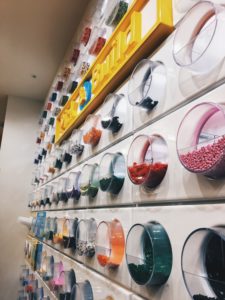 Nora jokingly said that this section resembled the M&M's store, right opposite the Lego Store in Leicester Square, because of how the lego pieces were organized by colour, similarly to the M&M's chocolate candies!
What is a visit to London without having your picture taken with the famous and iconic red telephone booth ! The famous tourist attraction, The Elizabeth Tower or more commonly known as The Big Ben was also replicated and with a real clock !!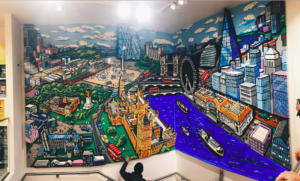 This was definitely the highlight of the store, when you head up to the second storey, this Lego "Mural" with an overview of central London, including River Thames and the famous London-Eye and The Shard were even incorprated into this lego-art work! I'd definitely be back just to admire this!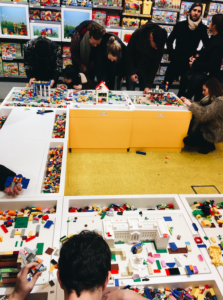 For all you Lego-lovers out there, Don't worry cause Lego has you covered if you want to let your inner child loose and let your creativity run wild, they have these interactive lego-stations for everyone to build and play with! 🙂
Definitely worth the visit. 10/10 🙂 Also, this weekend is Chinese New Year which is so exciting so stay tuned to read up on how I celebrate Chinese New Year this 2017 in London 🙂
Thanks for reading guys!
Love,
Eggy x