Hi everyone,
Here's my recollection on my day trip out to Portsmouth on 1st March with my coursemate, Giorgi.
We left rather late as we each had some stuff to sort out before we could free ourselves up for the rest of the day. So our first priority when we got to Portsmouth Harbour was… LUNCH! It was a terribly gloomy day though so the skies in all the photos just looked grey all day 😕
To get to Portsmouth Harbour, it's the same South West Trains service that started off from London Waterloo station and it takes just under 1 hour to get there from Guildford. A return ticket for the day costs about £13 (with a 16-25 Railcard of course), so it's almost like going to London.
The first thing you'll see when you get out is the Portsmouth Historic Dockyard: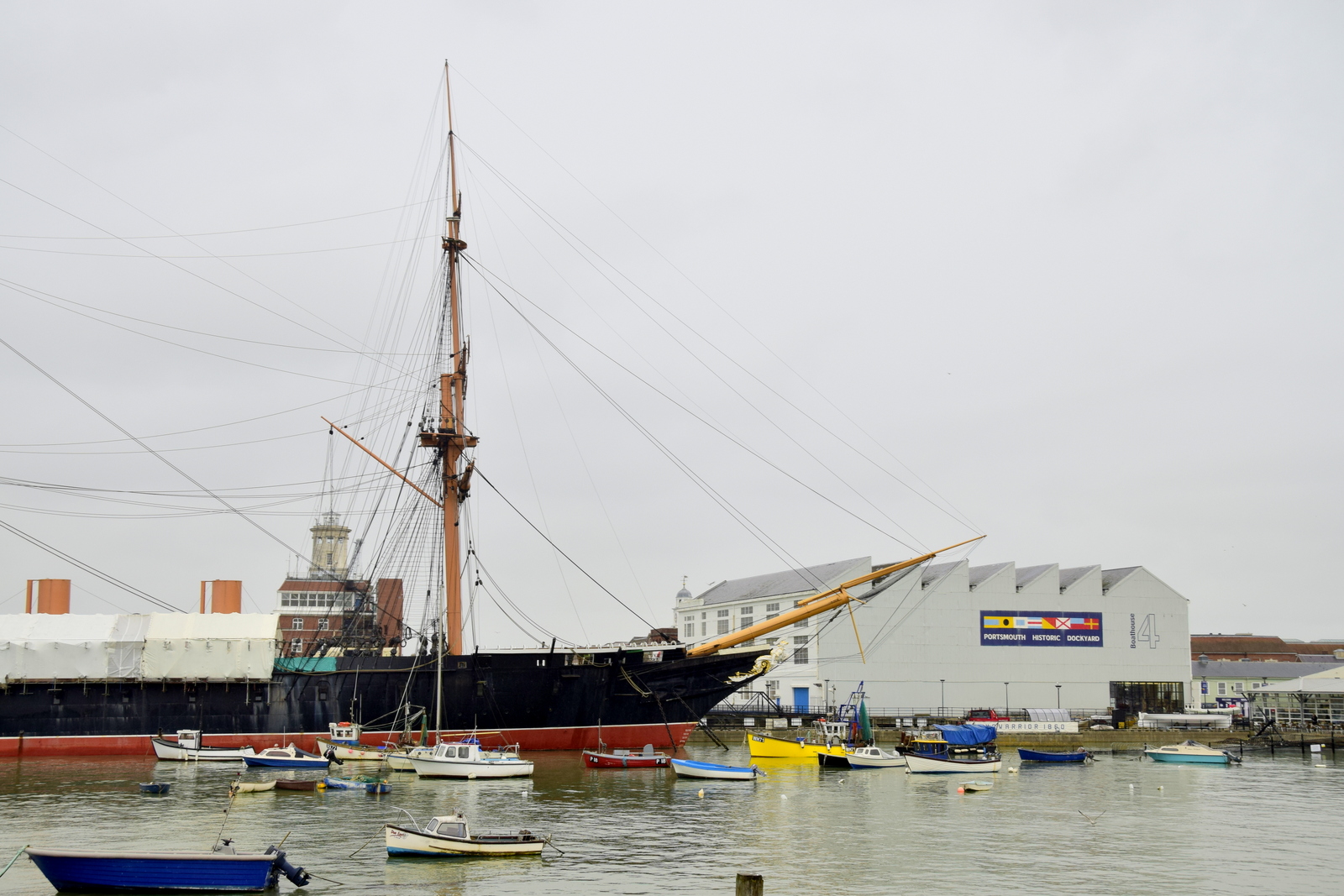 After a quick and filing lunch, we decided to head straight up the Spinnaker Tower. Standing at 170m, it is a prominent Portsmouth landmark that's a symbol for Portsmouth Harbour's redevelopment. If you look closely at the words on the side of the tower, you'll realise that "Emirates" is a prefix to Spinnaker Tower and that's because Emirates has a commercial sponsorship with the tower giving it naming rights in a £3.5m deal. If you've ever taken Emirates Airlines, you must have seen photos of the Burj al-Arab from Dubai and you'll find this tower extremely similar to it. The Spinnaker is just a mini version of it. Funnily enough, it was initially meant to be painted red but the red and white colour scheme that Emirates is known for resembles very closely with Portsmouth's rivals Southampton and there was a petition to change that. They eventually settled on the current colours as seen: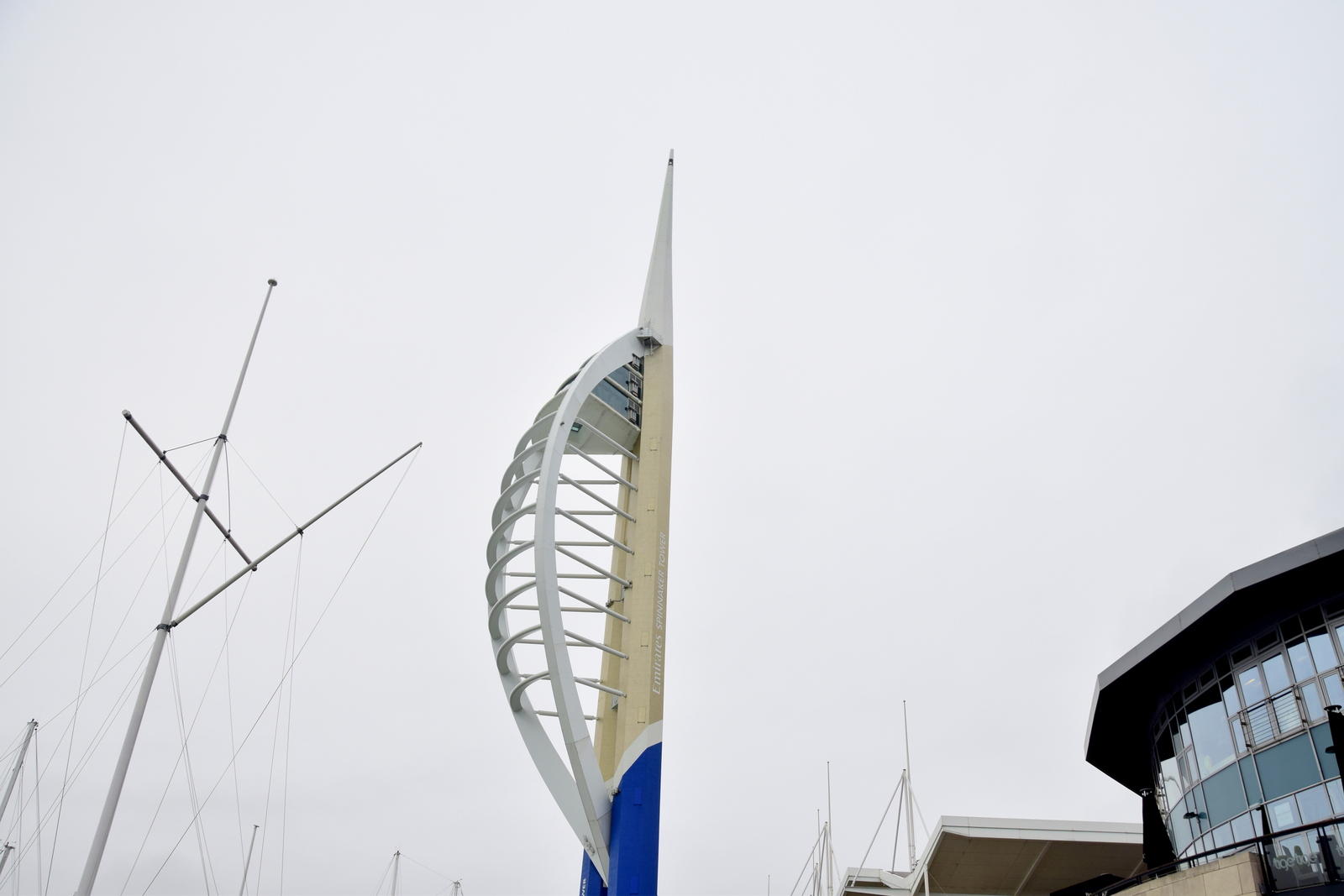 I'm a fan of observation towers/decks because you get a nice view of the whole city when up there. Although I'm a bigger fan of a hill or mountain you can go climb up to and see the city without having to fork out £££. Getting up there would cost you £9 (student discount included) but you do get a good view of the city and it's a good way to plan where you'd want to go after coming back down. Also, the £9 is not a one-time entry so you can always come back again as long it's before it closes. From up here, you'd get to see Portsmouth Harbour like this: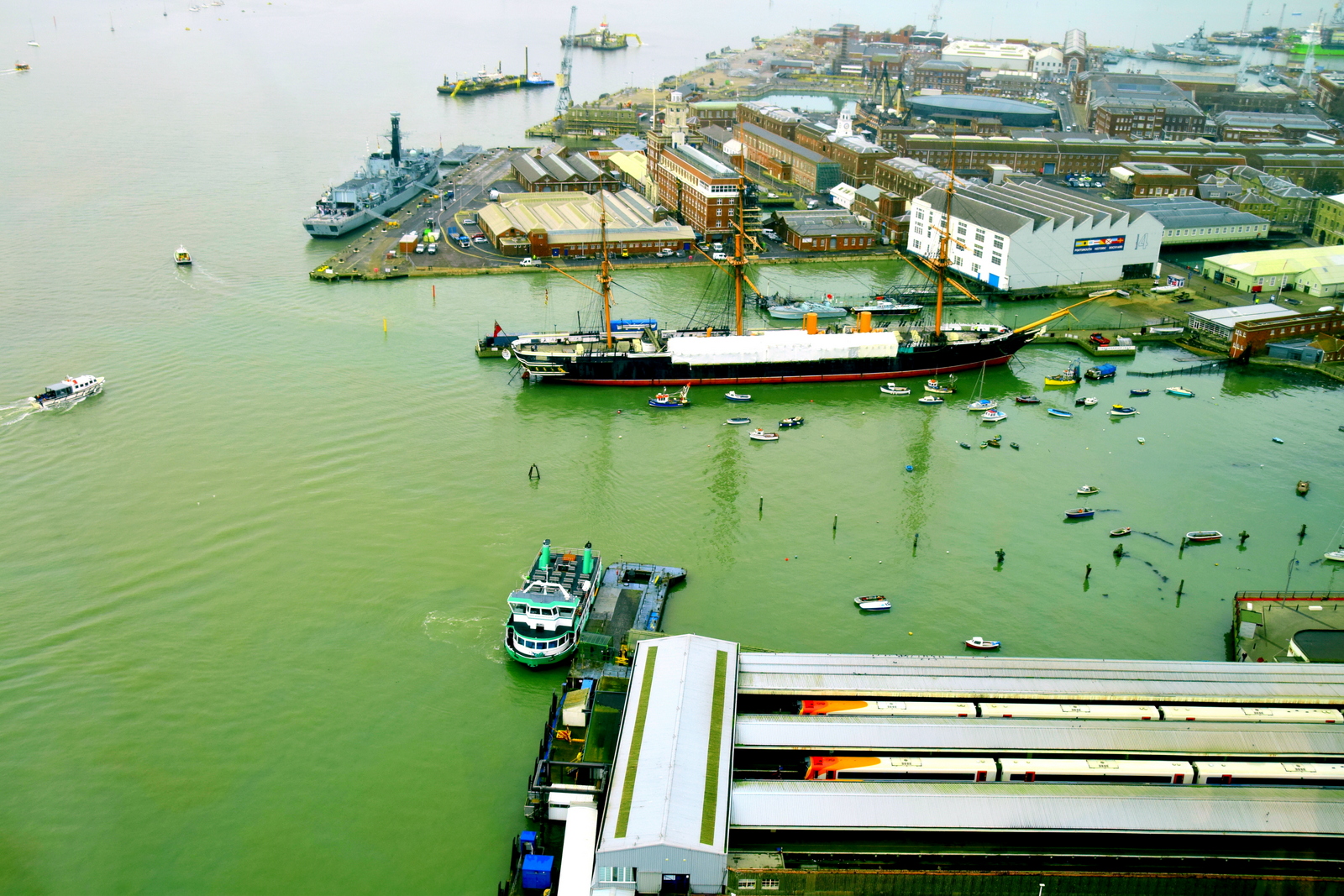 At the bottom of the photo, you'll see the train station which is in reality not that big. You also see the Historic Dockyard where we started out from. In the distance, you should be able to spot a strange greyish-black looking building and beside it, you'll notice HMS Victory, which is the world's oldest naval ship still in commission. We decided not to go there as it was a choice between that and the Spinnaker Tower. I'm always in favour of having a high vantage point because it makes for good photos so we chose the Spinnaker instead.
There's a viewing deck on the Spinnaker where there's a nice glass panel in the middle of it that allows you to stand on and look 100m straight down to the ground so if you're afraid of heights, don't try it. Giorgi and I were just having fun standing on the glass panels and looking straight down admiring the 100m height!
Like I said earlier, when you're up here, you can plan out how you'd like to walk around the rest of the city so once we were up here long enough and planned our route, we decided it was time to get going!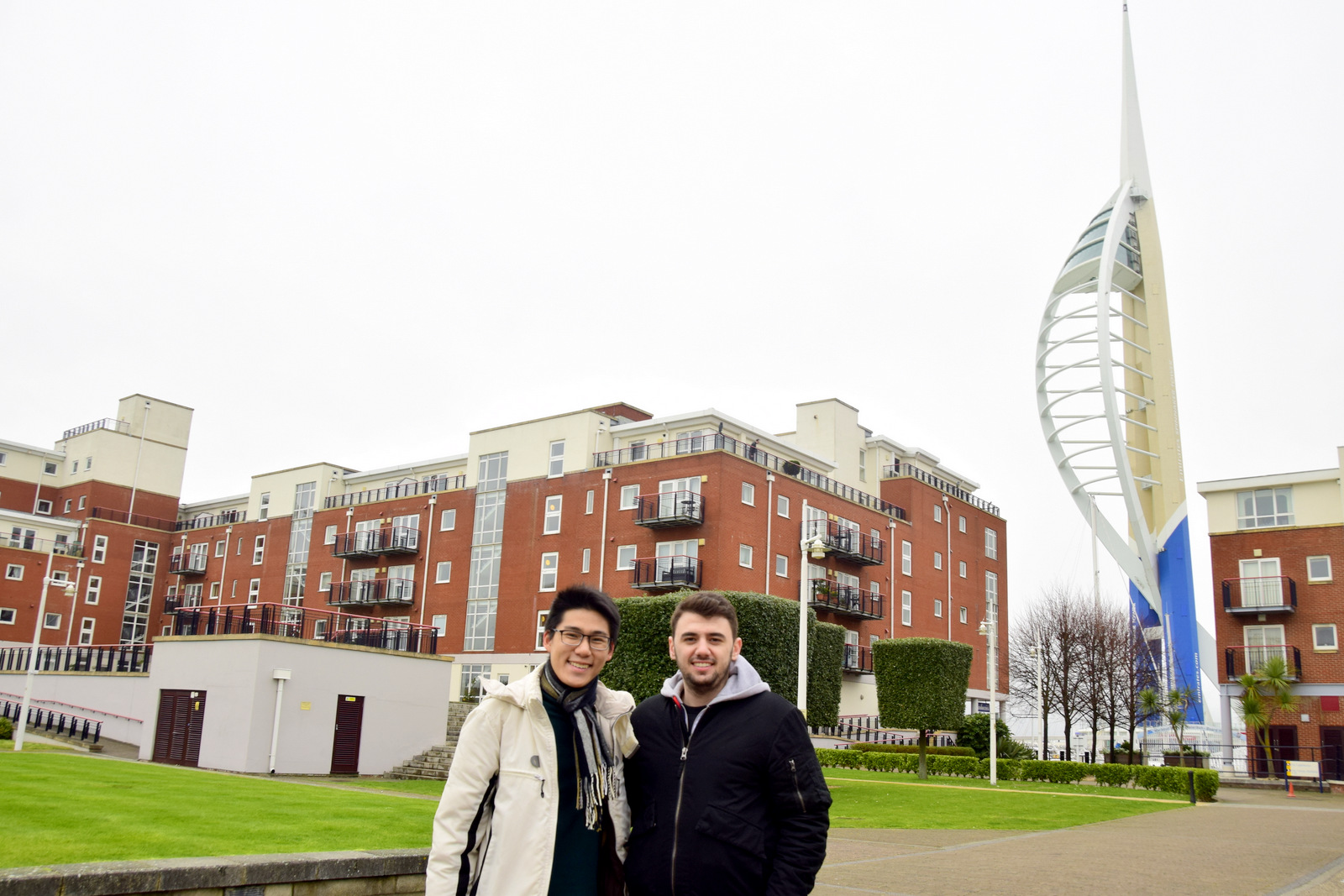 Here we are after getting down from the Spinnaker and preparing to our walk towards the Portsmouth Cathedral!
One of the things we realised about Portsmouth was that it was incredibly quiet with hardly anyone around… Maybe the gloomy day meant everyone decided to stay indoors.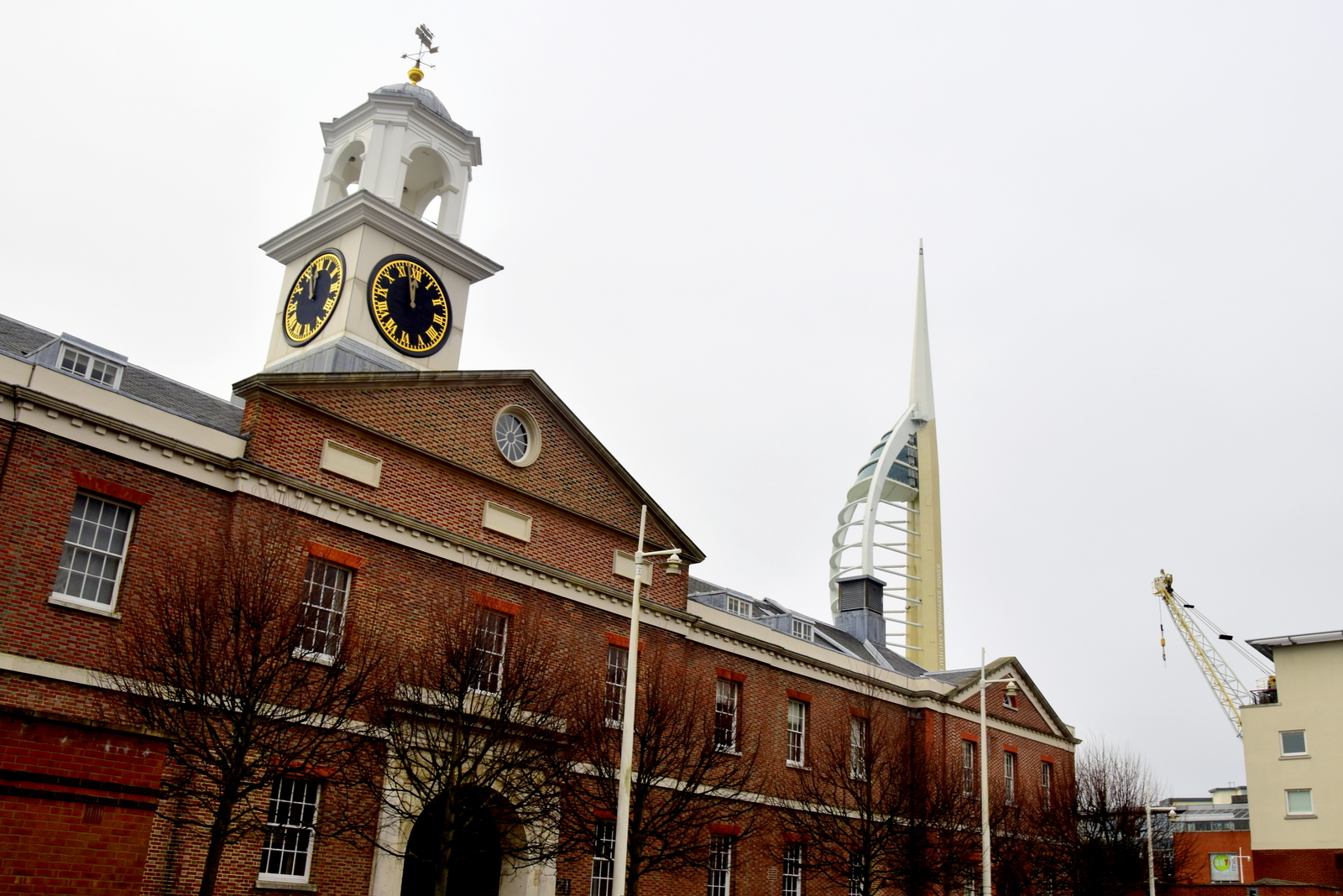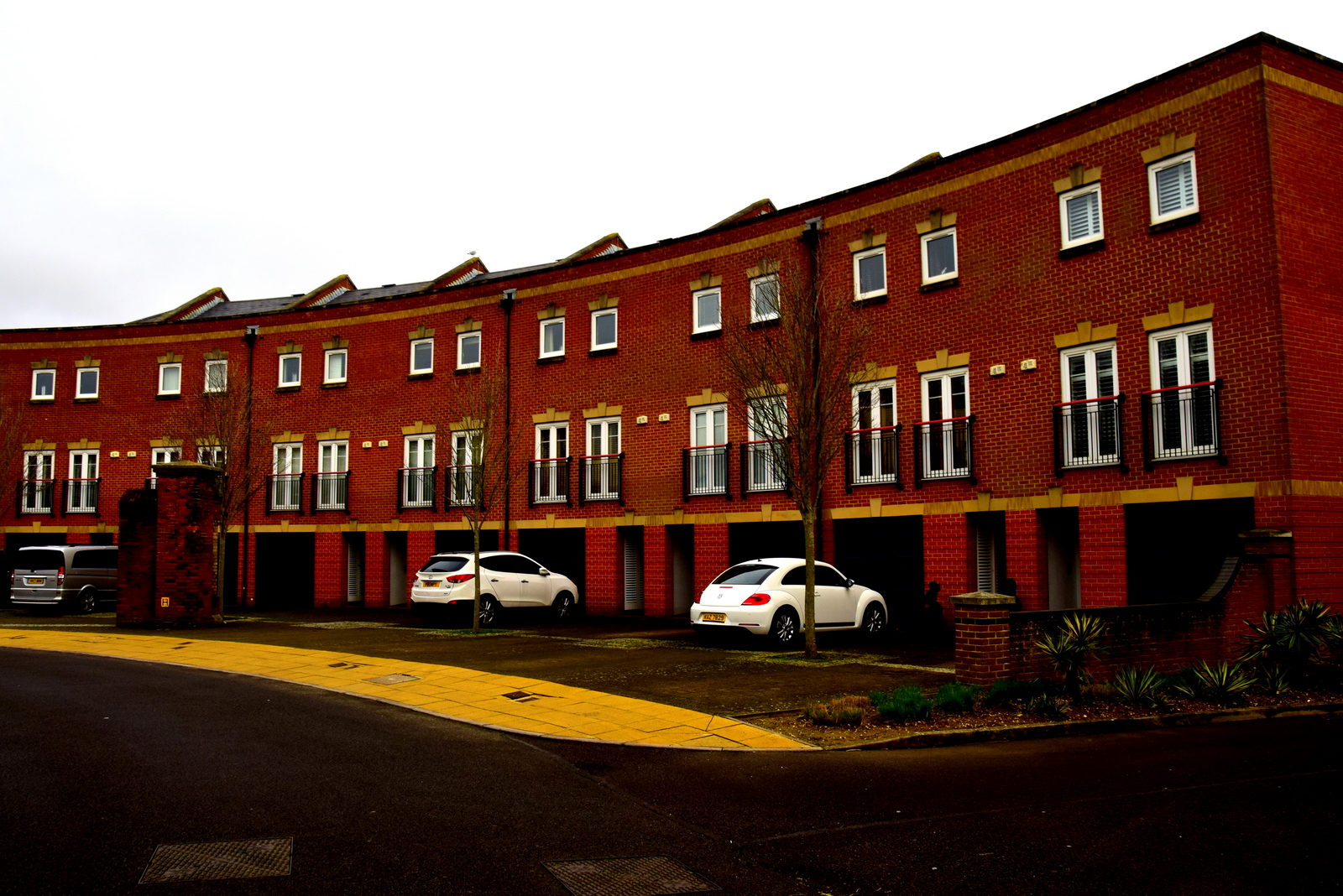 Still en-route to Portsmouth Cathedral, I spotted this and this reminded me a lot of Burano in Venice, Italy but of course, with a typical British grey sky.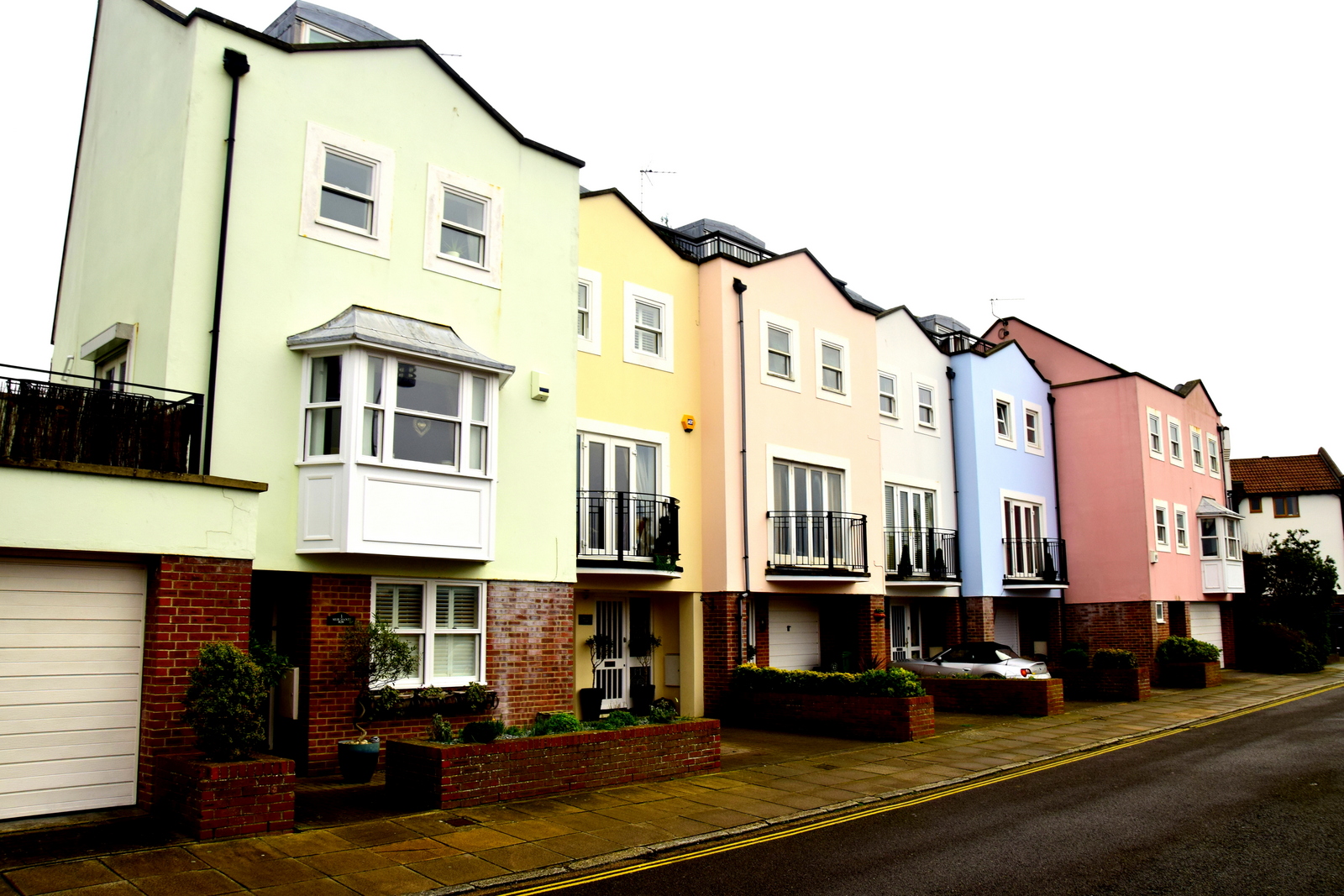 This is how Burano looks like in the summer: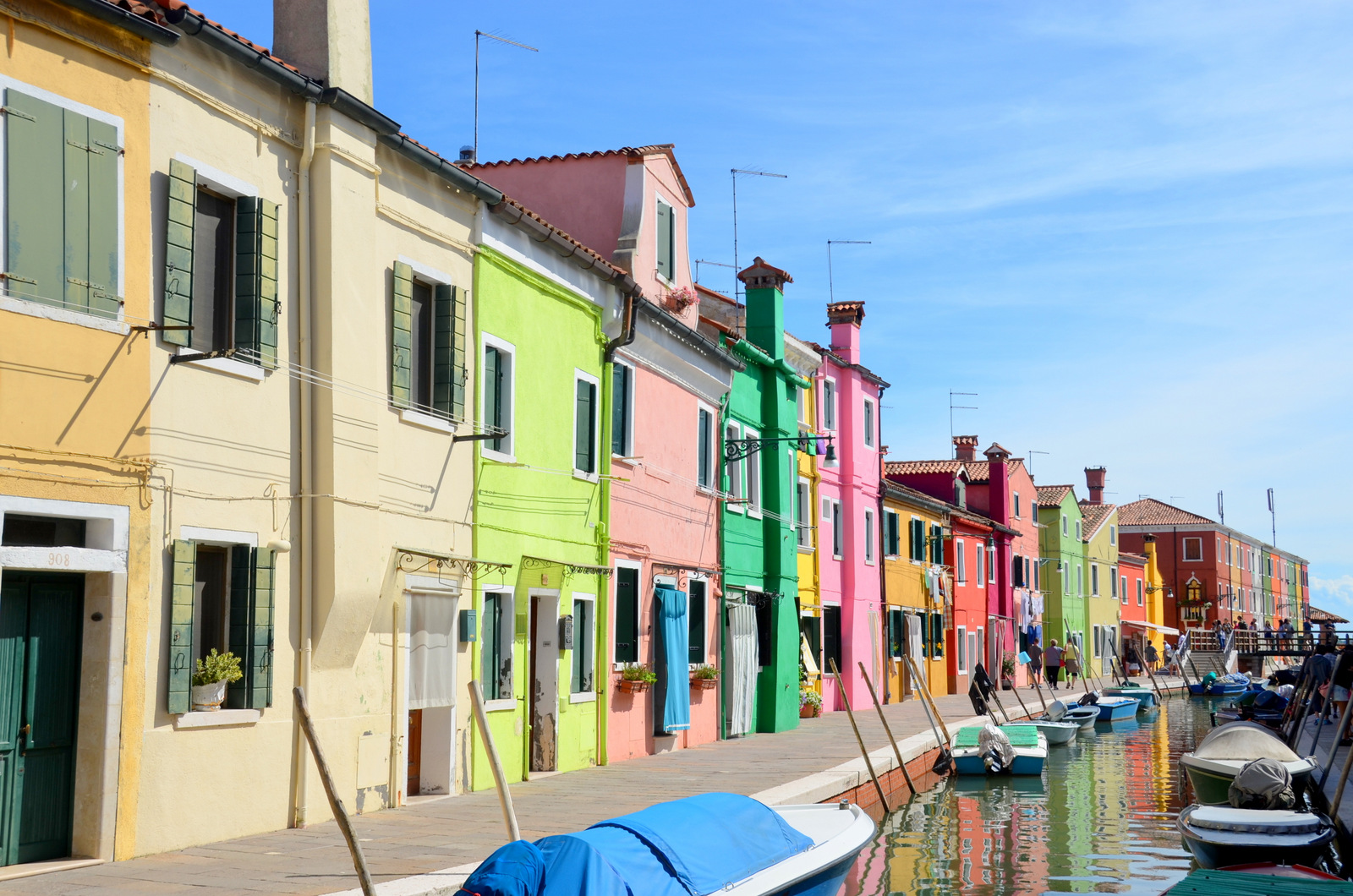 I'm sure you'll agree that there's a bit of a similarity here…
We eventually got to Portsmouth Cathedral (Cathedral of the Sea) and as with many cathedrals, there's some refurbishment works going on at some parts. We managed to go in and got a nice history lesson from a Sister about how the cathedral was built. It was intended to be a chapel to honour Thomas Becket who was martyred. The fact that Portsmouth was a harbour meant that it would be damaged over and over again due to wars breaking out. As a result, the plans to build a much larger cathedral never came to fruition and Portsmouth had to make do with a slightly smaller one by the time it was completed in 1991.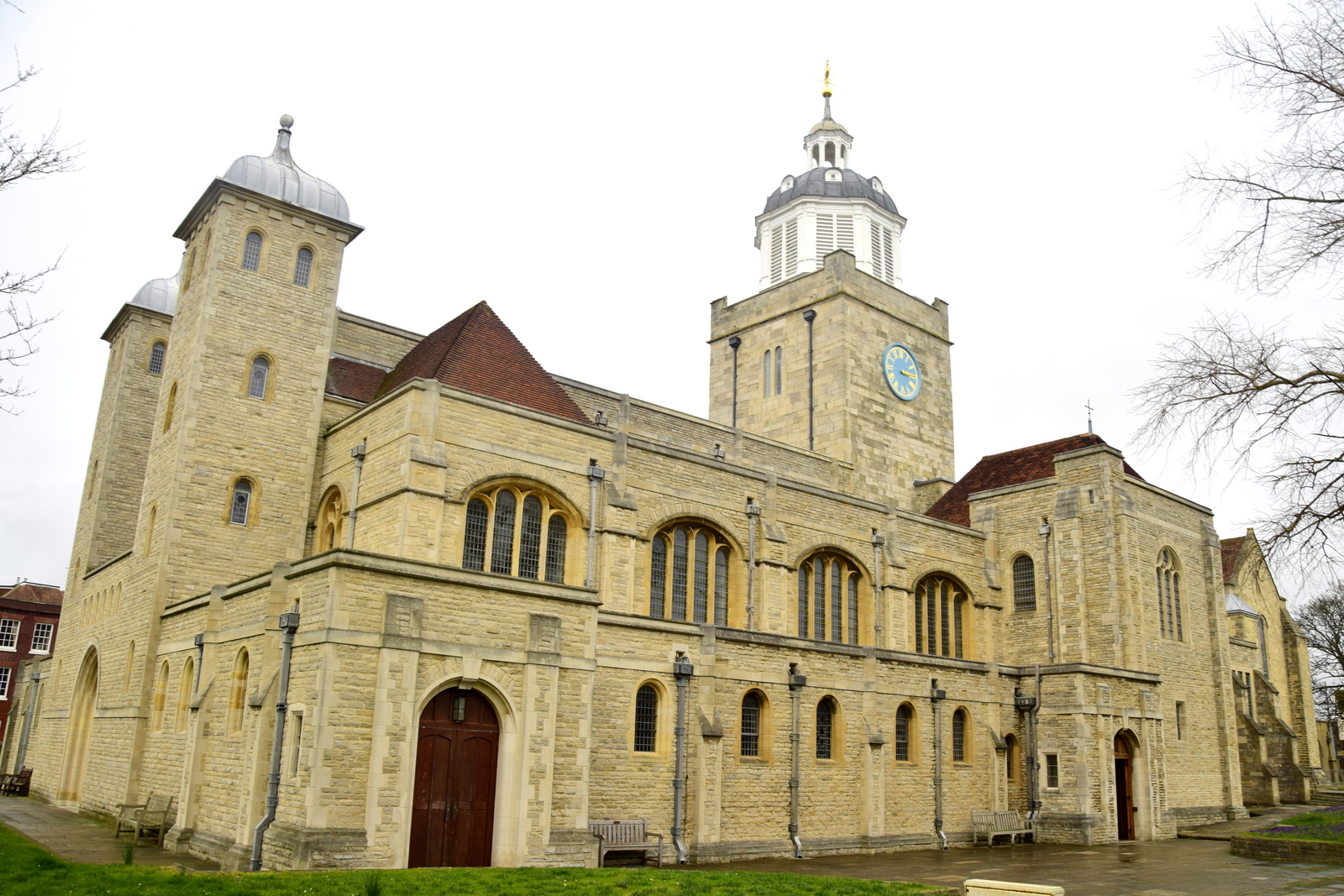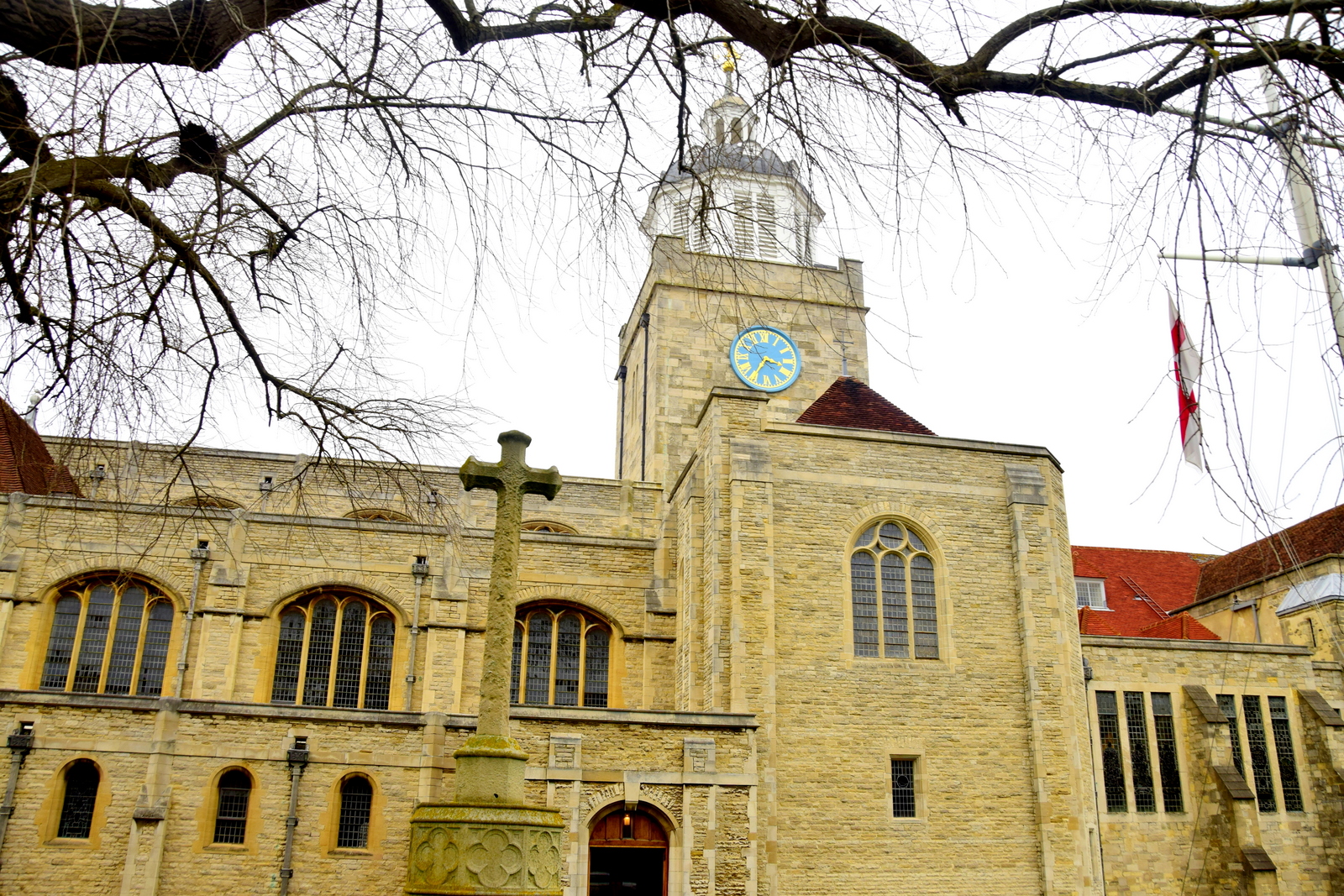 Next on our city trail was the Royal Garrison Church or Domus Dei. As you can see, the roof of the nave (main body of the church) is not there anymore and that's because it was destroyed by German bombers during WWII.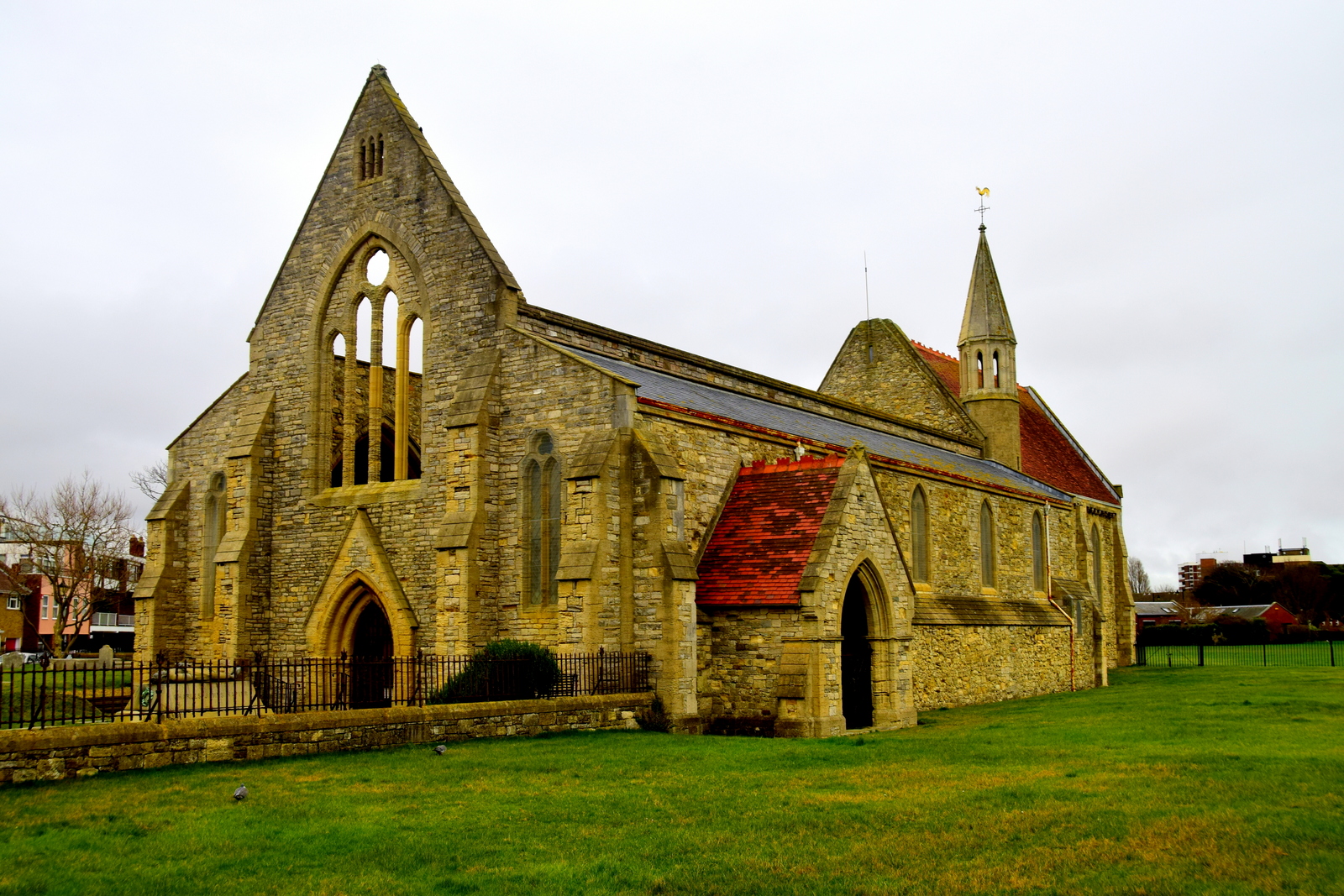 Here's the view of Domus Dei from another angle when dark clouds began settling in, where you'll also see the Portsmouth Cathedral's bell tower and the Spinnaker in the background: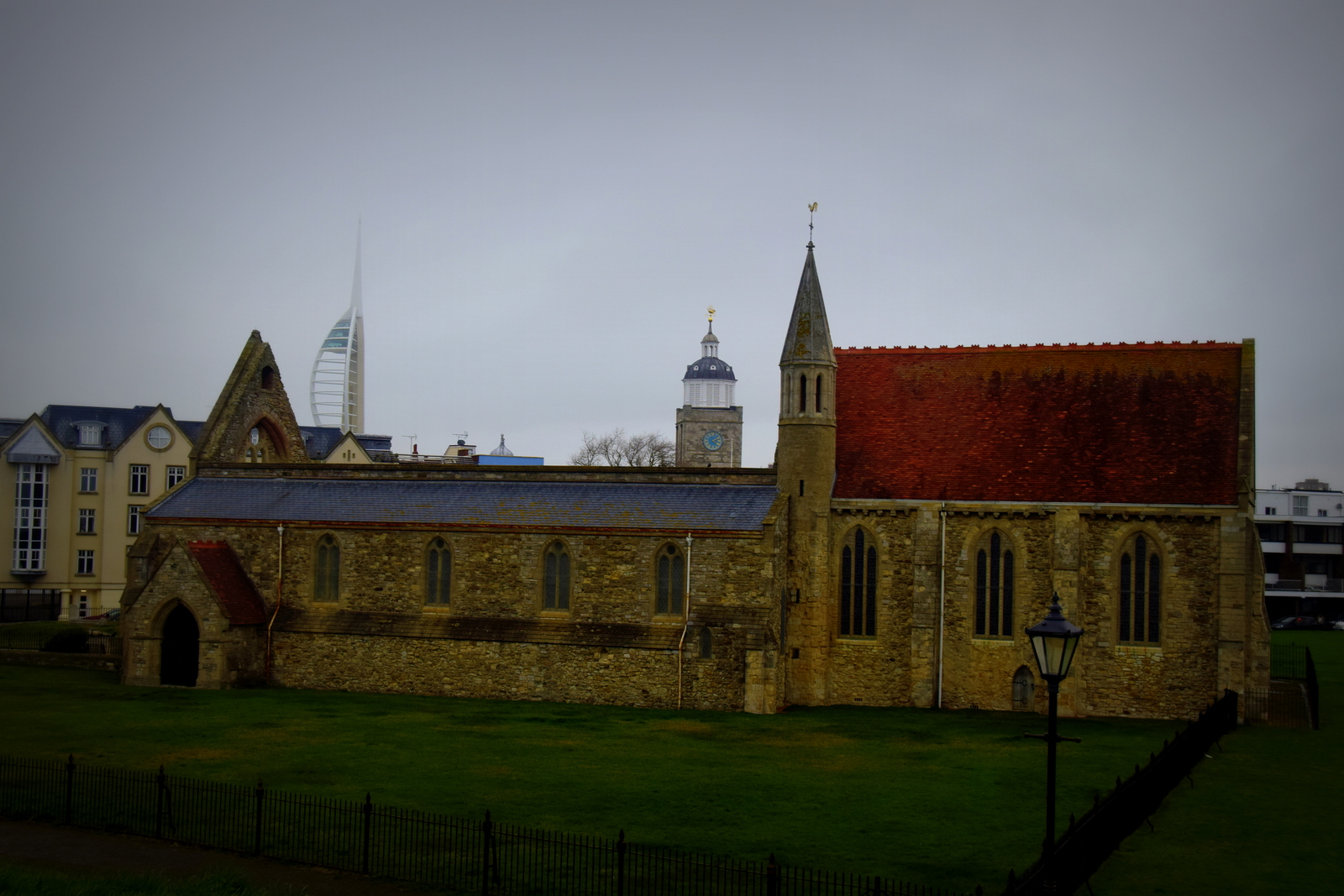 And of course there was time to catch "Sunday League football" on a Wednesday too! ⚽️ Notice there's a little "pointy thing" in the background at the top-left. I'll come to that in just a bit.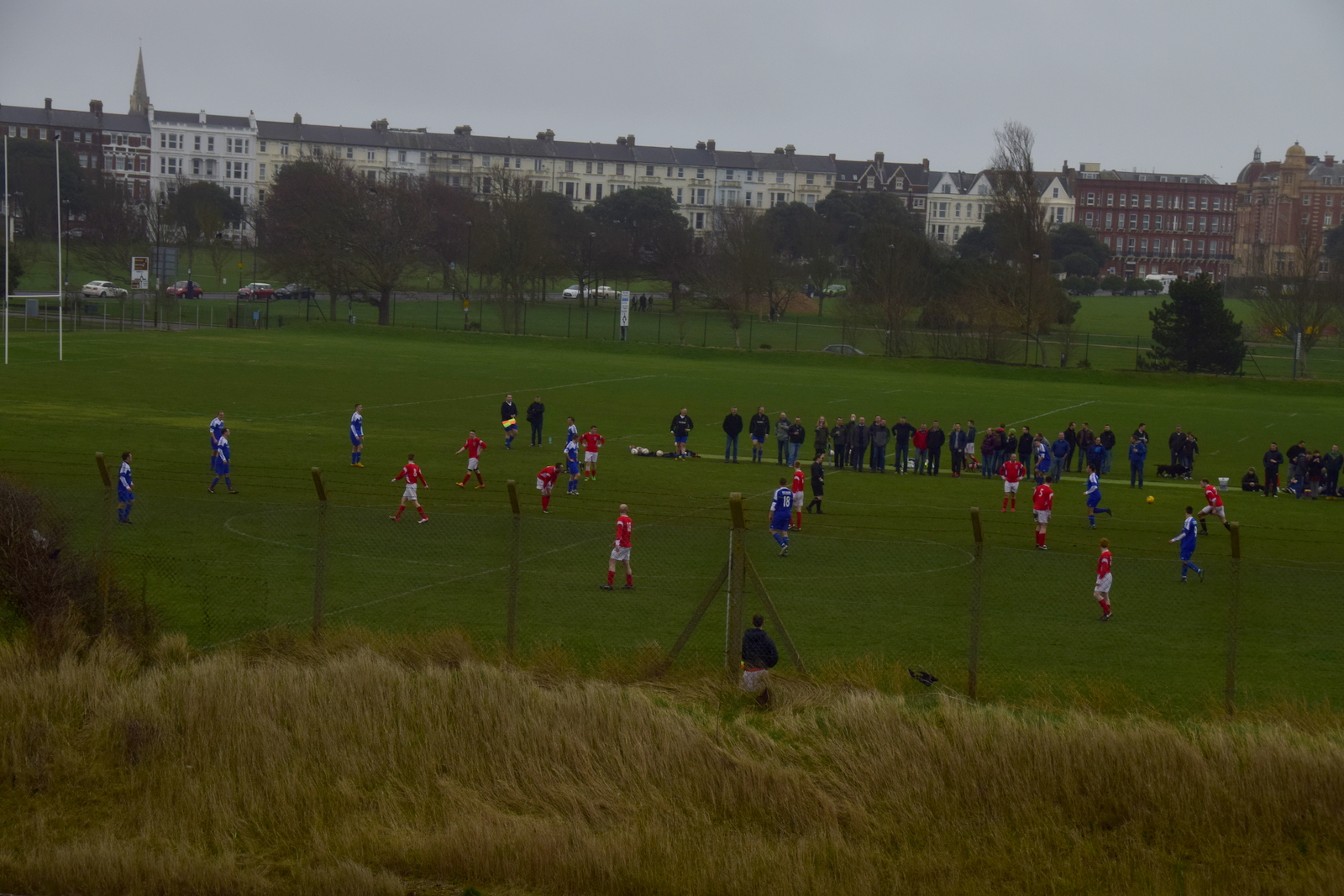 From there, we walked towards Clarence Pier and eventually to the Royal Naval War Memorial: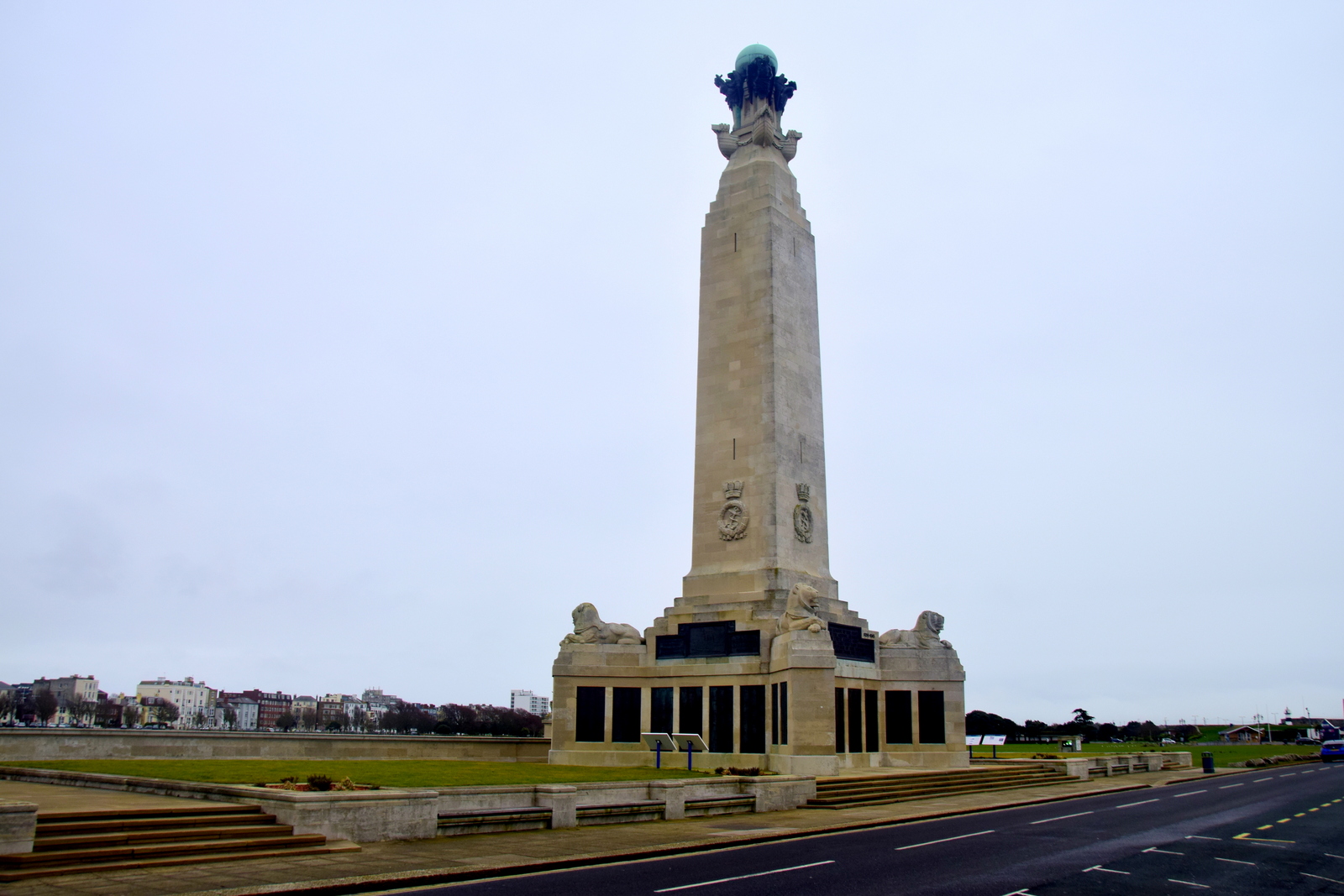 Deciding that we wanted to find out what the "pointy thing" I mentioned earlier was. Took us a good 20 minutes to walk there in the strong winds and we ended up in the Southsea area of Portsmouth. Turns out that the "pointy thing" was St Jude's Church, right at the heart of Southsea: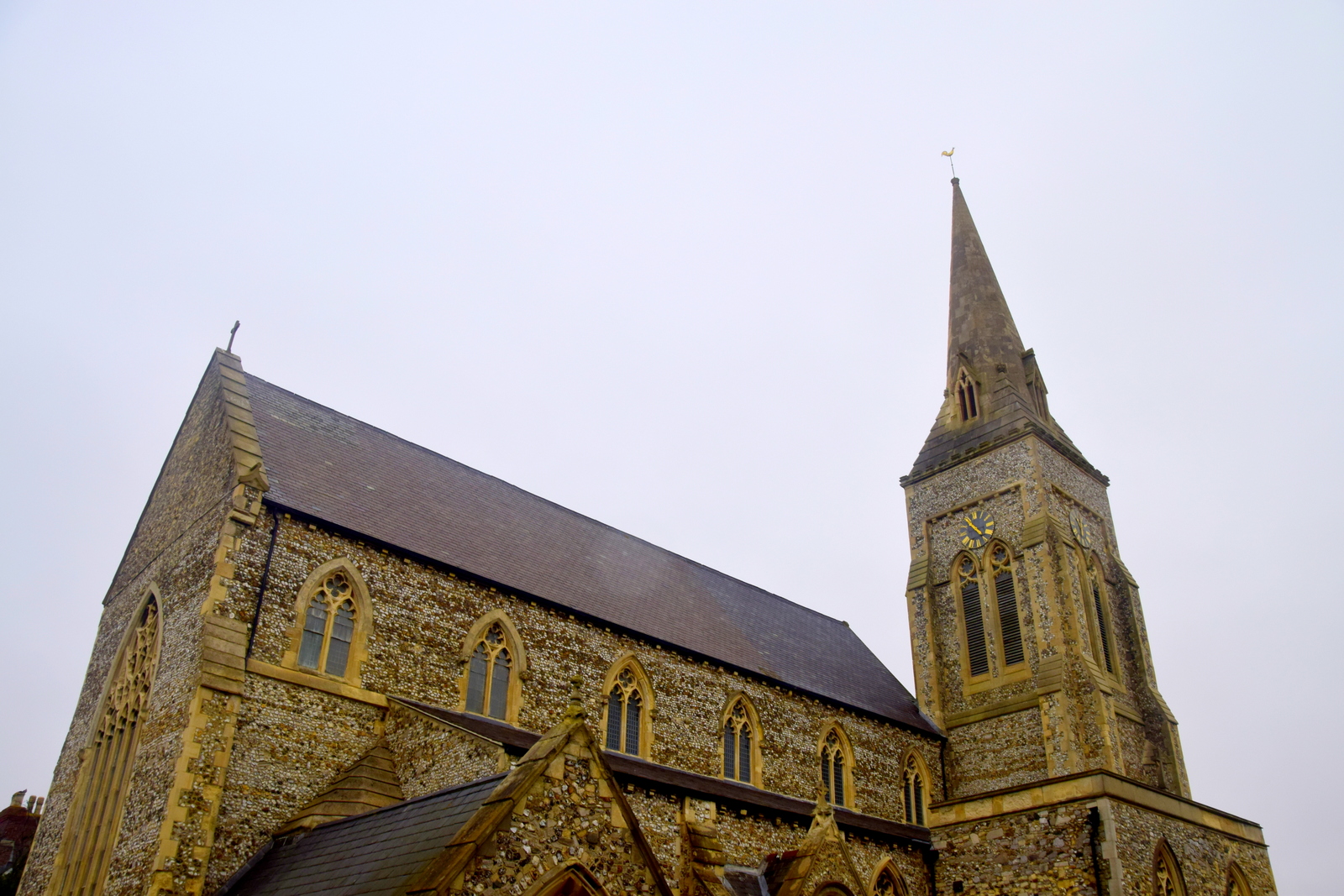 Sunsets on a gloomy day don't make good sunset glow photos so we decided to just wait it out in Southsea before slowly making our way back towards Portsea (along Broad Street) and capture the Spinnaker with its night lights on: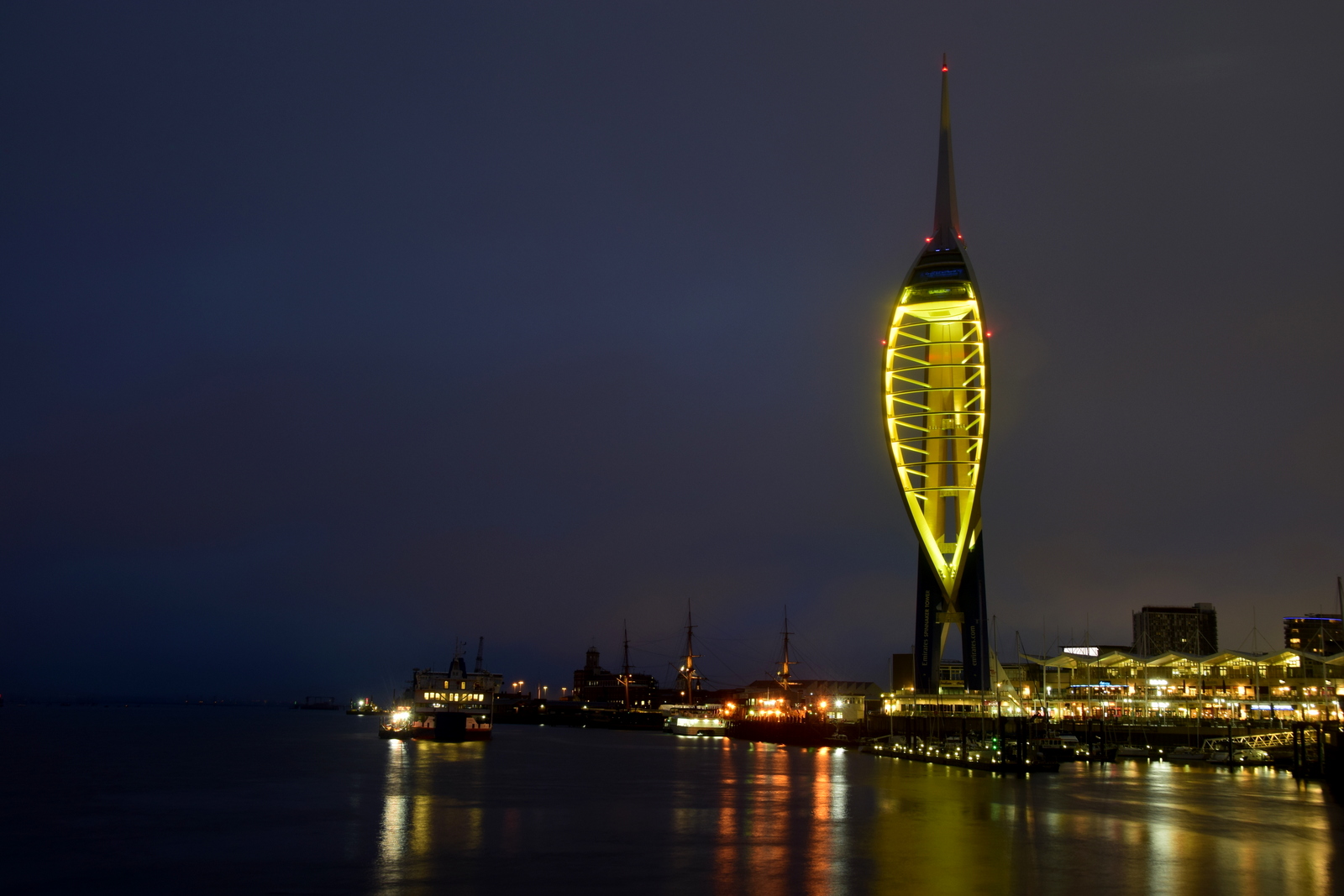 With all the time in the world, we waited out for a good 15 more minutes for the skies to go completely dark to get our own photo with the Spinnaker: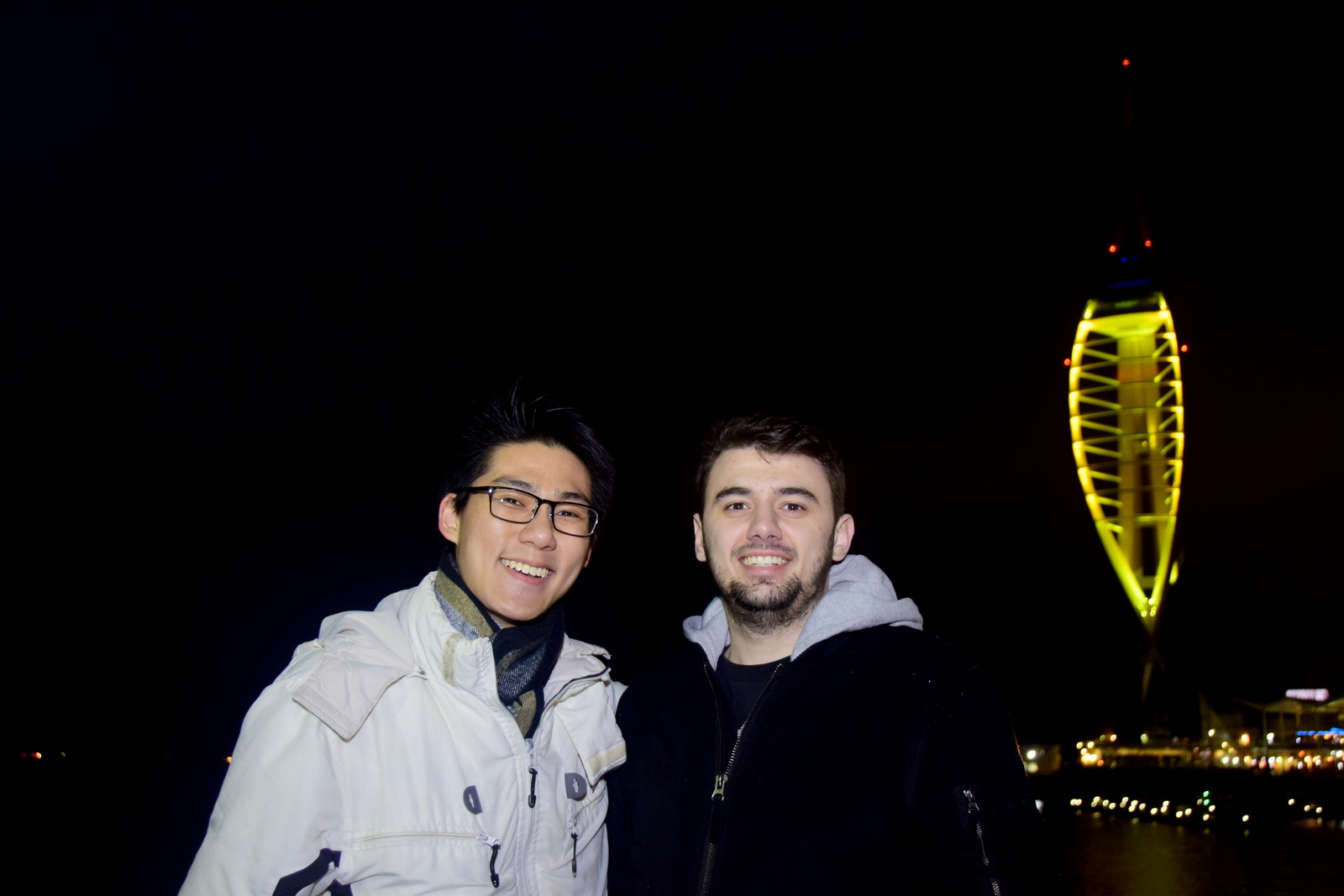 For some reason, we thought the Spinnaker would have blue lights, so seeing yellow lights from it was quite surprising but since we were already there, why not take another photo in a dark sky: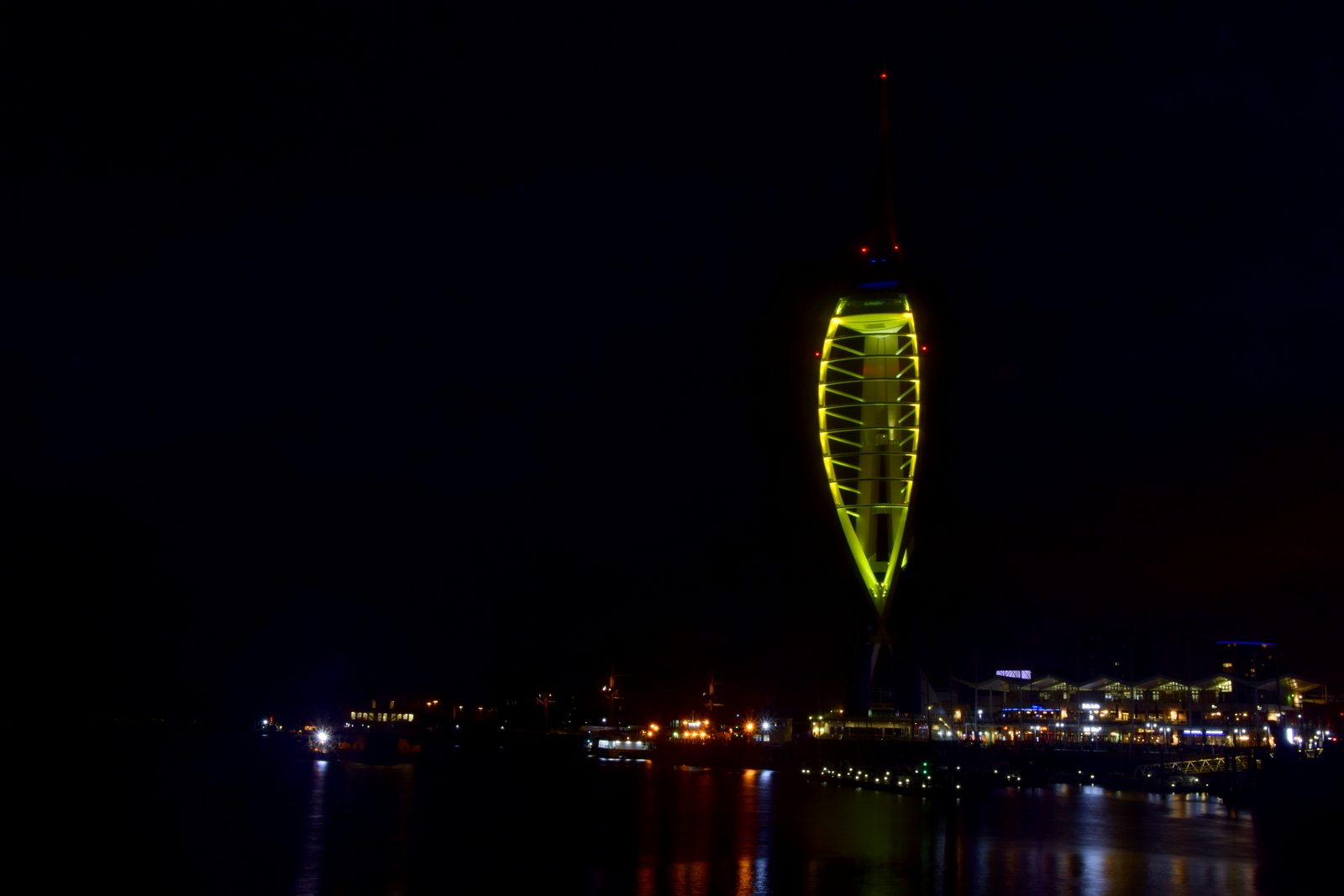 That was pretty much it photos-wise as we decided it was time to grab some food before heading back to Guildford. We made it back to the Gunwharf Quays area where there was a good collection of food places to have dinner at. Something we didn't do at Portsmouth that day was to look around the shops in Gunwharf Quays. A good number of them are factory outlets so there might be another trip here just to look around some of the things on offer.
Well, that's it then for the Portsmouth Day Trip. The gloomy and slightly rainy day made it a bit of a bummer though but it was nice to get out for a day. Next up, Oxford! 🐂
Blessings! 🌈
Ben