Hi everyone,
It's week 2 of April and I must say I've been enjoying the peace and quiet here in Guildford. Just what I need to focus on my research work. It's really not as boring as I make it sound as long as you're doing it on something you genuinely have interest in. That's also why I used to advise my students intending to go to Poly after O Levels to pick courses that they are interested in. If you don't find joy in reading about the content in your course, you're in the wrong course. It's the same for your Bachelor's degree and should you be as "crazy" as I am, your Postgraduate studies. It sounds harsh (and also cliché) to say this but you'll come to realise it is true!
I understand how Singapore has inculcated into us a sense of pragmatism in everything that we do but maybe that's why we've been stuck in a chasm for so long to the extent that we're just going through the motions of life without actually living it. When I left my teaching job in September last year, I left knowing that I was coming here to do something that I wanted to do, to learn new things that would change my perspectives and would help me to make a difference wherever I'd be in future. Don't underestimate how big a difference you can make as a "small fry". You've got to start somewhere.
Look at our own tiny little island as a good example. An island state that small could never have sprung up to where we are today without starting small. Singapore is changing as it tries to keep up with the changes in the world. We're the ones who are going to be involved in the exciting changes for the future. Pragmatism has left many of us afraid of failure but what we do with failure is what makes us; I've been through my fair share of that and have learnt important lessons from those failures. Challenge yourself to push harder because it is worth the effort! We're not entitled to what we have if we don't work for it because we'll eventually have to tough it out on our own. Going the easy way will only leave us thinking of what could have been.
We have to start grinding it out from the very beginning; there's really no shortcut to it. Dreaming of hitting the jackpot from the beginning without hard work will only leave us with regrets in future and even resentment at everything and everyone. The future you is counting on you to make the right decisions now!
---
Before I get carried away with another exposition… here's what happened in Week 8:
My first research paper for Semester 2 was due at the start of it and I'd been struggling really badly for 5 weeks to get anything decent written out. Ploughing through tonnes of other studies and papers on Business Processes just didn't yield the content I needed to draft out a plan for my research. The biggest problem I faced with this was that I had my own idea of my research plan but all the data and information I gathered were either too generic or could not be tailored to my liking. Eventually with just about 2 weeks to go, I threw out my plan and just started writing, adjusting and adapting my research content word for word as I went along.
Bearing in mind that I had already switched 3 companies, I was certain that the 4th was the one that I'll stick to. I might have briefly mentioned in my previous posts about writing and re-writing paragraphs after paragraphs because I felt lost in the direction I was going to with my research. It was an extremely frustrating experience where I needed to start writing, not just because the deadline was close but more because I wasn't going according to the plan I'd started out with.
In hindsight, I'm actually glad that I endured through those frustrations and started writing anyway. When things don't go according to plan, I'm often going crazy and stressed out, which was why I was glad for those midweek day trips out to unwind a little. Proceeding without a plan taught me to take every bit of my research step-by-step and it worked out pretty well in the end.
My teaching job has also had a lasting effect on me in that I can no longer work into the late night. Once it's past 11pm, there are no more creative juices left and I'm better off going to bed to rest up for the next day. I must say that it's actually a very good thing. Back in my undergraduate days, many people always said that they're not "morning people" and I'm sure many people still say that. I've realised that it's actually a bad habit and it also becomes an excuse we use to con ourselves into believing that we work better late into the night, sometimes with coffee keeping us company.
My best work throughout the last few months since I began my MSc Business Analytics course has always come in the morning. It's where I'm at my most effective, creative and productive without any external stimulus, except maybe sunlight. I really don't believe it's an age thing and besides, once you start working, you're not going to be working into the late night and then waking up at high noon. If you work late into the night, you're still going to have to get up early the next morning for work and you don't have a choice then. So why not start picking up this habit and you'll start to realise the benefits of being up early.
With my research paper done and the final week before Easter Break upon us, one of my coursemates, Brenda, invited another 2 of us to the town of Reading to try out some proper American food. She's American so we had full faith in her American Food taste… and of course, we were treated to really delicious American Smokehouse BBQ food!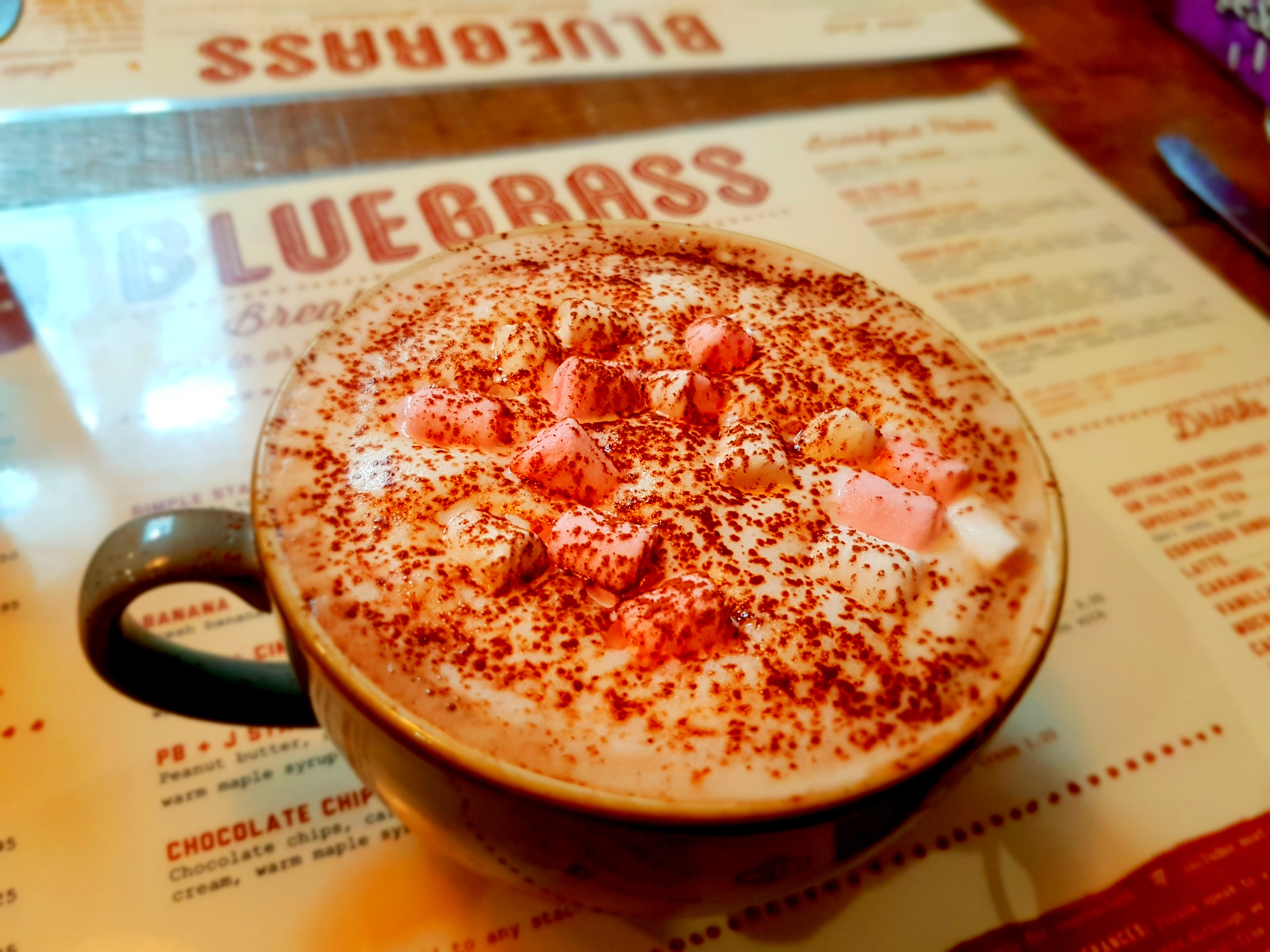 Marshmallows in Hot Chocolate!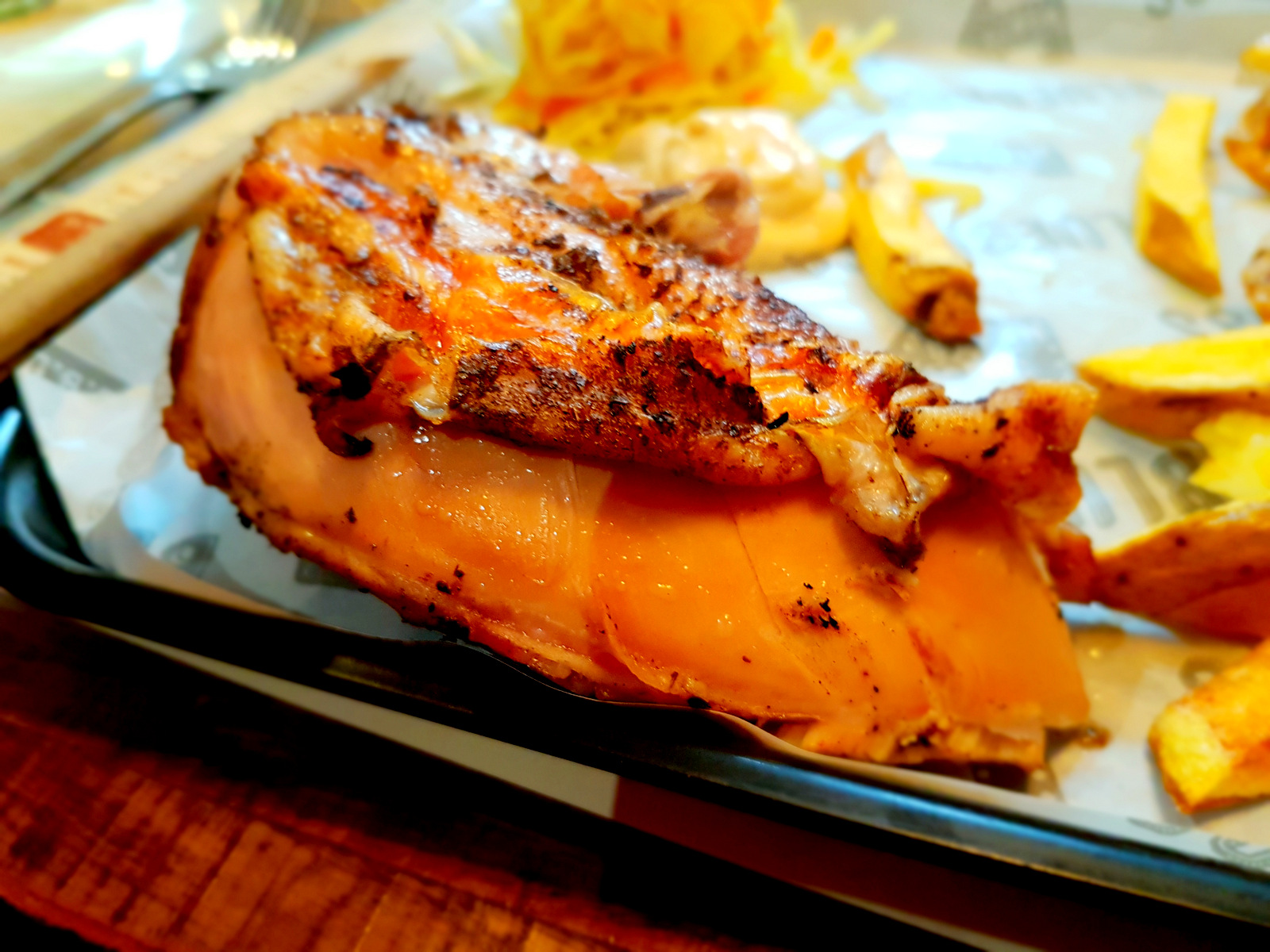 Super tender grilled Chicken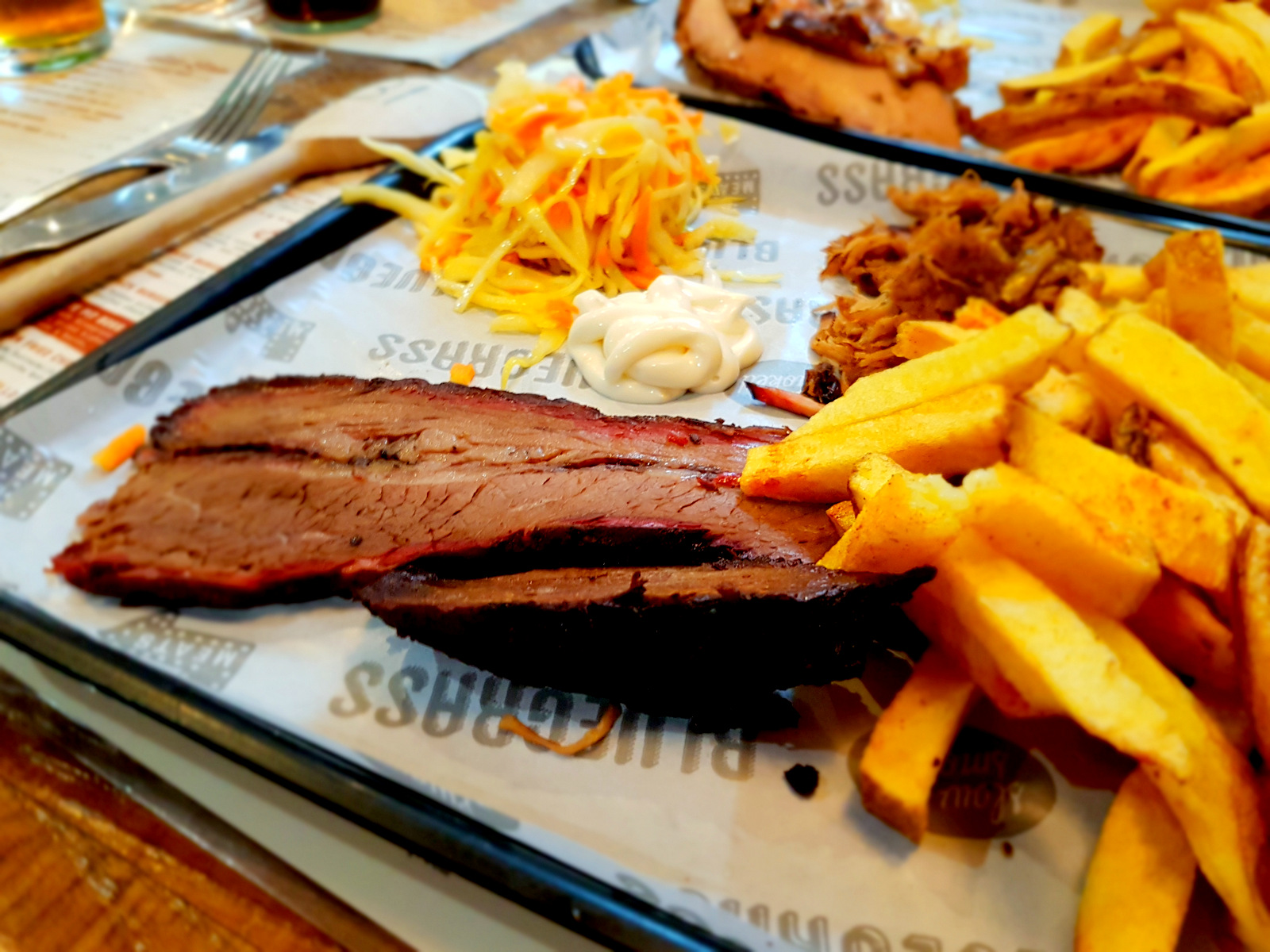 BBQ Beef Brisket with Pulled Pork at the back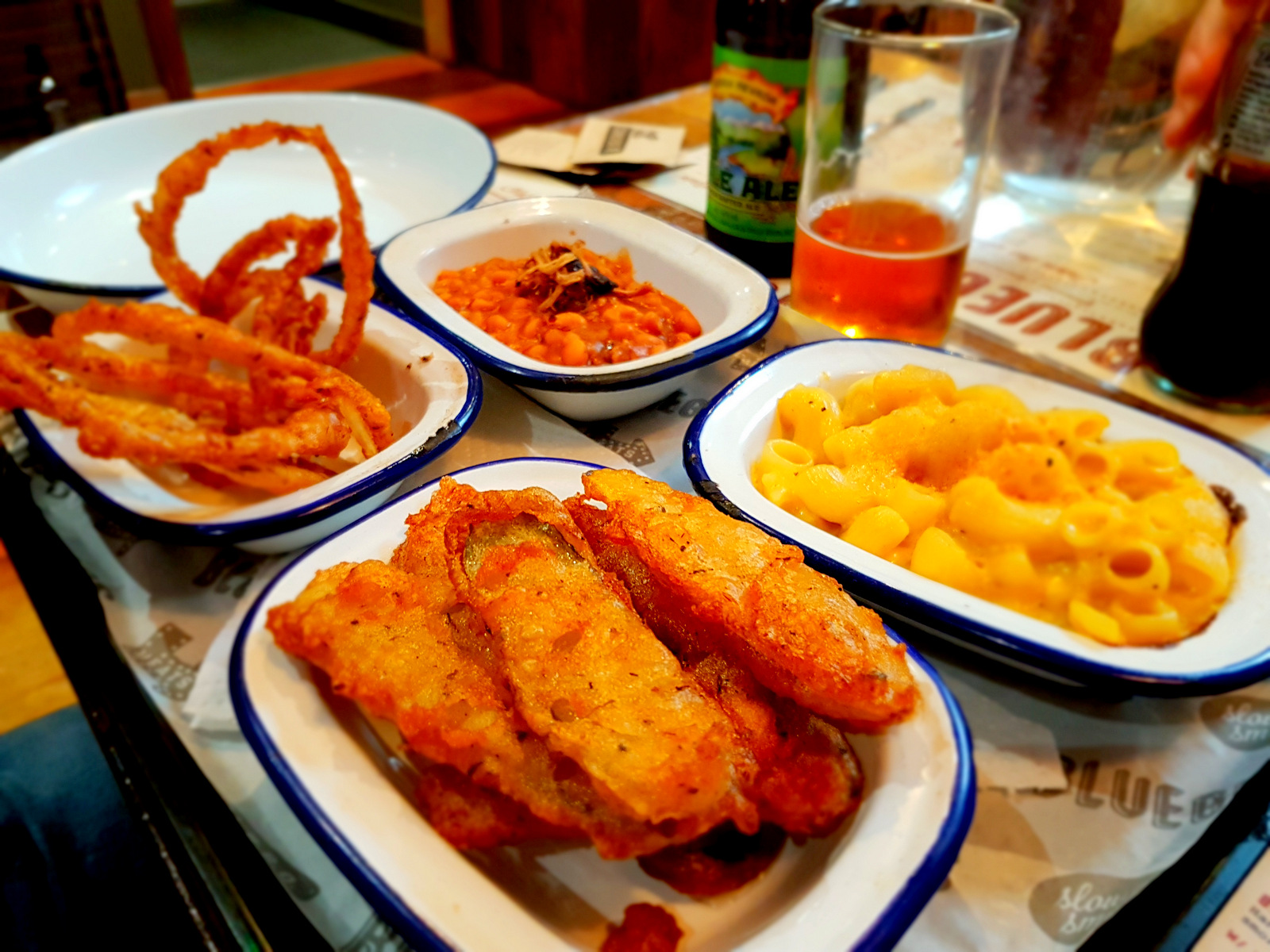 Our sides included American "Mac and Cheese", Baked Beans (with meat in them), Onion Rings and Frickles (Fried Pickles)
Posting the photos and writing about them just made me hungry again… and I just had lunch an hour ago! 🙈
This place is called Bluegrass BBQ Smokehouse, along Gun Street in Reading, if you ever do go to Reading and decide to have something there.
As you've probably guessed, we were absolutely stuffed after the amount of food we had. We were starved out completely before that because my friends had a meeting in school while I decided to head to Reading on my own first to capture some photos of the town. Here are the selected ones, which unfortunately, are taken on another gloomy day in the UK: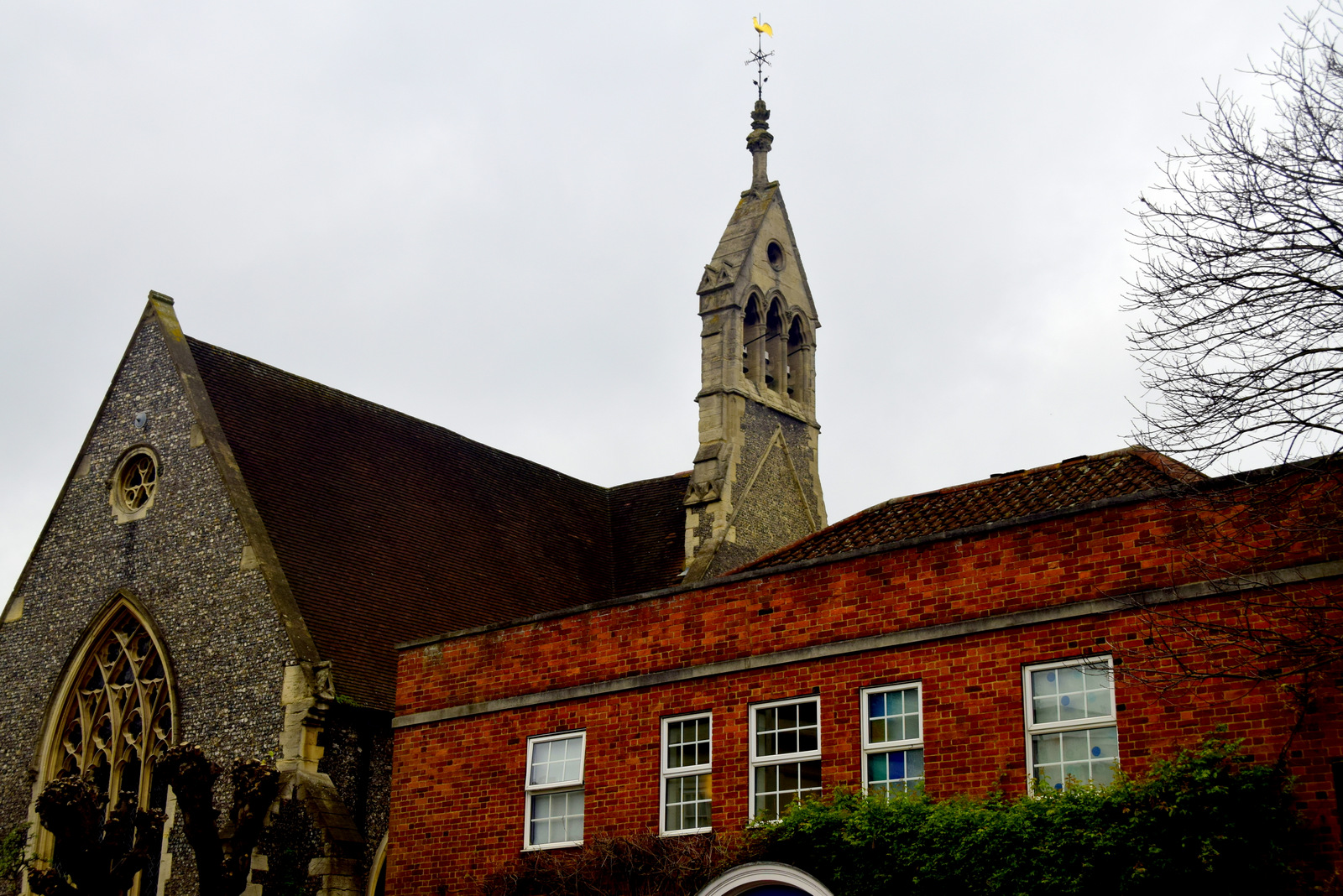 This is Greyfriars Church that's along Greyfriars Road. Took the long route (via Friar Street) to get here instead of the more straightforward walk by Garrard Street. It's now an Anglican church but used to be Franciscan (Catholic) and is the oldest Franciscan Church building that's still being used as a church. It's still within the town centre vicinity.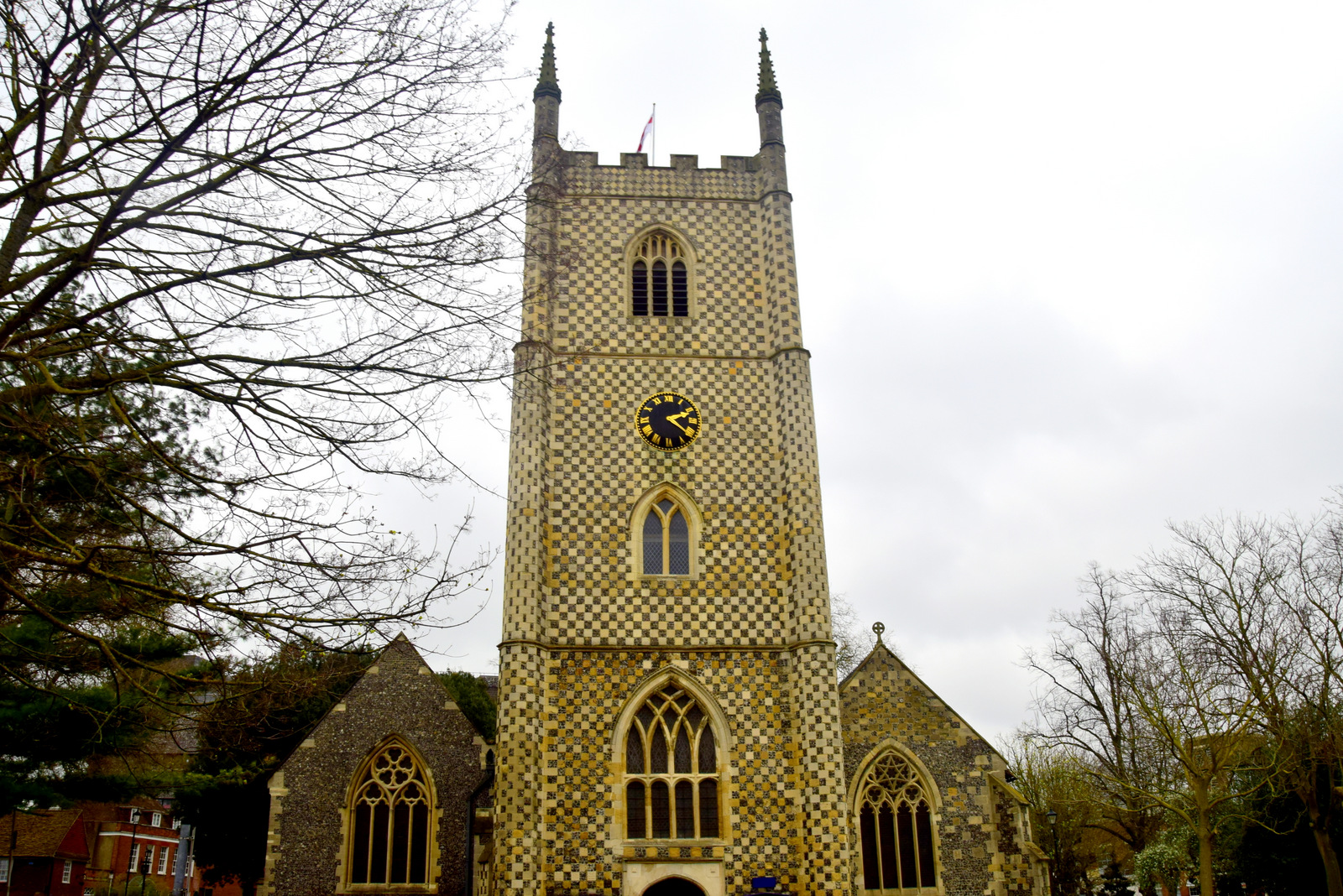 Also close to the Town Centre is the Reading Minster and the Jubilee cross beside it. It's close to Gun Street, where the American BBQ place is.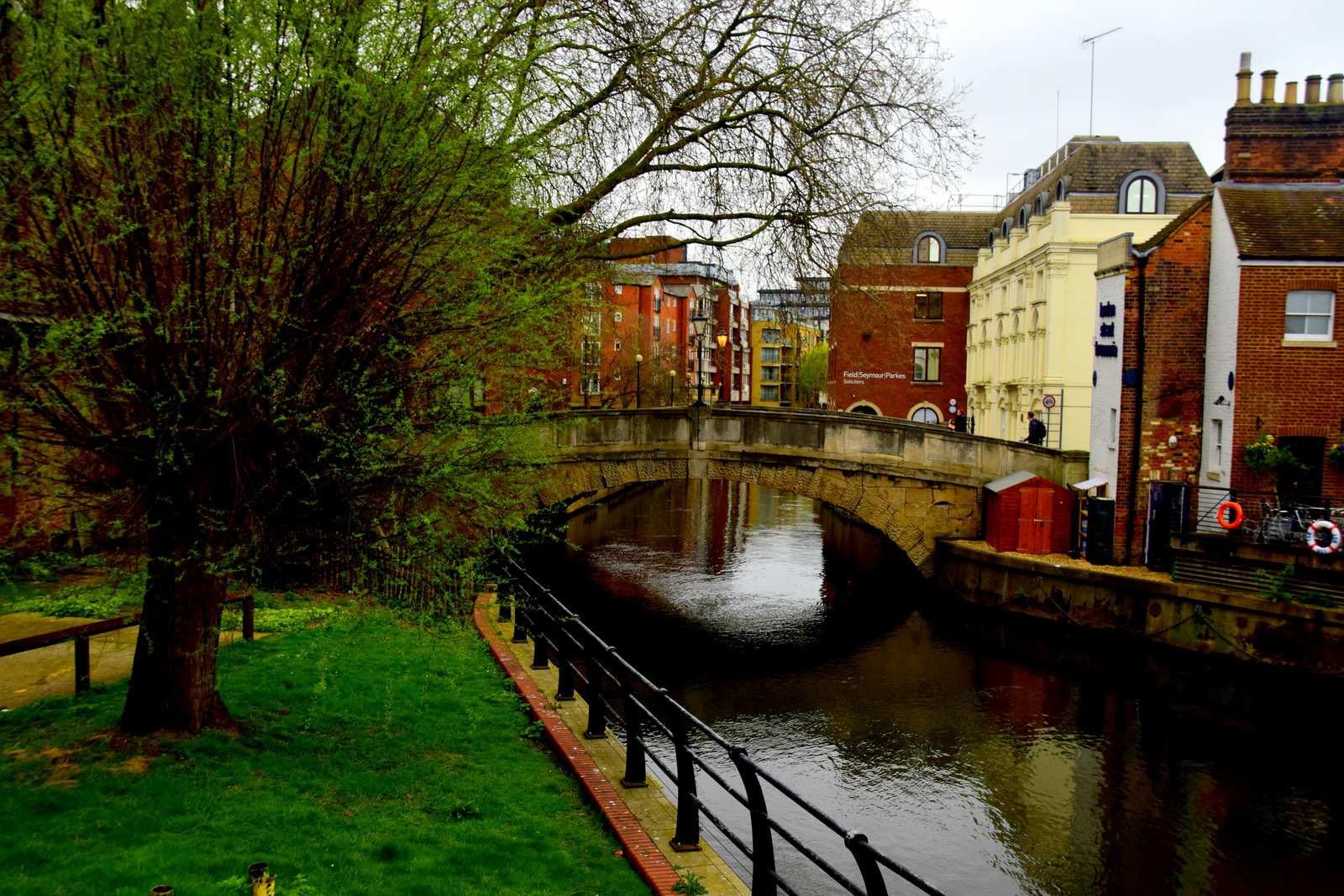 This is the River Kennet, a tributary of the River Thames at a very quiet corner. There's something special that draws me to these little bridges. Perhaps it's the stillness of the little river, away from the hustle and bustle that's going on around.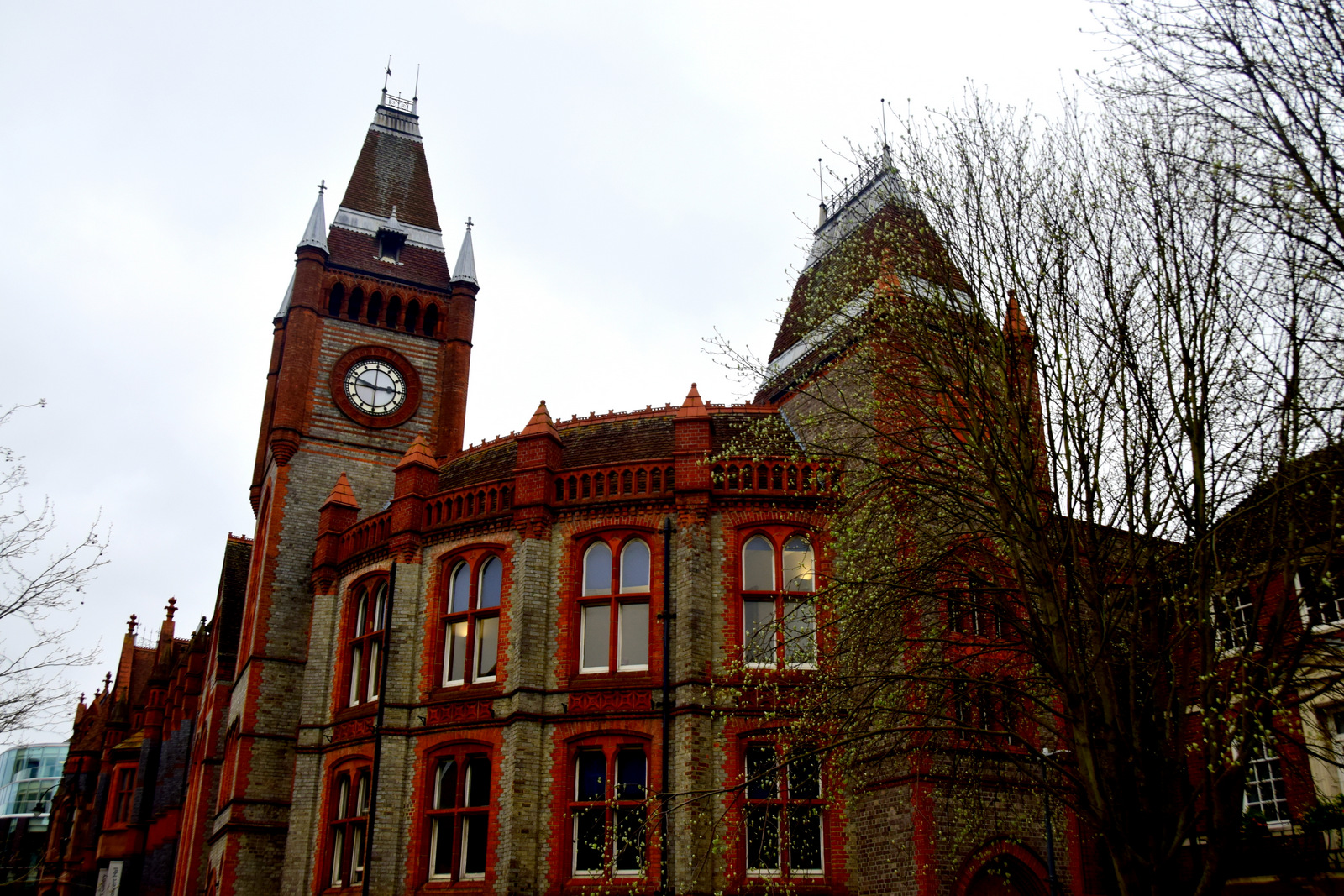 This is the Reading Town Hall, which has Queen Victoria's statue close by to it. Reading's coat of arms reads A Deo et Regina which is Latin for With God and Queen, hence the reason for Queen Victoria being close to Town Hall. Somehow the gloomy skies brought out the reddish-brown colour in the building even more.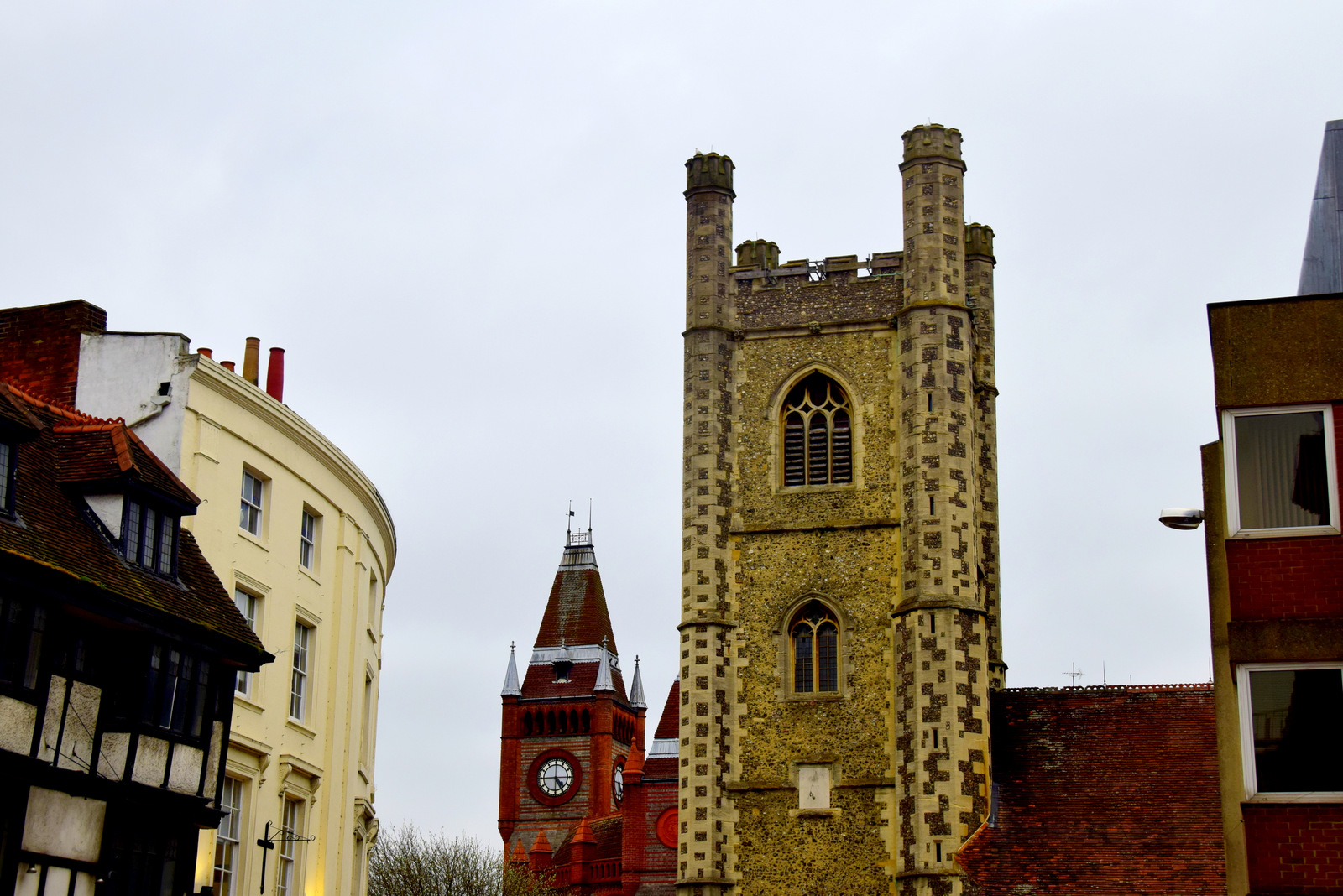 Here's another view of the Town Hall, this time with St Laurence Church in the foreground. The church is now a Mission church.
Our after lunch walk began with the intention to look for the Maiwand Lion. I must admit that the lion was a lot bigger than I expected it to be. It's a war memorial named after the Battle of Maiwand.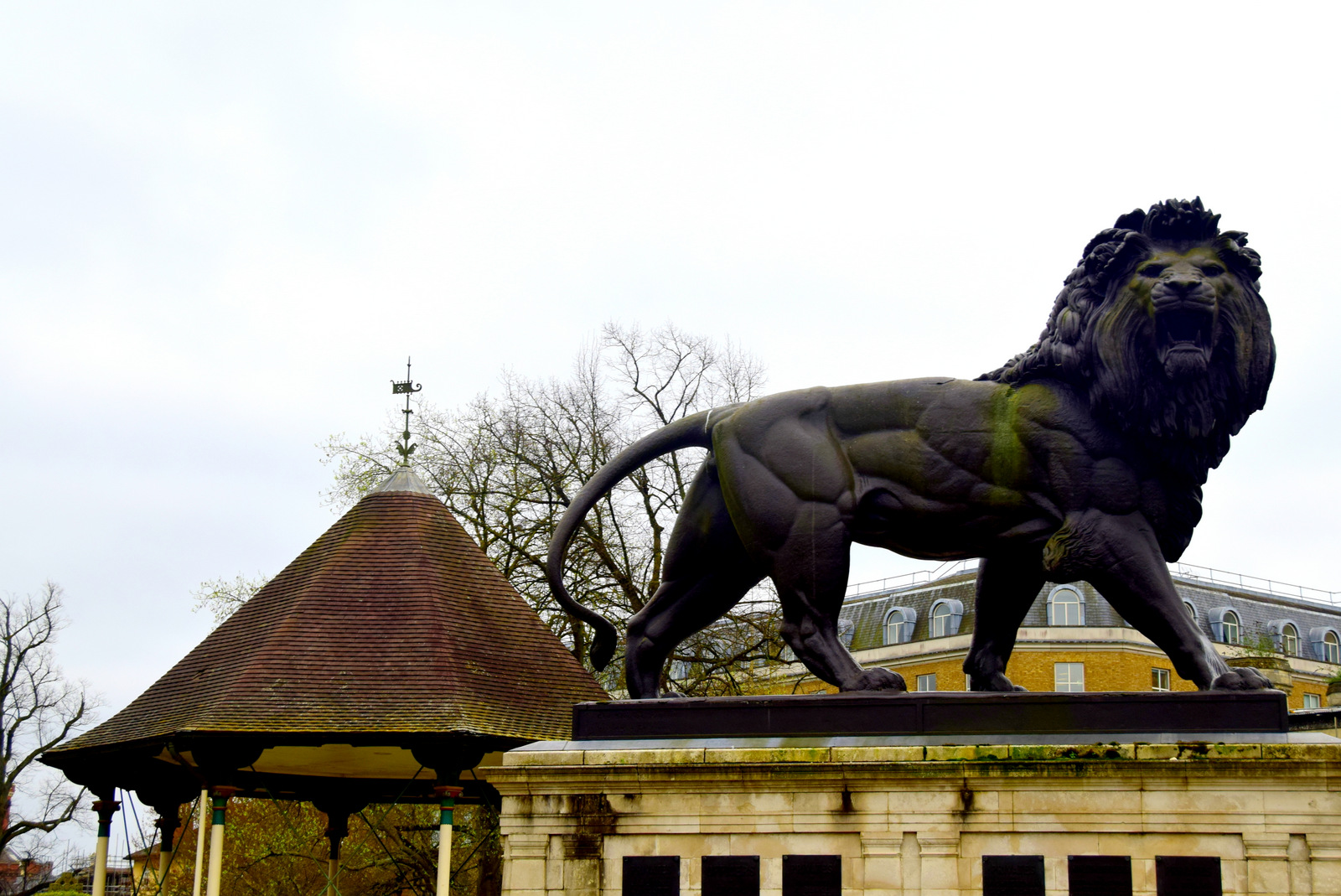 This here is The Blade, the tallest building in Reading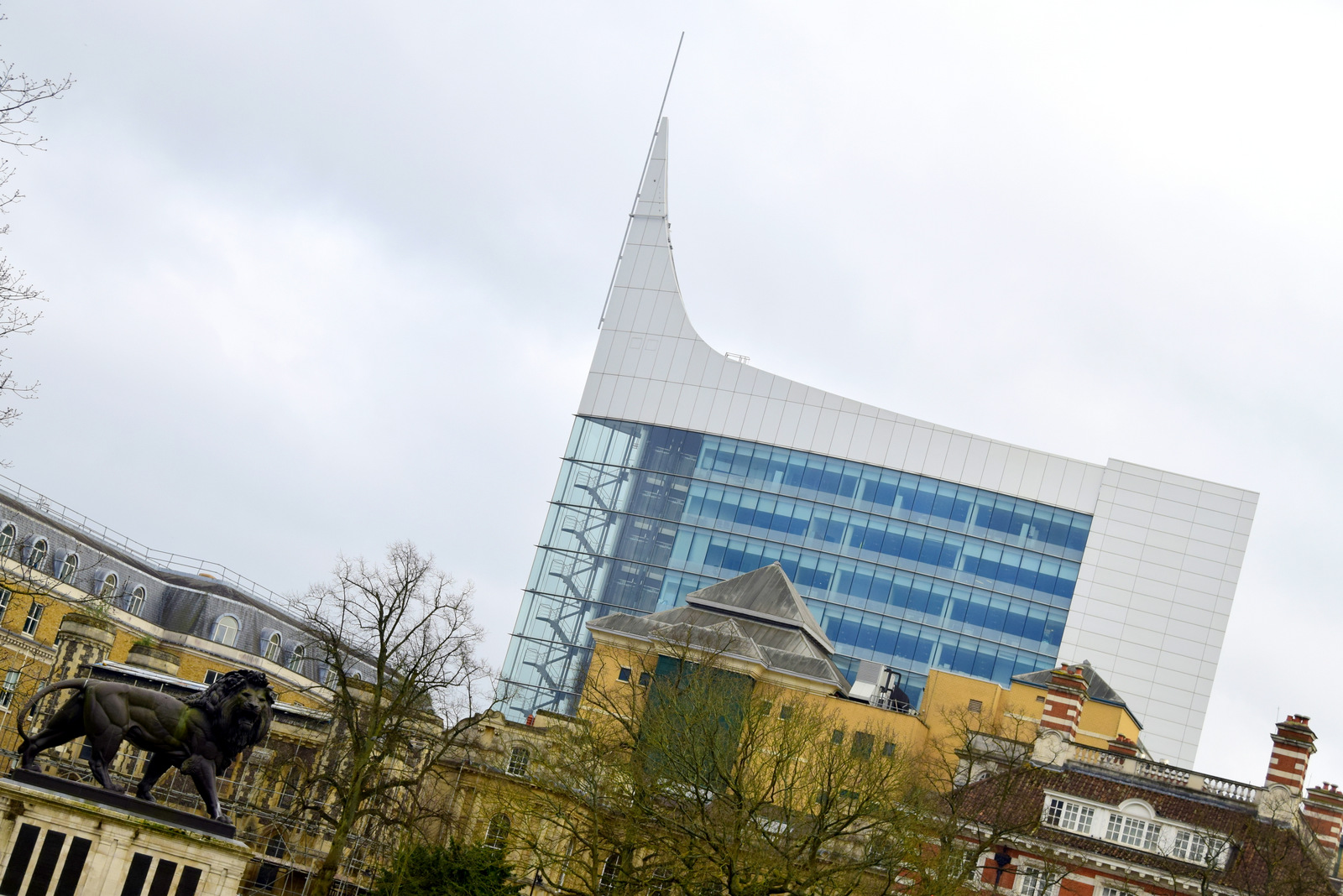 Here's the 3 of us with the St James Catholic Church behind us as well as some of the "cherry blossoms" that have begun blooming since it's supposed to be Spring already:
The pretty flowers are blooming out nicely as you can see: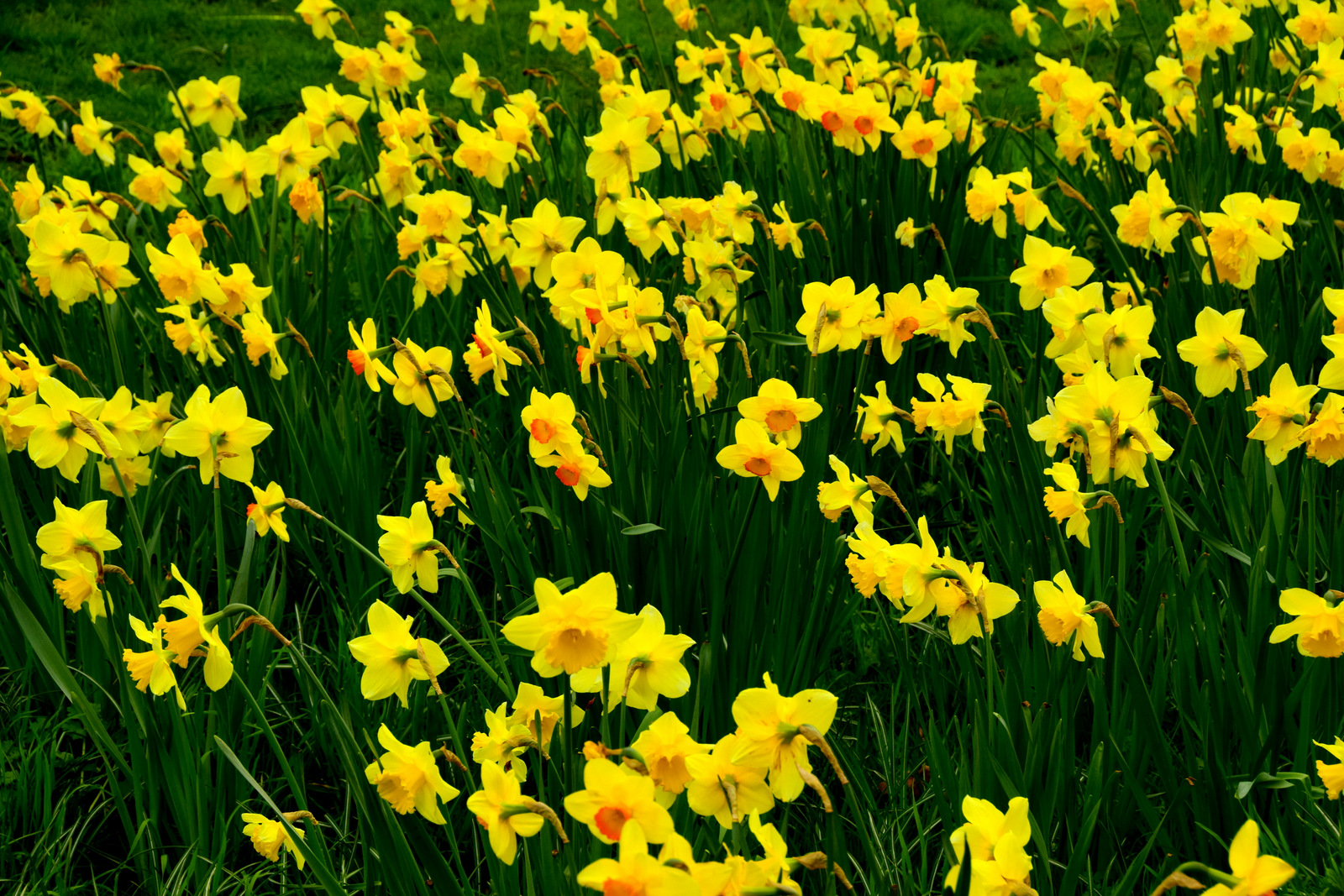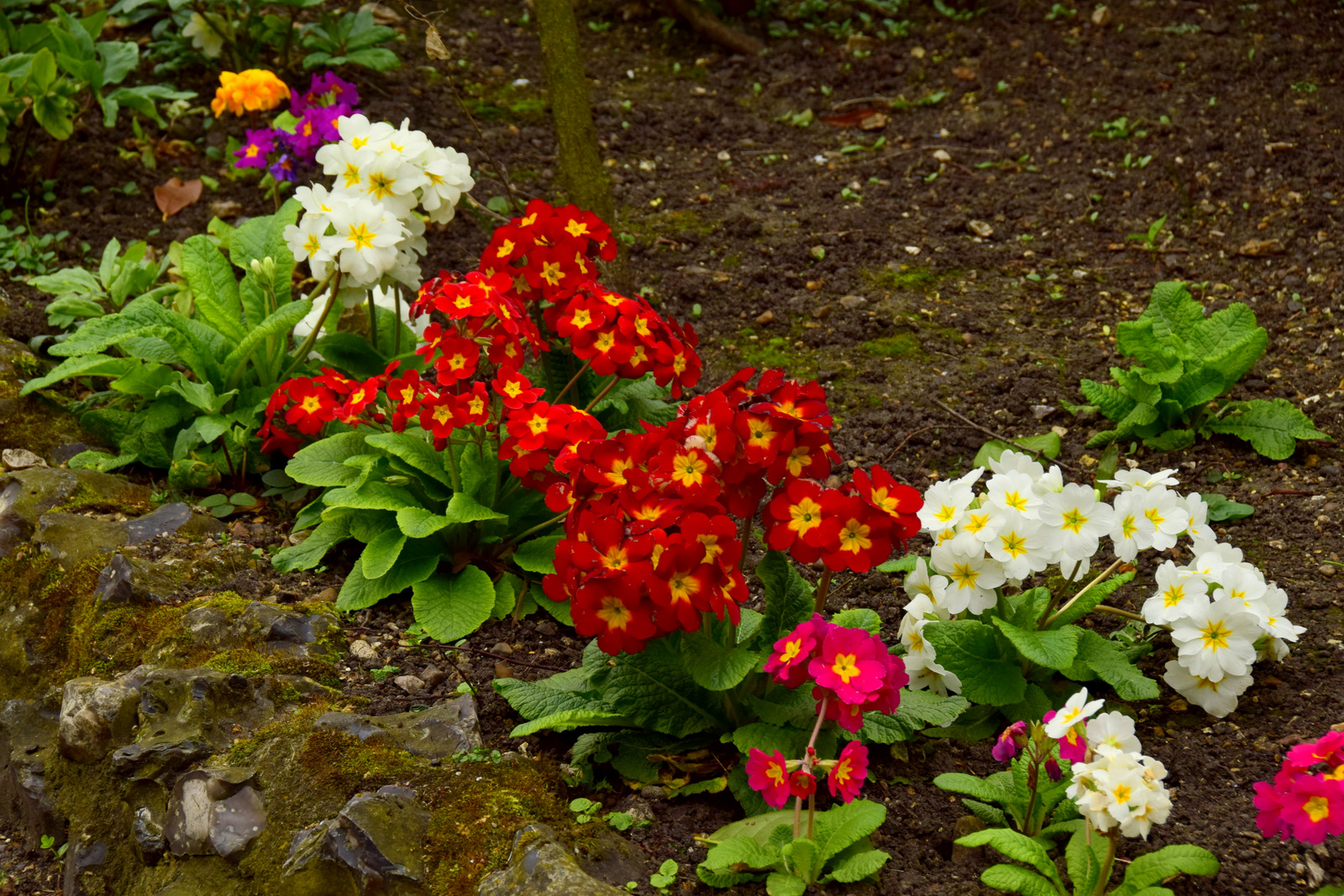 As I'm writing this, it's all sunny and bright outside. The past weekend was a really warm one with temperatures going up to 23˚C but it's somehow turned cold again which is the normal Spring weather and I quite enjoy the cooling weather with a bit of sunshine rather than baking heat. It's probably because I'm indoors a lot and the house I stay in is built to keep the heat in so it'll get really hot when it's warm. Hopefully, summer heat stays away for as long as possible!
I'll be back in a couple of days if I do get some time to tell you about my stroll at the South Downs National Park. I planned it on a Wednesday again to enjoy a midweek break even though it was already the holidays. A stroll in nature is always enjoyable!
Guess I've rambled on quite a bit today…
Anyway, with the sun coming out a little bit more, it's time for the sunglasses! 😎
Just in case I'm not back before Good Friday or Resurrection Sunday, I'd like to wish everyone a blessed Easter ahead! 🌈
Ben