Hi everyone,
I'm going to keep my promise of finishing up these Roadtrip photoblogs by combining multiple destinations together so prepare for an overload of photos! 📷
Don't really like spending more than 3 hours on the road in a car so we decided against going straight to Switzerland from Cologne and that worked out pretty well for us because we would do a stopover in Heidelberg. Heidelberg was special for my parents as well as myself.
For me, it was a return again to the university city I visited with my buddy 3 years ago when we went InterRail-ing during the Easter break of 2014.
These were from 3 years ago… although it doesn't feel like it at all!
As for my parents, it was a return to a city they last visited 25 years ago! So it was really nice for them to see it all again.
I took my family on the same route that I did in 2014 which was first to the Philosophenweg (Philosophers' Way). From here you'd be able to look across the River Neckar to the Heidelberg Old Town as well as the Heidelberg Castle.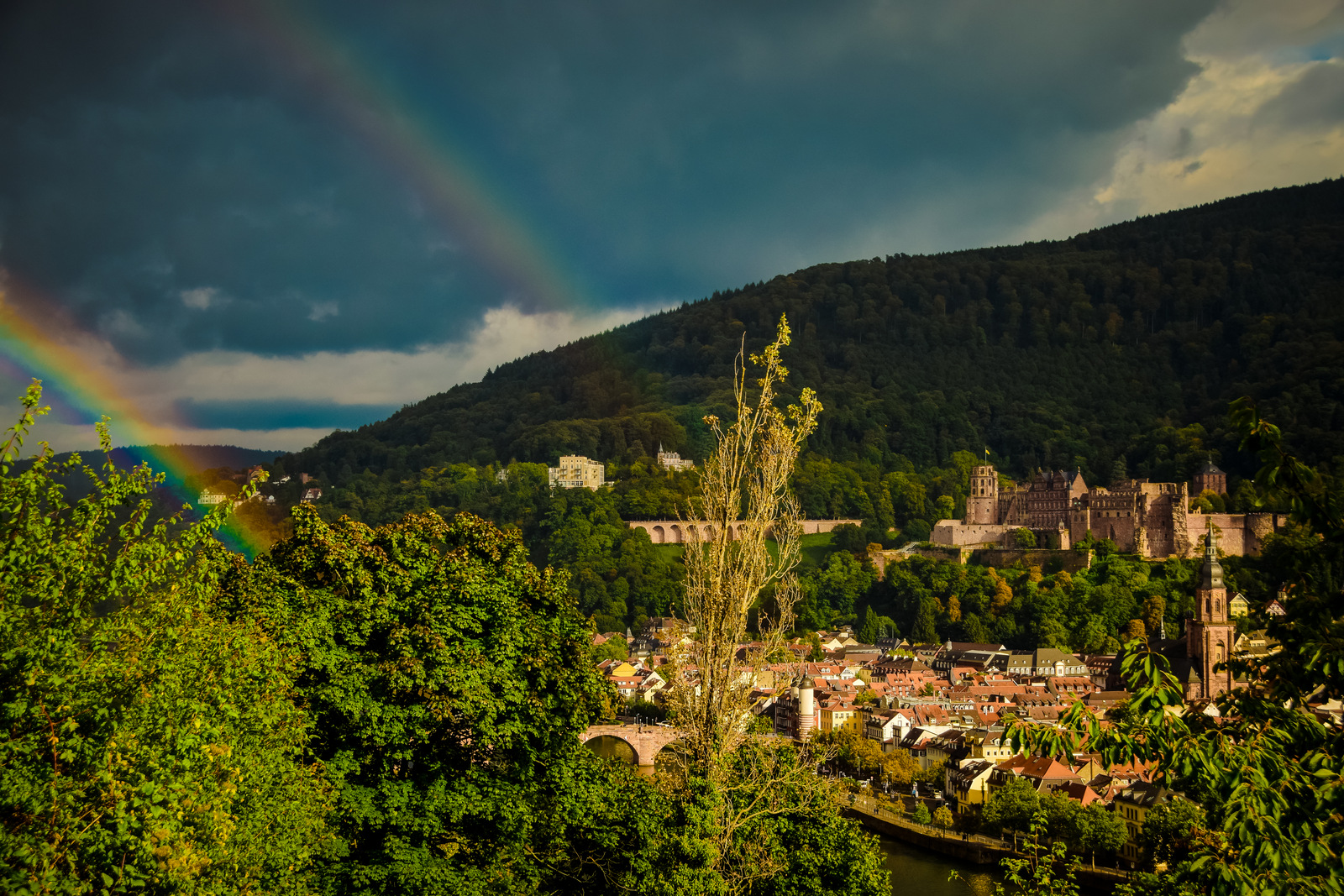 It was raining when we arrived but when we got up to the little garden, we were blessed with the sight of a double rainbow that formed above us.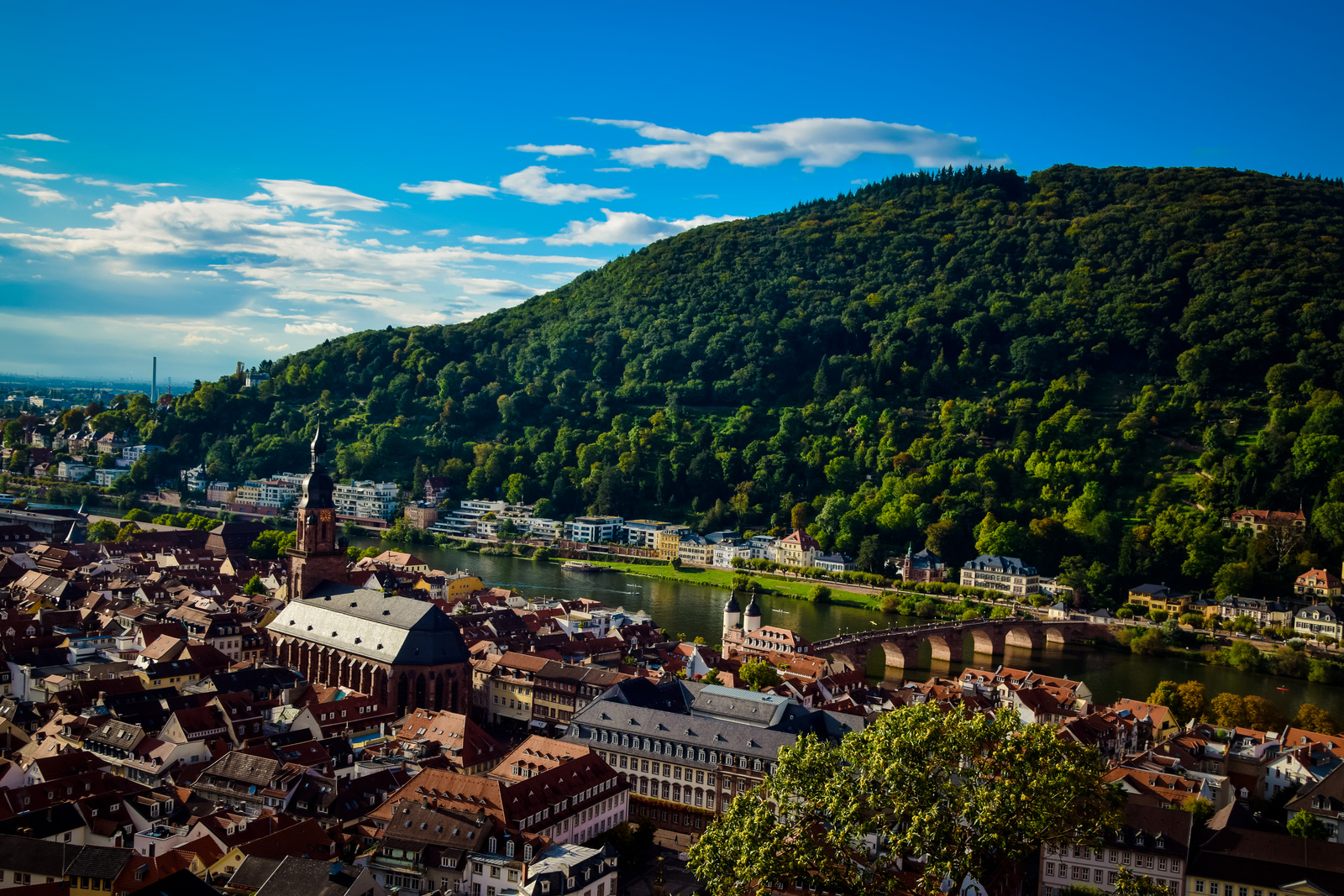 This is the view from the other side, from Heidelberg Castle, looking down into the Old Town, the Old Bridge and the River Neckar. The best way to get up to Heidelberg Castle is by the funicular. Alternatively, you could also walk up, which would obviously take a longer time.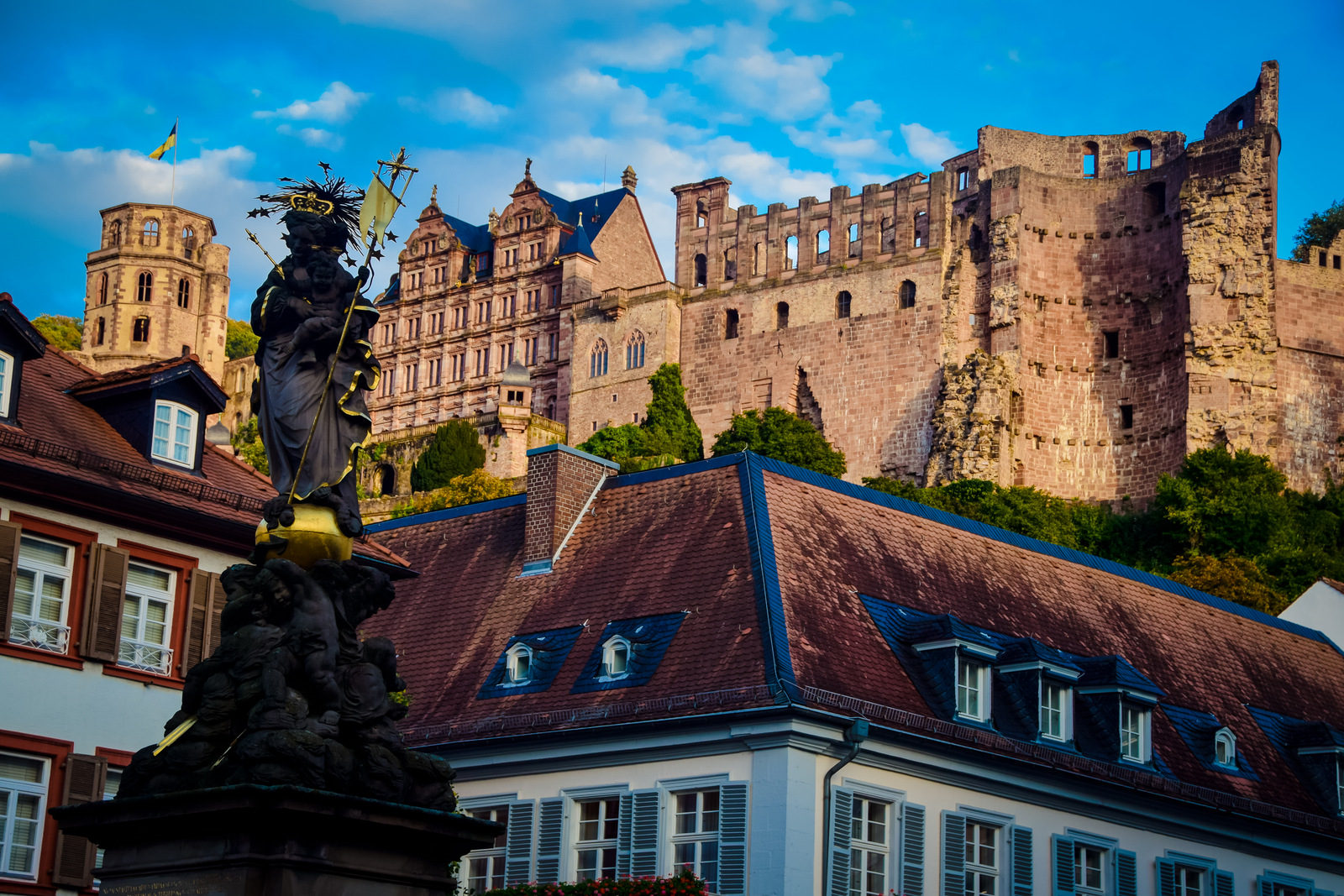 Back down in the Old Town, you'll see a Mary Madonna and Jesus statue where the Old Town Square is. From this angle, you'll be able to see the Heidelberg Castle high up in the back.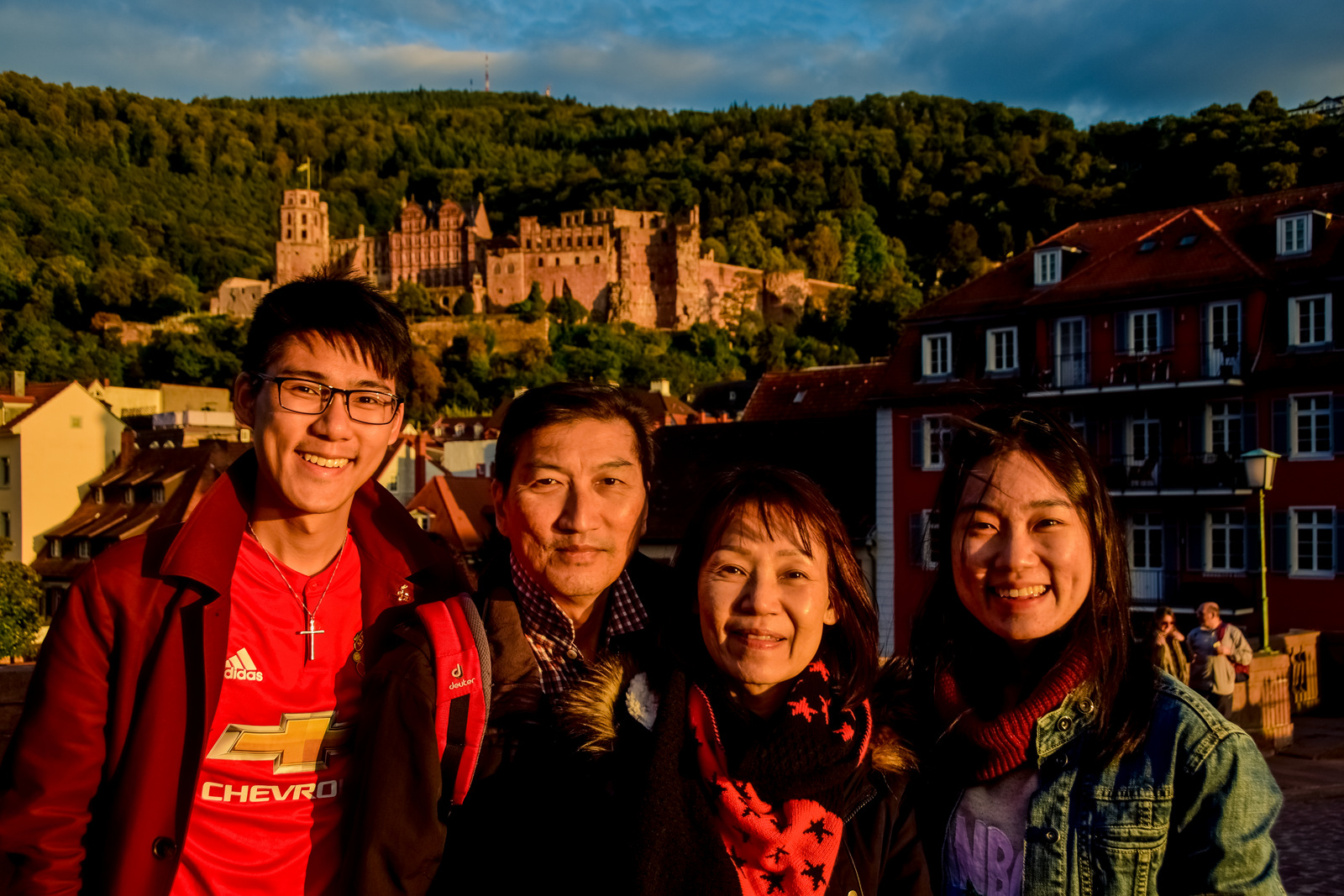 If you head to the Old Bridge by foot, you'll be able to get a photo like this which is beautiful when you've got the sun setting. You might also want to take a photo of the Bridge Gate that you've seen in some of the other photos.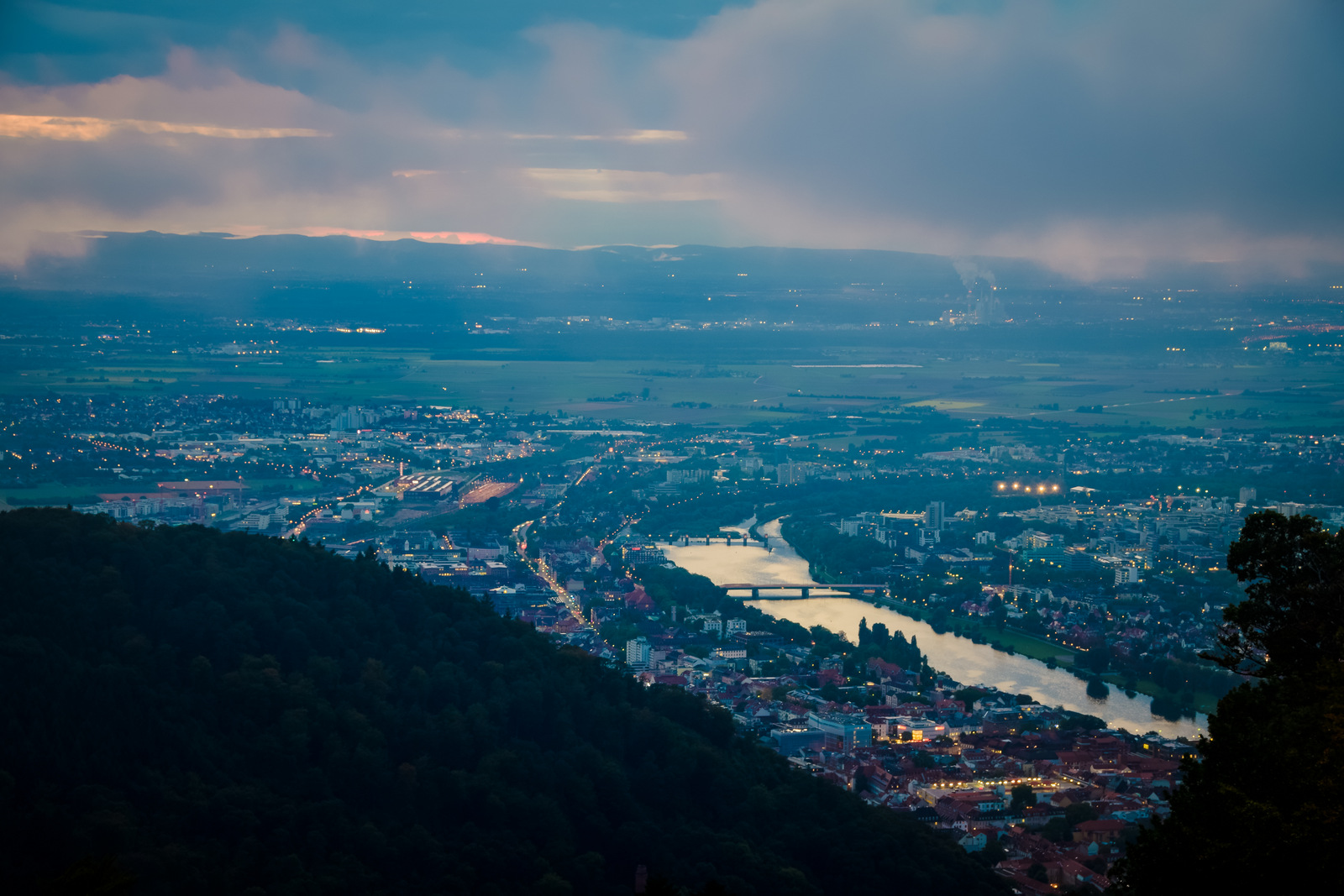 Our final stop in Heidelberg before calling it a day was driving up to Königstuhl, which translates to King's Chair. From up here, you'll get an even better landscape view of Heidelberg!
---
(6) Next stop: Rhine Falls!
Located between Schaffhausen and Zurich, the Rhine Falls is Switzerland's largest waterfall! If you've been reading all my previous posts, you'd know by now that I absolutely love waterfalls! 😍 So going to see the Rhine Falls was like going to dreamland!
Because it's in between Schaffhausen and Zurich, you'll have to choose which side you want to go to since it's unlikely that you'll have time for both in a day. I decided to go to Schloss Laufen which is on the Zurich side and I got some lovely photos of the waterfalls. But frankly, because of its natural beauty, I don't think it'll be much of a difference except for the angle.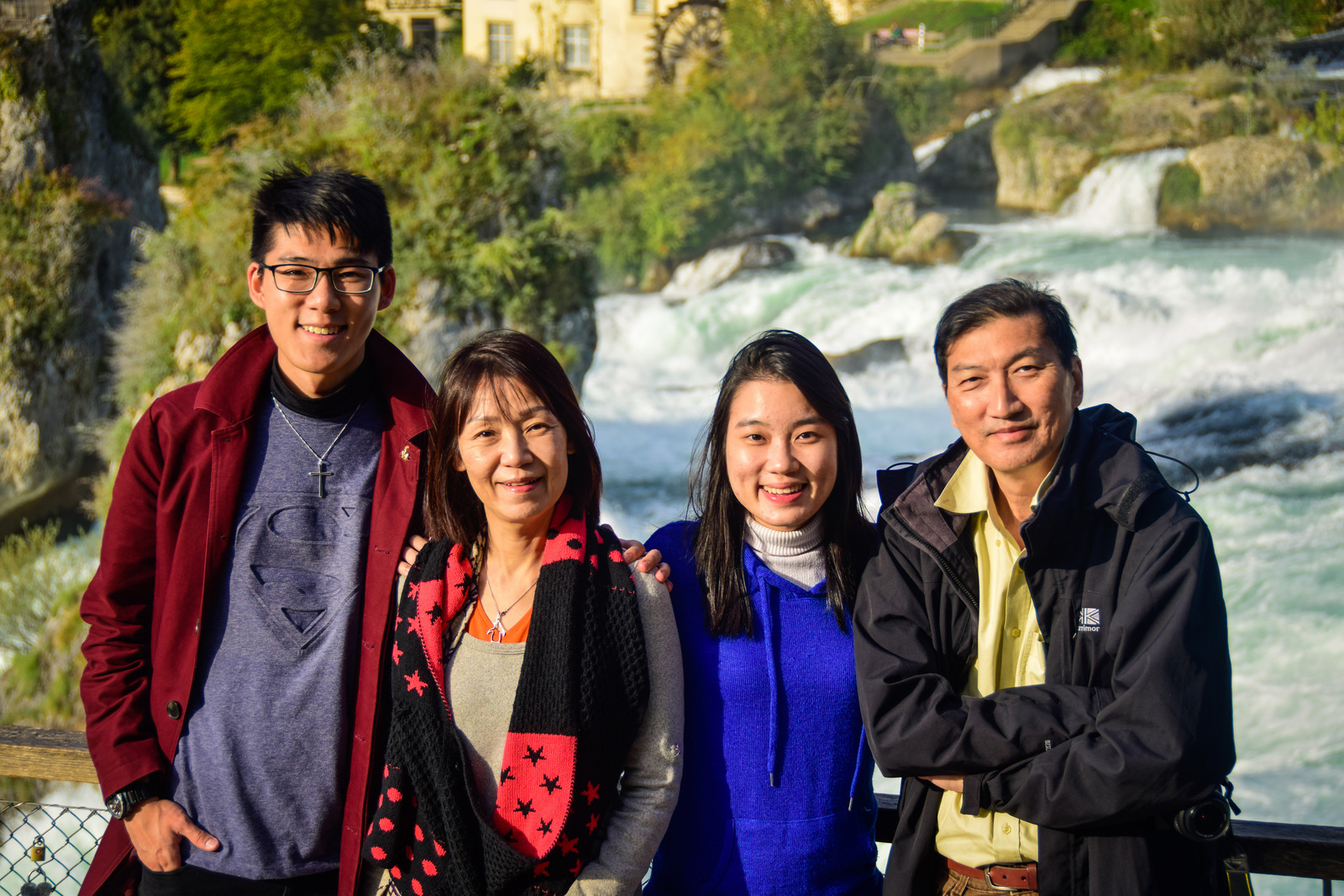 It was all sunny when we just arrived so it was a good for a family portrait again. But you'll want it to be slightly less "overexposed" when you just want to take photos of the massive falls!
Let's just marvel and appreciate the beauty of creation for a while now…
No surprise then, that you'll find double rainbow here 🌈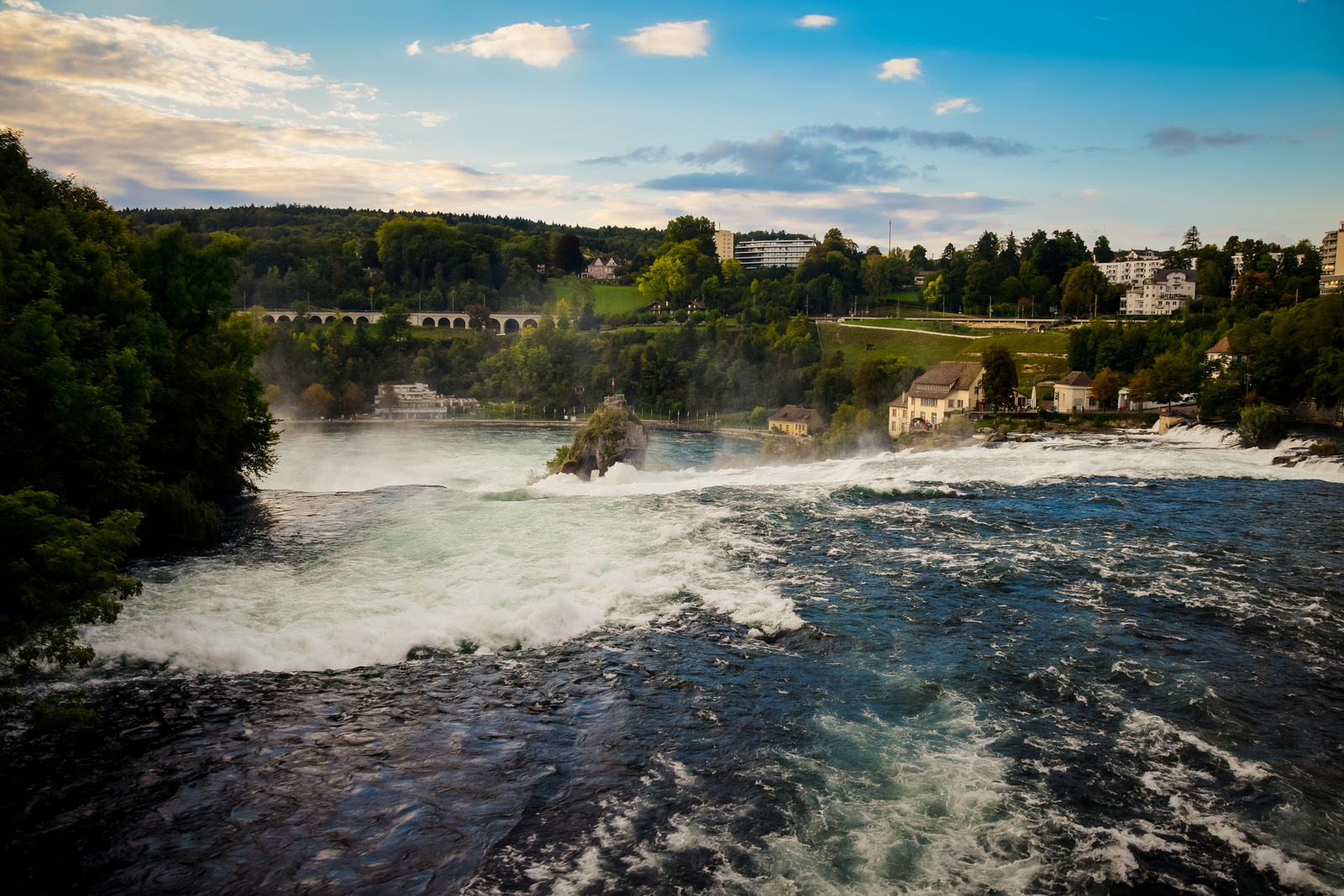 This one was taken from Rheinweg, a bridge across the Rhine River, where a train goes across between Neuhausen and Schloss Laufen. Just as the sunset glow begins to descend on the area.
It's hard to top this but we knew that we had to head into Zurich to move into our Zurich flat for the next 3 nights. As well as to prepare ourselves for a rude shock of how expensive Switzerland is!
---
(7) Zurich
Most of the people who've been to Switzerland always rave about how amazing and how beautiful it is as well as how they could live their whole lives here. I appreciated the beauty of it, especially at the Rhine Falls but I know there's no way I could live in Switzerland… It's way too expensive! I'd be broke in a week! Put in practical terms: even if you shopped for groceries at a discount supermarket like Aldi, it would already cost more than if you shopped at Waitrose or even Marks and Spencer!
I still enjoyed being able to see the Alps even while in Zurich City Centre. It's not often you'll get to see snow mountains when you're in the city!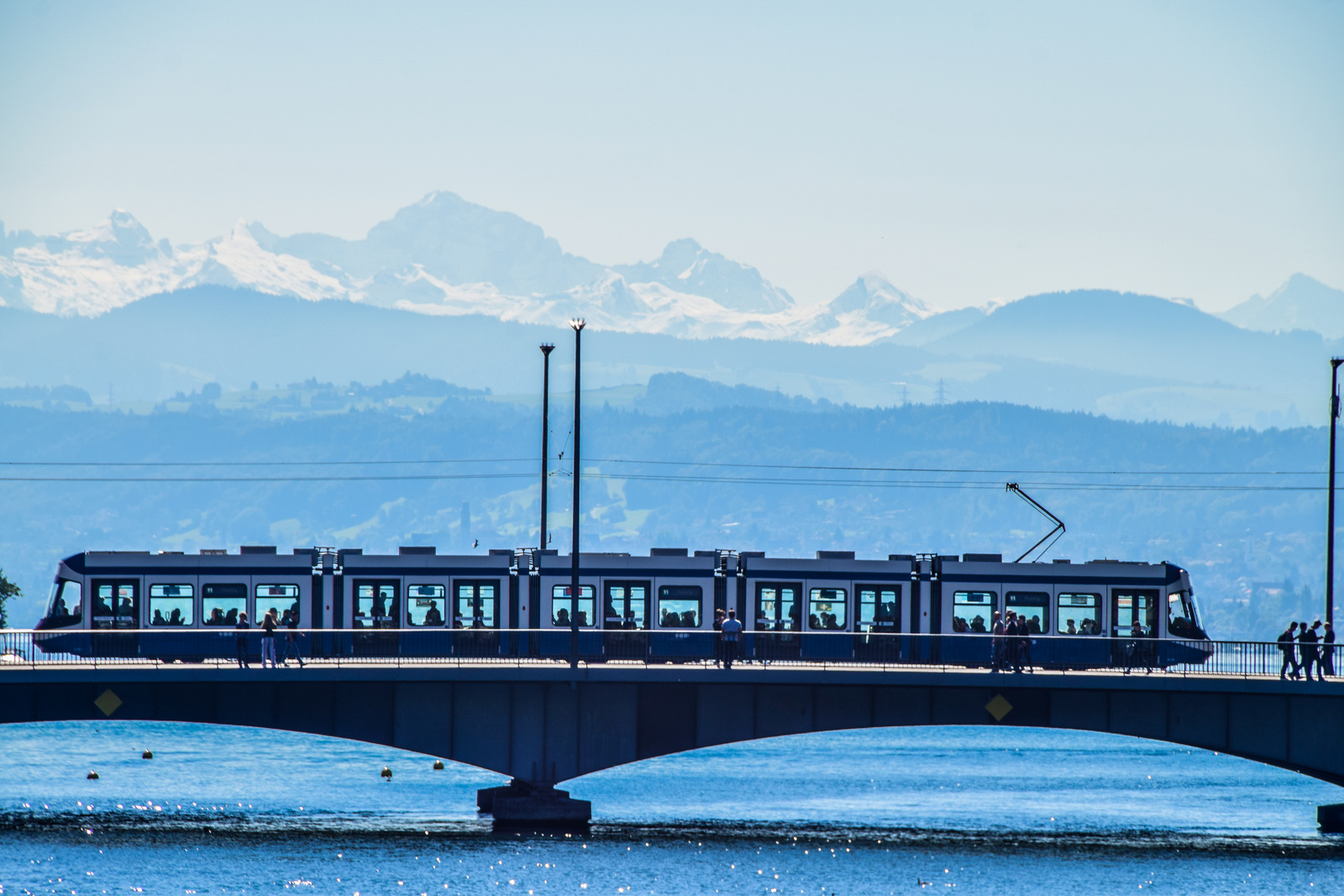 There are several churches (4 main ones) within the Old Town of Zurich. One of which (St. Peter) has a clock face that's the largest tower clock face in Europe at 8.7 metres; it's even larger than the Big Ben's (6.9 metres)!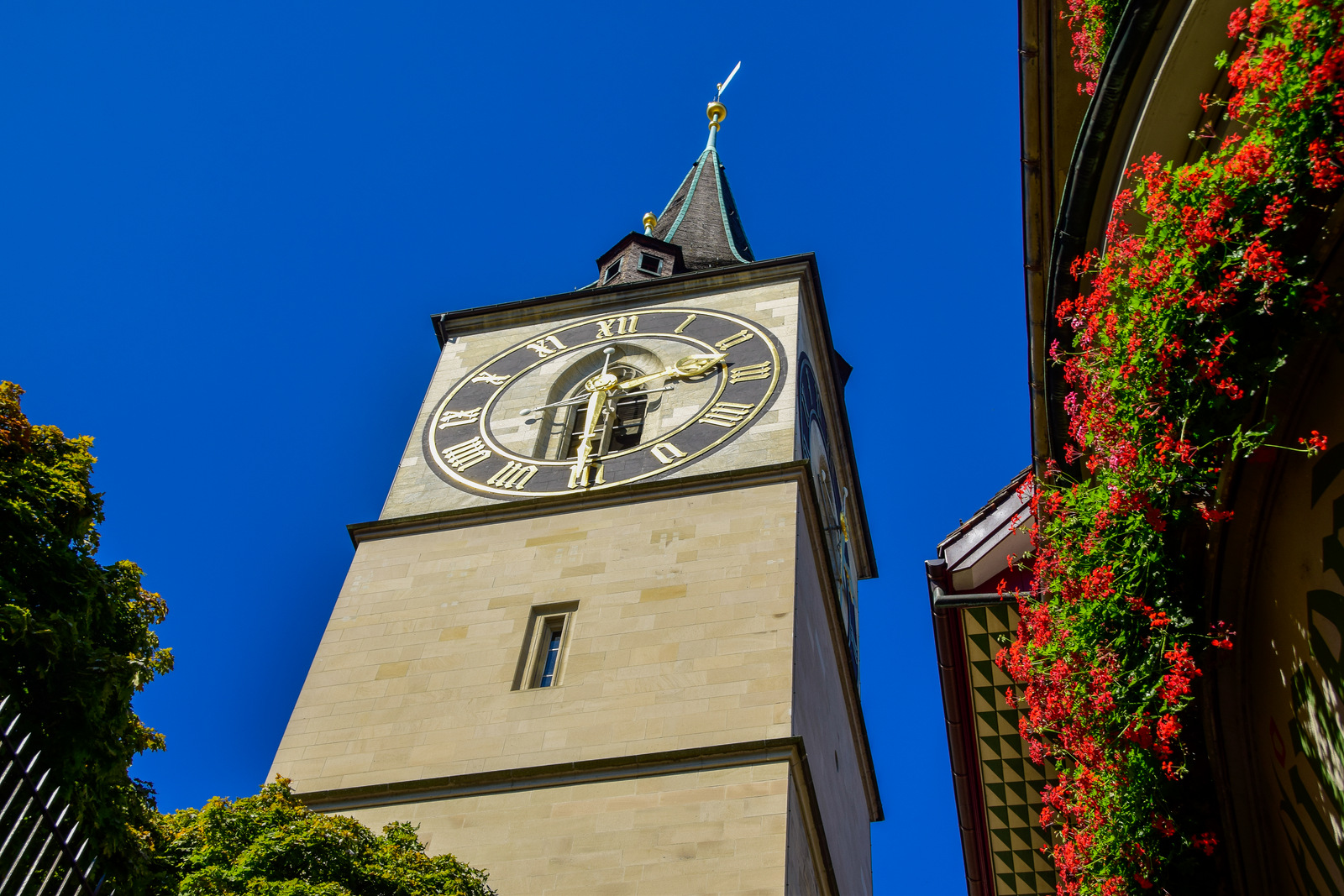 Another main church that some may argue is the most famous one is the Grossmünster (Great Minster) as seen from River Limaat.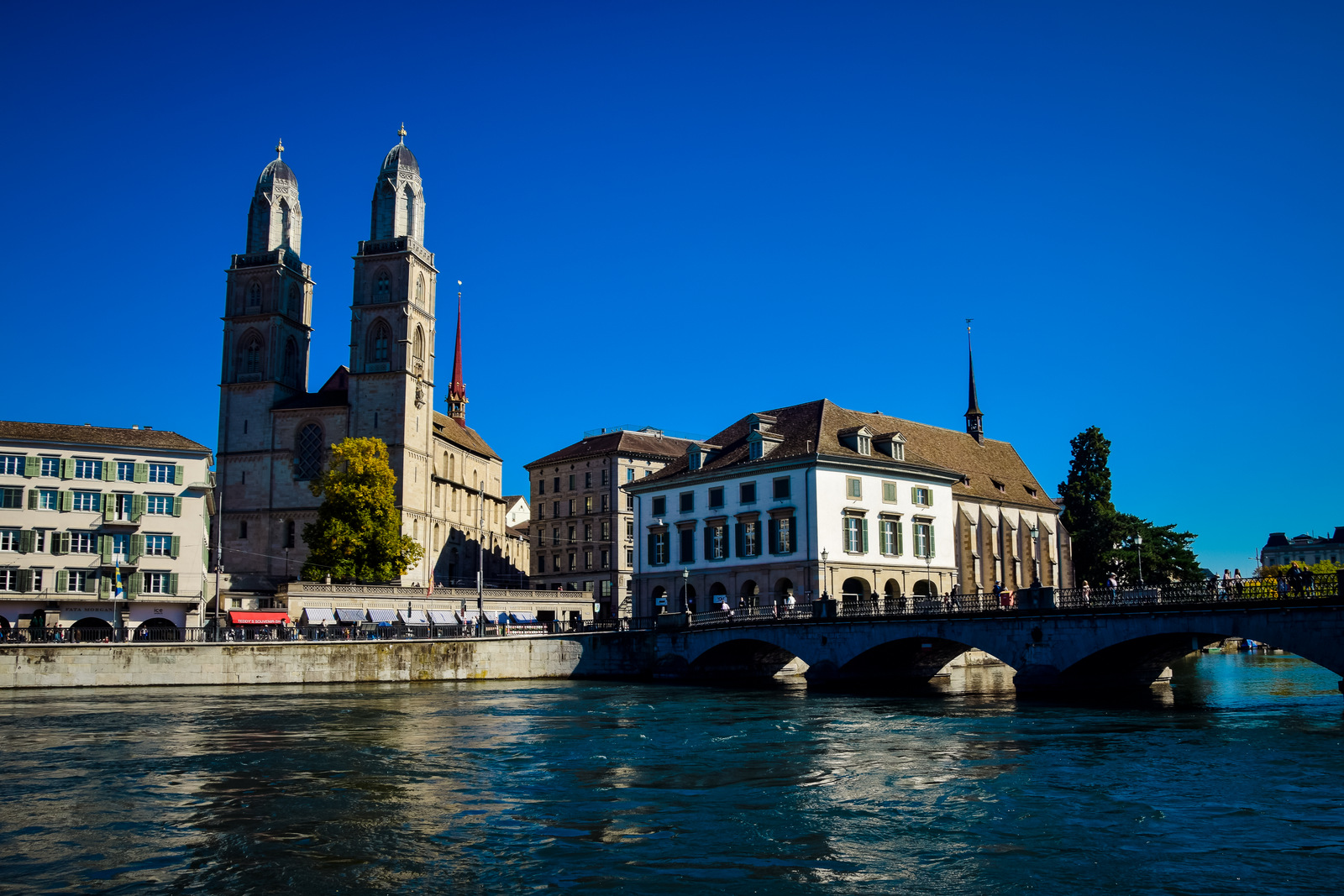 This next one isn't one of the major churches, but it was one that we walked by after we went to Museum Rietberg. Perhaps there was a special glow about the Kirche Enge that made it special.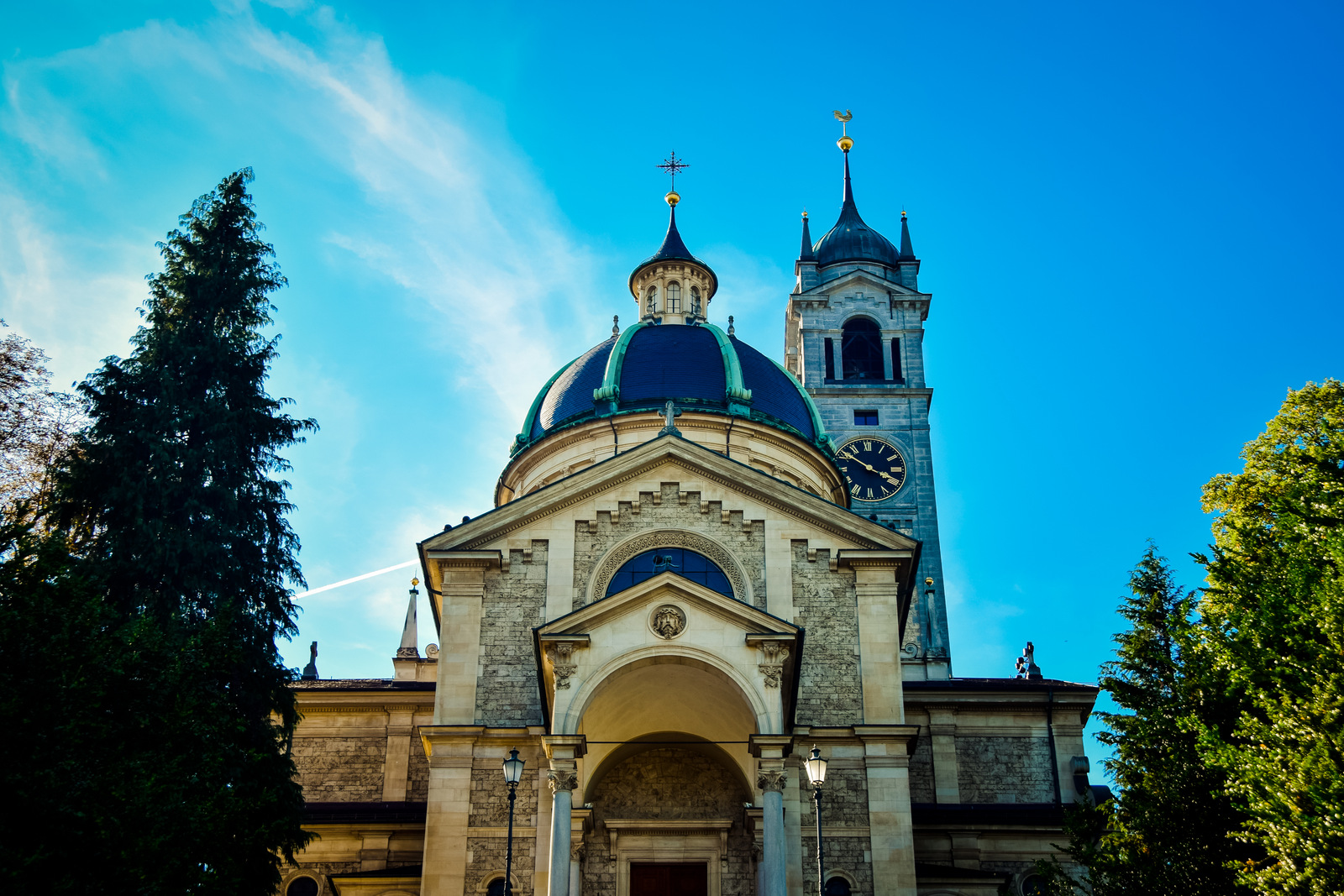 We eventually made our way back to the centre and went onto Quaibrücke (Quay Bridge) to look out South at Lake Zurich and the massive number of little boats floating on it. Once again, there are the little hints of the Alps in the background too.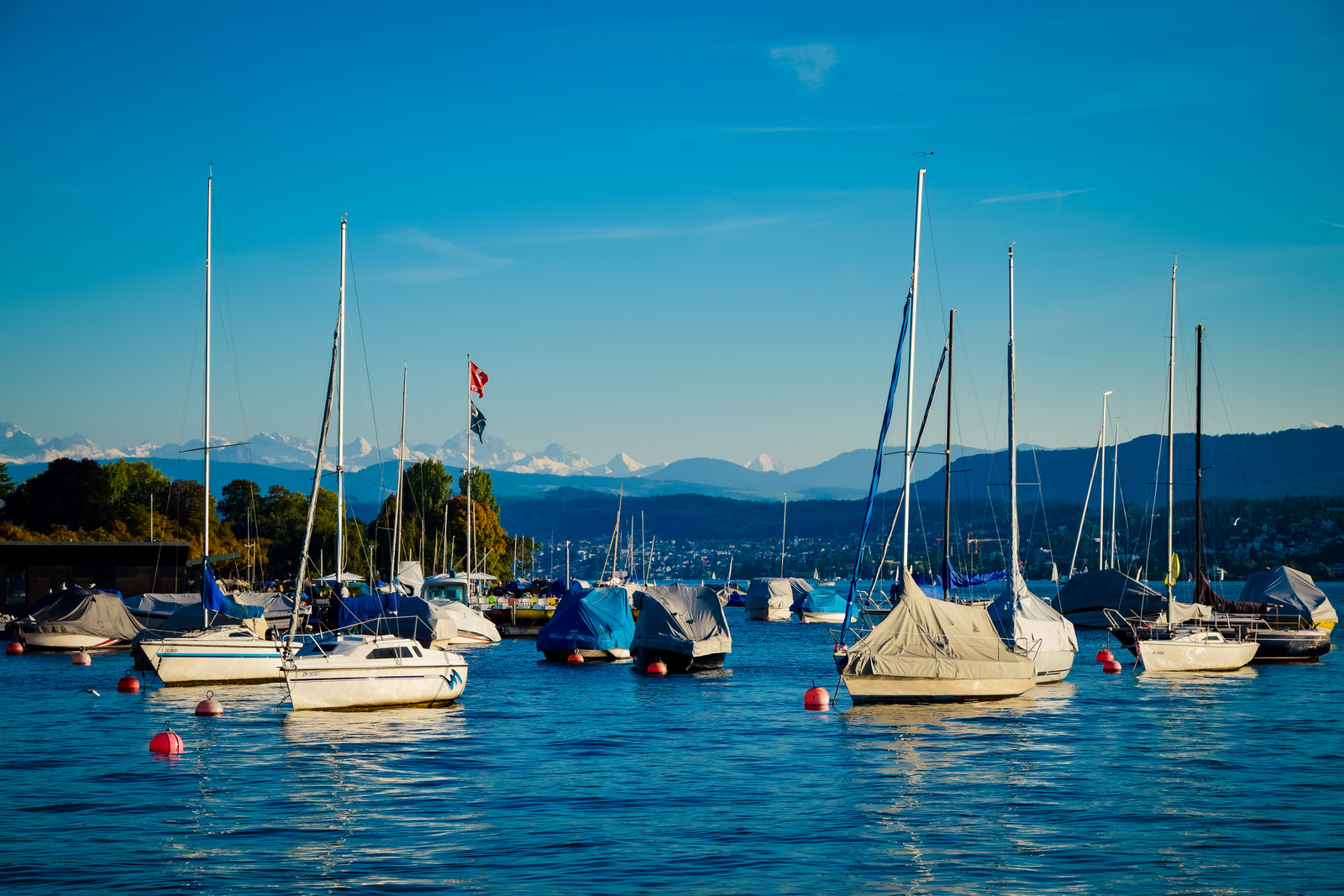 From Quaibrücke, you'll also see the signature photo of Zurich where you'll see the River Limaat flanked by the Grossmünster (right), the Fraumünster and St Peter (left).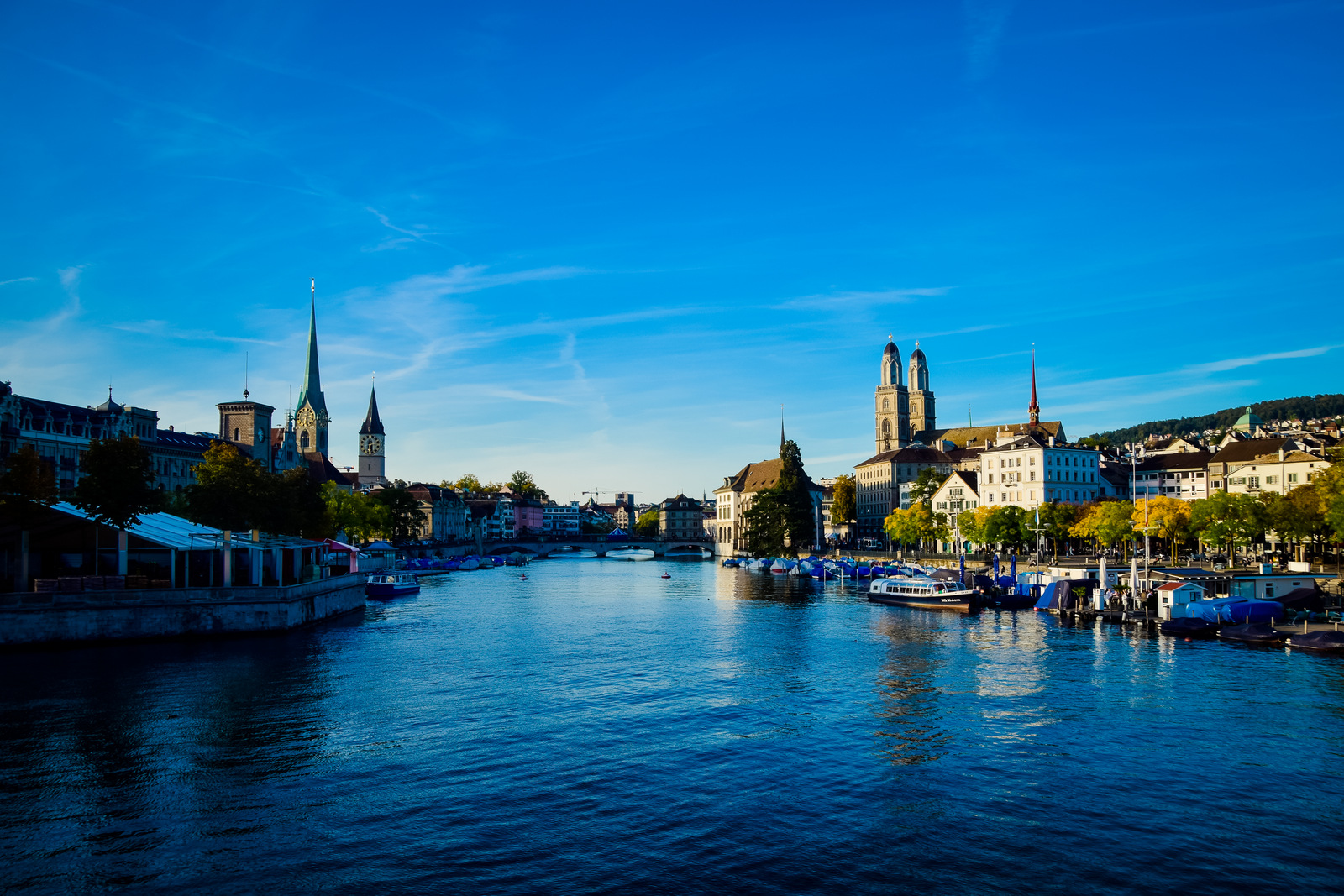 That day was also my mum's birthday so we celebrated it with a proper Swiss lunch that had Rosti and Cheese fondue at a place called Le Dézaley. It's one the most highly recommended places in Zurich and while expensive for normal prices, it's considered cheaper than the crazy Swiss prices.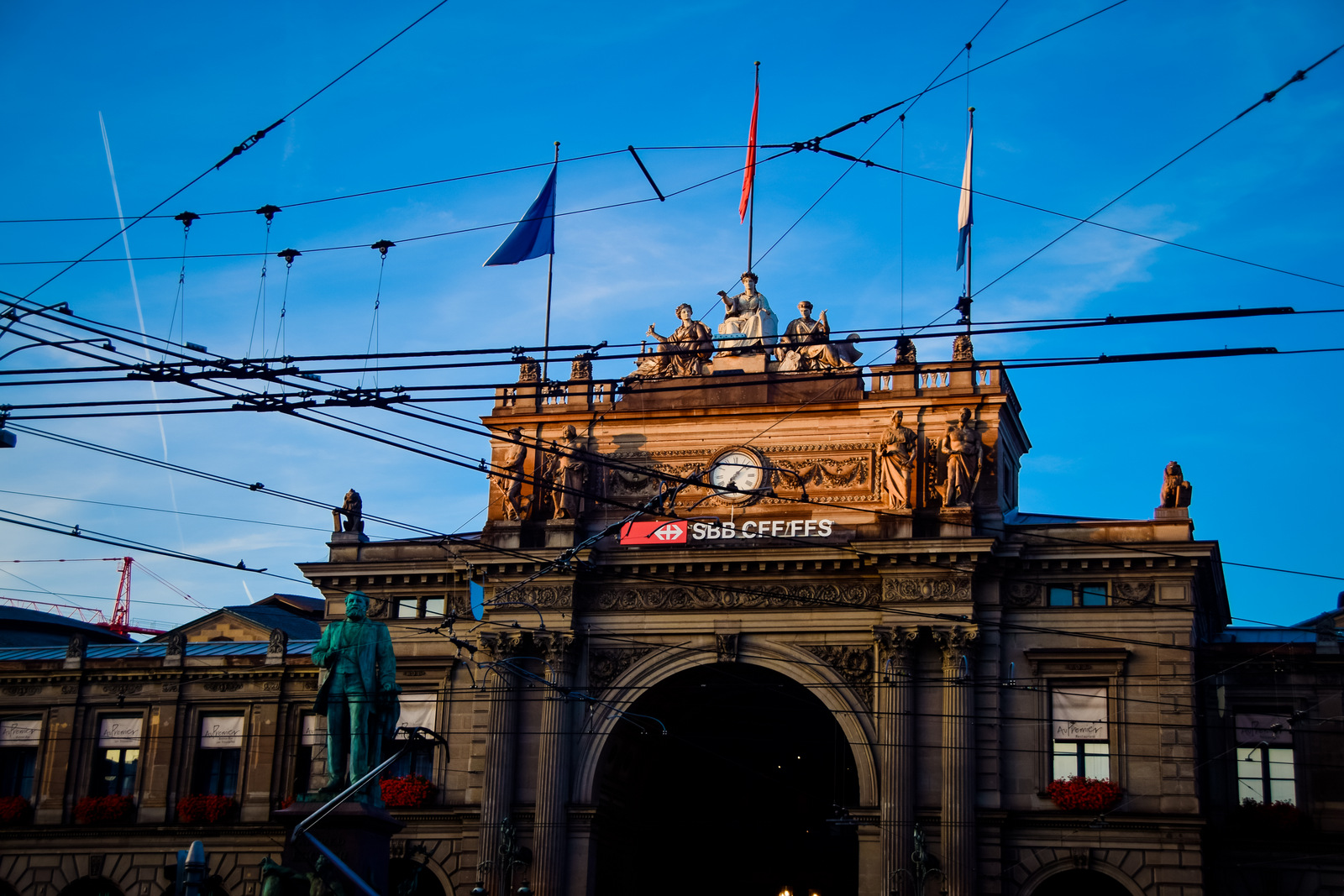 It's always nice to end the day at a train station because it seems to say "it's time to go home". While we were staying in Zurich for 3 nights, we were going to head out to Lucerne the next day because we'd already completed our usual one-day walking tour of the city.
---
(8) Lucerne
The day didn't start out in Lucerne but at a closeby castle called Schloss Meggenhorn because I was Alps-hunting again. From here, you get some breathtaking views of the lakes around so it's well-worth a drive for a quick stop if you're heading to Lucerne after.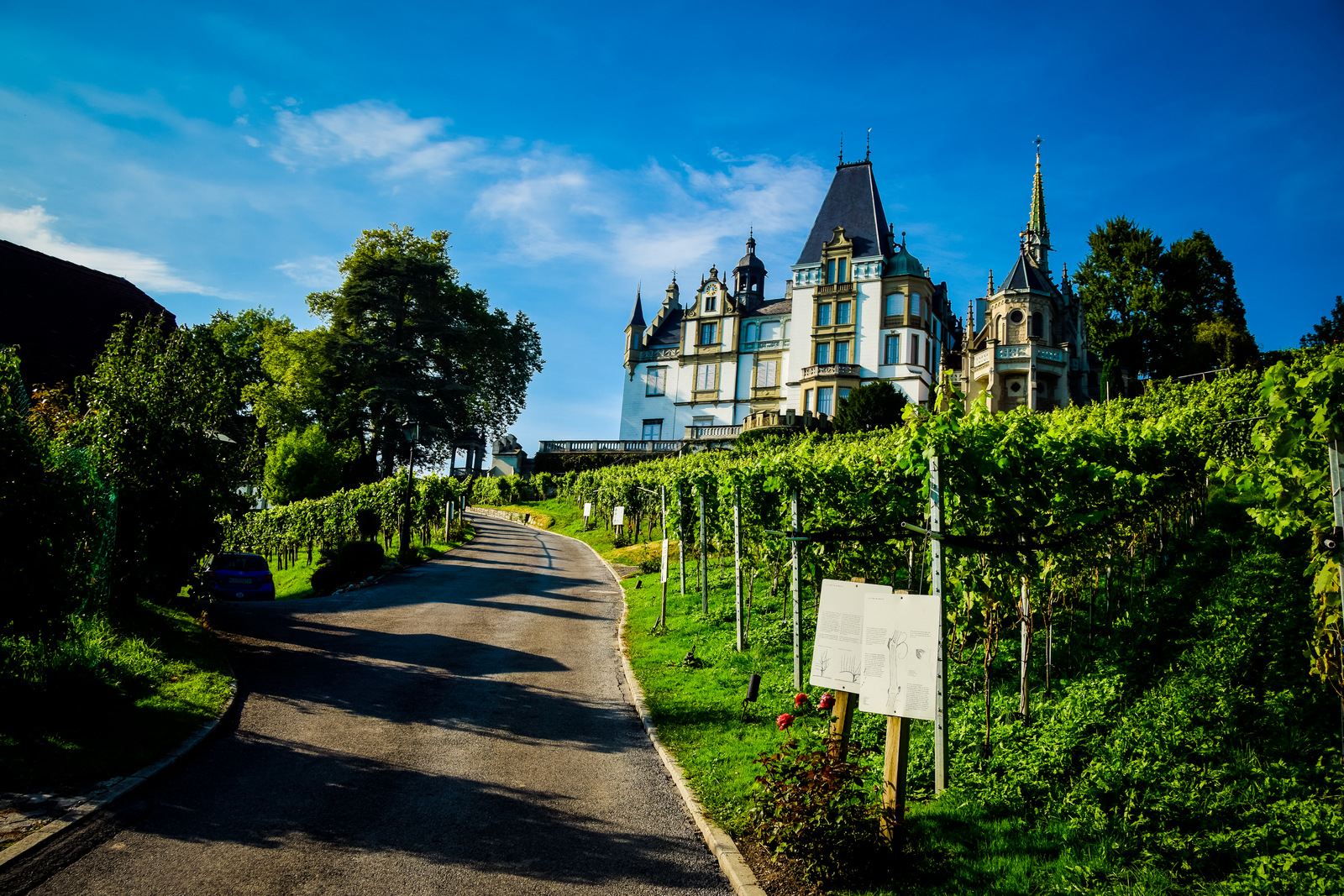 There's also a family-friendly little play area with wooden sculptures as well as a playground. Love shots like these because you see the innocence and playful nature of the little children who don't have to worry about the things going on around them.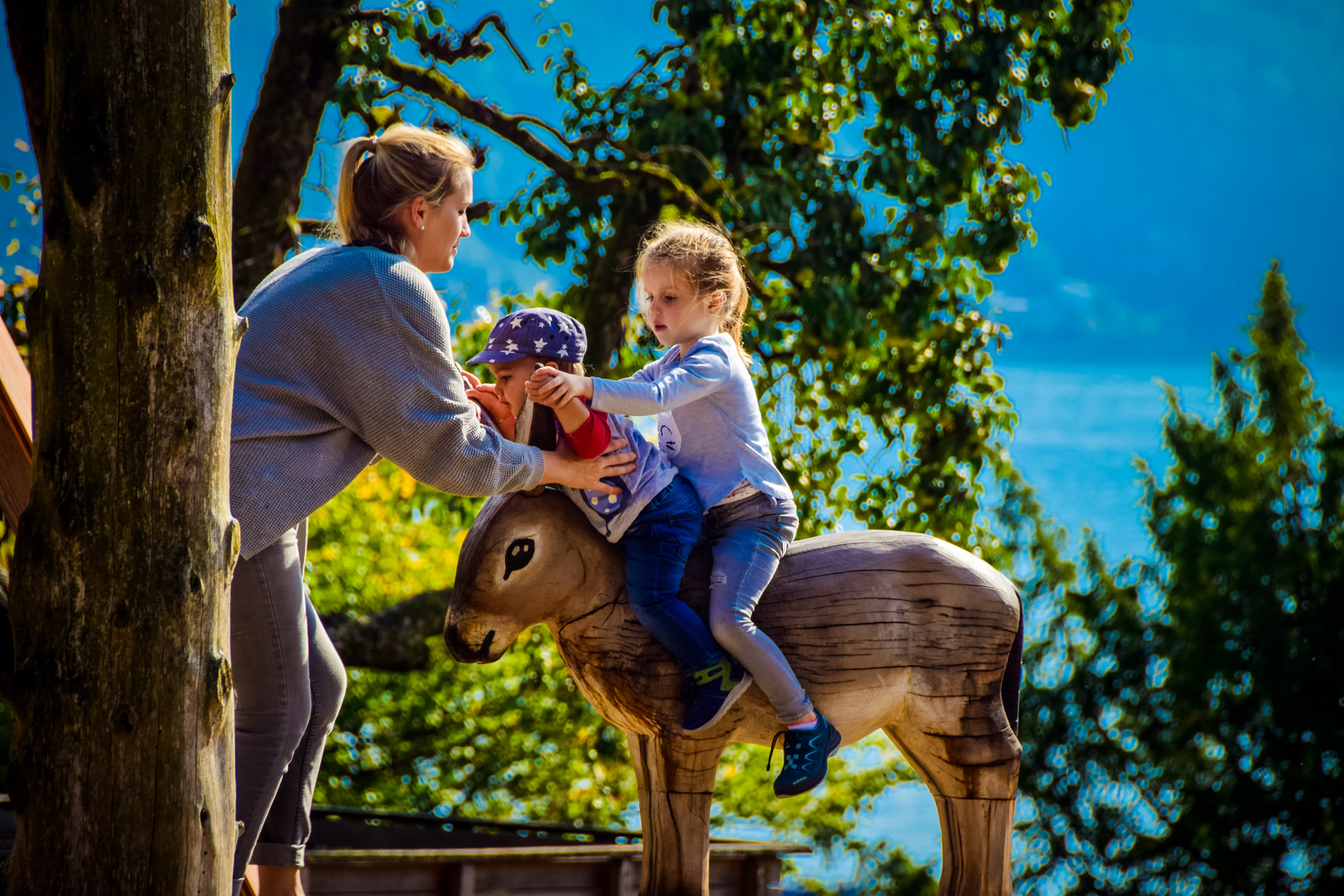 If you walk all the way down to the shore of where Meggenhorn Castle is, there's sort of a "boat/ferry stop". From here, you'll look across Lake Lucerne towards The Bürgenstock, which is what I was admiring when my sister took this shot.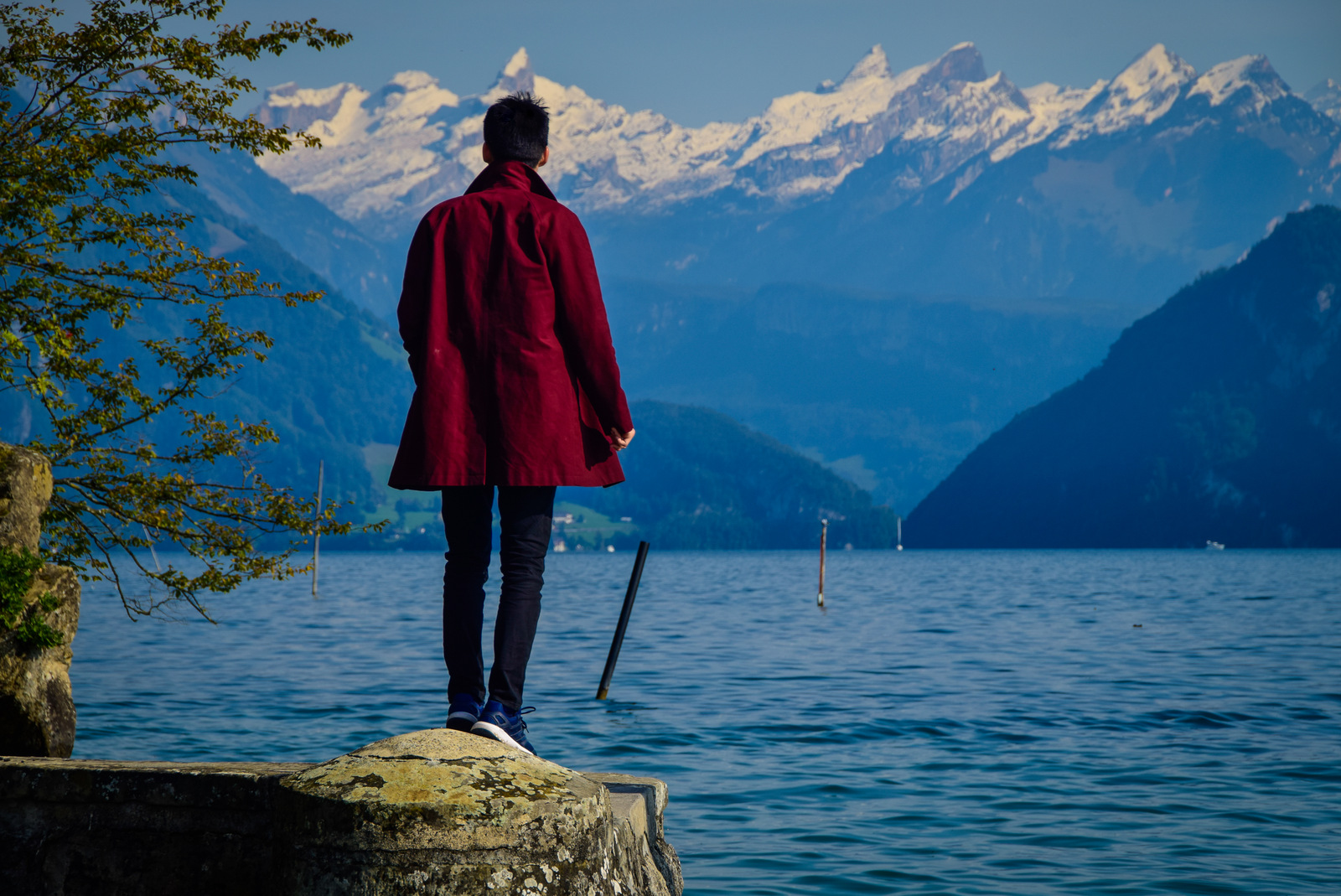 Eventually, we got into Lucerne, which is famous for its Chapel Bridge (Kappelbrücke) and its water tower. The bridge's roof is lined with art pieces from the 17th-century. My parents had been here 25 years ago, during the same trip that they went to Heidelberg. That was before the August 1993 fire that almost burned down the bridge. More than half of the paintings there were destroyed but it was quickly reconstructed before it was reopened in April 1994. There's still evidence of that fire because you see parts of the reconstruction when you stare up onto the roof ceiling while walking across it.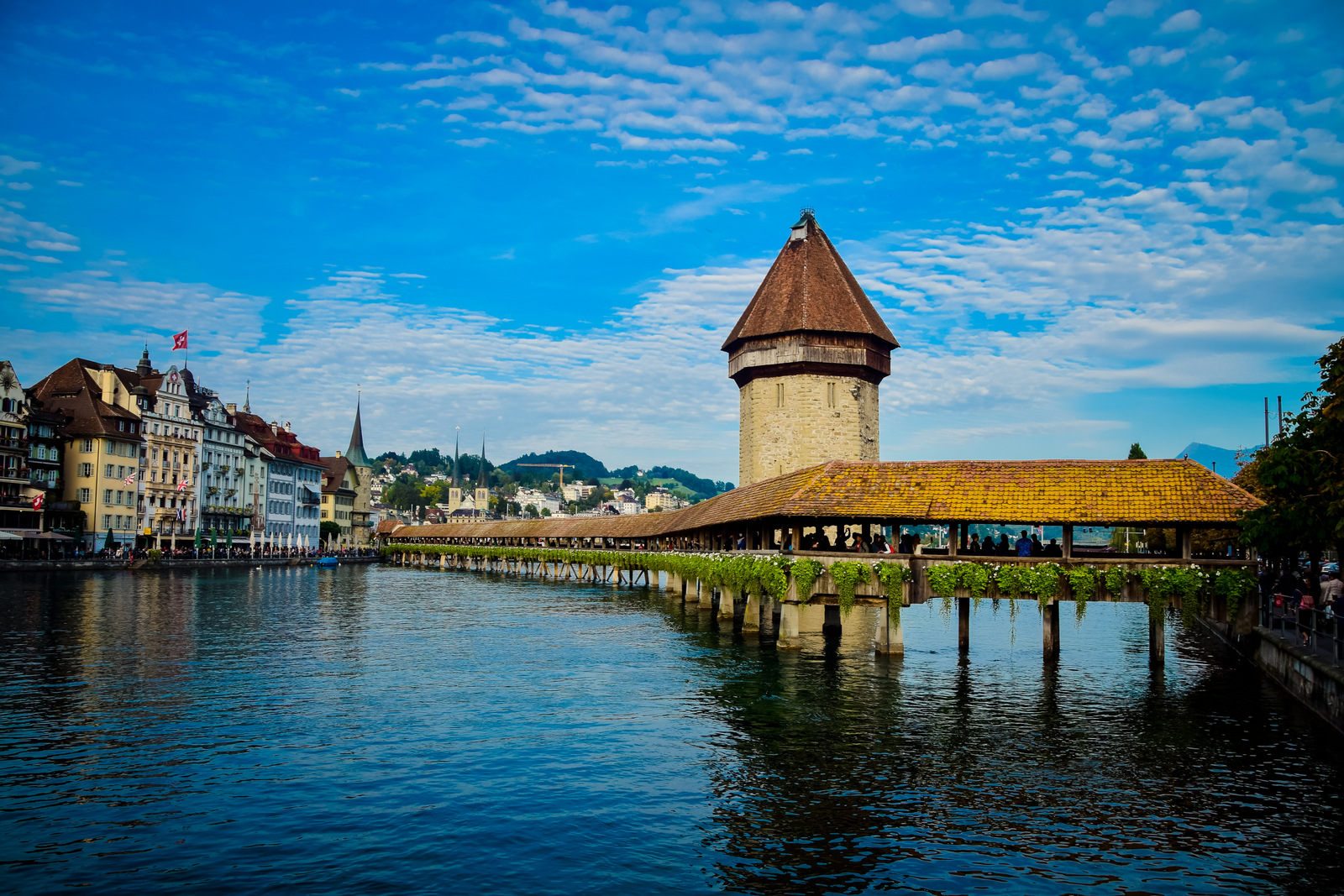 On the other side of the River Reuss is the rest of Lucerne, with the Jesuitenkirche very clearly "towering" above the rest of the buildings.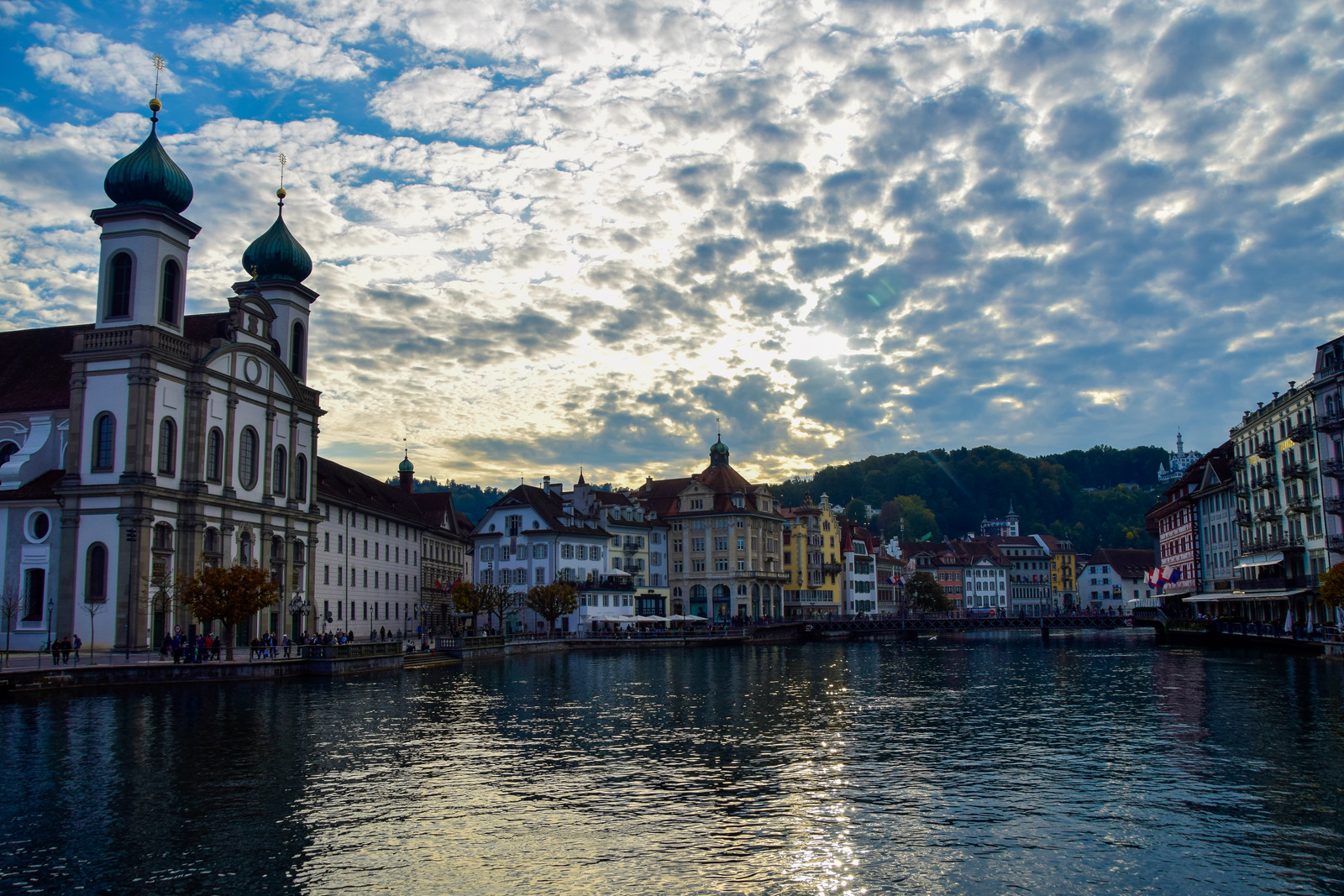 And that's it! 4 stops in one post! There's 3 more and they will all be combined into the final Roadtrip Reflections post later this week. Until then, take care and God bless!
Ben