Hey There!
Woah, it is currently week 7! Where has the weeks gone? The past two weeks has been my mid-terms. I had a total of 3 mid-terms, Human Resource Management, Business Finance and Financial Accounting 2. Each mid-term was weighted 30% of the module. 😣
My first paper was on Human Resource Management. It was a theory focused paper. And I'll be honest, theory papers are not my strong suit… :/ So naturally, I was quite nervous for this paper (also because I started my revision a couple days before the paper :S). But, I started cramming for the paper with my course mates and we powered through the revision together. I definitely recommend this for revision, especially for theory papers. I started making flashcards with questions through the different chapters and started testing everyone. We took turns answering the questions and would add on if we thought anything was left out. This allowed us to stay alert on each question and help each other remember the theory for the paper. I would say we had got closer as friends from this (or maybe we were just hyped up on coffee) 😊 Luckily, the paper was pretty manageable and we all came out feeling pretty good about the paper.
In the following week, I was to sit for my Business Finance and Financial Accounting 2 papers! Naturally, study sessions got way more intense. But thankfully, it was not as theory intensive than my Human Resource Management paper (phew😄). Personally, I found these two modules to be a lot more interesting. But hey, this is coming from an Accounting and Finance student, so that comment is definitely not biased, right? 🤣 Alongside my new found study buddies, revision for these two papers began right after the HRM paper. We would usually start before noon and end late, studying from the library to cafes to each other's homes. Sounds very "CHIONG", but it isn't as intensive as it sounds, a good chunk of it was just messing around and making each other laugh😁. We ran recap sessions on topics in the previous year as a refresher, simulated exam questions and worked through them together. As I have studied accounting before, I found the accounting concepts very familiar and was able to help my friends out (weird flex, I know). At the end of the day, we went through questions about the various concepts and it put a grin on my face when my friends were able to get the answers. That, honestly, made my week.
The Business Finance and Financial Accounting 2 papers was more challenging than anticipated and riddled with tricks. BUT, PHEW, it's over now. It is time for a little R&R! To reward our hard work over the past two weeks, we are going to head into London this weekend to stuff our faces! Time to knock some places off my London bucket list! 🥟🍜🍔Also, I am planning on visiting some Christmas markets this weekend!
AND!! I have recently started to pick up Ultimate Frisbee here in Surrey! My friend in Singapore, whom I known of over 10 years now, has got me into Ultimate Frisbee. And so I thought, why not try it out? I am currently about 3 weeks in and I am loving it! I even got new cleats for playing outdoors! Here's a photo of my cleats after my most recent training session!!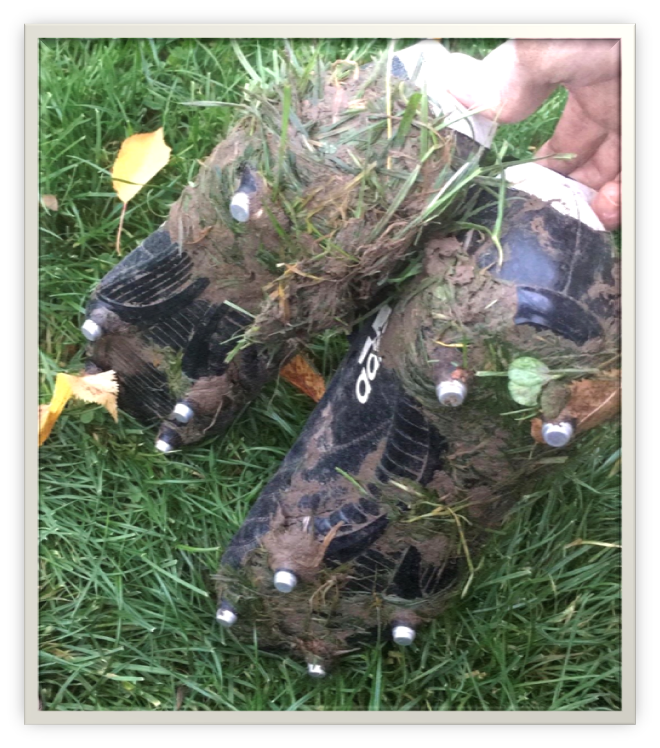 I spent a good hour after getting home, just cleaning the mud off it. WORTH IT though! 😊 After playing indoors and outdoors, I can honestly say that I much prefer playing outdoors! Although it is getting a lot colder here 🥶!! The temperature here is down to a single digit everyday now… So, it is time to wrap up in more layers. I will update more about how Frisbee training in future blogs so stay tuned!
Anyways, we have a new International Student Ambassador, Cheryl. I am sure you would have seen her first blog post posted last Monday! If not, hop on over and read her blog! By the way, stay tuned to Dwayne's blog on Saturday as well!
Stay Awesome (and warm),
Nicholas Soh