Hi everyone! It's now week 7 of school and I am DROWNING IN ASSIGNMENTS😱! The push from final year is real as deadlines are looming in and are all within a same submission period. To put things into perspective, I have 7👀 report and essay-based assignments this semester, and 3 of them are due between 11 – 17 December. Absolute madness but it forces me to be disciplined in managing my time well to balance between leisure and school work. Anyways, I will be sharing a bit more about one of the modules I am taking this semester and a recent job opportunity I chanced upon.
As a student pursuing a degree, I've always had a strong belief that it will be beneficial to do a research paper as part of the academic-y nature of university. If you think about it, university would probably the first and last opportunity for many of us to accomplish such an academic feat. Back home in Singapore, most of the courses within the local autonomous universities would encompass a dissertation that spans the entirety of the final year. I've had friends telling me that it's super competitive acquiring a research project as you'll have to bid for the projects based on your GPA. So for me, I took the opportunity this semester to select a module on Applied Research in Tourism, Hospitality and Events to challenge myself in writing an academic paper. Unlike Singapore, we were given free reign in selecting any research topic based on our interests. Being a massive foodie (as you already know), I picked a topic that really mattered to me and one that I knew I will enjoy writing about.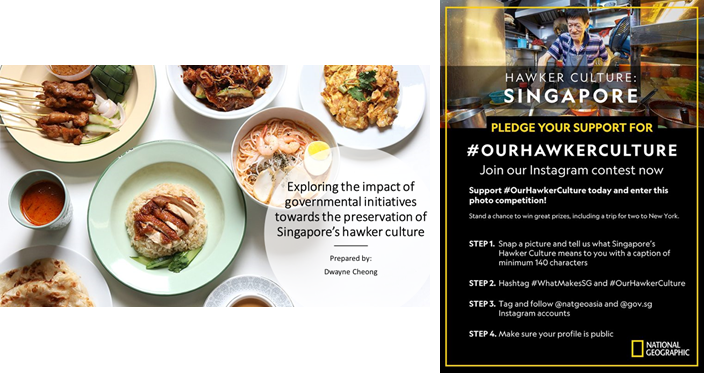 The preservation of Singapore's hawker culture was the main focus of my topic. A funny story about how I selected this topic – I actually decided on this wayyyy back in July while I was back in Singapore for summer. I was frequenting one of my usual hawker centres one day (Block 16 Bedok South Market & Food Centre to be exact, the one opposite Temasek JC) only to find one of my all-time favourite hawker stalls to have closed for good. I was shattered, the auntie made some of the best ngoh hiangs and curry chicken ever! To my disappointment, her stall had been replaced by a vegetarian stall that was operated by her daughter. Good to see that the auntie was still out and about helping her daughter (she's close to 80 years old I believe) but nevertheless, I knew I would never get a taste of her cooking ever again. It was at that very moment I knew I wanted to research more about hawker culture through this module.
With the median age of hawkers being a whooping 59 years old (can you believe it?!) and a lack of new entrants from the younger generation, our hawker culture is a serious risk of going extinct. Slowly but surely, our favourite hawker foods and stalls will disappear. Thus, my research topic is circled around finding out the motivations and challenges that both the older and younger generation of hawkers face to get a better understanding of what drives or deters them to join this trade. Through this, I will be comparing these factors against government initiatives towards the preservation of hawker culture (eg. The Hawker Incubation Program) to see if there is any discrepancies in gaps between the government's efforts and the actual needs of hawkers. It may not be much, but I do hope my research can offer some insight towards better shaping policies to truly preserve our hawker culture!
Moving on, a bit more about the job opportunity I encountered but first, I would just like to say that life really hits you in unexpected ways! So, on 6th November, Cheryl (she's my housemate and new student ambassador) and I went for a career talk at London School of Economics held by Singapore Tourism Board to find out more about the career opportunities available in the future. I went with no expectations or anything, just to find out more about the organization and network with the current STB employees. Little did I know, STB actually arranged an assessment centre for their Management Associate Program on 9th November for UK-based students, and we could skip the online application process and head straight for it as long as we signed up for it. It sounded too good to be true as back in Singapore, you would have to go through an initial interview before being selected for the assessment centre. I was hesitant at first as I was honestly a bit concerned if I was suitable and capable enough to be considered. BUT I mustered up my courage (YOLO!) and decided to just go for it. Cheryl went for it too which made me feel less anxious as I would have a buddy alongside me.
The shocker came just 1 day after the career talk. At first, we were told that the assessment centre would include some form of personal presentation. Upon receiving the follow-up email from STB, we were told to write a 1000-word essay and prepare for a 10-minute. I literally dropped my school work for those 2 days to chiong for this assessment centre! On the day itself, I thought that the atmosphere would be very tense, but it was very much the opposite. Everyone was so friendly and nice, both the STB staff and applicants alike which really helped to settle my nerves. Overall, the fruits of my labour paid off as I made it through to the next round of interviews!
That's all I have for today! Some final thoughts from me before I get back to doing my assignments again😵 :
Studying overseas really presents a lot of opportunities that you cannot find in Singapore, so do be open-minded and put yourself out there to make the most of it!
Treasure, savour and support your favourite hawker stalls as there may come a day when you won't be able to get that familiar taste again!
Ciao~
Dwayne