Hey there!😊 It's week 11 of school now and just one more day till winter break! YAY!🤗
To continue from my previous post about finding professional training placements, I will share about my placement experience in London today!
I was fortunate to be given the chance to work for Exodus Travels as their Responsible Travel and Product Assistant from August 2018 to July 2019. To get a better context on what I did during placement, here is a poster I designed for an assignment that summarises my responsibilities and achievements.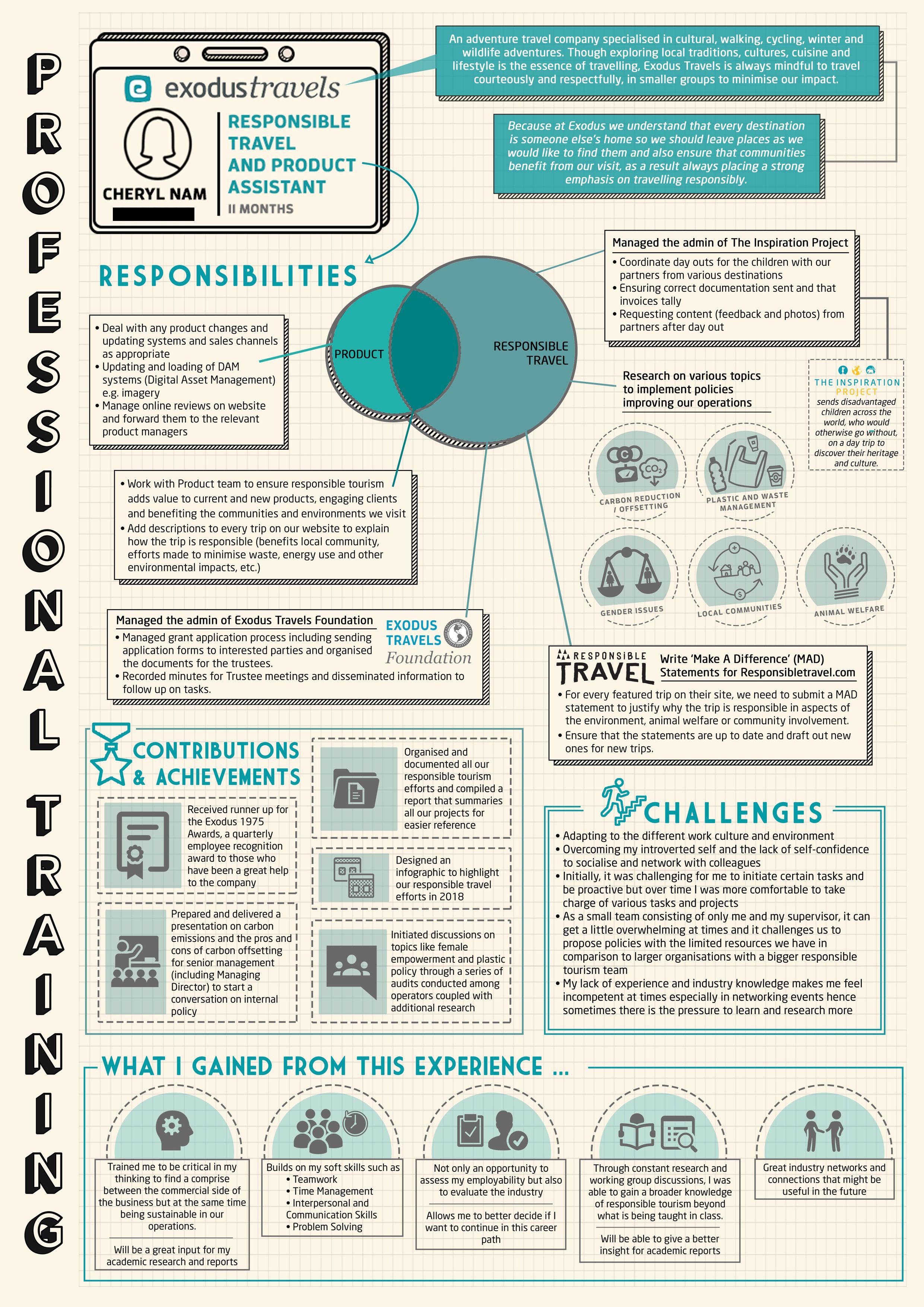 Now that you have a better idea of my placement role, I am sure you want to know more about my experience out of my job responsibilities and how I have adapted and coped with various difficulties. So here is it! 
Adapting to the different work culture and environment
For someone who has only worked in Asian countries, it was really interesting to be experiencing a different work environment. Something I really appreciate here is the flat organisational structure and how there is not much of a hierarchy as compared to my previous work experiences. Also, I really like how my office adapts an open plan concept to encourage more agile working and I could work from home from time to time if needed. Because of the reduced hierarchical levels, I do find it easier to talk to my supervisors and have increased freedom to innovate and share my opinions on certain issues.

Of course, it was hard for me to adapt especially the first few days and there were instances where my boss had to tell me "Cheryl! It's 5.30pm! You can go home and continue tomorrow!" and he does not like me to bring any work home. That's when I realised the importance of maintaining a work-life balance here which is unusual to me but it felt really nice. And I feel that this is something that is lacking back home.
Taking opportunities to step out of my comfort zone
As an introvert, it makes me quite uncomfortable in a foreign environment and there is a constant fear of starting conversations with strangers. This was especially hard during placement as I was unsure of how to approach colleagues of very different backgrounds and cultures. Being in the Product department, the age gap was another factor that makes it harder to start conversations as compared to the sales or marketing department with colleagues who are closer to my age. However, it is not possible to change situations overnight and I really had to be patient and give myself some time to take initiatives and strike up conversations. Thankfully, an opportunity came to me when I received an email that the company is forming a netball team. I instantly joined the team as I thought it would be a great chance to meet other colleagues through my favourite sport. Till today, I am really glad I said yes to the email and I still play for the company sometimes whenever I am free. 

Occasionally, my boss also invited me to attend various networking events to learn from industry leaders. It was definitely daunting to be in such situations but it has allowed me to talk to experts and gain insights from their valuable experience. And unknowingly, my confidence to speak in networking sessions improved overtime.
Feeling homesick 
During my time in London, homesickness was something I had to deal with. This is probably because I am away from my usual group of friends who I am comfortable with during Uni and thrown into a completely foreign environment. It was hard but I am glad that this gave me the chance to explore new hobbies and meet people of similar interests. Other than my netball team, I joined dance classes in London and got to meet new friends. I also learnt to give myself time to heal, using the weekends to explore London. 
At the end of the day, was taking the gap year for placement a good choice?🤔 My answer will be a definite yes and I had no regrets taking this opportunity to grow as a person and face challenges as a working adult. Likewise, I never thought that I would discover my passion for a particular line of work through an internship and this placement truly made me understand what it means to love what you do. 😌
Of course, experiences are subjective and everyone will be faced with different scenarios. But what I can advise is to always try because if you don't try, you'll never know.
Hope you enjoyed reading about my placement experience and if you have any questions, feel free to reach out to me! If not, I will catch you guys on my next post! Till then, take care! ✌🏼

Cheryl