Hi everyone! It's nearing the end of 2019 and I can't believe how quickly this semester has flew by. In view of the upcoming holidays and break before semester 2, it is probably a good time to start thinking about accommodations for the new academic year. Essentially, there are two options available; living university accommodations or getting your own house/apartment. Just a gentle reminder that successful applications for university accommodations are only guaranteed to freshers and returning students from placement or exchange. Thus, for all of you who going into your second or final year, finding accommodation on your own would be the safest option. So today, I will be writing about the process to securing a place to call home for the new academic year! Before that, let's look at some factors to consider first.
Who you will be living with
Staying with a group of friends can be an exciting prospect BUT living under one roof together is an entirely different notion as compared to just bunking together for a holiday. You must consider each other's habits, personalities and general lifestyle as these factors can easily cause issues to arise. Remember that you will be seeing these housemates every single day for the rest of the year, so make sure that you choose the right people to live with! In any case, I recommend finding a group of 3-5 friends (including yourself) as finding houses for this number of pax will be the easiest given the larger availability.
Budget
Staying outside of university accommodation is inevitably more expensive. The pricing for uni accommodations would include all the Wifi, electrical, water and heating bills but would be a separate cost from the house rental when living on your own. This would usually amount to about £10 a week, depending on your consumption. In terms of rental prices, I'd say they average market rate would be between £150 – £160 per week. Locations further away from school can drop below this market rate as well for those who are on a tighter budget. So with your group of friends, do decide on what price range everyone is comfortable with. Also, the tenancy agreements usually stretch out for the entire year, meaning that you will still have to pay for rent even though you are not around, for example, during summer if you are going back home to Singapore.
Location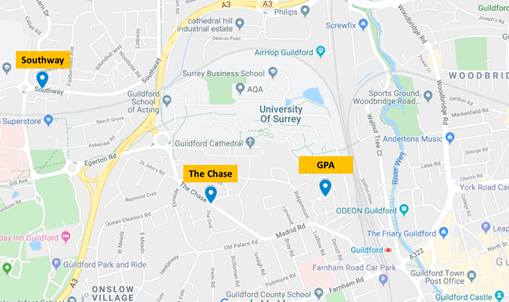 Ideally, it'd be best if you could secure a house or apartment within a 15-minute walking distance to school for convenience's sake. Some of such locations would include Guildford Park Avenue (GPA), The Chase and Southway (where I live). There are great locations in town too which usually have more modern/newer furnishings but would mean a further distance away from school. Weigh the pros and cons of the location for yourselves as there will be some factors for considerations that are important to each individual (eg. Distance to supermarkets or the gym).
Now, assuming that you have decided which group of friends you will be staying with, considered each other's budgets and have a rough idea on where to stay, how should you go about looking for a place? This guide gives a comprehensive overview of the process, but I will give some possible avenues for you to consider below.
University of Surrey Lettings
University of Surrey Lettings (USL) manages a number of properties in the private sector under the University's head leasing scheme. USL would be a safe option as it is credible given its not-for-profit nature. Furthermore, the price paid through USL includes all bills (like university accoms) and they do not require a guarantor and deposit fee. The application process is pretty straightforward. You will have to apply through the university's Accommodation Services portal online and fill up the necessary information needed:
Application type: University Managed House/Group Application (Can only select campus or USL)
Group members: all members must apply: University ID + Surname (as written on student ID)
Select house size (how many bedrooms)
Special Requirements: if applicable
Preferences Price Band: select 5 band preferences in order of most to least desirable
Preferences Area: select 4 Area locations in order of most to least desirable
Thereafter, a ballot will be run to determine whether you are allocated an accommodation. Full details can be found in this link. However, as USL properties are limited, your chances of securing a place is dependent on the number of applicants that year. Also, you will not be able to choose the property, meaning that you may not get an ideal house/location. Do keep this in mind when applying through USL!
2. Websites

Most people would usually start looking for properties through various websites which function like a metasearch engine. Some common websites include:
These websites will post available properties, updated frequently as new places come up. My advice would be to have a look around on what's available at the moment and contact the company to indicate your interest as well as requirements for housing. They will usually propose a day to show you around various properties including those that you are interested in and others that might interest you. House viewings are a great opportunity to have a look at what's available in the market, and it's pretty fun too!
Do take note that these companies do not own the properties, but function as a middleman to connect you to either estate agents, resident landlords or private landlords, who you will be liaising with in terms of finalising the contract and tenancy agreements. Here are some factors to consider in this situation:
Guarantors – as Singaporeans, most of us are unlikely to have a UK-based guarantor and thus, are most likely required to pay 6-12 months rent in advance. External companies such as housing hand also offer guarantor services, but be sure to clarify on what their fees are and what it entails
Deposits – you are likely required to pay anywhere between 4-6 weeks of rent AND a holding deposit (usually 1 month's worth of rent) in advance as a form of security deposit. However, when signing the contract, be sure to check if this deposit is refundable or is it deductible from your subsequent rent.
Overall, I will recommend having a look at these websites and engage the USL services to keep all your options open. My biggest advice would be only deciding on a place when everyone is comfortable with the price, location and most importantly, the physical aspects of the house itself (rooms, kitchen, toilets). This will be the place you call home for an entire year, and you will definitely want to be happy moving in!
Alright guys that will be all from me today! I will be heading home to Singapore soon for my non-existent holiday🤣😬 as I still have 3 assignments due and an exam to study for hahaha. But first, I will be heading to Barcelona for a short getaway to relax before I kick into the working mode again. I hope everyone will have a Merry Christmas and a happy New Year🎇!
Signing off,
Dwayne