Are you ambitious, creative and enjoy a good challenge?
Fancy working with a top recruiter or starting your own business?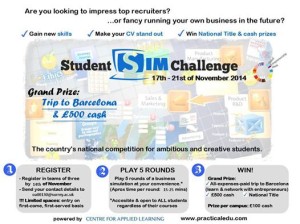 ***Student SimChallenge *** is a national competition where students develop transferable skills, understand what makes a company succeed and have a chance to win an all-expenses-paid trip to Barcelona, £500 cash & National Title! 
An opportunity to:
– Win an all-expenses-paid trip to Barcelona
– Win £500 cash & National Title
– Gain new skills
– Make your CV stand out
– Learn and network with entrepreneurs
– Have fun & make new friends
Date: Thursday, 20th of November
Time: 18:00 – 21:00

Location: The Studio (next door to Santander Bank)
This is open to all students, both undergraduates & postgraduates, from all departments. The selection is made on a first-come, first-served basis. Register in teams of three by simply sending the name and contact details of your team to oa00130@surrey.ac.uk. by Wednesday, 19th of November. http://goo.gl/bqVEsZ