A big welcome to the newest business to open at the Studio,  Got2BeNails.  This nail bar is run by two highly-experienced nail technicians and offers a range of services from French manicure to OPI French gel manicure to pedicure.  Full details of options and prices are provided below: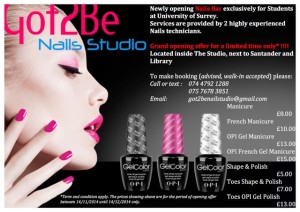 To make an appointment call or text 074 4792 1288 or 075 7678 3851 or email got2benails@gmail.com.
Special offers are available until 14/12/14 so hurry to make your appointment.