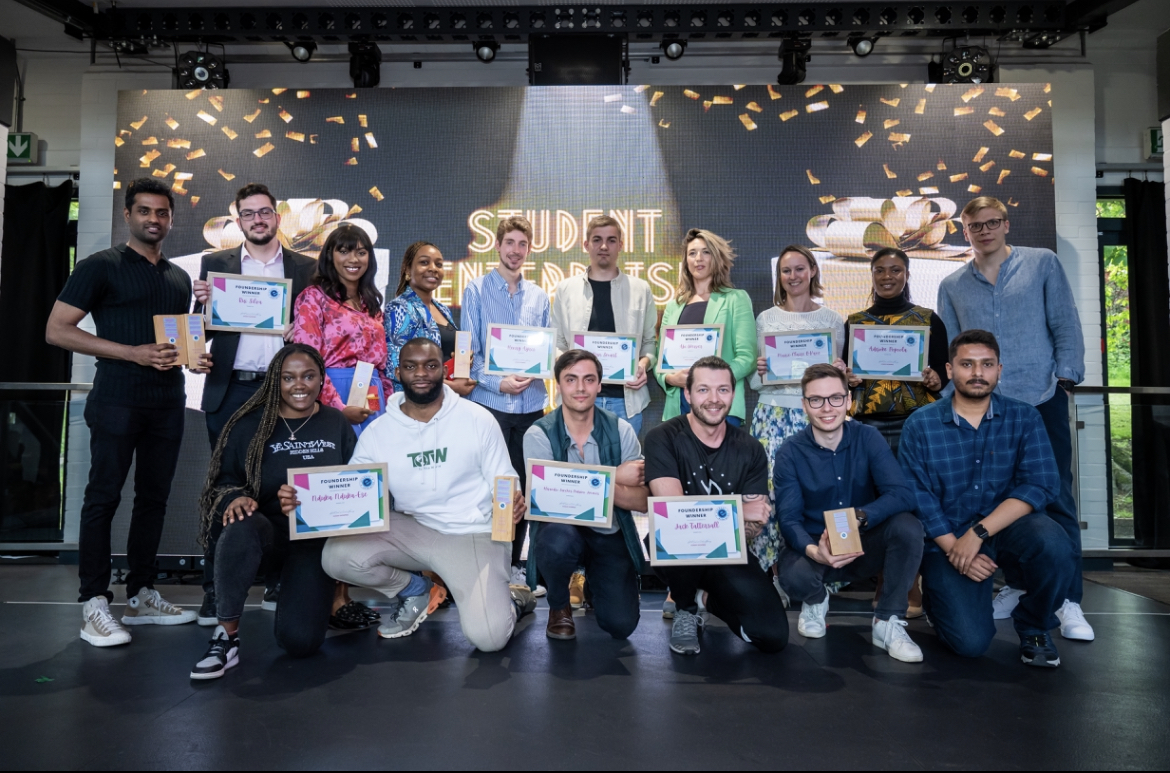 The University of Surrey Student Enterprise has recently announced the winners of their annual Student Enterprise Awards, which celebrates and recognises the exceptional achievements of student entrepreneurs and intrapreneurs from all Faculties, levels and disciplines.
This vibrant event has become a highlight of the calendar, with students, mentors, staff collaborators from the Student Enterprise community coming together to network, celebrate the year's achievements and discover the winners including the Student Enterprise Heroes, along with the business funding and support packages known as Founderships.
Competition was high for the Student Enterprise Hero trophies, with a diverse range of students nominated by the Student Enterprise team in categories such as Best Social Impact Business and Most Innovative Business. The nominees demonstrated an impressive range of ideas, from a construction industry sustainability-focussed project management platform to a community gospel music project for Black artists. Trophies were awarded to the shortlisted individuals who won the most votes by other students and graduates and take away a sustainable bamboo trophy and Amazon voucher and will have their names added to the wall of campus incubator, the Enterprise Cube.
Full list of Student Enterprise Heroes:
Most Innovative Business – "Aircraft 360 view camera system", Rahul Nambiar
Best Social Impact Business – "To The World", Nduka Nduka-Eze
Most Engaged – Tobi Eyinade
Community Spirit Award – Ruky Toje
Entrepreneur of the Year 2023 – Rahul Nambiar
Finally in this category the One to Watch award was selected by the Student Enterprise team for a company that they think deserves recognition and which shows huge potential for growth. Winners InForecast have shown remarkable progress in the field of Artificial Intelligence and purpose-driven software-as-a-service for construction organisations, with a focus on sustainability. They have forged valuable partnerships, secured funding from UK Edge, and garnered interest from esteemed institutions. Their achievements and determination to make a lasting impact in their industry have truly set them apart.
---
The most prestigious awards come in the form of the Foundership programme, providing dedicated support but also big cash prizes to fund students or recent graduates to work on their business idea over summer. Founderships are awarded to the value of £1000 to £3000 and a top prize of £5000 for the most impressive business idea pitches. Winners will be matched with a mentor and will be provided with workshops over summer to help with different aspects of their business development, plus a student membership to the Institute of Directors, courtesy of the Doctoral College.
Full list of Foundership winners:
£1000 Foundership funded Santander is Dan Smart with his new take on a social platform, Debatts
£3000 Foundership funded by Santander for his business which aims to change the landscape for young Black entrepreneurs its Nduka Nduka-Eze with To The World
£3000 Foundership funded by Santander goes to a woman looking to create musical opportunities for marginalised musicians, it's Adejoke Popoola and Gracious Hearts Music!
£3000 Foundership funded by Santander, with his business farming the new best protein around, crickets, is Henry Ayres with Edibl
£3000 Foundership funded by Future Generation for his lab plastic recycling business RenoTip is Rui Silva
£3000 Foundership from Future Generation for his world-record-setting business, is Jack Tattersall with YogaDrum
Student Enterprise's newly launched PhD Commercialisation Accelerator provided funding for a further two Founderships for those students creating business from their research:
Marie-Claire O'Kane with Beyond Consuling to improve our thriving in the workplace
Alejandro Sanchez-Pedreno Jimenez with Flurosense, an impressive fluorescent protein biosensor company
The final winner to be announced was the top prize winner who was awarded £5000 to work on their business this summer, funded by Future Generation. During the judging process, the standout pitch was delivered Abi Weaver, founder of Socially Responsible Content Ltd, whose mission is to disrupt the tick-box approach to corporate social responsibility and create ethical storytelling through a mix of hands-on and digital projects that include the upskilling of beneficiaries and providing insights into company activity using authentic voices.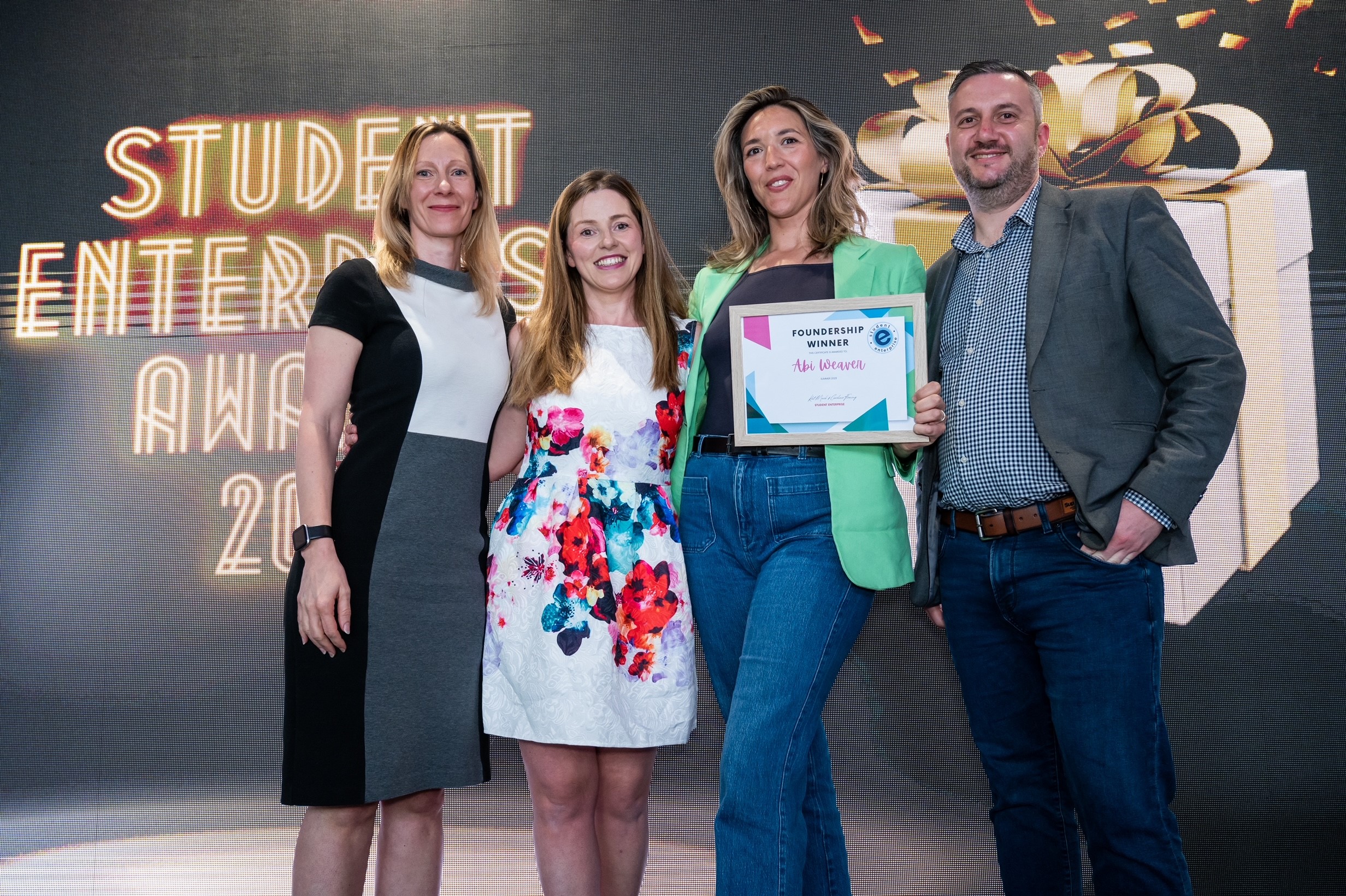 A huge thank you goes out to Santander Universities who have funded these awards for several years including for the second year running specific opportunities for Black founders, and to Future Generation who for the second year have funded our top prize and specific opportunities for LGBTQ+ founders.
We want to challenge the inequalities faced by Black founders and LGBTQ+ founders, to create a more inclusive business community on campus and for the future and we thank Santander and Future Generation for supporting us to take this positive action.
---
The University of Surrey celebrated the successes of all the winners, recognising their entrepreneurial spirit and passion for innovative thinking. The awards also serve as a testament to the University's commitment to providing students with opportunities to develop their skills and turn their ideas into value-adding businesses.
Other winners were Propeller Fund winners taking away some ideas-testing money for their business are:
Amy Obi who takes away £800 for her business That Feeling When
Asim Ahmed winning £800 for his business Desi Vision
Harry Jones and Charlie Carter-Banks winning £400 for Kick Control
Vimal Kanna Mowleisvaran winning £400 for Orlo Bot
Congratulations to all of the winners, and we look forward to seeing their companies grow over the coming months and to discovering what amazing ideas the next generation of student entrepreneurs will bring for 2023-24.
** Student Enterprise is seeking to grow its Foundership programme for 2023-24 with dedicated opportunities for women founders and we warmly welcome any conversations from potential funders and supporters for this work via contact with Student Enterprise Manager Kat Mack on k.mack@surrey.ac.uk **