Need some meal inspiration? Here are my top three veggie meals I cook at uni!
Chilli:
Meat-free mince
Two cans of chopped tomatoes
Chilli flakes (to taste)
Salt and pepper (to taste)
6 chopped mushrooms
1 can of kidney beans
1 chopped onion
1 clove of garlic
Serves 4-5 (or more depending on portion)
Chop up the onion and garlic and add to a big saucepan until they're soft
Add the rest of the ingredients, adding as much mince as you would like
Stir well and let simmer. In the meantime, boil some rice in a separate saucepan for around 15 mins (or until cooked)
Once the rice is cooked, drain and add to your bowl. Then turn off the hob and add your desired amount of chilli.
This is a great recipe if you're in a rush, but still want something healthy and yummy. You can make this for a group of friends or, if you're making it for yourself, only make enough rice for one person and then put the leftover chilli in a tupperware for later in the week.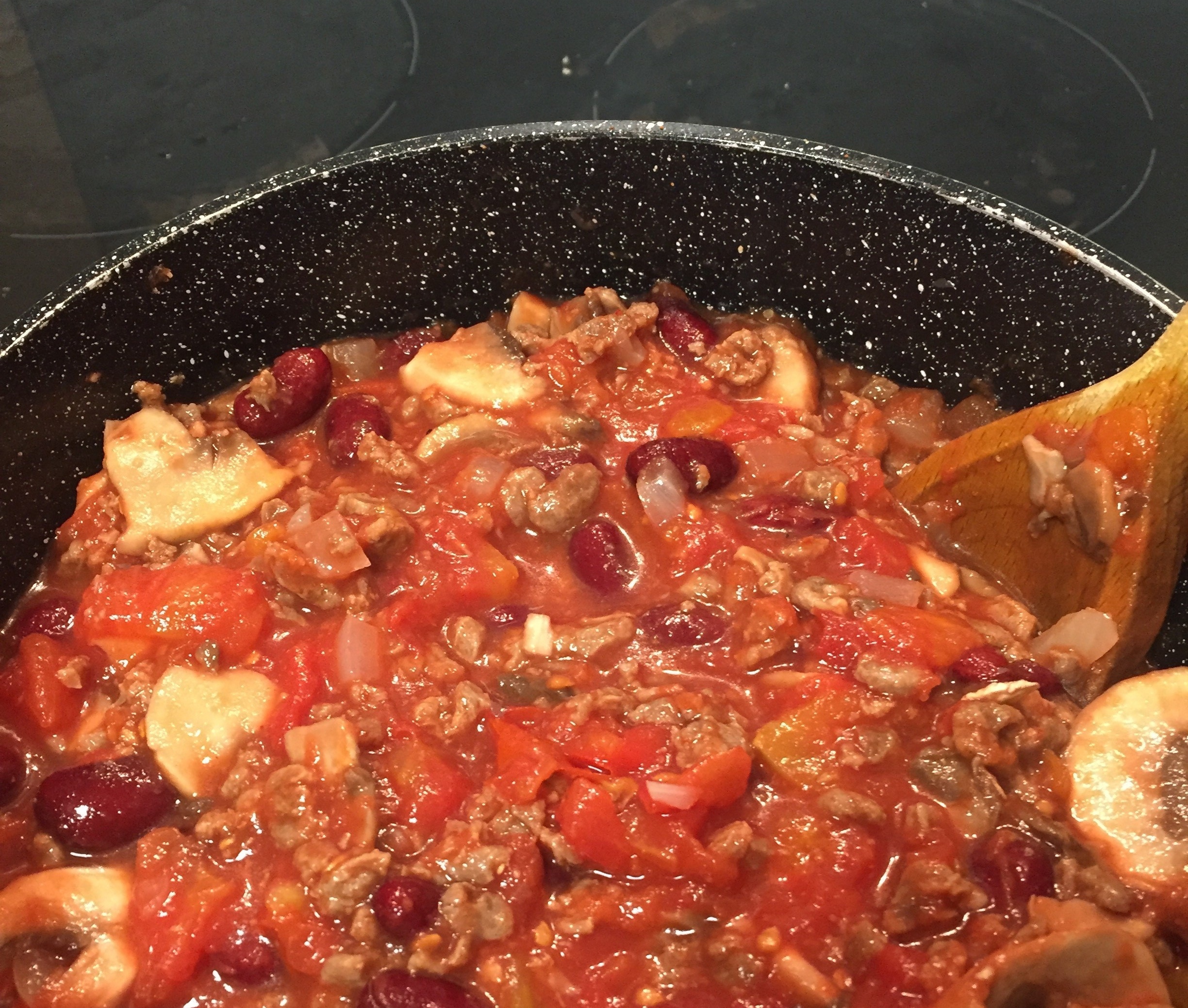 Falafel burgers and wedges:
400g can of chickpeas
1 red onion chopped
Harissa paste (or chilli powder)
Chopped garlic (1 clove)
1 tablespoon of plain flour
1 teaspoon of cumin
1 teaspoon of coriander
1 teaspoon of parsley
Burger buns x4
Potatoes
Serves 4
Start by opening the can of chickpeas and draining out the water. Then pour them into a big mixing bowl, using a kitchen towel to pat them dry.
Then add the red onion, harissa paste, garlic, flour, cumin, coriander and parsley.
Grab a potato masher (or a big fork) and start mashing it all together. This may take some elbow grease!
Once everything's mashed together, use a tablespoon to scoop up some of the mixture and start forming a patty shape in your hand. Do this until you have 4 patties.
Leave the patties to rest on a chopping board. In the meantime, use another chopping board to chop up some potatoes into wedges.
Place the potatoes on a baking tray and drizzle with any oil. Then season with salt and pepper or any other seasonings you have (we normally use paprika).
Pop the wedges in the oven at around 200 C for 30 mins.
When the wedges have around 10 mins to go heat up some oil on a frying pan and add your burgers. Cook the burgers for around 3 mins per side or until they are a brown colour.
Whilst the burgers are cooking, cut in half your buns and toast them in the toaster.
Once everything is cooked, plate up with any other condiments you wish. We had ketchup and some smashed avocado!
This is again another quick recipe and super healthy! For a lighter option, you could always skip the bun and have naked burgers.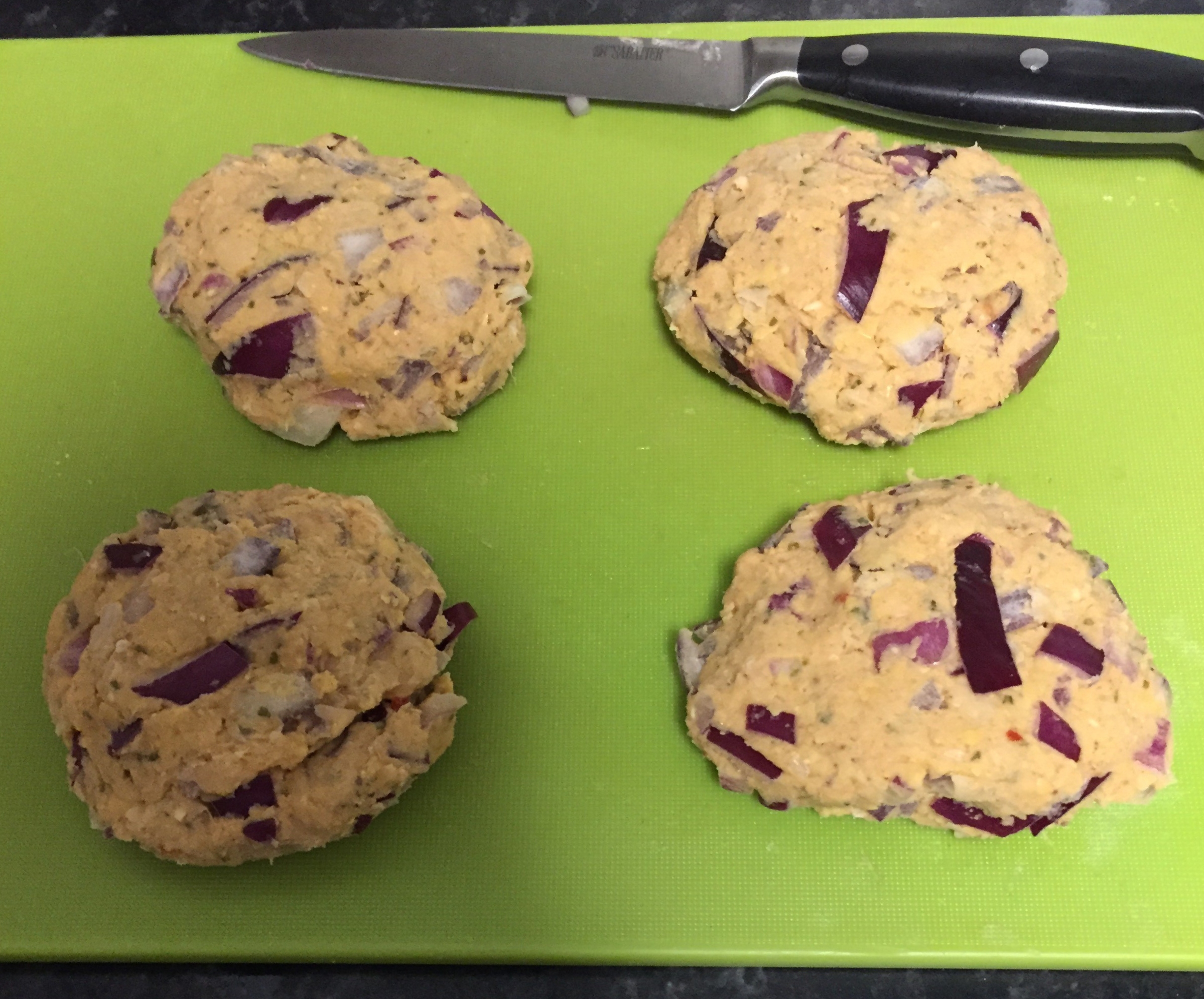 Veggie-packed fajitas:
Quorn chicken style pieces
2 cans of chopped tomatoes
Mushrooms
Courgettes
Any sweet peppers
Onions
Fresh tomatoes (optional instead of the second can of chopped tomatoes)
Fajita seasoning (paprika, cayenne pepper, ginger, salt, pepper, chilli flakes)
Pack of wraps
Avocado (optional)
Sour cream (optional)
Grated cheese (optional)
With this recipe, I haven't put the amount on any of the ingredients because its largely based on preference and how many you want to serve.
Start by frying the onion in a large wok until soft. Then add any chopped veg (minus the tomatoes) and stir well.
Then add the quorn pieces, stirring well.
Once everything is cooked well add the chopped and fresh tomatoes and the fajita seasoning. Let everything simmer for around 10 mins.
Whilst the fajita mixture is simmering, put a pile of wraps onto a microwaveable plate and put in the microwave for around 30 secs to 1 min depending on how many are in your pile.
Once all of the wraps are properly heated through, take them out of the microwave and place on the table. Grab a thick tea towel and fold it a few times to make up a placemat for the wok to go on the table. Grab a big serving spoon and put inside the wok.
If you've got avocado, cut it in half and start putting the content into a small bowl, mashing it with a fork. Put the sour cream and grated cheese on the table if you have this too.
Once everything is on the table, enjoy!
We found this was the best recipe to multiply if we had friends coming over. Also, take the ingredients list lightly in terms of vegetables. You can really add any you want!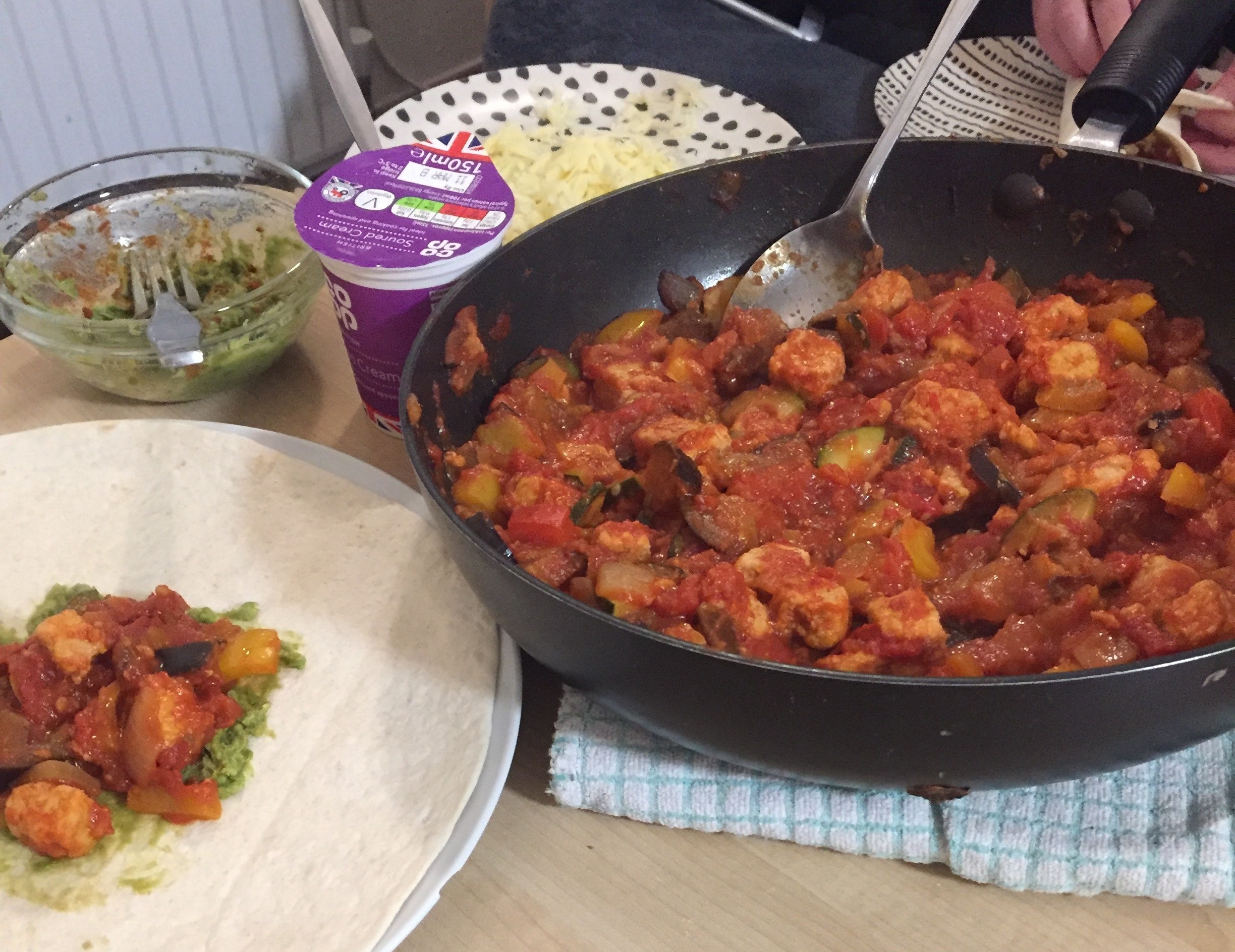 Author: Rachel Murray.