Find out everything you need to know about VetSoc by reading our interview with Emily!
Please introduce yourself – what year are you in? What degree do you study? Some of your interests
Hi, my name is Emily. I'm a fourth-year veterinary student and the President of Surrey VetSoc. Outside of my degree, I'm happiest at home on our farm, outside exploring or in theatres, where I help backstage with technical theatre and occasionally perform.
What does your society stand for? Can you tell us a little bit about what you do?
VetSoc aims to support and engage students through extra-curricular academic activities, wellbeing support, events and non-academic activities such as sports, music and socials. We primarily represent Veterinary and Bio-veterinary sciences students, although all students are welcome to join. We campaign and create change on issues that are negatively affecting students and also represented vet students at Surrey in the wider veterinary profession. Each year we are also increasing the amount of charity work the society does. This is something the committee are very passionate about.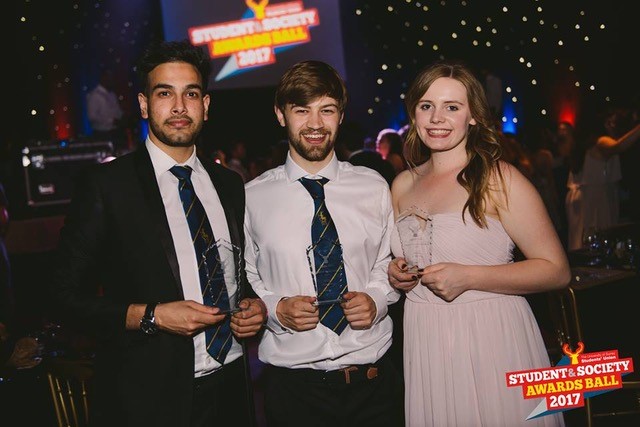 How do you join your society?
Memberships can be purchased on the USSU website by finding the 'Get Involved' section.
Is there a membership fee to join? If so what does this cover?
There is a £10 annual membership fee, which helps to cover the costs of running the VetSoc clinical clubs, sports teams and music groups. The funds raised from membership also enable VetSoc to subsidise other events throughout the year.
Are there any benefits from purchasing the membership? Society social cards? Etc
Purchasing membership entitles students to attend all of the clinical club academic talks and practicals and means you can join the VetSoc sports teams and music groups. Membership will also give students discounts on events, throughout the year, from bar crawls to the annual black-tie summer ball.
Do you hold any social events? If so what are they?
We hold lots of socials throughout the year, starting with 'Vet Freshers' Week' in October which is a week of evening events
As a new student, it may be a little daunting to attend a social when they do not know anyone. What's your best advice for first year students?
Most societies will run events at the start of term when there will be lots of new people attending so that's an easy time to go along and try things out. You could also find the society on social media or send them an email to let them know you want to come along. That way you'll already have made the first connection and will hopefully know someone from committee who can look out for you at the event.
Does the society organise any trips that are relevant to your degree?
The clinical clubs, which are sub-groups of VetSoc, occasionally run trips and we also organise practical's on site where specimens or animals are brought in.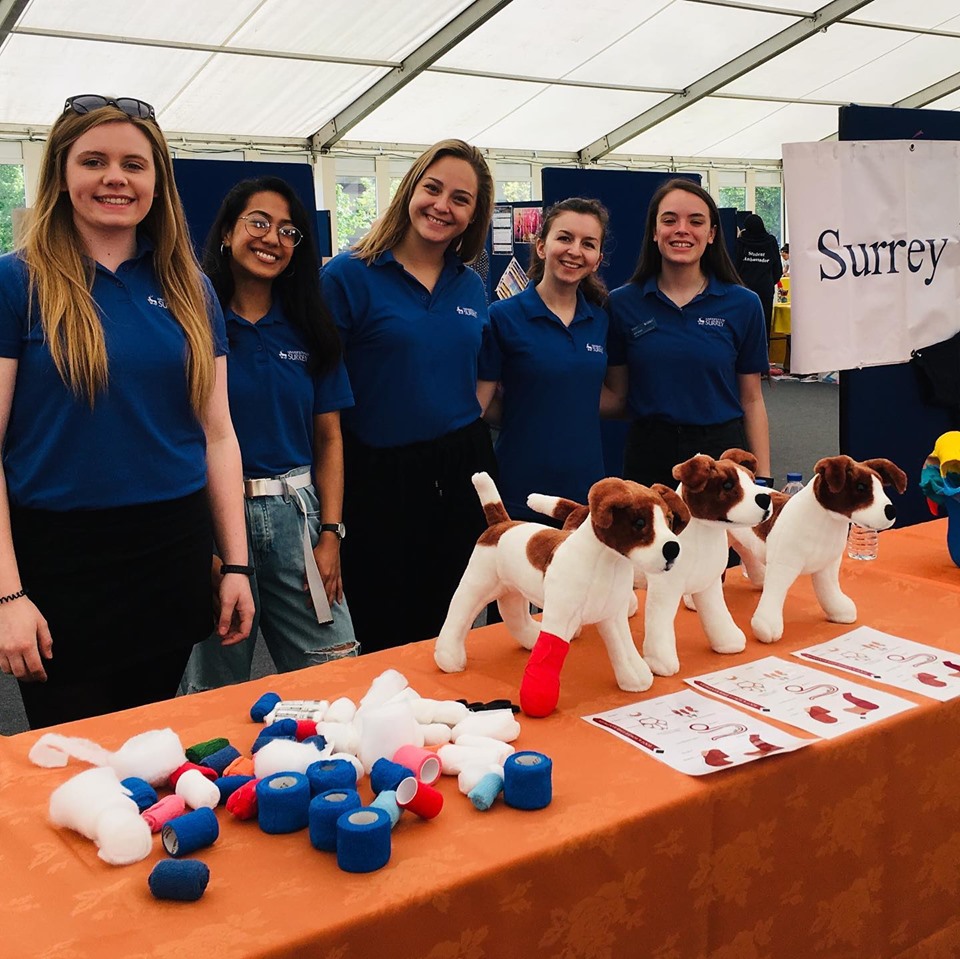 Can you purchase society clothing?
Yes, this has just been re-launched. We have a range of clothing from t-shirts and polos to hoodies and sweatshirts.
Could you tell us a little about being on a committee? Highlights and challenges…
I've been part of the VetSoc committee since my first year at Surrey and it has been the most incredible experience. There have of course been challenges, which quite often are a lack of time and being overwhelmed with lists of things to do to keep such a large, busy society going.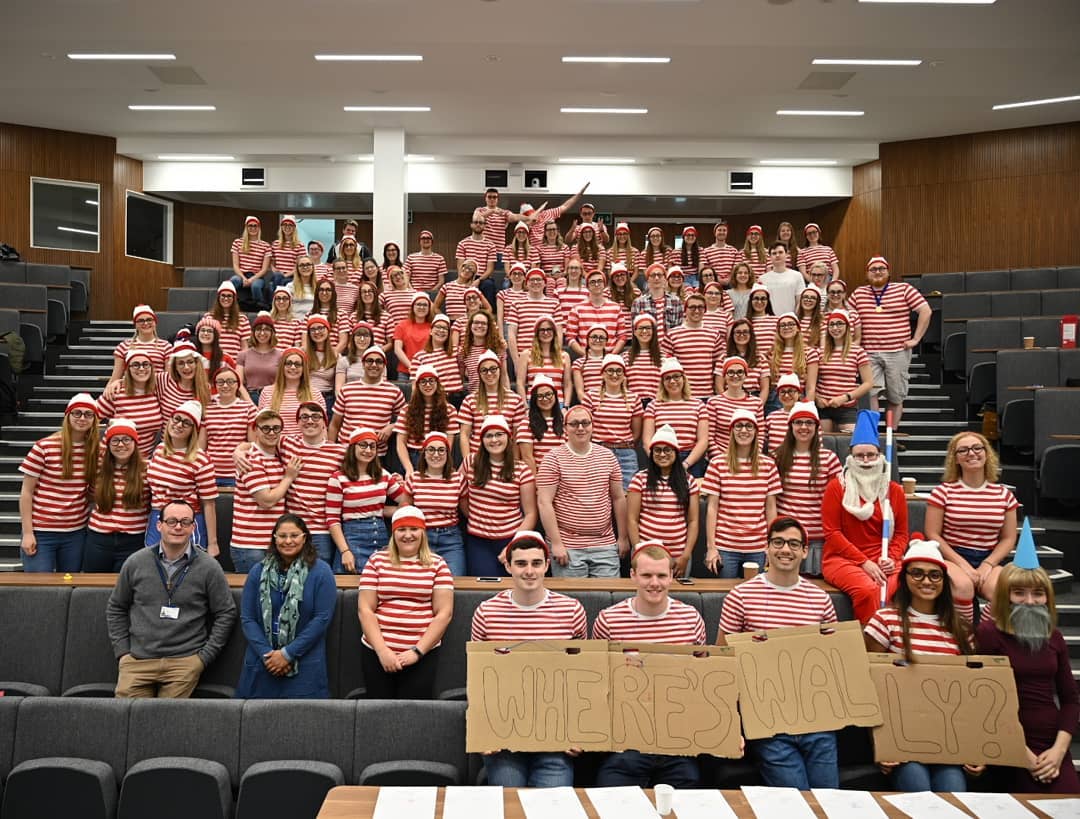 I've had to learn a lot about leadership, effective communication and time management in a short period of time, and the last one I'm probably still working on! I've worked with some amazing students on committee though who have gone above and beyond to make a difference and keep VetSoc moving from strength to strength.
My highlight has to be Student Society Awards in 2017 when VetSoc won Society of the Year. I was Vice-President at the time and really didn't expect us to win so that was incredible. I think the whole committee was on a high for days!
The day the student tea point opened at the Vet School was also special to me as I had been pushing for this for a while – nothing fixes more problems than having the facilities to make free cups of tea! My other overall highlight I think is seeing just how much a group of students can achieve and how passionate we are about doing the best for the society and the vet school. I think we're lucky that the Vet School and staff are so supportive of us as we're still quite a new society, but VetSoc has a bright future.
What's your fondest memory as a society member?
VetSoc takes fancy dress very seriously and I remember the first bar crawl I went to in first year. The theme was 101 Dalmatians and I just remember going around Guildford packing out the bars (there were at least 100 of us!) and seeing the looks on everyone faces as we arrived. This is my fondest memory because everyone is having a great time together and you get to meet so many students from other years that you otherwise don't interact with.
Why do you think people should join your society?
VetSoc isn't just for Vet students (although we do have a lot of events at the Vet School) and I think the society has a lot to offer anyone with an interest in animals, science, sports or music.
Unlike other societies we're really wide-ranging and genuinely have something to offer everyone, whether you want to join a choir, play sports or learn more about exotic animals.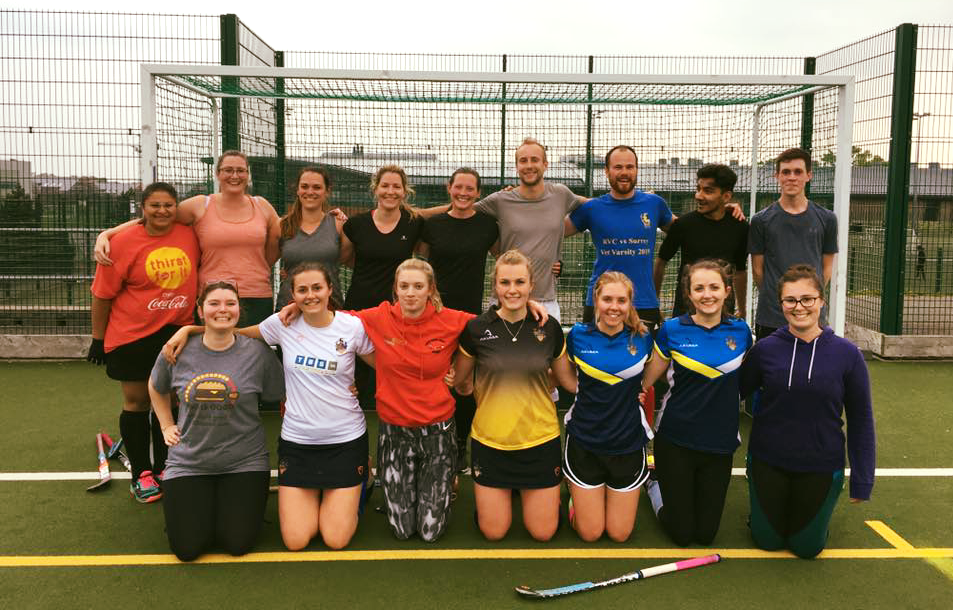 Fundamentally though, VetSoc is a group of students who are passionate about making Surrey the best place it possibly can be and would love to involve more students in that. We're still setting things up, and there is always room for improvement, but a society is nothing without members. The members drive change and improvements, both to societies and to the wider university.
 For more insights into VetSoc and to stay up to date with our events follow our Facebook, Instagram and Twitter!