Living in halls is one of the most talked about things when attending university. Surrey has some fantastic accommodation for our students, you can get accommodation suited to your individual requirements such as budgets, quieter halls and disabilities. In this blog I'm going to talk about my experience in halls.
My Room
I decided that I wanted Band D accommodation (this is my own room, with my own en-suite bathroom and a shared kitchen). For me, this was absolutely perfect as I wanted my own space and bathroom (although in hindsight I could've shared a bathroom and saved some money). I was allocated University Court on the main Stag Hill Campus which is at the end of campus nearest the train station and town. I absolutely loved my room, I added lots of personal touches to make sure that I felt comfortable there! My room came with all the basics such as a bed, mattress and protector, wardrobe, desk, small drawers/shelving unit – make sure you remember to bring everything else such as bedding, hangers, kitchen essentials and so on!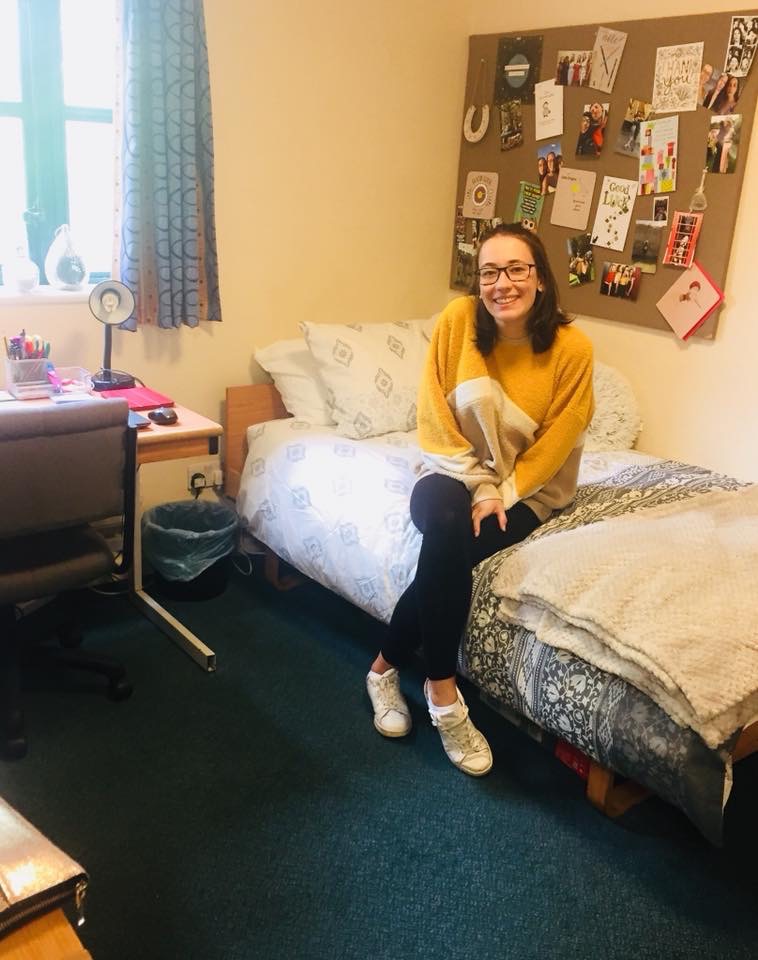 My Housemates
My housemates were amazing (below is a picture of some of them – we did have some boys in our house too, they just never got in any pictures!). In our accommodation there was 10 of us on the bottom floor (with our own kitchen) and then there was 10 people on the top floor (with their own kitchen). This is because we were just a 2 story/floor house rather than a 4/5 story flat. All 20 of us mixed together, we didn't separate and only spend time with the people on our floor. We regularly all cooked together, watched movies and had pre drinks. We also went to Rubix and other clubs together as well as go for house meals! They really made my whole experience the best it could be!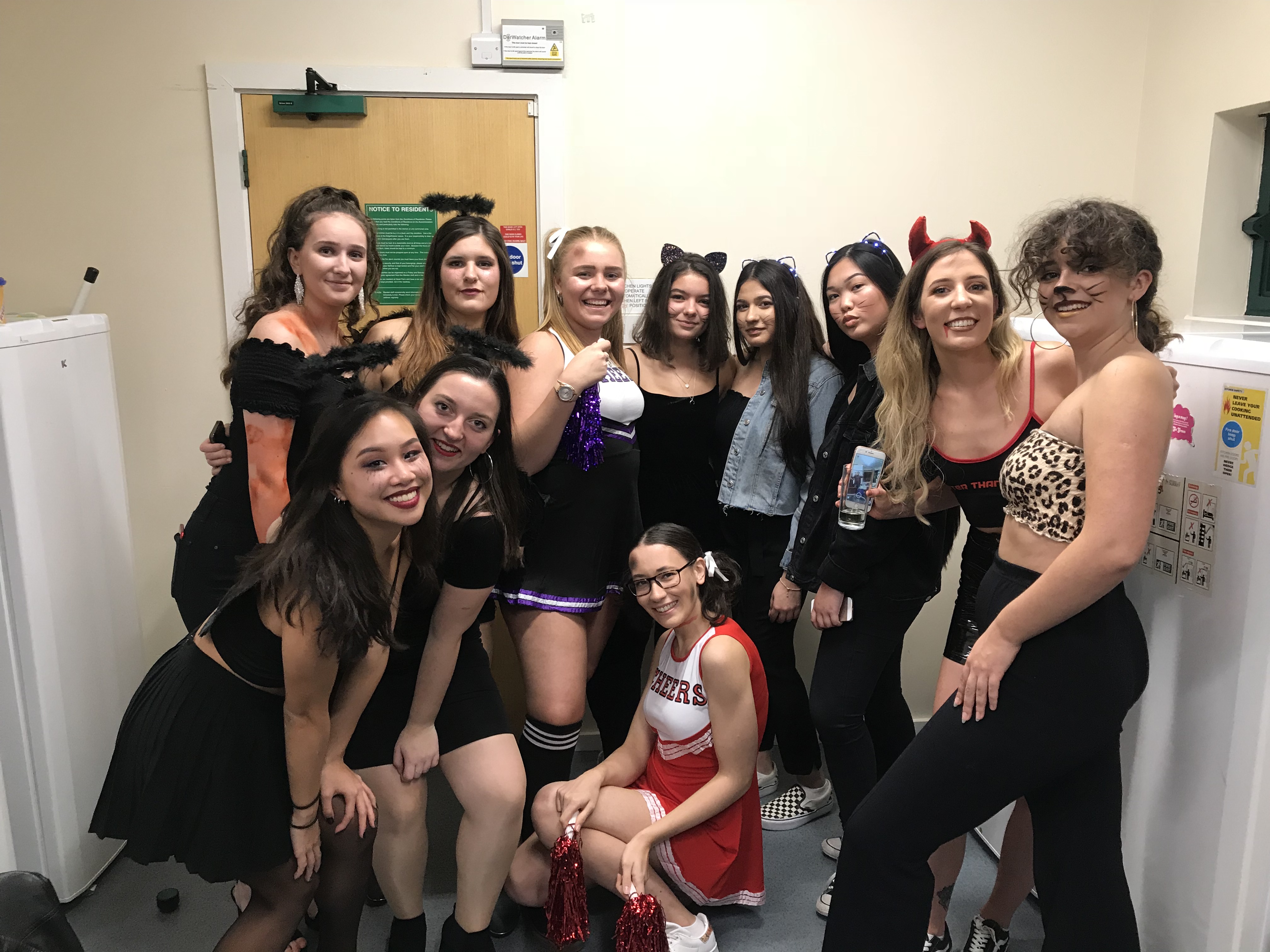 Pros
There were so many pros to staying in halls in my first year, I've tried to consolidate them down into the most notable.
I already mentioned before but my housemates were amazing – I'm still friends with them now and even live with some in a second year house. Living in halls gives you the opportunity to make so many friends so quickly! Another bonus is that our kitchen was very big, this was not only great for cooking, but also for having people round! Probably one of the best things was that our rooms were always warm – they defiantly don't skimp on the heating here at Surrey! Following this, all bills are included in your rent so you don't need to sort anything out yourselves – we also get our own WIFI box so no need to share! The location of our halls was also fantastic, I could get to my lectures in 5 minutes (so yes I could wake up at 8:45am and still be there in time for my 9am lecture) and also be in town within 10/15 minutes!
Cons
I actually found it quite hard to think of any cons to living in halls. I suppose it could sometimes be noisy as you had rooms next to you and above you but we have a fantastic 24/7 security team so if you had any noise complaints then they could come and sort it out for you. There are also a few rules that you have to follow (For Example, no minifridges, kettles, heaters in rooms etc). However, looking back I never actually needed any of these things and really it was just so they could keep us safe and keep the accommodation in its high standard condition!
I hope that you've enjoyed reading about my experience in halls, everyone has a different experience but mine was certainly amazing! To see all the up to date information on accommodation such as pricing and the different bands then check out this link https://www.surrey.ac.uk/accommodation