Forgetting something when you've arrived at university can cause a big drama! So 'what should I bring to university' is a very common question that new students tend to think about! This blog is going to cover the main items that most people forget to bring with them to university.
Room Items
Bedding – This is a huge one that a lot of people forget. Your room will come with the bed and mattress, a desk and chair, a wardrobe, some form of chest of drawers or bedside cabinet, a cork board and some shelves (this could vary room to room but this is standard). Therefore you need to bring all duvets and pillows with you!! You don't want to be cold when you're sleeping there for your first night.
Hangers – This is something that I nearly forgot to bring! Although your room does come with a wardrobe there wont be any hangers in there! So remember to bring your hangers so your clothes can be kept nice and neat.
Personal Items – This is a really important one. You want you room to feel like a home, so bringing lots of personal touches and items is such a good way to make the room yours. I bought lots of photos, some plants and a nice rug to make the room feel more homely!
Door Stop – I highly recommend bringing a doorstop! This is because you can keep your door open for the first few weeks so that your flatmates can come in and out! It is a great way to socialise and make those long lasting friendships. It will also help when you're moving all your things in!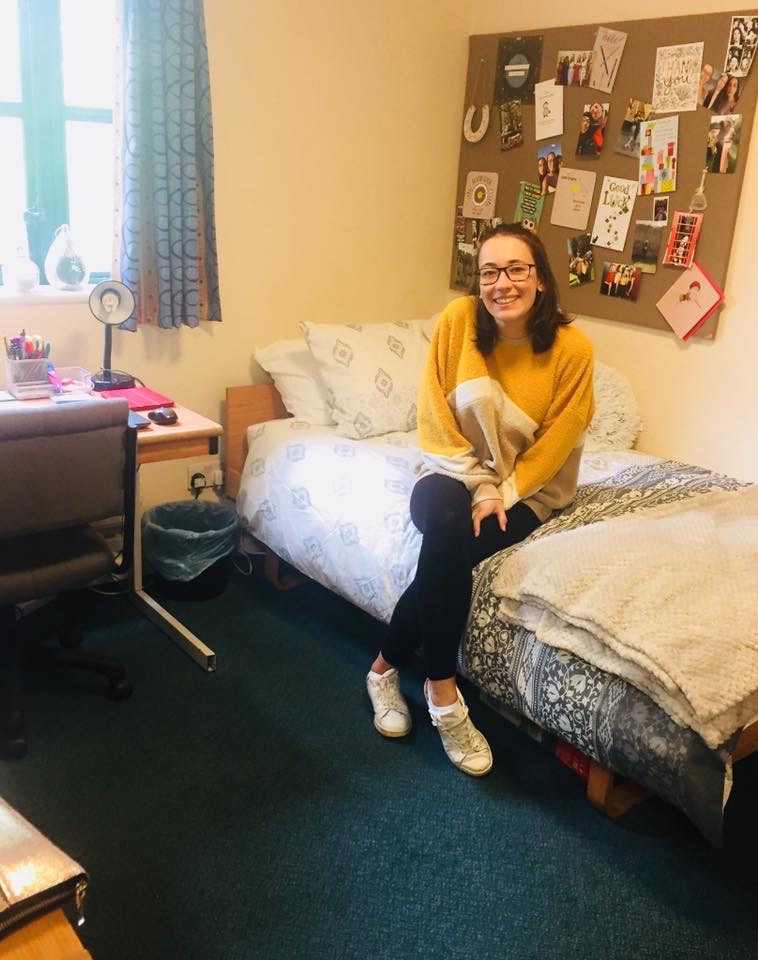 Kitchen Items
Plates and Cutlery – The kitchen will come with all the appliances you need (fridges, freezers, cupboards, oven, hob, kettle, microwave, toaster, iron and ironing board). But everything else you need to bring so make sure you remember some plates and cutlery!
Pots/Pans – If you are planning on cooking (and not eating ready meals or takeaways every night – I defiantly wouldn't recommend this) then make sure you remember these things. Pots, Pans, Baking Trays etc are pretty crucial things that you need to cook a nice meal!
All other utensils – You will need to bring all other utensils with you too. There wont be available ones in your halls so make sure you bring your own. Commonly forgotten items are cheese graters, colanders, spatulas and wooden spoons.
Study Related Items
Notepads/Laptop – These are two quite crucial items when taking notes in lectures or seminars. Whether you prefer handwriting your notes or typing them on a laptop, remember to bring either one or both of these things!
Pens/Pencil Case – Another quite crucial item for your note taking and overall degree progress. Make sure that you have everything that you need for your degree (e.g. if you're doing a math degree make sure you have the correct materials such as a calculator, compass)
I hope that this has helped some of you to feel more at ease! Remember if you forget something then it isn't the end of the world, there are plenty of shops in Guildford where you can get any items that you forget. Another top tip is don't bring absolutely everything you own – chances are you wont need it all!